All Saints Church Choir
May 2013 RSCM Choral Festival at Brecon Cathedral. Bishop John presented SEVEN of our young choristers with their Silver and Bronze medals. Dr William Reynolds, Education Officer RSCM, presents the candidates to Bishop John ( Photos courtesy of Jan Silvey and Hannah Williams)
above: Gracie, Hannah and Alfie - three members of the same family with their RSCM Medals.
---
March 2013. We are delighted that NINE of our young choristers have recently passed the exams for the Royal School of Church Music Bronze and Silver medals.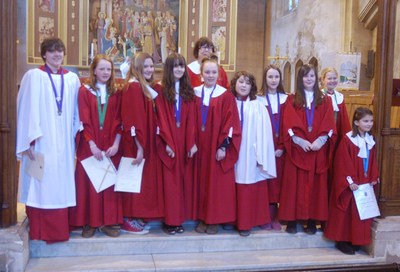 We congratulate Isobel Ace, Bethan Walton, Grace Williams on achieving the Bronze medal, Dean's Award and Lucy Hole, Angharad and Niamh Howden-Evans, Joe Lyden, Lydia Price and Ralph Thomas Williams on achieving the Silver medal, Bishop's Award. Lucy, Joe and Lydia passed with merit and Ralph with distinction. They will be officially presented with certificate, medal and ribbon by Bishop John at Brecon Cathedral at Choral Festival Evensong on Saturday 11th May, 2013.
---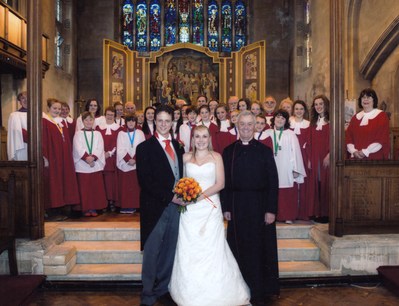 Wedding Nov 1st 2012 Joe Morgan and Lizzie Mayo. The Church Choir with members of The Ariosa Singers. More photos on the gallery page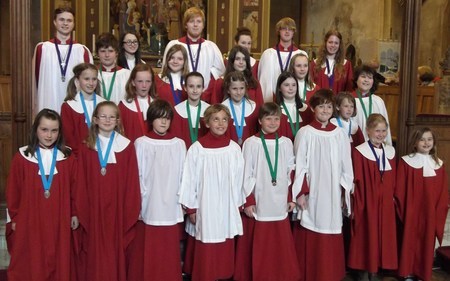 The Young Choristers and Choral Scholars, May 2012
All Saints Choir (24 youngsters aged 19 and under, and 25 adult members when at 'full strength') sings every Sunday of the year at the morning Sung Eucharist, the adults sing at Choral Evensong on the first Sunday of the month and at other special services such as Ash Wednesday, Maundy Thusday, Good Friday. The full Choir occasionally sings in concerts, such as the annual sacred concert of John Stainer's The Crucifixion.
Anthems are sung at the Choral Eucharists (performed either by the full choir, the choral scholars, or the young choristers) and at the monthly Evensong (sung by the adult choir). The Mass settings, which are all congregational, include Dom Gregory Murray in D and three settings based on Welsh folk themes: The Ar Lan Y Mor Folk Mass, the Bread of Life Mass based on 'Beguilio'r Gwenith Gwyn' and the Missa Brevis Cambrensis based on the Welsh carol 'Suo Gan'. The latter two are arranged expecially for All Saints by Les Ryan
---
Photo of Reuben Nicholas, who was presented with the RSCM Silver Medal, the Bishop's Award, by Bishop John Davies at Brecon Cathedral, May 2012. Reuben passed the exam with merit. Reuben is a Choral Scholar, singing tenor. He holds the ATCL singing diploma and is taught by Penny Ryan, Choral Director. Reuben is now at the Royal Welsh College of Music and Drama taking vocal studies.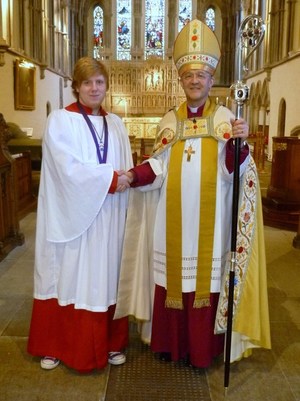 The young choristers sometimes sing as a group at concerts - for example the All Saints Alive Music Festival Gala concert in 2009, 2010 and 2011, and in various Saturday morning coffee concerts, most recently on Sat 17th March 2012. Here are some rehearsal photos from Jan Silvey. Over 100 attended the concert, which included both sacred and secular songs, items from the two Organ Scholars, vocal solos, and the Choral Scholars singing William Byrd, Thomas Tallis and Walford Davies. £600 was raised for the Stepping Stones charity.
Currently we have 24 young choristers aged 19 and under. In November 2011 they participated in a Royal School of Church Music 'Treble Singing Day' - see photos further down.
All Saints Church supports six choral scholars through generous sponsorship from members of the congregation and an organ scholar, supported by the Parish
New members are always welcome. Please contact Les and Penny Ryan on 01792 406062 or email les_ryan@btinternet.com
All supervisory staff with the young choristers have Church in Wales CRB Clearance
Affiliated to the Parish is the youth choir, The Ariosa Singers who rehearse at All Saints on Sunday afternoons.
---
Rehearsals at All Saints on Wednesdays as follows:
6pm RSCM Voice for Life ribbons and medals preparation*
6.30pm Young Choristers rehearse
6.30pm-7pm Choral Scholars rehearse
7pm Adult Choristers join with the younger singers
8pm (approx) conclusion
*supported by occasional Saturday morning classes
---
Two photos by John Llewellyn of recent presentations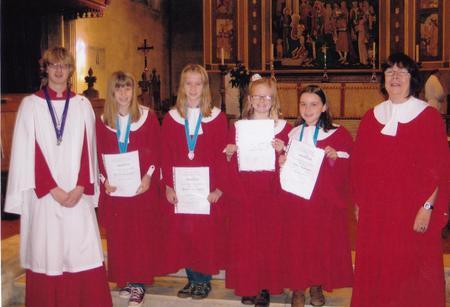 above: Award of the RSCM Light Blue Ribbon to Catrin and Megan Ferguson, Lily Pearce and Kate Hoskison. Also in photo Penny Ryan OBE Choral Director and Dan Rogers, Organ and Choral Scholar who taught and examined the young choristers for this award.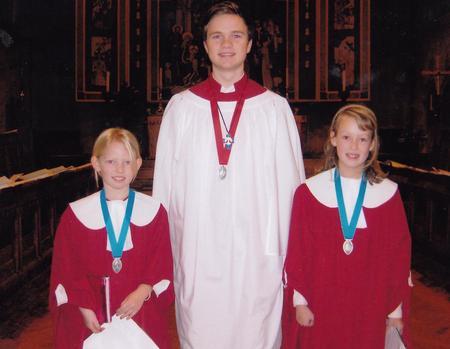 above: January 8th 2012, Canon Keith appointed Sean Rees as an Organ and Choral Scholar. Sean is pictured here with Rhion and Catrin Hawkes who were presented with their RSCM Light Blue Ribbons.
Below are photos of a recent RSCM Treble Singing Day at Holy Cross Church, West Cross. Photos from Jan Silvey,
---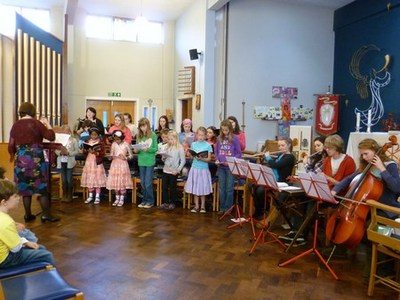 Photos from Jan Silvey, with thanks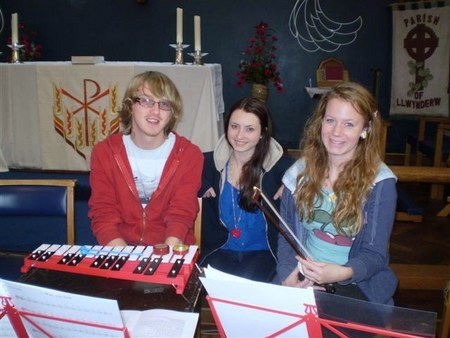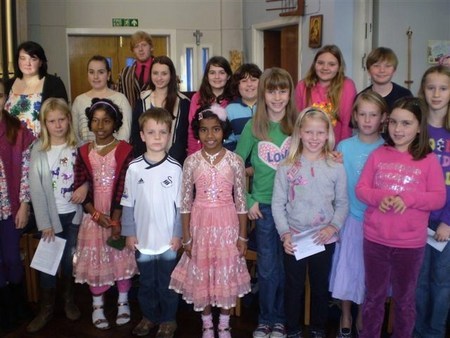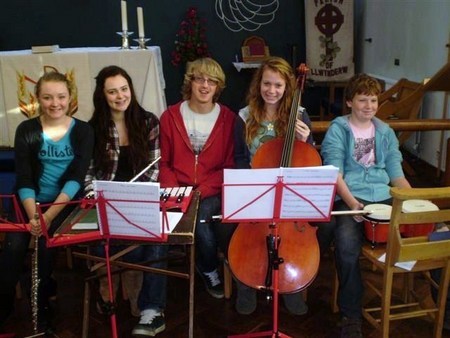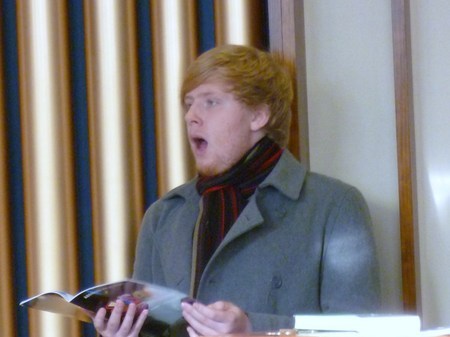 Above, a Royal School of Church Music Young Singers Day, November 2011 at Holy Cross Church, Swansea. 24 of our young choristers participated including: Hannah Williams, cello; Dan Rogers, glockenspiel; Alfie Williams, drums and singers. Reuben Nicholas sang solo. More photos
---
Below; photo of six young choristers receiving their RSCM Dean's Award Bronze Medals in May 2011 from Bishop John in Brecon Cathedral
Lydia Price, Hugo Harvey, Angharad-Howden Evans, Bishop John, Lucy Hole, Niamh Howden-Evans and Alfie Williams. Not pictured is Joe Lyden who achieved the same medal.
---
Photo of Hannah Lyden and Rose Bowles with Bishop John at Brecon Cathedral after being presented with their Royal School of Church Music Silver Medals - The Bishop's Award. Brecon Cathedral 2010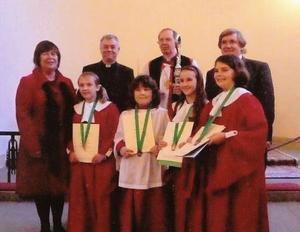 October 2010 Llandaff Cathedral
With Bishop David Wilborne.
Lucy Hole, Joe Lyden, Lydia Price and Angharad Howden-Evans with their RSCM Dean's Award bronze medals
Back row: Penny Ryan OBE Choral Director, Canon Keith Evans, Vicar of Oystermouth, Bishop David and Leslie Ryan, Organist.
Below at All Saints Oystermouth.
Also shown Daniel Rogers, organ scholar and choral scholar and John Llewellyn who assisted in the preparation of the candidates for the examination
New members are always welcome. We rehearse on Wednesday evenings: 6.30 - 8pm - Junior Choristers ( 6 - 18 ) and 7.00pm- 8.00pm Adults. At full strength we have 26 under 18s and 28 adults.
CHORAL SCHOLARS: The four original choral scholarships were awarded in memory of Eira Williams by her family. The first recipents were ( 2011) Anastasia Harvey, Hannah Williams ( altos) and Reuben Nicholas and Daniel Rogers ( tenors) - also in photo Penny Ryan Choral Director. In addition, Sean Rees (bass) was appointed a Choral Scholar from 1st Jan 2012 and Hannah Rose Lyden (alto) from Easter Sunday 2012 through generous sponsorship by friends of All Saints and members of the congregation. From September 2012 following Dan and Reuben's departure to university, Ralph Williams (countertenor) and Georgie Ingmire (soprano) were appointed.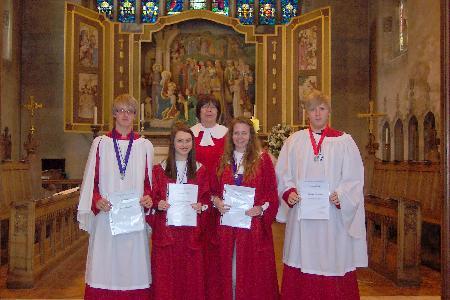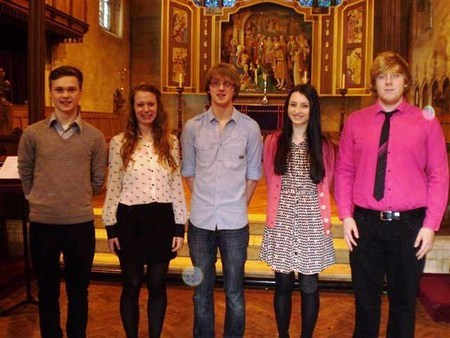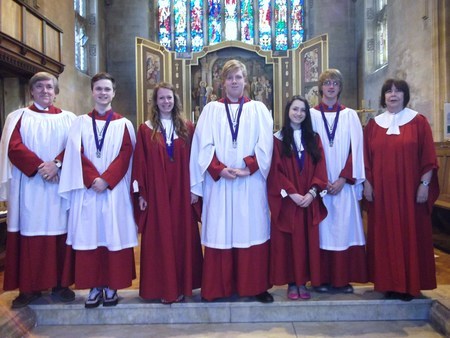 Above photo was taken on Palm Sunday 2012, showing all five Scholars now wearing their RSCM Silver Medals - the Bishop's Award. Sean and Reuben gained theirs in March.
We sing a weekly communion anthem and alternate four choral congregational settings of the Eucharist. Psalms are sung in the traditional manner and in the newer responsorial style. At the monthly Choral Evensong we sing an anthem and the occasional setting of the Canticles.
The Royal School of Church Music Voice for Life Scheme is used, with choristers progressing through various stages and exams.
Current holders (2012) of the RSCM Silver Medal Bishop's Award are: Dan Rogers, Hannah Williams, Anastasia Harvey and Hannah Lyden, Reuben Nicholas and Sean Rees.
The RSCM Bronze Medal Dean's Award holders (2012) are Alfie Williams, Hugo Harvey, Joe Lyden, Angharad and Niamh Howden-Evans, Lydia Price and Lucy Hole.
We are active in the RSCM area events - participating in 'Treble Singing Days', Area Festivals, Come and Sing events.
All Saints has featured regularly in BBC Radio Wales Celebration Services - broadcast every Sunday morning. In 2009 we sang on Easter Day and on the Sunday before Ascension Day, and in 2010 the service for Candlemas was broadcast.
The Choir is run by our Directors of Music:
Penny Ryan - Choral Director
Leslie Ryan - Organist
They are supported by Sub-Organist Nathan Petherbridge and
Organ Scholar Sean Rees (from Sept 2012) Our organ scholar currently teaches two of the young choristers the organ.
Supervisory staff for the Young Choristers are Kath Williams, and John Llewellyn and Alison Weare(who also assist in tutoring for the RSCM awards)
To join the Choir please call our Directors of Music Les and Penny Ryan on 01792 406062 or email.
We'd love to read your opinions: