In Memoriam Bishop David Thomas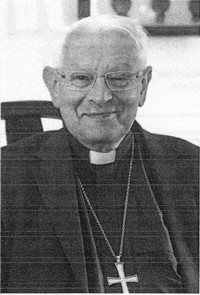 We were all deeply saddened to hear that Bishop David died suddenly at his home last month.
He and Rosemary had become much loved members of our Church community since they moved to Mumbles following his retirement as Provincial Assistant Bishop in 2008.
He died peacefully just after returning home from a memorable three week holiday in the Channel Islands with family. The visit was part of their recent Golden Wedding celebrations. He was also looking forward to marking fifty years in ordained ministry in May, twenty of them as a Bishop.
Bishop David had a long and distinguished ministry. He had a sound theological mind and was a gifted academic. As well as serving in a number of Welsh parishes he also taught at St Michael's Theological College, Liandaff, and at St Stephen's Rouse, Oxford, where he was Principal for several years. He helped to shape the ministry of hundreds of priests for the Church of England and in Wales.
Many of us will remember him as the Vicar of St Peter's Newton from 1987 to 1996. He was always a well known and popular figure in Mumbles and many local people have been hugely appreciative of his kindness, encouragement and pastoral heart.
It was during his time in Newton that he became the first Chairman of 'Credo Cymru', an association of priests and lay people who shared the traditionalist integrity in the light of the debates to ordain women to the priesthood and the episcopate. He was never controversial or confrontational in this role. After the Church in Wales decided to ordain women as priests David was appointed to serve as the Provincial Assistant Bishop with special oversight of the traditional parishes in the Province. His ordination services at St Mary's Priory, Abergavenny, were great and joyous occasions. As a bishop he had a heart for the unity of the Church and was always gracious to those he disagreed with- He also oversaw the work of the Liturgical Commission of the Church in Wales and many of our new services owe much to his own literary gifts.
When he retired in 2008 the Province's loss was very much our gain here in Mumbles. He and Rosemary became regular worshippers in the parish and he was always ready to help out at All Saints' and in the other Churches of the area. He loved our musical tradition and, as a fine organist himself, often stayed in his seat to appreciate the closing voluntary on Sunday mornings.
He will be remembered as a faithful teacher and scholar, as a priest with immense pastoral gifts and a gentle way with people, and as a bishop who sought always the unity of the Church.
His Funeral Requiem will be held at St Mary's Priory, Abergavenny, at 11am on Monday 5th June. We continue to send Rosemary and the family our love and deepest sympathy.
Well done good and faithful servant enter now into the joy of the Lord.