Print to PDF File | Return to Non-Print Version
---
"Focus on just one thing!...."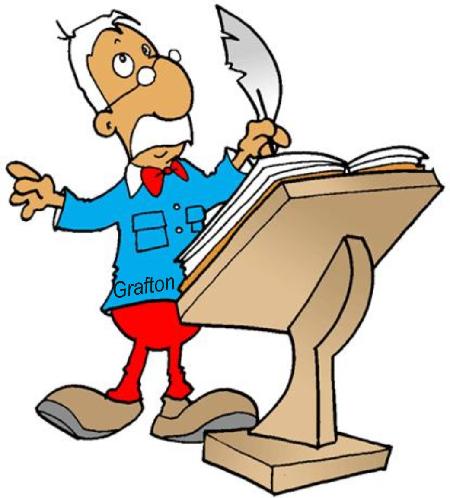 Grafton Maggs recalls his first day at Dynevor Boys Grammar School in 1937
I was twelve years old, skinny as a beanpole, but sound in wind and limb. I had little cause for complaint with my lot in life. Especially on that beautiful July Saturday morning, when down the front, the tide was up and early sun sparkled across the sea of Swansea Bay.
Uncommitted, I was free to spend the morning, as I wished. My friends were waiting.
Prospects for the coming day were good.
Perfect conditions prevailed for a swim off the bowling green steps and that was the immediate plan. So, with rolled-up costume and towel underarm, I set off to join fellow Tarzans, Jack Timothy and Bernhard Hullin, (as yet, we had no Janes, but, with hormones beginning to jangle, we hoped).
Then!
"Graf!" my father called, "A word!"
I did not flinch.
'Graf'! was not ominous.
'Grafton!' was.
He was finishing off his farmyard breakfast. He put aside his News Chronicle, drank the last of the impossibly concentrated infusion that he called tea and pointed to the chair before him. I sat. He tapped and lit his first Player's Medium Cut of the day.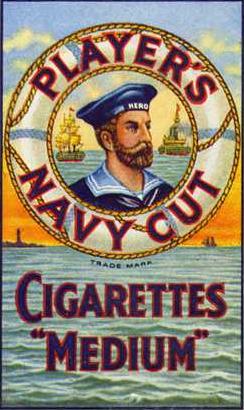 He drew, coughed and fastidiously removed a minute fragment of tobacco from his tongue, he flicked it away.
I ducked.
"Last night, I bumped into Evan Davies, your teacher. He spoke well of you. Was delighted with your pass but was a bit concerned about your casual attitude. He thinks it's going to make life difficult for you in your new school. "
Continuing, he said, "He reckons you've got a grasshopper mind and you move from one thing to another, without pausing to take anything in! You should concentrate a bit and focus on a few of the more important things! "
I know what he's getting at, Graf, and I understand that it's not easy, with so many distractions, so much going on, all around you... and.. all over the world! It's hard to see the wood for the trees! Do you see what I'm getting at? You are so vague and woolly! Focus on something!"
A lovely man. He'd said his piece and got up to leave. He patted my shoulder and departed to catch the Mumbles Train to work. I knew he meant well and he was right. I never concentrated on any one thing. I was vague and woolly.
I would have to focus.
I decided that, as and from that moment, I should focus as nobody had ever focussed before. He was right, too about one other thing. So much going on, what a year!…..
1937.…The world in turmoil…the Japanese massacres in Nanking. .. … Spaniard slew Spaniard….a ravaged Ethiopia lie in torment…. Militant European dictators strutted and encroached……and so on, ad infinitum.
(75 years on and the ghost of my father whispers, "Plus ca change…").
Nearer home, the 1937 Gilded Coronation of George VI and Elizabeth had totally captured our interest, and our hearts.
Here was a proud nation bursting with loyalty, and sated with a feeling of invincibility. We celebrated! Life went on, complacently, and few worried about the jackbooted posturing in Europe. Amidst all this furore, of 1937 there was a highlight for me. Something which, selfishly, far outweighed all international drama. For the first time in my life, I had had a taste of success.
By a near miracle, I had "passed the scholarship"!
Along with, fellow pupils, Richard Davies and Bernhard Hullin, I had been awarded a place in Dynevor School, Swansea. For we three boys, the end of an era was approaching. Soon it was to be farewell to the warmth and security of Oystermouth Council School, where surrounded by lifelong friends and caring teachers, we had been cosseted and cared for, since the age of four! Before us lie, a move to new territory, a long way off, deep in the heart of Swansea. Bandit country.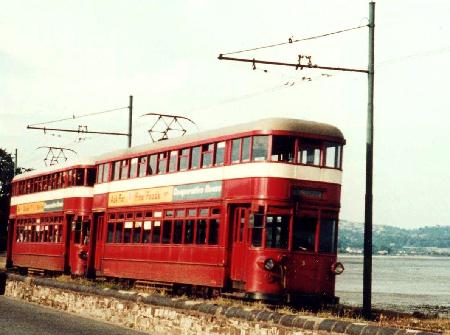 A Mumbles Train journey away from our homes. Was I ready for Dynevor and what preconceived ideas did I have?
Well, I read voraciously, nothing but top quality stuff, mind you. Weekly, since the age of seven, I had visited Steve Davies' Chapel Street shop, slapped two coppers on the counter and, according to the day, picked up the Wizard, Skipper, Adventure, Rover or Hotspur.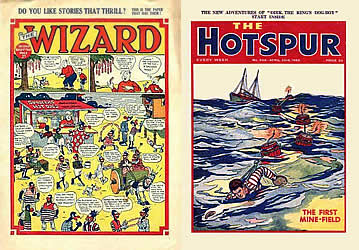 I soon progressed to the flawlessly written Magnet and Gem, penned so superlatively, by Martin Clifford and in which, tales of Public School life at Greyfriars and St. Jim's School, were recounted. These two boys' weeklies had stood the test of time having first seen print in 1908, and, written with great authenticity, the way of life enjoyed by the English public schoolboy, was clearly imparted to readers, worldwide. The schoolboy heroes portrayed, such as, Harry Wharton and Bob Cherry, of the Famous Five, were revered.
Clifford's writing, augmented by quality line drawing, had created in my mind, a clear cut impression of life in a major English Public School, an impression that endured.
Maybe, Dynevor School was going to absorb me into a life such as that which existed in the shaded cloisters and quadrangles of those lovely and ancient schools….. Schools set amongst the lush green of playing fields,…. with white pavilion and flannelled cricketers….. the clack of ball against willow,….the ripple of applause and...
"Oh! Jolly well struck, Fitzgerald minor!"
I hoped that life in Dynevor School would, perhaps offer me something, just a little bit like that in Greyfriars.
Were there: fags, studies, common rooms, prefects, lines, prep, floggings, school colours, houses, impots, beaks, gowned and mortar boarded teachers, school chapel, detention, tuck shop, matron, housemaster ? Bullying? Were there cads who smoked? I was soon to find out.
Dynevor School c.1929
The summer of 1937 had been a glorious one, the sun had perpetually shone, and day after day had been spent warily treading across the golden, searing sand and into the sparkling seas of Langland Bay.
How those days whipped by!
With each day passing, the heat of early August imperceptibly diminished and September was ushered in with its cooler evenings. So the holidays drew to a close with the last swims and farewells to those tanned holiday friends. Such poignant memories! The holiday was over and within days the moment of truth would arrive. And it did.
10.00hrs. on Wednesday 15th September 1937
I stood in the midst of ninety six restless boys, shuffling about in Pell Street, Swansea, outside the black, bolted gates of Dynevor School. Conversation was muted. There was tension in the air, fear clutched at vitals. An occasional high pitched, almost hysterical, laugh rent the air. The gates were scheduled to open at 10.15hrs.Mumbles was now a long way off, I was truly alone in a crowd.
Elsewhere in Swansea, similar dramas were unfolding. Terrified, cherry- capped boys had assembled at Bishop Gore's Grammar School, up Mount Pleasant Hill. On Glanmor Hill, outside the co-ed Glanmor Secondary School, boys and girls waited access to the pleasant open plan buildings. (This school was always referred to (rather unkindly) as the "Glanmor Cow Sheds", which, I believe, had something to do with its origins- not its products.
Back in Pell Street, freshly shorn heads fitting, itchingly, into brand new, hooped school caps, moved about like a seething bed of orange, red and black, polyanthus.
A sharp sunny morning and a chill breeze brought goose pimples to bare legs. An observer did not have to look hard to discern that the great majority of those legs were as skinny as the bony bodies they supported.
Short grey flannel trousers were topped by jackets many of which were brass buttoned, jet black school blazers, bearing the handsome winged school crest, and the school motto: "Nihil Sine Labore".
Leather Shoes
Persil-white, Reckitt-blued, Colman-starched and Mother- ironed shirts were knotted with the diagonally banded school tie- red and gold stripes on black. Most wore ringed school stockings, and feet were clad in black, father-polished, leather shoes.
To complete the Full Monty, doting near-relatives (proud Uncle Dais and doting Aunty Gwyns), had bequeathed fountain pens, usually Conway-Stewarts with 9ct gold nibs, purchased from, Morgan and Higgs, or AR Way, for 3s. 6d. These fine pens, full of Quink, were proudly sported in blazer breast pockets.
Every pupil clutched, with all the possessiveness of a SWT bus conductor, a new satchel of shining leather, so stiff that it needed a jack hammer to force the straps through the buckles. And, so equipped, everyone waited,… like les aristos, for Madame Guillotine.
Fortunately there was a distraction. Not a big one. But a distraction.
Whether we liked it or not, our attention was drawn to an unroofed, cast iron structure directly opposite, occupying a commanding situation in Pell Street. Approximately seven foot tall, it stood partly on the pavement and the roadway. Its very elaborately patterned and perforated metal walls were painted a shiny dark green and each corner pillar was surmounted with an ornate ball topped cone. Closer inspection revealed that every bolted cast iron sheet, which made up this edifice, was elaborately embossed with patterns of floral bouquets.
Victorian Age
This was the magnificent Pell Street public urinal and it was, indeed, a monument to the unique skills of those great urinal makers of the Victorian age. These were the fruits of sinewed foundry workers labouring in the Midlands who, by their sweat and ingenuity, had captured for Britain world dominance in the urinal industry.
Everywhere in the world, in desert or jungle, relieved patrons exiting these magnificent iron confines, would show their appreciation by muttering,
"Thank you, Great White Queen over the seas, for this great gift!" (Yes, indeed! Those were the days!)
A pleasant looking lad next to me started making observations as we watched the steady flow of frowning, anxious clients who would enter one side and disappear from view behind the William Morris patterned screens. This lad, who identified himself later as, Graham Bidder, made the astute observation that the position of the donor behind the screen, could be exactly determined by a drumming sound, shortly followed by the appearance of a slowly rising cloud of steam above the edifice and, occasionally, by one or two explosive sounds. The vapour,, would quickly disperse and shortly afterwards, the donor would reappear at the other side to hurry back to the office or food outlet which was his place of work, now no longer frowning but possessed with that satisfied and relieved look earned by a task well done.
At this earliest of stages, Graham Bidder (barely 12) had revealed his genius, the gift of astute perception. (A gift which aided his survival through RAF aircrew combat in WW2 and then on to a top career as an oilman in the Middle East).
Drawing bolt
10.15am. Our contemplation of this small biopic of Swansea culture was suddenly terminated. There was the sound of drawing bolt Petrified with immeasurable terror, we waited.
I glanced at my new Marks and Spencers, five bob wristwatch. Spot on the quarter, the two halves of the gate opened in, drawn by a short man in a grey suit with blue serge trousers and a brown waistcoat, topped with a flat cap. One lens of his spectacles was totally opaque. This gentleman was, the gentle "Sykie", the school caretaker, a kind man, liked by the boys because of his propensity to turn a blind eye to any misdemeanour. The gates opened on to a vast, bare tarmacked schoolyard. To the right, a single storied building housed the school toilets and adjoining them was a pair of fives courts. Facing us stood the solid, Edwardian structure of the main school buildings. This was the school quadrangle.
No green playing fields, no white pavilion, no shaded cloisters, no chapel, no…..
Standing dead centre and impressive in his solitude, stood a gowned, mortar-boarded gentleman, clutching a clipboard. He resembled a secretary bird. With head held high, he haughtily scanned the sea of pupils advancing and fanning out onto the space of the yard. His bearing, his grey clipped moustache and intensely blue, sharp eyes gave him a military appearance.
We fidgeted around him in the yard and in clipped tones, he introduced himself,
"I am Mr. David Williams, the Deputy Head Master"
(later we discovered that he was better known as "Dai Will"). Wooly though I was, I saw straight away that this was a boyo you didn't mess about with. After eight years of Sunday School experience, I knew his sort.
Main Hall
He called out, in alphabetical order, all the names of the new pupils and we were directed to the school entrance and up to the top floor, into the Main Hall. Rows of chairs faced a curtained platform, we occupied the front rows. Here we sat apprehensively, until the last lad, of the ninety six, had joined us.
Dai Will reappeared, now accompanied by a very tall, pince-nezed, distinguished looking gentleman, also gowned and boarded.
He announced that he was Headmaster, Llewellyn John. Here was a smile and a glint of humour in his eyes. When he spoke, one did feel a warmth, which belied the severe exterior. After a brief address we were sorted out and escorted to our form rooms which would be central to all our school activities for the coming academic year.
The rest of the day was a whirl. Teachers came and went, bringing and distributing the books of their subjects. Names were entered inside the covers and the books placed into our individual lock-up desks, desks which were to become our little private treasure chests. They were of substance, being made of solid varnished oak and cast iron frame.
Only one teacher actually taught anything that day. The last period of the day began at 3.30pm and a tall cadaverous, bald and darkeyed man swept into the room, with gown ballooning out behind him. He introduced himself as being our Form Master, and German teacher, he wrote his name on the blackboard: Eric P. Yates. He was soon to make his mark.
During the distribution of the books one boy, flame-haired Bobby Smitham, became rather verbose. Yates marched up the aisle, pulled him out of his desk and slapped him soundly on the back of his bare legs. The sound of the slap cracked about the room, and, although no strangers to corporal punishment, we were shaken!
Yates had immediately established his parameters. I never saw him lay a hand on a boy again. Unexpectedly, he then went to the blackboard. He pointed to three objects and he wrote their names on the blackboard in German:
Der Bleistift. Die Feder. Das Pult.
We copied those names into our new books, with instructions to learn them by heart. We had received our first lesson in Dynevor.
I found Eric Yates to be one of the finest men I was ever privileged to meet and one of the few in this school, which I was to come to respect profoundly. My feelings were shared by many.
The lesson, and the first day, finished at 4.10 pm
Time to go home. Cap on. New satchel, now with something in it, slung. Tear through the Market, past St. Mary's Church and the Clyne Valley pub, to Rutland Street. Caught the 4.30 train. Off at Oystermouth Station at 4.45.
Ten to five I was walking up Gloucester Place to my home. My father was looking out for me in the window. Inside, my mother and father greeted me warmly and anxiously asked how it had all gone.
I sat at the table with Dad, whilst Mum prepared tea……
"Well, Graf! How did the first day go? Lots to take in? Tell me! What impressed itself upon you most? What highlights?"
"Well, Dad! I did concentrate. As you say, there was a terrific amount to absorb but I did focus on just one thing."
My father smiled with expectancy.
"Good for you! And?.......
"Well, Dad! In Pell Street there was this big shiny green urinal and………."
---
Obituary. The Pell Street Convenience, circa 1890 to February 1941.
Almost certainly, this magnificent prefabricated structure saw birth in the Lockerbie and Wilkinson Foundry, Birmingham, in the late nineteenth century. In February 1941, along with the TSB bank in Union Street, the south side of Pell Street was totally destroyed in the 'Blitzes' on Swansea, bringing about the demise of the Pell Street monument, at the age of fifty.
However, solace can be found in that, the quality cast iron in its structure was salvaged for use in the war effort. There is the possibility that this metal found its way into the armour of one of Montgomery's tanks operating in North Africa, bringing relief to the besieged troops of Tobruk.
In its absence, the atmosphere of Pell Street was never the same again.
---