Print to PDF File | Return to Non-Print Version
---

Vicar Writes The
Dear friends,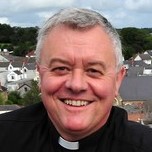 Last month my family and I took a drive to a pub in Llandeilo to have our first meal out together since the beginning of the lockdown.
It was quite an experience! We were met with hand sanitisers, a one way system into the dining room, everyone spread out to keep the two metre social distancing rule and meals served by staff wearing face masks and disposable gloves. This is clearly the 'new normal' for dining out for the foreseable future.
This said, we felt quite safe and it was actually an experience we all enjoyed. We raised our glasses to Mr Sunak, the Chancellor of the Exchequer, whose 'Dine out to help out' scheme meant that we only paid fifty percent of the cost. As the lockdown is slowly relaxed we are gaining a little of what we used to take for granted before the Covid 19 pandemic.
But there is a sense that we are a long way from returning to the 'old normal' we took for granted in the past. Though some have now thrown caution to the wind others are much more reluctant to come out of self isolation and into a world where we have to coexist with this randomly cruel virus. For a sizeable proportion of the population the experience has had a huge and negative impact on their wellbeing, their physical and mental health.
It's why, as a Church community, we have tried to find new ways of ministering to each other spiritually and pastorally. Here in the Mumbles Ministry Area we have had online services, pre-recordend by Canon Chris Darvill in St Peter's Newton. Our own 'Service of the Word' has gone out to around three hundred local churchgoers and has been passed on to hundreds more across the world. It has enabled us to cling on to the sense of community that is central to our Christian way of life. But we have all missed coming together for worship in Church. Nothing can ever be a substitute for that!
For almost two months now we have been able to gather again at All Saints' for the celebration of the Holy Eucharist. We have averaged around ninety communicants a week between the two services, and those who have come have found the experience very different but moving. We have been unable to share the peace, sing our hymns or socialize inside the building. Our priests have worn face masks and gloves to administer the sacrament and we have all sat the obligatory two metres apart. But it has been an important step forward in re-establishing corporate worship at the heart of our Church community.
I was very touched by an email I received after our first public celebration of the Eucharist. The person wrote these words, 'I can't begin to describe how emotional it was, as someone who has not known the touch of another human being for months, to hold our Lord sacramentally in my hand. The first touch was His!'
As we come out of lockdown to the 'window of opportunity' we have during the late summer there is a sense that things are opening up and getting back to something resembling normality. We can go to the pub; pupils and teachers are returning to school; people are going out shopping; workers are back in the office and factory; and the Church is gathering as a worshipping community once again.
But as we do this there is the threat of a possible second wave, for Covid 19 has not gone away. As Christians we are called to respond to this very real fear as people of faith. We have our Lord's promise that he is always with us to the close of the age. Just as many of us have felt that presence during these long months of lockdown so we can can face what the future holds in the hope that we are never alone, even though it might have seemed that way at times for those who have been self isolating on their own!
As we await what the future might bring we will continue to meet to celebrate the Holy Eucharist together in Church. For, when we come to woship we draw near to the Lord who holds us and the whole universe in the palm of his hands. Through his gift of the Holy Eucharist we are able to hold him in the palm of our hands too.
With every blessing,

---
In Memoriam
Basil Tavinor
A Requiem Eucharist was celebrated on Wednesday 19th August at All Saints' in thanksgiving for the life of our long serving Churchwarden, Basil Tavinor.
Due to the Covid 19 restrictions the congregation numbered just a few dozen, hundreds less than would have attended. The Service was led by Basil's brother in law, Canon Chancellor Arthur Howells. The Vicar preached and Canon Chris Darvill led the intercessions.
In his address, the Vicar spoke of Basil's remarkable contribution to the life of the Church at St Paul's, Landore, and at Oystermouth, speaking of how his faith was nurtured and shaped during his younger days as an altar server. This early experience instilled in Bas a deep devotion to the sacrament of Holy Communion throughout his long life. He attended the Choral Eucharist on Sundays and the daily celebrations of the Holy Eucharist every week.
The Vicar also spoke of Basil's work as a Churchwarden, serving for over thirty three years at All Saints'. He stayed on to help oversee the £1 million restoration appeal and project, which he saw to fruition. Bas was also a leading member of the Men's Fellowship, the Warrior's Working Party and the team that counted the weekly collection on Monday mornings. He was a great supporter of our outreach to the community, whether through our work with families and young people or the winter night shelter for the homeless. He encouraged those whose vocation to the priesthood was nurtured at All Saints'.
In his tribute the Vicar also spoke of Bas as a devoted family man; a loving husband to Alethea and stepfather to Sara. He and Alethea were great supporters of parish social events held through the year and made a number of lifelong friends within the Church.
In his closing words, Canon Keith spoke of how our Lord's words of commendation were particularly appropriate for Basil's life and faith, 'Well done good and faithful servant, enter into the joy of the Lord.'
At the commendation Basil's coffin was sprinkled with holy water, in celebration of our Baptism, and incense was offered in thanksgiving for a devoted servant of Christ. As the cortege left the Church grounds a good number of our Church family lined the driveway to pay their respects and clapped Basil out from All Saints'. It was a fitting tribute to a faithful and much loved member of our Church family. May he rest in peace and rise in glory.
____________________________________________________________________________
David & Merlys
This photograph was sent in by Tony Cottle and was taken at the Autumn Fayre at Norton in November 1999.
The photograph celebrates the good friendship that has been at the heart of ministry in the parish over the last two decades.
Sadly, Fr David had to retire earlier this year, due to ill health. He served as Assistant Curate here for thirty years. Merlys was Parish Administrator and PCC secretary for thirty four years.
We are very aware that the lockdown has meant that we haven't yet had the opportunity to publicly thank David and Merlys for all that they have done for the Church and community over the last three decades.
We are now planning a social event, once we are able to do so, where we will welcome them as our guests of honour and will present them with a token of our heartfelt appreciation of their joyful ministry in Oystermouth. This will probably be in the New Year – so watch this space.
---
PARISH NEWS
Happy 80th Birthday
Merlys Watkins celebrates her 80th birthday on Saturday 5th September.
Her many friends in the parish send their love and good wishes for a very happy birthday.
Merlys served as Administrator and PCC secretary for 34 years and is a much loved member of our Church family. She has also been a leading light in our Monday Ladies Fellowship, since it was formed twenty years ago.
We hope that she, Fr David and the family will have a happy day of celebration.
Llongyfarchiadau Merlys.
Thanks
We thank Margaret Williams for embroidering some more altar linen for All Saints'. Many of the cloths have the Mariner's [St Clement's] Cross embroidered on them.
We also thank Ann Peregrine Davies for repairing the Tunicle that is used as part of our High Mass set. Many thanks to you both.
Annual General Meeting
If the regulations allow we plan to hold the Annual General Meeting of the Parish at 11.15am on Sunday 27th September in Church.
The meeting has been delayed from earlier in the year as a result of the national lockdown.
We hope that the 2020 Parish Report will be available a week or two before.
Nomination forms for the election of Church officers and PCC will also be available at the back of Church or on request from the Parish Secretary, Sonia Jones on:
We would really welcome new nominations to serve as parish officers and on the PCC, which usually meets for an hour or so every other month.
Please think about joining our team!
Magazine Notes
Notes for the October edition of the Parish Magazine need to be in by Sunday 20th September at the latest please.
It's always good to receive articles, stories and photographs, especially those of local interest.
Contributions can be emailed to the Vicar at: revkeithevans@talktalk.net
Thanks
We thank Barbara Richards [AKA 'Barbara Cards'] for donating £1,000 from the sale of her cards to Church funds. It was a very welcome boast to our finances in these challenging times. Many thanks Barbara.
Church Grounds
Stuart Batcup, Bernard Hex, Alan Thomas and James Williams have done a wonderful job in clearing the ivy and weeds from some of the graves and paths around the Church.
We also thank Geoffrey Cottle for looking after the rose bed in front of the vestry, which has looked spectacular this year.
Again we ask that if anyone could give an hour a week to help tidy up the Churchyard we would be very grateful. It's something we can do on our own or as a 'social bubble'. Just turn up when it's convenient to you.
We have plenty of garden refuse bags available in the wooden store box.
Ministry Area Online Worship
We will continue to send out our Mumbles Ministry Area online worship resources, especially as many continue to self isolate or shield in their homes.
We have a written 'Service of the Word' which goes out to around three hundred people.
Canon Chris Darvill's pre-recorded Sunday and Midweek services are available online at "Virtually St Peter's".
Llwynderw parish also has a monthly service on its parish website.
Well Wishes
Maureen Donald, Betty Jenkins and Kris Isaac have been in hospital recently. Betty is now home and Kris has had eye surgery. We send them our love and wish them a speedy recovery.
We also send our well wishes to Charles Billings, Pam Thorpe, Fr David and Merlys Watkins, Sheila Rees, Maria & Reuben Gomez, John Sutton, Bud Williams, Liz Batcup, Phillip Williams and Margaret David.
We assure you of our love and prayers at this time.
For up to date news follow us on Facebook or the Parish Website:
www.parishofoystermouth.com
---
A trek through old Mumbles Village and Thistleboon
Part 5
Having finished our haul up Thistleboon Road, we have arrived at the hamlet of Thistleboon, and will use the new extract from the 1844 Tithe Map to help us look around.
The first mention of this hamlet that I have found, is contained in Oliver Cromwell's 'Survey of the Lordship of Gower In the Marches of Wales' which begins in the following way:
"A SURVEY of the Seignory or Lordship of GOWER with the several Members thereof in the Countie of Glamorgan begun the 27th day of August Anno 1650. By Bussy Mansell and John Price Esquires and George Billinghurst Gent; By virtue of a Comission to them and others in that behaulfe given by the Right Honorable OLIVER CROMWELL Lord General of the Parliamentary forces, which Survey was afterwards continued by the Perambulacon of the said George Billinghurst, beinge assisted therein by some of the Tenants and Officers of the said Seignory"
This is found in a volume published for the Cambrian Archaeological Association in 1870 incorporating the work of the well-known Swansea Historian George Grant Francis FSA published in 1861. The Preface by Charles Baker sets the scene nicely:
"The volume includes Surveys of Gower and Kilvey, and of several mesne manors within the Seignory of Gower. The earliest is an extract from a survey of Landewi, taken in the year 1326; all the other Surveys range between the years 1583 and 1689, The present collection is not an exhaustive one, but there are doubtless many other Surveys in existence besides these now printed."
In that Survey there are several references to land holdings at FISTLEBOON or FFISTLEBOON as the place was probably then known. In 1799 the hamlet was shown on George Yates' survey of Swansea Bay published by J Cary in that year as THISTLE BOON [two words], but by 1835 when the Parish
Vestry Minute Book recorded all the rateable properties in the Parish of Oystermouth, the name had settled as THISTLEBOON.
As you will see from the 1844 Tithe Map this was the spelling that had by then come into common parlance, and so it has remained since. Not a bad name really?
Above the word 'Pound' on the 1844 Tithe Map is a yellow coloured parcel opposite Thistleboon House. This is Parcel No 1063 in the Schedule to the Map recorded as 'Garden' in the occupation of one Thomas Bowen, the owner being the Duke of Beaufort. The extract from the 1877 Ordnance Survey also produced shows the layout of that garden in some detail. The garden is long gone, and to get some idea of what it was like we have the account of Amy Winters in her booklet 'LADY AND ME: Memories of life in Thistleboon Orphanage' published in 1995.
Amy was 2 years old when she went to live in the Orphanage in 1926 and was there until she left aged 15 in 1938. She had very happy memories of her time in the Orphanage and says:
"I especially remember the gardens at the house because they were so beautiful. The house was surrounded by a high stone wall with double iron gates in front. In one corner of the wall was a door from which we sold fruits and vegetables to the local people. A path led from the gates to the front door and either side of the path were the flower gardens. They were full of all different kinds of flowers including lupins, wallflowers and hollyhocks. The produce was all grown in the kitchen garden which was across the road from the front gates. Here was a greenhouse, cold frames, a herb garden and gooseberry and blackcurrant bushes. We grew tomatoes, onion, potatoes, lettuce and many other vegetables."
The booklet is well worth reading, and Amy devotes a whole chapter to Mr Morgan the Gardener:
" Mr Morgan was the gardener at Thistleboon and touched my life in many ways. He lived with his wife in Village Lane. He was a kind gentleman with a big white moustache. I loved to go out in the garden where he was working and he would tell me the botanical names of all the flowers and vegetables………Our gardens were always immaculate – beautiful flower gardens in front of the house and a vegetable garden across the street behind a big wall."
All this changed in 1939 when the Orphanage closed and the site reverted to the Beaufort estate which, through the medium of a company 'Picton Developments' decided to develop the Garden and part of the 'Great Meadow' for housing. In the nineteen twenties the estate had developed another part of the 'Great Meadow' by granting building leases to `owner occupiers' of the houses now known as 1-12 New Villas.
After taking away the 'big wall' around the Garden, the five pairs of semi-detached 'Dutch Style' houses, then Nos 1-10 Higher Lane [now 158- 140] and the detached 'St Ives' on Plunch Lane were built to rent, and seem to have been the first example of 'social housing' in Mumbles Village. Our neighbours on either side, Les Court and Peter Harris both worked for Picton Developments.
John Court remembers 'the Orphanage' standing empty when he moved in as a boy to 'St Ives' in 1939, as did my Mum Olga Batcup when she moved in next door to No 1 Higher Lane after she and my father Fred were married in February 1940. The Orphanage did not stay empty for long, for after the Nazi invasion of Belgium later that year, it was used to house Belgian Refugees for the duration of the Second World War .
My father had strong Mumbles connections, but he left to join the Army shortly after they had moved in. Accordingly my mother's sisters from Sketty took it in turns to stay with her until my father came back. Mum became a Post Lady for the duration of the War and got to know the villagers and the Village well. She often regaled us with tales of her adventures with the Post Office vans [she turned over at least two], and of her experiences of the Blitz of Swansea in 1941-1942. When the sirens sounded the refugees would come across the road and insist that she and her resident sister went with them into the cellars of the Orphanage to shelter. Mum felt that she would have been safer in the Anderson Shelter at the top of the garden! Fortunately, she was part of a close-knit community with good neighbours who had all moved in at the same sort of time.
After seeing service in North Africa and Burma with the Eighth Army followed by long periods of convalescence in India and South Africa my Dad returned to Thistleboon in 1944 with his health shattered. He used to tell me that when he was pensioned off on health grounds, he was told that he was sterile. Fortunately for me and my two sisters, they got that one wrong!
On Sunday 29th April 1945, the day after the Italians strung up Mussolini's corpse in Milan, when Hitler was marrying Eva Braun in Berlin before committing suicide in their Bunker a few hours later, my mother and Dr Gwent Jones were struggling to bring me into the world in the front bedroom of 1 Higher Lane. Fortunately, they were successful, and my first name became 'Victor'! For the next 22 years my life was always overshadowed by the bulk of Thistleboon House immediately opposite as can be seen from the photo taken in our garden when I was a little chap [it also shows Amy's Door in the corner of the wall].
Not surprisingly therefore Thistleboon House and its history has always fascinated me since. Over the years I have accumulated large amounts of material on the subject which have festered waiting for my retirement and the time to deal with it. Coronavirus has given me both, but the product will have to await the next Part of this Trek.
Stuart Batcup - August 2020
---
All Saints' Organ Report
This month members of the PCC will be looking at an extensive report they recently commissioned on the organ at All Saints, parts of which are almost one hundred and fifty years old.
The 36 page document was written by Dr Richard Scothon FRSA, a long-standing friend of our outgoing Director of Music, Luke Spencer. Dr Scothon is one of the most knowledgeable organ advisors in the UK.
The report describes how the organ 'can competently accompany a congregation and has a specification broad enough to play a wide range of repertoire. The re-use of older pipework is very successful and sings remarkably into the building... it is a delight to play.'
But Dr Scothon goes on to write that there are now parts of the instrument that need urgent attention, mainly the electrical and mechanical problems arising from the major overhaul in the late 1990s. The wooden sliders and electrical contacts do not always work as effectively as they should. Dr Scothon has suggested three possible ways forward.
Scheme One: would involve the complete overhaul of the instrument which would clean and replace all its parts. This would obviously be a very costly option and would be similar to the overhaul completed in 1998 [at a then cost of £108,000]
Scheme Two: would be a more cost effective option and would focus on the parts of the organ that need attention – the remedying of the problem areas [of which there are many]. This would also involve modifying the 4ft Principal stop on the Great Organ and the replacement or re-voicing of the 2 rank Scharf Mixture on the Choir Organ.
Scheme Three: would be the option of adding a solo Tuba rank to the Choir Organ and a full set of Swell Organ reeds.
A major overhaul, just over twenty years after the last one, is not a realistic option for the parish. But a focused overhaul [Scheme 2] of the parts of the instrument that are causing problems is financially achievable. So is the suggestion of some additional stops [Scheme 3]. We have been told that this work would cost between £30,000 and £35,000.
As we already have £29,000 in the organ appeal fund the project is now much more achievable. If we do nothing then large parts of the organ will become unplayable.
We will keep you informed about any developments as members of the PCC consider applying for a faculty to begin the work in 2021.
Organ playing is the manifestation of a will filled with the vision of eternity [C.M. Widor]
THE GREAT INVASION SCARE
The night the bells rang out: 7th – 8th September 1940
In the early hours of Sunday 8 September 1940 the inhabitants of Mumbles were suddenly awakened by the ringing of church bells. The urgent clanging was not a call to worship; it was a call to arms – THE EXPECTED GERMAN INVASION had begun!
It is difficult, 80 years on, to imagine exactly what civilian life was like in September 1940. With the war entering its second year there was rationing, shortages, blackout, evacuation, conscription, compulsory war work and all manner of restrictions on every aspect of daily life. In addition there was the threat of German invasion. It was expected and when the church bells pealed their dawn warning many believed troops had landed and were marching towards Mumbles!
"There's a war on!"
Why was an invasion expected in September 1940? During that spring and early summer German armed forces had advanced rapidly through Western Europe as part of the Sichelsnitt plan. First, Denmark and Norway then Luxembourg, the Netherlands, Belgium and France were invaded, defeated and occupied. Italy entered the war on Germany's side. By the end of June France had fallen, the Channel Islands were in German hands and it looked certain that mainland Britain would be next.
The opening sequence of the BBC sitcom, 'Dad's Army' cleverly sums up the dire situation. Three swastika-headed arrows sweep across Europe forcing Allied troops back to Britain. The arrows halt menacingly on the French coast. Across the English Channel a solitary Union Flagged-arrow (with nothing behind it) watches warily – and waits.
All across Britain people felt that there was now nothing between 'them and us'. Anti-invasion measures were hurriedly being put in place. Coastal areas were cleared, enemy aliens rounded up and interned, road blocks erected, thousands of sand bags were filled and deployed, anti-aircraft gun batteries installed and (much to the inconvenience of civilians) road signs taken down. It was announced that the ringing of church bells was banned. In future they would only be rung to warn of an invasion. As the hot, dry summer passed, it was no longer a question of 'if', but 'when', those bells might be rung.
On 11 June, the day after Italy had declared war on Britain and France, Laurie Latchford [phoyo: top left, private collection], a Senior Air Raid Warden living in Caswell Road, Newton, wrote in his private diary: 'For once we sat down seriously to talk about how we should behave in the event of invasion. I have some papers to burn, but beyond that there seems no role to play at first other than to stay put and look after neighbours as far as possible and grow food. … I didn't like the dismal atmosphere so
I took the whole family down to Mumbles Head where we sat on the grass and watched the ships gathered there. For some reason the sight of this small group of ships, unmolested, was most reassuring.'
A few days later Latchford's family, along with every household in Britain, would receive a copy of a warning leaflet from The Ministry of Information. 'If the Invader Comes' ordered civilians to 'stay put' in their homes so as not to block roads needed for the Military. In addition they were told to keep watch, not to believe rumours, not to give any help to the invader and to think before acting - 'PUT YOUR COUNTRY BEFORE YOURSELF.'
Responsibility for controlling the civilian population, forestalling panic and preventing evacuees blocking communication routes fell to the military authorities, the police and the newly formed Local Defence Volunteers. [Replica of the leaflet, author's collection]
"We are the boys who will stop your little game"
On 14 May Anthony Eden, Secretary of State for War, had made a radio appeal for large numbers of men aged between 17 and 65 (especially those not eligible for the armed forces) to offer their services as part of an unpaid but armed Home Defence Force. Within a few hours of the broadcast police stations all over the country dealt with hundreds of thousands of volunteers. The Home Guard, as it was renamed, comprised 1.5 million members. Its role that summer was to be a secondary defence force in any attack or invasion.
Laurie Latchford worked for His Majesty's Customs and Excise in the Custom House adjacent to South Dock. Swansea in 1940 was an important industrial and commercial town with an equally important and busy port. It was to be protected by a circle of coastal defences of guns, barrage balloons and searchlights. Writing in his diary, Latchford noted the installation of batteries of anti-aircraft guns and reports of tanks and armoured cars hidden in coppices and woods around Swansea Bay. On the beaches ten-foot high iron rails, strung with barbed wire, were driven into the sand and huge blocks of concrete were cast along the low-lying shoreline. The docks themselves were surrounded by high barbed wire fences. All approach roads were blocked. On 28 June he wrote: 'Swansea is rapidly assuming the appearance of a fort. Every vehicle in or out [of the docks] is stopped by Local Defence Volunteers, now, I believe, called the Home Guard. Pity, their nickname: 'Look, Duck and Vanish' is much more colourful!'
"Who do you think you are kidding Mr Hitler?"
A report from Switzerland announced that Hitler would invade on 19 July, because tidal conditions were favourable. That night Laurie Latchford was sleeping at the Newton Air Raid Wardens' Post in Nottage Road and his diary entry gives a good idea of the level of tension present when the air raid siren went off in the early hours.
'I went to the door of the Post. The village was black under squally rain. Almost directly I heard a plane flying very low. Searchlights came on but switched off again as they were useless, in fact they were dangerous. The rain transfused the light and the searchlights illuminated the countryside, trees, fields, wet road and the slope of roofs. The plane passed over with a loud roar. Its engines had hardly died away before another plane came. This went on for some time, punctuated by squalls of rain driving up the road from the sea. There seemed to be several planes circling low. I grew more apprehensive as every roar of plane engines grew and faded. I was certain that in a moment we would be 'for it'.'
In fact, that day Hitler had made his final 'peace offer' in a lengthy speech to the Reichstag. If there was no favourable response from Britain then preparations for invasion would begin. The 'peace offer' was contemptuously dismissed by the British government. When people in England and Wales awoke to find leaflets festooned across bushes and trees and lying in the streets, cinema newsreels showed copies of 'A Last Appeal to Reason by Adolf Hitler' being auctioned for the Red Cross or the Spitfire Fund, or laughingly torn up for use as lavatory paper!
Other objects were dropped from the sky as well - empty parachutes, small amounts of high explosives, maps, photographs, lists of well-known Britons presumably marked for execution, fake instructions to imaginary secret agents – all designed to create fear and confusion.
"Don't panic!"
In this strained atmosphere of high expectancy, tension and fearful anticipation it was inevitable there would be false alarms. People living in one Rhondda Valley village mistook the sound of wind on a factory tin roof for church bells. In the ensuing pandemonium women apparently armed themselves with petrol-filled milk bottles (matches at the ready) and coppers of boiling water with hoses attached. Not to be outdone, children ran around with whatever weapons they could find, including kitchen knives and pokers! A famer living near Cardiff was called out early one morning with his local Home Guard to man the sea wall and repulse an expected landing of troops from a German submarine. But one glimpse of a low tide expanse of mud indicated that this 'invasion' was very unlikely. The sudden arrival overhead of an enemy aircraft and a string of bombs caused the brave defenders to flee back home.
Waiting for Hitler
Hitler knew a seaborne invasion would not succeed without first defeating the RAF. So, all that summer German bombers attacked British coastal defences, radar stations, airfields and aircraft factories, and ports and shipping in the English Channel. The bombers were accompanied by fighters to entice RAF Fighter Command's defending squadrons into battles to weaken them. Defeat of the RAF would either make invasion possible or, by forcing Britain to surrender, unnecessary. This was the start of what came to be called The Battle of Britain which lasted until the middle of October.
Once French air fields in Brittany and Normandy were captured by Germany, Swansea came well within the range of the Luftwaffe. The first air attack on the town occurred on 27 June 1940, when a stack of six high explosive bombs were dropped on Danygraig and Kilvey Hill. Two days later 2 bombs fell near the Upper Fforest tinplate works at Morriston. More small raids followed.
On the night of 3 August several bombs were dropped near the anchored wreck of SS Protesilaus in Swansea Bay, off West Cross. Little damage was done but the explosions were felt in Newton, where Laurie Latchford was on air raid duty. 'I came home to find the explosions had rocked the house.' Four nights later he was rudely awakened when 'a series of terrific bangs seemed to lift the bed.' Ten high explosives had been dropped into the sea near the Mumbles lighthouse. 'Obviously Jerry was after shipping. The Bay is bobbing with half water-logged pieces of wood. … The sea bed must be scattered with such material to be released when the sea bed is disturbed.'
A state of drought was declared after a succession of sun-baked days and during the warm, clear nights air raid sirens in Southend Gardens and on the police house in Newton Road wailed their frequent warnings. Often the aircraft were on their way somewhere else, but it could be nerve-wracking. 'It seems to me that Jerry is trying new tactics; long hours of wandering, apparently aimlessly, to keep the defence and civilians 'on the jump'.' Laurie noted on 25 August.
The air raid on 1 September 1940
A fairly heavy raid on 10 August had caused damage to the main railway line and viaduct at Landore. Fifteen people were killed and a further fifteen injured. But it was on 1 September that Swansea suffered the first of its six 'blitzes'. That night over 1,000 incendiary bombs and 106 high explosives fell on the town centre and surrounding areas causing extensive damage. Thirty-three people were killed and over 100 injured. Llandarcy oil refinery was hit and tanks of chemicals burned for four days with a fire so intense that Archdeacon George Wilkinson [vicar of All Saints' Church, Oystermouth, five miles away] could read at night, without any lights on! Laurie Latchford wrote: 'At night it is an awesome sight. The slowly twisting column of black smoke must now be several miles high with flashes of flame within the smoke. We'll have another heavy raid shortly, I'm sure, with that beacon to guide Jerry in. '
[Swansea street after the 1 September 1940 raid; photograph South Wales Evening Post]
Each night people from Swansea left the town seeking refuge in outlying areas. The 'trekkers' slept in cars, lorries, tents, huts or in the open air. On the night of Friday 6 September sirens sounded every hour until the 'All Clear' finally went at 5.30am.
The Night the Church Bells Rang
It was in this somewhat febrile atmosphere that the church bells of All Saints' and St. Peters began to ring at 3am on Sunday 8 September. Fast asleep after being on duty all Friday night Laurie Latchford was woken by his wife Essie crying: '"Can't you hear the church bells?" Invasion!'
Scrambling into his clothes, heart thumping and mind racing [the Bristol Channel was a plausible place for invasion] Laurie ran out into the night. The bells were still ringing: 'with an urgent, irregular clang". Men were banging on doors calling up the Home Guard and vehicles rushed past in the dark.
At the Air Raid Wardens' Post in Nottage Road, the instructions were to return home and stay indoors until the siren went. It was very dark and when the bells suddenly ceased their tolling, it was very quiet. There was total silence, no sound at all, not even the distant murmuring of the sea.
Laurie and Essie stood watching from their front bedroom window, looking towards the sea, apprehensively watching for any flashes of light or unusual sounds that might be the enemy. The church bell 'clanged again with a more urgent and ragged beat than before'. Someone with a screened torch was kicking a front door shouting as he kicked: 'Come on Ivor, the church bells are ringing. Come on you!'
Now wearing his full air raid warden's uniform and armed with an Indian club Laurie stepped outside once more. He was immediately challenged by a very young Home Guard with a rifle and fixed bayonet. The church bell stopped as suddenly as it had started. In the silence he could hear muffled voices coming
from the gate to St Peter's church where a group of men challenged him once more. Everyone was jumpy. Laurie shone his torch on the "W" on his tin hat. 'I didn't like the way they were waving their rifles about and where they pointed their bayonets. I presumed the rifles were loaded – I was wary. "What's up?" I demanded. "Damned if we know, man … we were ordered by the military to ring the church bells, invasion somewhere, bound to be!" He told me that about 200 men were in the Mumbles area, fully armed, and that more were coming.'
'At home a neighbour and his wife were talking to Essie in hushed voices. They were dressed as though for a train journey, with packed bags ready to leave.'
The Latchfords made a pot of tea and set about reassuring themselves: 'many times in different ways and with different degrees of confidence, that invasion bells would ring over a very large area and that the lack of aeroplane noises or bombing or gunfire and the lack of further warning meant we must be well outside the danger area.'
Settling down for a nap they heard noises from 'Morgan-across-the-road's garden. Morgan was digging vigorously! "I've got to do something." [He said] "I can't keep waiting for Jerry to turn up."'
Dawn turned into day and the sun came. The early-morning mist cleared and the Bristol Channel sparkled through the pine trees across the road. Daylight restored their confidence.
"We're afraid you've missed the bus."
It was soon clear that there had not been an invasion. Questions were asked as to why the Home Guard had been called out. In the absence of an immediate official statement various stories circulated - there had been a landing on the Devon coast; seven parachutists were captured east of Swansea!
The Monday newspapers, including the Western Mail [image above], bound by the constraints of censorship carefully reported the 'mystery over the ringing … of the church bells in a Welsh coast parish on Saturday night. Police and other authorities cannot account for it, but there was much activity on the part of the ARP and other Home Defence Services.' They went to say that in various places around Britain the Home Guard had been called out by the Military. Roads had been cleared of all civilian traffic. People travelling were stopped and questioned. But the papers assured their readers that fears of an invasion were 'absolutely groundless'.
The bell-ringing was the result of intense invasion anxiety. Recent air reconnaissance had shown an increase in the number of invasion barges assembled in French and Belgian ports and dive-bombers stationed near the Straits of Dover. Moon and tidal conditions on the south-east coast were favourable for a landing that weekend and by late Saturday afternoon the Chiefs of Staff agreed that an invasion might be imminent. Both the Navy and the Air Force were prepared. However, the civil departments were not given a special warning with the result that when (shortly after 8pm) the signal 'Cromwell' was issued from GHQ Home Forces to Commands covering eastern, southern and south-west England, including London, it was misunderstood. It was intended that those receiving the signal should put themselves into a state of highest readiness. However, in some parts of the country, Home Guard commanders acted on their own initiative. They called out their men and ordered bells to be rung. And so it was believed that the long-awaited invasion had commenced.
The situation had been made worse by the Luftwaffe who, in a complete change of tactics, launched a severe daylight air raid on London late on Saturday afternoon. This added to the belief that an invasion was starting and was fuelled by reports of German motor-torpedo boats approaching the south-western coast and the landing of German parachutists. Subsequent Investigations revealed that the 'German torpedo boats' were probably the early return of a Cornish fishing fleet emerging from a sea mist!
But rumours persisted, particularly in the American press which widely reported that an attempt to land on British shores on 7 September had been repulsed with large numbers of German casualties. The story later expanded to include false reports that the British had set the sea on fire with burning oil. Although these stories were denied by both Britain and Germany, the 'whispering campaign' could well have been British propaganda to boost morale and to convince America that Britain was not a lost cause.
2,000 Londoners were killed or seriously injured in the air raid of 7 September. The wholesale bombing of London and other civilian targets across Britain [including Swansea] continued until the spring of 1941. Germany's failure to achieve air supremacy in the summer of 1940 meant Hitler postponed the plan to invade Britain. In June 1941 he invaded the USSR instead.
Early in September 1940 a German film crew had arrived in Antwerp to film a simulated 'invasion' of Britain, with local beaches used to represent the English coast. The film was presumably never seen in German cinemas!
In October 1940 Winston Churchill commented in a speech broadcast to the people of France: "We are waiting for the long-promised invasion. So are the fishes."
Kate Jones, August 2020
Acknowledgements and further reading: The Swansea Wartime Diary of Laurie Latchford, 1940-41, edited by Kate Jones and Wendy Cope; The Three Nights' Blitz, J.R. Alban; How We lived Then, Norman Longmate; The Rise and Fall of the Third Reich, William L. Shirer; The National Newspaper Archive; .Lyrics from Dad's Army theme song written by Jimmy Perry and Derek Taverner.
_________________________________________________________________________
Sue's 'Blue Rinse' raises almost £1,000 so far
Since the beginning of lockdown Sue Wilkinson has died her hair 'electric blue' Sue Wilkinson to raise much needed funds for the Wales Air Ambulance.
Her daughter, Rachel, set up a 'Just Giving' page to try to raise £200 from family and friends. To date she has raised £955 and donations are still coming in.
The Air Ambulance is a charity funded by the people of Wales. It usually costs £8.5 million a year to keep its four helicopters in the sky and saving lives. The charity can be anywhere in Wales within twenty minutes. It takes doctors and medics directly to the patients. Like many charities, at the moment, the Wales Air Ambulance has seen a marked drop in its income, especially as its shops have been closed.
If you would like to support Sue you can do so online. Just type in 'Rachel Tucker is fundraising for the Wales Air Ambulance Charitable Trust' and follow the links, or you can bring your donation to Church in an envelope marked 'Sue's Air Ambulance Appeal'.
___________________________________________________________________
Church Finances
Once again, we thank those who have sent in their collection and given donations recently. We also thank those who have signed up for standing orders or the Church in Wales 'Gift Direct' scheme.
If you plan to return with your weekly envelopes it would be a great help if you would write a cheque for the amount [made payable to 'All Saints' Church Oystermouth'] as this can be banked much more easily.
Swansea Night Shelter 2020-2021
For the last six years we have played an active part in the Swansea Winter Night Shelter, opening the doors of our Churchrooms for up to twelve guests every Tuesday evening from the beginning of January to the end of March.
It has been tough but rewarding work for our four dozen or so volunteers, who have been drawn from our own parish and from a number of different local Churches. Over the last two years it has been a joy to share this ministry with a good number of volunteers from Our Lady Star of the Sea Church, making the Mumbles shelter truly ecumenical.
Last year the oversight of the three month initiative was taken over by 'Housing Justice Cymru', which is part of a national charity working with the homeless and finding affordable housing for families and individuals. Sadly, due to the national Coronavirus lockdown, the shelter closed a few weeks earlier than usual.
The next night shelter will be very different. Plans are being made to open a four week shelter in a 'static venue' for up to eight guests in October. This will be held in the St Stephen's, a multipurpose Church in Port Tennant, Swansea. St Stephen's has run the Monday evening shelter for the last couple of years.
The organisers have already emailed the hundreds of past volunteers to ask if they can help out next month.
The January to March shelter is also likely to be a 'static' one, though the venue hasn't been finalised yet. This will mean a very different kind of ministry, where volunteers from across the city and from many different Churches will be asked to come to a central building.
Given the uncertainty surrounding the Covid 19 pandemic a number of our volunteers have already decided that they will not take part this coming autumn and winter. We very much hope that no one will feel guilty for doing so. Many of our helpers are in the more vulnerable age group and it makes the utmost sense to take a back seat during the duration of the virus. Most of our volunteers are now 'seasoned veterans' who have been helping out for several years.
This said, there are other ways that we can help. Last year we gave St Stephen's £500 to assist with their running costs. The PCC is considering how we can help by offering further practical and financial support to our link parish on the other side of the bay.
A number of our Tuesday evening team have said that they are still willing to help. Some have already signed up for training for October's shelter, which will also be run in partnership with the City Council.
Next month we plan to describe ways in which more of us can help in this vitally important ministry. We also hope to raise funds for the Housing Justice Cymru Swansea Shelter through our Harvest and Christmas appeals over the coming months.
In the meantime, we thank our former co-ordinators and volunteers for all that they have done and will continue to do to help bring people off the streets of our city and into secure accommodation of their own.
---
Parish of Oystermouth
The ANNUAL GENERAL MEETING of the Parish
will be held at 11.15am on Sunday 27th September [in Church]
The 2020 Parish Report and nomination papers will be available from Sunday 20th
Please join us for this most important Church meeting of the year.
---
Musings of the Past
The first Vicar of Oystermouth, after the parish had been served by a succession of Perpetual Curates for over two hundred years, was the Revd Harold Stepney Williams [photo - left]. He became Vicar in 1898, Archdeacon of Gower in 1923 and retired in 1938.
He is remembered in the parish as a Church builder, extending All Saints' in 1915 and overseeing the building of St Peter's, Newton, Norton Mission, the Church Hall [now Ostreme], Church Schools and Clyne Chapel. He also founded the Oystermouth Parish Magazine in 1899 and wrote prolifically for it.
Over the next few months we will publish some of the interesting articles he wrote. It gives us an insight to Church life a century ago. We begin with two extracts, the first of which he recalls the beginning of his ministry, written in 1938;
"Trinity Sunday, 2nd June 1888 was a red-letter day in my life. On that day, fifty years ago, I was ordained to the ministry of the Church at Chester Cathedral. That evening I went to my first curacy at Bromborough, Chester. I was there in time for evensong. My Vicar was an old man, very small, wiry, vigorous, all alive. He wanted me to preach that night, but I wasn't having any of it. I wanted breathing space. He was dressed like parsons used to dress a hundred years ago; a long black coat buttoned tightly from top to bottom, a sort of Gladstone collar sticking out on each side with a white choker; side whiskers, otherwise clean shaven, a Duke of Wellington nose, a big chin, a long thin-lipped mouth, decisive in character, very overhung brown sunken eyes, keen and intelligent. I thought at first he might be difficult, but he wasn't. Apart from the fact that he evidently wished me to sweat, while he looked on and saw that I did sweat, he was a very decent old fellow. What a parish! The residents were rich Liverpool merchants and their dependents. Hardly a poor person in the parish!"
The next three appointments as Curate, at St Jude's, Swansea, Gowerton and Hafod would prove to be a very different experience for him.
The second excerpt for this month takes us back to his holiday in 1925;
"It may amuse you to know that during my holiday wanderings I was, one day, mistaken for a beggar or a tramp. It was a hot day. My clothes were certainly well worn, not to say shabby and covered with dust. It would seem that I did not look very clean. Having wandered over Tewksbury Abbey, I was very tired and sought a seat against the west wall, more or less in the dark. I sat down on a chair and leaned forward with my elbows resting on my knees and my cap in my hands in front of me. I may have gone to sleep, I know not, but I was aroused suddenly by the sound of coins falling into my cap. It was twopence. A kindly benevolent old lady stood in front of me, smiling sympathetically. I wish I had said nothing and kept the twopence for the poor box, for the lady was more overcome than I when she discovered her mistake, for she rushed out of the Abbey in haste. I hope I am looking more respectable now!"
We plan to print more extracts next month.
From 'Fifty years at All Saints' [E.I.E Phillips]
---
Parish of Oystermouth
Contact details:
Vicar: Revd. Canon Keith Evans DL,
The Vicarage, 9, Western Close, Mumbles, Swansea. SA3 4HF. '369971
---
---