The first organ in All Saints
Here is an extract from 'A Guide to Oystermouth Parish Church' published by E.I.E. Phillips in 1960

Until the year 1860 the choir, probably seated in the rood loft (east gallery), was accompanied by a bass viol. (similar to the present day double bass and played by James Masln, the Parish Clerk)
(The choir moved to the west gallery 1860-73)

In the year 1873 an organ chamber and an organ, the gift of Mr Crawshay, were added. To mark the re-opening of the altered church, a special service was held on the 7th April 1873, when the choir was led for the first time by the unaccustomed strains of the organ. It is probable also that the choir sat for the first time in the stalls in the chancel at this service, and not the western gallery where, it's thought, they had had sat since the rood loft was demolished in the alterations of 1860.
The sermon was preaced by the Bishop of St. David's Connop Thirlwall, who took his text from Psalm 150 "Praise ye the Lord ... praise him with stringed instruments and organs ... let everything that hath breath praise the Lord."
We do not know whether the 'stringed instrument' of the clerk was played on that occasion, but we like to think so.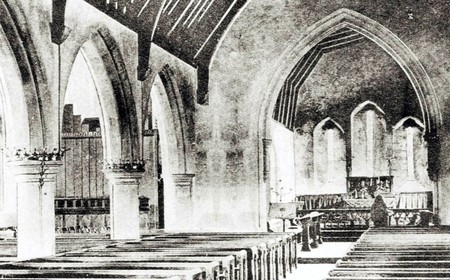 This is a photo of All Saints dated around 1900 - the wooden organ pipes installed by Robert Postill of York, are clearly seen on the left.
Gas light was installed in the church 1872-3 about the same time as the organ and created conditions in which evensong became a permanent custom in church worship.
The present organ, built by Peter Conacher, replaced the old one in 1916, but some parts of the old organ were incorporated in the new.
(Note: many of Postill's pipes are still in use today)
---
Here is the specification of the original organ by Robert Postill 1873
Great
Open Diapason 8
Dulciana 8
Stopt Diapason 8
Clarabella 8
Wald Flute 4
Principal 4
Twelfth 2 2/3
Fifteenth 2
Mixture III
Posaune 8
Swell
Double Diapason 16
Open Diapason 8
Stopped Diapason 8
Viol da Gamb 8
Gemshorn 4
Piccolo 2
Furniture II
Oboe 8
Cornopean 8
Clarion 4
Pedal
Open Diapason 16
Bourdon 16

Couplers
Swell to Great
Swell to Pedal
Great to Pedal

Three composition pedals
Mauals C - g3 56 notes
Pedals C - g1 32 notes
Source: The Choir, publication dated May 1873