magazine articles
We are always looking for articles for the magazine - why not try putting some of your stories,
memories or thoughts down on paper and sending them in to - revkeithevans@talktalk.net
---
February 2020 contents
1. 2020 The Century of the Church in Wales
2. Two Villages by Kate Jones
3. Images of the past -1850 print of All Saints Church
4. Looking Back - A Sales Engineer with Shell lubricants
---
1. 2020 - The Centenary of the Church in Wales
2020 marks the one hundredth anniversary of the
establishment of the 'Church in Wales' as an autonomous province within the worldwide Anglican Communion. A century ago the first Archbishop of Wales, Alfred George Edwards [photo below left], was enthroned in St Asaph's Cathedral.
The Church in Wales is, of course, much older and dates back to the early days of the faith in this land. Christianity first came to Britain at the time of theRoman occupation and flourished during the golden age of such saints as Dewi Sant, Dyfrig, Deiniol, lIltyd and Teilo. It adapted to the coming of the Normans, when many of our medieval Churches were built [including All Saints']. The Reformation saw the great split from Rome and the establishment of the Church of England with the monarch as its 'Supreme Governor' and 'Defender of the Faith'. It also saw the translation of the Book of Common Prayer and Bible into Welsh, which was a major factor in preserving and strengthening the Welsh language. Through the centuries there have been times of decline and revival.
By the nineteenth century the Church of England in Wales
began to lose ground to the rapid spread of Welsh Nonconformity. Though it remained the largest denomination worshippers began to flock to the Chapel rather than to the historic Parish Churches. What made matters worse was that a Welsh speaking bishop had not been appointed to any of the four dioceses in over a hundred and fifty years. In the early decades of the twentieth century and with the enthusiastic support of Nonconformist politicians in parliament, such as David Lloyd George [photo - right], the Welsh Church Act of 1914 was passed by the Liberal government. Its implementation was suspended during the 'Great War', so Anglicanism in Wales was eventually separated from the Church of England and disestablished from the state in 1920.
A hundred years on it might be difficult to imagine how hugely controversial and fiercely fought the disestablishment bill was. It was the Brexit debate of a century ago! Those who opposed it gave name to the then longest word in the English language, 'antidisestablishmentarianism'.
What was even more damaging to the emerging Church in Wales was that the government of the day also decided to disendow it. The historic endowments of the Church were confiscated and redistributed to the new University of Wales and to local Welsh authorities [The Welsh Church Act Fund which still exists]. It was able to retain most of its Church buildings, halls, parsonages and schools and kept the right to conduct marriages and register burials.
Stripped of its historical assets the newly established Governing Body of the Church in Wales launched a million-pound appeal, which was hugely successful. That fund, managed by the Representative Body over the years, is at the heart of the Church's financial strength today.
Far from wounding Anglicanism in the Principality disestablishment actually helped the Church to grow and to rediscover its Welsh identity.
A hundred years on the Church in this land is very different to the one our forebears would have known. The last century has been one of unprecedented change. The Second World War had a profound impact on people's faith in God and in humanity. There have been huge advances in technology, medicine and in communication. There has also been a rise in secularism and its call to a religion less way of life.
The Church in Wales has probably fared better than other denominations in rising to the challenges of our age. Though smaller than it was at disestablishment it continues to have a significant presence in rural and urban communities across the land. It remains in good heart.
So, in 2020, there is much for our Province to celebrate. Each parish is asked to think of ways of celebrating the centenary and supporting the 2020 appeal. We will hold a special service during the September Mumbles Music Festival. There will also be a National Service of Thanksgiving at Brecon Cathedral on Sunday 7th June, led by Archbishop John.
---
2. Two Villages

by Kate Jones
Two villages - one is in the middle of England, the other lies on the south Wales coast. Two old, established communities with venerable histories, two hundred miles apart - for the modern traveller. You might have passed the English village, driving along the A6 or speeding through on the main railway line [the little station closed in 1968]. But you know the Welsh village very well!
Kibworth is an area in Leicestershire [about 10 miles south-east of Leicester] comprised of three civil parishes - Kibworth Beauchamp, Kibworth Harcourt and Smeaton Westerby. In the 2011 census they had a combined population of 7,770. The other village is, of course, Mumbles. Its population in 2011 was 16,600.
In 2010 Kibworth was the central feature of historian and broadcaster Michael Wood's BBC TV documentary, The Story of England. In 2018 The Sunday Times listed Mumbles as the best place in Wales to live.
The connection between these two villages is not defined by motorways or railway lines, but in a small piece of shared history. You have to go back almost 80 years to find it. I discovered it by accident.
In the December 2019 & New Year edition of the All Saints' parish magazine I wrote about the Mumbles Letters to the Forces. These monthly letters written by the Mumbles Correspondence Committee (MCC) between October 1939 and August 1945 were posted to the men and women of Mumbles who were away from home serving their country during the Second World War. The majority of the letters were written by Councillor Harry Libby. He lived all his life in Southend, and after First World War naval service returned home to run a travel, shipping and insurance agency in the Dunns. [photograph - bottom right]
The numbers of monthly letters increased as more and more men and women were posted away. At the start of 1942, after two years of writing, Libby was very pleased to have some help - Miss Betty V. Howard of Overland Road would write to the women. "We've discovered a splendid source of help" he wrote in his letter of 28th February 1942, "and when you've perused Miss Howard's contribution you'll agree. Must see how this source can be further tapped!"
Betty Howard described how she became involved: "Your good friend who writes monthly came into the Y.M.C.A. Canteen the other evening. I told him I envied his opportunity of expressing his appreciation of the sacrifices you are making for our victory and the fulfilment of our dreams of freedom and peace." Betty was a busy lady who assisted her father in his Home Guard responsibilities and, with her mother, set up and ran a Red Cross canteen. She was a fluent writer [of short stories] who went on to be a journalist for the Swansea Voice and the Evening Post.
Betty Howard's 'recruitment' by Harry Libby was very timely!
On 18th December 1941 the National Service Act (No. 2) made Britain the first nation to conscript women. At first only single women between the ages of 20 and 30 were called up, but by mid-1943 90% of single women and 80% of married women were employed in the women's auxiliary services, Civil Defence, Women's Land Army and industry. More women were going away and it was important to have a woman who could write letters specifically for them. As a 'Mumbles lass' herself, Betty Howard was ideally suited for the job of writing "Dear Lassie" every month, boosting morale, sympathising with homesickness, delighting in smart uniforms and amusing her readers (men and women) with anecdotes about life on the Mumbles Home Front.
In her second letter, March 1942, she cheerfully reflected that: "It's fashionable to look shabby these days. Britannia rules the waves, but how she manages without hairclips puzzles me. I had some elastic in Kemps last week. Faith is a good thing, but not much good to rely on for the unmentionables." Because most of Britain's natural rubber had been imported from countries in the Far East (now occupied by Japan) there was a shortage of rubber which was needed for tyres for planes and military vehicles. This meant there was also a chronic shortage of elastic - vital for keeping-up underwear! Safety pins were also hard to get. In September: "Elastic is still scarce. I suppose the moral would be: it is better to save an airman's life than a maiden's modesty!" The situation obviously did not improve as she was still writing in September 1944: "Idealists trust faith but realists prefer elastic!"
A shortage of nuts in the village provoked this piece in her Christmas 1944 letter: "One fruiterer was almost on his knees to a towering, angry-eyed spinster [not guilty this time!] and he addressed her pathetically but firmly: 'Indeed Madam, I've only got 121bs of nuts to share amongst umpteen customers, so I'm allocating 1Mb per family with children, and ... it's not MY fault you haven't a child."
Thus, from early 1942, two monthly Mumbles letters - printed back to back - were written and posted abroad. By November 1943, 1200 Mumbles women and men [including prisoners of war in Europe and the Far East] serving away were receiving letters from home written by Harry Libby and Betty Howard. Researching in detail this piece of Mumbles history I wondered whether other communities in Britain had undertaken a similar project.
A close reading of Betty Howard's letter dated March 1943 provided me with an answer. "By the way," she wrote, "if any of you are serving in Kibworth Leicester, will you let me know? I have the honour of writing for the Kibworth News, a magazine on the same principle as the M.C.C. [the Mumbles Correspondence Committee] I would like to introduce you, via the pen, to the Editor Mr. [Leslie] Lewis Clarke, who, I am sure, would be happy to exchange the hospitality which Mumbles Folk offer to all serving in H.M. Forces." Men and women were stationed all over Britain and those in Mumbles were welcomed and looked after by villagers.
Kibworth: I googled 'Kibworth in World War Two', looked at the Kibworth History Society website where I discovered a small, but fascinating, historical 'gold mine' - The Kibworth News and Forces Journal, 1940-45.
The Kibworth News and Forces Journal, published twice a year between March 1940 and August 1945, was a substantial production of between twenty and forty pages. Its purpose was the same as the Mumbles letters - to keep up the morale of local servicemen and women serving away from home by providing news from Kibworth and surrounding villages. It was to be 'The LINK that bound when circumstances parted.' Editor Leslie Lewis Clarke wrote how cautious the Home Office initially was about locals sending news abroad that could help the enemy. In addition there were difficulties gathering information from the neighbouring villages and hamlets and restrictions on the amount of paper that could be used. Despite these constraints the pages of the journal were filled, twice a year. But perhaps more could be offered to his female readers?
Then in 1942 Leslie Clarke heard Harry Libby talking about
Mumbles in a BBC radio broadcast. Contact was made and Clarke wrote to Betty Howard inviting her to write to the women of Kibworth as he felt his 'age and old world philosophy' would 'not appeal to the younger' women. The rest, as they say, 'is history'!
The Kibworth History Society website has downloadable copies of four journals - I found Betty Howard's first 'Letter from Mumbles' in the autumn 1942 edition:
"FROM MISS BETTY V. HOWARD, The Mumbles, Swansea, 1942."
"Dear Girls in 'Arms' ... You girls from Kibworth & District are fighting with ours, and what a fine job you are all
doing. This Christmas you may be far from home, stationed here - who knows? Unused to the sea ... but at least you'll not be lonely. We Mumbles folk, like you Kibworthians, believe in 'Doing unto others as we would have others do unto us'. ..."
A year later, "One day in Spring 1943" Betty Howard wrote to:
"Dear Women at War" from "MUMBLES, SOUTH WALES".
Pondering what those in and from Kibworth made of her ("Never 'eard of 'er") she explained "I am just a very ordinary individual but my sincerity for your well-being has prompted me to accept this opportunity, which your Editor, Mr. Clarke, has so kindly offered me, to introduce you to Mumbles." After describing Mumbles village and the bays and beaches, she went on to say: "We, of Mumbles, join you, of Kibworth & District, in looking forward to the day when war will be a thing of the past; when we, just two small villages of Britain, can prove good examples to the world as symbols of Peace."
By the 1945 Victory Edition, Betty was well-known in Kibworth District as 'Our Lady Correspondent'. With peace on the horizon she wrote: "After the war I shall, I hope, see your lovely Kibworth and District. Maybe you and I will talk together. ... I am honoured to have the pleasure of inviting you to accept [our] hospitality ... should you visit Mumbles, Swansea, South Wales."
I like to imagine that in the post-war years, visitors from Kibworth came on holiday to south Wales and that Mumbles folk travelled north-east to the Midlands to check out the pretty villages of Kibworth. Two villages, one in the middle of England, the other on the south Wales coast, 200 miles apart - for three wartime years 'linked' by the letters of Betty Howard.
Kate Jones, Mumbles, January 2020
Acknowledgements: Oystermouth Historical Association archive; The Mumbles Letters to the Forces; The

Kibworth News and Forces Journal; www.kibworth.org; The Howard family.

Photographs: Harry Libby's shop [OHA archive]; Betty Howard [private collection]; Fougasse salvage

poster [Wikipedia]; St. Wilfred's church, Kibworth Harcourt and Kibworth News and Journal [Kibworth
---
3. Images of the Past
This fascinating print of the south side of All Saints' is
thought to date from 1850. It is held by Swansea Museum.
It is a little seen image of the Church prior to the 1860 restoration and extension.
The familiar embattled Norman tower can be seen, but without the clock faces that would be installed twenty five years later.
A vestry stands to the south of the chancel [now the Lady Chapel]. The old vestry considerably lower than it would be after the Victorian restoration.
In the east wall of the original chancel there is one window, but the outline of the original medieval triple lancet windows can be seen. There are no cottages on the sea side of the Church.
The print clearly shows that All Saints' as a typical Gower Church, though much extended and restored over the 170 years since this print was first made.
---
4. Looking Back - A Sales Engineer with Shell lubricants
I was working as a Shell Commercial Representative in the Oxfordshire and Berkshire areas in 1963. Up to then I had not given lubrication much thought, as we all do. I had overlooked one point, that if something moves it has to be lubricated.
I became aware of the need for different lubricants for even in my car, there were over fourteen in use. The more I dealt with my customers they asked me questions about which ones to use. I had to keep referring to a Technical Lubricants Engineer for advice. Ajob virtually unknown outside the oil industry. As an Engineer, I became more and more drawn towards the wonderful world of Lubricants, so much so that I asked my Area Manager if I could apply for such a job.
In August 1966 my dream came true and I was appointed as a Sales Engineer to South West Wales. Then came the shock, as I was given a Shell Lubricants Manual to study containing some 700 grades, with all sorts of unusual names. The different ranges of lubricants had been given names of Sea Shells, such as Myrina and TeIlus, to name but a few. No way could one take in the complexities of the differing lubrication situations from a book. It was a rapid on-the—job learning curve. Fortunately I had back up by skilled engineers for the different Lubricant families such as Hydraulics, Engines, Greases etc. We were also Technical support for Shell Commercial Salesmen.
I became more and more fascinated by the world of Lubricants. I have always been interested in how things are made, and the machines that make and handle things. So my job as a Sales Engineer was a joy and a hobby combined. My South West Wales territory based on Swansea, contained an amazing variety of Industries and Transport My job took me into so many different kinds of manufacturing works from Butter and Cheese production, Oil refining, Sticky tapes, Addis ware, Mond Nickel refining , Water Treatment works, Sewage plants , Quarries. Road Haulage, Buses and Coaches, through to Steel and Aluminium. One amazing requirement was lubricants for the outflow control system and the movement sensor system for the Llyn Brianne dam,
I became aware that my customers were changing oils because they thought they were worn out. Shell Thornton Research developed oil analysis enabling us to to check on oil ageing and system wear. It was a wonderful tool to help customers save wastage. One example was a gear oil system of 1500 gallons previously changed yearly, lasted 7 years. The next Shell innovation was a Computerised Lubrication management system that scheduled the tasks needed. Up until then we had cumbersome printed manual Lubrication surveys
The happiest and most fulfilling days of my working life were those I spent with Shell. When I am asked what my job was, I tell people that I was a Lubrication Engineer. It is a guaranteed conversation stopper. People usually say "oh yes"
I reckon that we had the best of times then before "Elf and Safety" became such an obsession with desk bound administrators. Mind you I am paying the price for going regularly into noisy works, as I now have to wear hearing aids. But it is a small price to pay for all the pleasure I gained from my work.
Neil Norman
---
2.Vicar
December 2019 Contents
1.Mumbles Calling, Mumbles Calling by Kate Jones
2. Christmas - 80 years ago - Cataclysm! by Grafton Maggs
---
1.
'Mumbles Calling, Mumbles Calling..."
by Kate Jones
Just over 80 years ago, in the first month of the Second World War, a small committee was formed in Mumbles under the chairmanship of Councillor Harry Libby. It was called the Mumbles Correspondence Committee [M.C.C.] and its aim was to send monthly letters to Mumbles members of His Majesty's forces and the Merchant Navy [later extended to include all the women's services, the Women's Land Army and those unfortunate enough to be prisoners of war]. These Mumbles Letters to the Forces came to be known affectionately as the 'Libby Letters'.
The original committee consisted of Harry Libby; the vicar of All Saints', Canon George Wilkinson; George Ace; Mrs Kathleen Heron and Arthur C. Stacey. They were joined in February 1942 by Miss Betty Howard who wrote [more 'feminine' letters] to the girls in the women's services. Other invaluable volunteers, including Peggy Daniels and Doreen Wright, typed, duplicated and distributed the letters.
The first letter dated 2 October 1939 was sent to 50 servicemen. As more addresses were known and more Mumbles folk enlisted or were called up, letter numbers rose to 140 in November, to 170 in January 1940 and to 400 in July 1940. By November 1940 the scheme had become a victim of its own success and for six months the letters stopped. Harry Libby explained that this was nothing to do with the postman or the enemy but was because: "you decided to join up in such numbers, and then to change your addresses so often that our organisation went fut." Normal service resumed in May 1941 and 600 letters were posted that November. By November 1943, 1200 Mumbles men and women serving away were receiving a letter from 'their extra friend at home'written by Harry Libby and Betty Howard.
The purpose of the letters was threefold. Firstly, October 1939: "We want to assure you that you are in our thoughts and prayers and, if it is any consolation, your going away to serve has made those at home hold you in higher regard."
Secondly, 30 November 1939: "If this letter writing is to be any good at all it must give you a bit of local news". The March 1940 letter included a long poem entitled 'Mumbles Calling, Mumbles Calling" * and the first verse read:
"Mumbles calling, Mumbles calling, Chase away the blues.
Ask the war to "wait a bit" for you to read THE NEWS.
Whether you're in navy-blue, in khaki or "the air"
If you've got a link with Mumbles, then we're thinking of you there."
[* The title was a 'take-off of the infamous and much listened-to radio broadcasts by William Joyce, "Lord Haw-Haw", which began 'Germany calling, Germany calling'.]
As the months went by a vivid and topical picture of village life emerged. December 1941: "This is the M.C.C. Home Service ... Here is the news and this is the same feller writing it. On the Southend Front Sammy Gammon and Ritchie are keeping up a stubborn resistance against winter colds, the younger element, Coxswain Will Gammon, Tom Ace etc etc are digging lug. GHQ varies between the Prince, the George and the Pilot. In the West Cross Salient some little advance has been made with the communal shelters and the advance is likely to be steady until the end of the war. In the Underhill Basin there is still some water, many seagulls and occasionally a match between troop teams. On the surrounding heights there is great restiveness owning to their being no bus to connect with the last train from town. In the Central Sector Dolly Smale only opens on Fridays and Saturdays and the White Rose blooms on a restricted basis. Elsewhere all is quiet including Jasper" [the foghorn].
Thirdly, as far as possible, letters were to pass on news of readers' pals overseas. November 1941: "In characteristic Southend style, Stoker Matt Rovells asked for the monthly letter to be sent weekly; G.R. Challenger asks to be remembered to his old friends; Doreen Durose in the ATS has had her LS and GC stripe'; Bob Thomas of John Street has been knocking down coconuts in Malaya and knocked against Jack Francis; Laura Beynon in theWRNS doesn't get seasick on HMS Duke; Alf kostromin in the RAF has collared three stripes; there are sufficient Mumbles boys on the Repulse to start an Old Boys' Association with Willie Rees as chairman, Bryn Balsdon as secretary and Fred Dawfry to make up a quorum; J.R. Davies, RAF, says that Professor Joad went to Cranwe/l but couldn't explain why it is called 'White Russia' and not 'Pink'; George Smale of Southend in the Middle East longs for colder climes to enable him to utilise the parcel of woollies from the Comforts Fund - and Bob's your Uncle!" As war continued there was more to report. January 1943: "We hear Desmond Jones (Thistleboon) is a prisoner of war in Italy. That's a relief from last month's news. ... Dick Breeze (RAF) had a crash in Scot/and and is in hospital. ... Heard from Will Dartnell, who should be home shortly."
Without fail the letters struck the right note. Theywere amusing, creative, witty and full ofinformation; although occasionally falling foul of the official censor. "Our January [1942] screed reached Albert Edwards in the Med. cut about like a patchwork quilt." The local paper was not allowed to report the weather in case it was read by the enemy, but the Letters did (it would have been very out of date weather by the time the enemy got hold of a letter!) The winter of January 1940 was exceptionally severe: "Very cold weather - like Finland at Southend and like the Swiss Alps at Newton." In contrast, January and February 1943 were wet. "How's 1943 going? It opened up here with a few snowflakes, developed into heavy rains, contained a splash of sunshine, plenty of mud and lots of colds. Beginning of February ain't much better."
The writing could be very evocative. August 1942: "'Tis 11.20 pm Monday - last train gone up, puddles in the Station Square, calm tide and - September tomorrow" and also very moving - "Three years of war and nearly 900 of you away from here, and on the whole remarkably few casualties from Mumbles." It is not hard to imagine the feelings of a far-from-home reader.
Christmas letters 1939 - 1945
Successful letter writing is something of an art at the best of times; and this was probably the worst of times. The Christmas letters must have been the hardest of all but the writers excelled themselves.
In December 1939, appreciating the physical hardships men were experiencing (it was the 'phoney war'), Libby wrote: "It's a farce just to wish you boys floundering in French mud or squelching each side of a duck board or wallowing in half-a-dozen tides off Pent/and Skerries, 'A Merry Christmas'. But very sincerely do we say: 'We hope, all things considered, that Christmas will bring you a pleasure well beyond that which is your daily lot and we thank you from the bottom of our hearts for playing your part in seeking to establish for mankind a Peace on Earth which the spirit of Christmas so grandly illustrates. Wherever you are, whatever you may be doing - 'God Bless You and Good Luck!"
There was no letter for the second wartime Christmas [as explained above] and by the time the third Christmas came along in 1941 it seemed important to make light of the festive season. "Christmas has come and gone. No Horse's Head, no good carolling, no good worrying. 'Twasn't so dusty. The Y.M. ran a couple of dances, a good concert and a party. Nobody went short here and Mumbles folk looked after the Forces in our midst." The rest of the letter was full of news about those at home and away and finished with: "Happy New Year. Give our greetings to all your mates and tell 'em THERE'LL ALWAYS BE
A MUMBLES!"

In December 1942 "Christmas came up alright after all and no one went short. Plenty of grub about, very few turkeys and exceptionally few drunks. The Horse's Head must have joined up, but the Herald Angels were harkened to ten times nightly even in King's and Oakland Roads. The only thing that tended to disturb our peace was the Transport Company which put everybody's back up by curtailing the issue of season tickets. Mumbles travellers have caught your militant spirit, and a big public meeting in the Regent Cinema didn't half wish the Transport Company 'A Merry Christmas.' Ten to one on the travellers." The letter reassures absent family members that there was enough food, despite rationing and shortages, and it was peaceful [no air raids]. The absence of the Horse's Head reminds them that they are missed too. One may suspect that Libby is showing considerable sensitivity in underplaying the joys and pleasures of Christmas at home even though so many are missing from the festive table. 'You people have done well in sending letters and cards home, and the Xmas cards received make a fine show." The anecdote about season tickets is an amusing distraction - everyone likes a good gripe about authority, in this instance the hapless Transport Company.
Sometimes the letters included postal orders. Parcels were also sent abroad. Back home, in November 1943, all the children of Mumbles Servicemen were entertained at the cinema to a special show, as an "alternative to sending their Daddies an Xmas Box." The following Christmas, children of servicemen each received a toy, courtesy of money raised by the Scouts. Probably the best festive news for those at home and away were details of where men and women were serving, those taken prisoner and those able to come home either on leave or by other means! "Jasper Davies is a survivor of Charybidis'; Desmond Jones 'did a bunny' in Italy and is expected home. The other escaped prisoners, Captn. Ken Ban gham and SQMS Trevor Thomas, have arrived. Percy Maslen is en route after 3 years in the Bermudas. John Howard is in Morriston Hospital. Ernie Kift of Underhill on embarkation leave and Harold Smale arrived today. All the very best for Christmas and a Victorious 1944."
Back in March 1940 Libby had ended his poem, 'Mumbles Calling, Mumbles Calling'with the poignant lines:
Mumbles Calling, Mumbles Calling! She's longing for the day
When the voice of Mumbles calling brings her children home to Stay.
After over six years of war, In December 1944: "Another New Year's Eve. 'Tis a far cry from the letter sent in December 1939. All through the divide you've been 'soldiering' on, and at last, please God, you're coming to the end of the road, so that in all likelihood by December 1945 this old monthly letter will just be a wartime memory. Christmas has come and gone. Doubtless the outstanding happening was the receipt on Xmas Eve by relatives of cards from Japan ... They all report being well. Next month we'll give you some news about Prisoners of War generally."
Victory. In August 1945: Harry Libby was able at last to write: "Well. 'tisn't easy to write the last letter ... one doesn't quite know what the dickens to say [But] Now it's over I want to say humbly and sincerely, 'thank you for fighting for me.' To see all the lights on around the Bay and up on the higher reaches of Swansea has been a tonic; to realise that our prisoners in Japan will soon be home is another. To realise that the war is over seems profound. Aye, war brought its trials. It also engendered in Mumbles a spirit of comradeship and brotherhood."
This spirit was exemplified by the Libby Letters, 1939-1945.
The Horse's Head returned after the war. Here it is collecting for charity in the Prince of Wales in 1947
Acknowledgments:
The Libby Letters, photos of Harry Libby; Rev. George Wilkinson and The Horses Head are from OHA archives. Radio Times front cover of 1942 from www.homesweethomefront. 'Mumbles Calling, Mumbles Calling' will be the subject of the next Oystermouth Historical Association exhibition in Oystermouth Library from January - June 2020.
HAPPY CHRISTMAS!
---
2. Christmas - 80 years ago - Cataclysm! by Grafton Maggs
Pretty well everything we encounter in the daily routine of our lives is taken for granted. Those marvels of cyber engineering - ipads, computers and the likes of telephones that can do everything, from taking photographs to scrubbing elephants - we handle with a familiar ease that borders on contempt. As we amble through our kitchens we don't take a second look at set ups which, compared to the lean-to sculleries so common place in my childhood, now look like something from a Star Wars flight deck. Everything taken for granted - even that new all-electric Bentley, charging up silently in Judge Stuart's garage, quickly acquired a casual acceptance
And, it's not only material objects that barely elicit a response. There are those many intangible blessings with which we are endowed, such as the privileges we enjoy living in a country like ours! All taken for granted as is, so shamefully at times, even the Creation itself!
But, what happens when someone, or some official body, comes along and threatens to dispossess us of, or alter, that casually accepted object or privilege? For example, like taking away the free TV licence for pensioners, or the right to walk one's dog on the beach? Then, we are shocked into action and oppose such vile deeds hotly, because suddenly we perceive its worth, by virtue of its potential loss or change.
And such was the reaction from the male section of the Mumbles community to a proposed social change in late 1939 - a change, which, even in the context of a society gearing up for war, shook them to their very core. It was so fundamental and so outrageously unacceptable!
Though still 'wet behind the ears' at this time, I didn't walk around with my eyes shut. I observed many things, amongst them being the social pattern of life about me which, on the surface, appeared to be fairly uncomplicated.
Take family life for instance. The senior male of the household was usually the main breadwinner of the family and, like most of his fellow toilers, grafted for 45 hours over a five and a half day week. His money was hard earned and he brought home those wages from which he paid the rent and all the other outgoings necessary to keep his family fit in wind and limb. In return, his wife carried out every domestic chore - working from dawn until late evening and, if she were lucky, only clocking up a hundred hour week, for 52 weeks of the year. Yet, husband and wife accepted the status quo, living together in harmony with little or no overlapping of their labours. It was accepted because that is the way it was and always had been and, rarely, did one encounter a married lady who had an independent professional life and income of her own.
It was a man's world and the privileges he enjoyed were jealously guarded and taken for granted, just as his father had taken his and his father before him. It was a universally accepted way of life and the homes of the friends I visited, all seemed to be happy, give-and-take sanctuaries where the prime concern was looking after each other with loving care.
Even so, one always felt that 'Dad was very much in the driving seat'.
The few social pleasures enjoyed, then, by the average Mumbles man were primarily those offered by his local cinema and pub, the latter playing an immensely important part in his life. He didn't go into the public bar to drink himself under the table and he didn't go there every night; he went there a few times a week, to a pattern rigidly dictated by the few shillings he had in his pocket. Usually, this routine dovetailed in with those of close friends of long standing and he found immense pleasure being in their company, smoking a few Woodbines and supping a couple of glasses of ale. Spice this with a game of euchre, skittles or darts, plus a constant interchange of views on all manner of subjects and it was all that was needed to make the average Mumbles man, a contented man; fully aware that there were worse places to be than in his favourite public bar - especially on a bitterly cold winter's night.
Quite shamelessly, these precious nights in the public bar were part of the dominant male world that then prevailed; little changed over the span of many preceding generations, a world in which 'the public bar was for men only'- a male bastion taken for granted and written on tablets of stone. The 'Missis'was, either left at home, or, if she were lucky, was sharing the company of a few like-minded ladies in the privacy of the little snug bar, sipping a milk stout..
That is the way life was and it would never change!' .....So they thought.
At an early age, from my brief excursions into the public bar during the quiet lunch time hours, I came to understand its appeal. Such a visit for me was a rare treat [strictly against the law] and granted perhaps because I was recovering from a cold and my mother was trying to get me back into circulation. I'd sit by the big black anthracite stove which, on a winter's day, would be pumping out the calories - and I'd bravely sniff and bubbly blow into a handkerchief impregnated with a vaporous physic prescribed by Mary Taylor in her corner shop.
The lunch hour trade in the thirties was dismal with just the odd aged resident dropping in to have a quiet half and a warm; knowing he could sit there as long as he liked. Sometimes, it was Sully Davies [the lifeboat man] and I'd sit with him because he was my special friend and he liked to talk to me. There were others; old Mr. William Jenkins who farmed the land abutting upper Overland Road, he loved to test me with his mathematical puzzles; big-hearted Syd Bale who drove the steam roller up the Norton Lime Works, he'd talk about his time in the Navy during the Great War. There were others and what a blessing it was to sit in their company to listen - and how I learned!
And I saw how every single one of them loved that exclusively male world of the public bar.
With the advent of war in 1939, Mumbles changed dramatically, the influx of servicemen bringing in many new faces. And what a boost it was to an economy which had been in the doldrums since WW1! The shops were busy again, the tills were ringing and the pubs began to fill - even during the lunch hours. By September 1939 the Vic had become busy every night with as many servicemen present in the bar, as there were locals. With them, they brought a breath of fresh air and the public bar was an exciting place in which to be, many new friendships being forged as these visitors became integrated with the natives. And, inevitably, whenever servicemen [especially soldiers] congregate and down a few drinks - they will sing! They sang their own service songs [out of respect, brutally censored!], and all the current favourites being pumped out by the BBC; from WW1's "Tipperary" to the current hit, "We gonna hang out the washing on the Siegfried Line... ". The local lads needed no encouragement and sang along with them; after all, there was a war on and what better way was there, of showing defiance and comradeship!
The segregated ladies in the snug could, of course, hear all this and it didn't take long before the lusty contralto of Maud Bale, along with the shrill soprano voices of her cronies, penetrated through the partition to blend in with the grand Orpheus choir of the public bar.
Such a nightly sing-song soon became part and parcel of wartime bar life, up and down the country. It was a practice which later came to play an enormous part in boosting morale, especially through the bad times which were yet to come. However, there were rumblings! The female population, shut off in the apartheid life of the snug, were experiencing a feel of the atmosphere that existed in the male bastion - they wanted more and early signs of insurrection were stirring!
Towards the end of September, three of the regular snug ladies called in to the Vic one morning, interrupting my mother's preparatory work for the day. There was Maud Bale from Dunns Lane, Nelly Hoskins and Freda Williams from Park Street. They wanted a word. Simply put, they wanted the unobtainable; they wanted an end to the centuries old tradition of banning females from the public bar. True, if accompanied by their husbands, they could use the Smoke Room*, but their husbands, Cliff, George and Jack were died-in-the-wool public bar men and would never drink with the Smoke Room crowd - they'd vote Tory before that! So, these three good ladies, over the years, had had no other option than to meet up with in the snug, screened off from the public bar where their husbands were carousing.
But suddenly, this was no longer enough!
The ladies wanted access to the bar, to be in there, in its midst! They wanted to be a part of this new wartime fellowship that had sprung into being, so suddenly and this they made perfectly clear to my mother. They were
* 'The Smoke Room' was not a place where people gathered
just to smoke. It was a cosy room, separate from the public bar, with comfortable seating all round, small tables and a coal fire burning in the grate. There were pictures on the wall and flowers on the sill.There was table service, drinks being brought to each table on order. Some pubs called this room - the Lounge or Lounge bar.
determined to bring about momentous change - the spirit of Emily Pankhurst lived on and they were going to chain themselves to the railings somewhere in protest.
[Unfortunately, when they went down to the park, they found that the railings had been taken away to make tanks. They were not too put out by this because it was beginning to get a bit chilly].
It is easy now to condemn the biased code of behaviour that existed in those bigoted pre war days but there was justification to be seen in some of these unwritten rules and, one evening I was to witness something the significance of which I didn't understand at the time, but later did.
It was in the early thirties about 7 o'clock in the evening and I was standing in the passage by the bar, waiting for my mother to give me a penny for sweets, or something. The pub door opened and in came a stranger, wearing a blue serge suit, Breton cap and seaman's sweater; behind him came a lady with long blonde hair. She had a silky dress on and a fur across her shoulders but, it was her face that first attracted me, which was pretty, although a little tired looking. She had the reddest of lips and a lovely heavy tan make up. She looked like a film star - a bit like Jean Harlow. She could see I was impressed and gave me a little smile.
Then, came a shock! My mother returned and when she saw the couple, her face reddened. I was only too familiar with the steely look on her face but even so, I jumped when she barked at the pretty lady,
'You! Out! And you! Right now - this minute!'
I was shocked! To my surprise, the seaman muttered something in a strange language, shrugged his shoulders and turned away to leave. The lady saw me looking at her in puzzled sympathy. She shrugged her shoulders too, gave me a little smile and a big wink as she turned to leave. I thought she was nice. And I felt sorry for her.
'Why did you do that, Mum? She looked very pretty and he seemed OK?'
My mother turned on me,
'Now don't ask! It's none of your business!'
'But why, Mum? She had a lovely fur - and all those coloured beads!'
'I- said- shut- up! Here's your penny - now - go!'
No explanation was given me as to why that lady was refused entry but it did serve to show
me that not all females were allowed into the smoke room, even when accompanied by a male partner. [It was many years before I understood the situation and why the nice lady was turned away. But when I did, I felt even sorrier for her].
When she had a chance, my mother had a word with my father about the visit from the snug ladies and, surprisingly, Dad, who was as big a bigot as Genghis Khan, didn't blow up.
'You won't believe it, Beryl! But Ronnie Jenkins was talking about this on the train home, today. He's got the same problem in the Park Inn. He pointed out that it's not just a man's war! What about the ATS girls from the Mumbles Hill Battery? If they come down with the Gunners - you can't shove them in the snug! They want to be together! In the Bar! They're all soldiers! But, if we let them in, what next? Look! I'll have a word with some of the boys tomorrow put out a few feelers'.
Next evening early, whilst the bar was quiet, Dad spoke to George Turnbull and Ned Way, two died-in-the-wool regulars who always came in for an early pint. With his heart in his mouth, he broached the subject of women in the public bar. George exploded in the middle of a mouthful of ale and Ned went deathly white; he swayed slightly and steadied himself against the bar,
'What did you say, Glyn? You jest! Women in the bar! Neverappen! Neverappen! It'll kill off your trade! None of the lads will come here. Think hard, boyo!'
Ned turned to George whose usual ruddy, shining face had now turned ashen.
'George! Say something!' George spoke, his voice quavered,
'Glyn! Where did you get all this from? I never thought I'd hear that from you! I know there's a war on but you gotta draw the line somewhere! Some things never change - like - eh - like only Mumbles boys on the Lifeboat! ... The Mumbles Train!... Oystermouth Castle!... The Lighthouse!...the chance of Harry Daniels buying a round!... But women in the bar! No Glyn, that's the end of civilization as we know it now!'
Dad was more confused than ever but later that night, deliverance came in the unlikely shape of a pretty Salvation Army lass.
It was a Saturday night, the bar was packed and the multitude was choral with drink. Mid evening and the Salvation Army couple, who regularly visited, came in to make a collection. The pretty young female, so becoming in her classic navy blue uniform and bonnet, did the rounds in the bar and, as ever, was warmly received with good natured ribaldry and respect. Both their boxes grew heavy and, as they were leaving, they expressed their gratitude to my father, declining his offer of a large scotch and a Player's medium cut, with a smile.
However, within minutes the younger Salvationist was back talking urgently to my mother in the passage and Dad was called. The three stood in hasty conference and heads were nodding vigorously. A quick decision was reached and with a smile on her face, the young evangelist left again. Within seconds she escorted in three soldiers. Two smart Royal Artillery Bombardiers and an equally immaculate ATS girl. With Dad's approval, they made their way into the public bar and history was made that night in the Victoria Inn.
The three soldiers slipped into the bar, inconspicuous in their khaki uniforms and only a few standing at the bar noticed that one was a female. The three came to the bar and it was there that Dad firmly made his point. He served all three and turned to face those locals standing by who looked on in frozen horror,
'Look on as hard as you like! All three are soldiers! From that Battery up there behind you on the Hill! All three are up there, guarding you and me, all hours. And as far as I'm concerned they can drink in this bar! Who knows, once this war really kicks off, what they'll be facing this time next year - for you and for me!'
And that was the beginning of a trickle that eventually grew into a small flood. During the following week a few more ATS girls came down from the Battery with their male companions and this did not go unnoticed by Maud Bale and her snug confined cronies. She had a word with Dad and, fair play, she had a point to make!
'Look, Glyn! Whether you like it or not! For all the smart uniform, underneath they are women! Females like us! They are in the public bar and that's where we want to be! We're fed up being shoved away in that corner box like something shameful. This isn't Arab country and we want to be part of the crowd singing in the bar. This is wartime and, like in the last lot, the women at home helped win the war! Don't shut us out - and don't worry about what my Cliff says. Like all the other husbands - George Hoskins, Jack Williams, Joe Hunt - they'll do what we tell them!'
Dad drew a big breath, this was quite a decision to make but Maud Bale really had a case. He decided to have a quick word with Mum [then he could blame her afterwards if things went wrong]. Without hesitation my mother sided with the ladies and Dad conceded! The snug ladies were given the all clear to come into the bar. Dad hardly slept that night.
Early the following evening, at first self consciously, some of the snug ladies stepped through the connecting door into the bar and joined their husbands who, red-faced, sat sullenly beside them. Then, George Turnbull came in for his early pint. Dad watched as he opened the bar door to look down across the length of the room. He stopped in his tracks when he saw the ladies sitting under the window facing him. His lips twitched and then, to Dad's dismay, he abruptly about turned and walked out - without saying a word. Dad groaned inwardly- was this a sign of things to come?
As the bar filled, on that historic night, so did the presence of the few females become diluted and absorbed into the buzz of the evening with both husbands and wives gradually relaxing. The door from the snug had been opened, both, literally and symbolically. Yet, it wasn't without its dissidents - like George Turnbull, other traditionalists disappeared from the bar scene to go elsewhere, but, within a month they were all back - to their horror every other pub in Mumbles had pushed aside the old prejudices and succumbed to the demands of their lady customers. From the Pilot Inn to the Rock and Fountain, the breach was made and within weeks had become an accepted fait accompli. Amongst the more senior patrons, however, there were quite a few who, to the end of their days, never accepted this emancipation and, as far as the Vic was concerned, never truly forgave my father.
But! It didn't lead to a total negation of all that had gone before! Skittles were still played, darts went on and male companionship still flourished. Little change was necessary, except for one thing! The provision of toilet facilities for the new guests, lack of which did have distinct social disadvantages. This was understandable because in those unenlightened days
one never discussed such things openly, especially in connection with the feminine gender,whom I thought, never did things like that - especially our lady teachers in school. Steps were taken to put this right.
Although the numbers of ladies in the bar grew, yet they never came close to those of their male counterparts and this did help make
their acceptance easier. Male conduct in the bar continued much as before; rough and ready villagers they may have been but there was a long existing code of gentlemanly conduct to which they adhered. Remember this was 1939, the days when a man would take his hat off to a passing funeral, tip it to a lady
and never swear before a member of the fair sex; days when it was a rarity to hear a raised voice using vile language, [certainly not the stuff thrust down our throats nightly by the BBC in its drama series]. Four letter words were never heard and even the mildest of 'bad language' was rarely heard in the public bar. Long before the ladies became part of bar life, utterances of BBC gutter standard, would have led to the quickest exit ever to the street, and banishment. The females had no need to worry about any masculinecoarseness - pretty well all the Mumbles lads were tidy boys. George Turnbull was back in a fortnight and resumed his place by the bar under the clock. Sid Bale, Ned Way and Albert Jenkins carried on sharing a corner with Harry Daniels and Tudor Knight, as they had done for years and even these old hardliners conceded that, '...it could 'ave been a b............. sight worse...!' Don and Harold Topham continued to play darts with the likes of Cohn Balsdon and Arthur Bond. Jack Steddiford continued to enjoy his deep conversations with Syd Cadogan [you know the sort of thing - garden manure, price of cocoa, bicycle clips and other riveting subjects].
And the ladies, with their presence, made the public bar a better place in which to be. They were not intrusive, sang along happily with the men and went out of their way to give warm welcomes to the new servicemen - many of them youngsters away from home for the first time.
Cohn and I shared the big bedroom immediately above the main bar and, over the years, we had become totally inured to any sound filtering up through the floor boards from below. However, we had retained sufficient sensitivity to discern the change made by the inclusion of the ladies' voices in the singing. It was less raucous, more disciplined and there was a change in the type of song sung. Songs became more sentimental, more poignant and 'The Vic Orpheus', though a rag-and-tag-bobtail bunch, began to sound rather lovely!
Christmas 1939, the first Christmas of the war approached and, so far, we civilians had been little affected by a conflict simmering far away across the Channel. There was the sadness of separation from loved ones and there were such annoying things as food rationing, blackout restrictions and the carrying of gas masks but apart from that, for most of us, life went on little changed as the year drew to a close. Even so, it began to hit us that the festive season of 1939 was going to be very different from other years especially for those families with empty places at the Christmas table.
A few Mumbles lads in France did have the good fortune to be granted Christmas leave and how delighted we all were when one evening, Corporal Norman Colley RE stuck his head around the Vic door, with a grin like a Cheshire Cat! Norman had been one of the first to go to France, direct from his TA annual camp in August. He was one of the elite, yet, all he had to distinguish himself from his home-stationed fellows were his two khaki slip-on epaulettes bearing the black letters - 'BEF'. [Within six months, Norman and fellow Sapper Jack Schroffer, were involved in the punishing evacuation from Dunkirk].
The good will feeling generated by the advent of Christmas helped to finalise the acceptance of females in the bar but it was obvious that there were a few dissidents in the ranks. The older generation had not totally embraced its concept and this was demonstrated by the non-participation of their women-folk in the social life of the public bar. Otherwise all seemed well and there were obvious signs that the younger married men were beginning to relax and enjoy the company of their wives in the bar. There was no reason for it to be otherwise, these were not evenings of wild carousal - such behaviour had never been tolerated in any Mumbles pub - these were evenings when locals and members of the forces shared a convivial hour or two together; an attempt to fulfil an innate craving to be part of a fraternal group [something possessed, in its optimum form, by all members of God's family].
The military historian remembers 1939 for the epic political events that spawned, yet again, the unsheathing of sabres in Europe. I, too, carry those memories and shall continue to do so, to the day I die - how can it be otherwise? But! In addition, I remember 1939 as being the year that Mumbles Man surrendered his sole rights to the Public Bar - eighty years ago, this Christmas! A happening diluted in the context of current events and unrecognised as a portent of far greater things to come!
Merry Christmas and a happy new year – Aaodlig Llawen
---
---
ton
November 2019 Contents:
1. 'PRIEZ POUR LUI' by Kate Jones
2. Peel off the Black Bits by Grafton Maggs
---
1. 'PRIEZ POUR LUI'
by Kate Jones
In the October edition of All Saints' Parish magazine April Beynon wrote about 'The Joys of Church-sitting' during the summer. [Yes, we did have a summer - it seems a distant memory as we endure the autumn wind and rain.] April and Pam Thorpe had a visitor who posed a puzzle. What is known about an unusual grave in the churchyard - unusual because the inscription is in French?
Toliclere (Elie lout
ne a Paris le 12 fevrier 1848 decede aux mumbles le 5 juin 1873
PRIEZ POUR LU!
Toliclere or Joliclere? The first puzzle is the surname. 'Toliclere' is how it is spelt on the grave and in the All Saints' burial register, but contemporary newspapers and documents spell the name as 'Joliclere'.
Who, when, how and why? According to the inscription Elie Louis Joliclere [Toliclere] was born in in Paris on 12 February 1848 and died in Mumbles on the 5 June 1873. Beneath the dates is written: 'priez pour lui' [pray for him]. As the summer visitor asked - who was this young Frenchman and what was he doing in Mumbles? What happened to him? The answers to the first two questions are contained in local newspapers of 1873. M. Joliclere was employed as a teacher of French at a private school in Thistleboon where, on 6th June, he committed suicide. An inquest was of course held and the original hand-written report survives in the West Glamorgan Archive. Although the handwriting is difficult to decipher, this document contains much that goes some way to answering the other two questions.
The following is an account of the final few months of Elie Louis Joliclere who was deemed to have taken his own life on 5 June 1873, aged 25.
The Inquest: Twelve 'qood and lawful men': On the evening of Friday 6 June 1873 twelve men from various parts of Mumbles gathered at the large building called Thistleboon House at the top of Western Lane. Thistleboon House[(which dated back to the 17th century] was home to the Reverend John Robert Dawe Colston, who owned and ran a private school called Thistleboon Academy there. The western end of the house was a farmhouse occupied by John Beynon, a farmer of 135 acres. There was more than one John Beynon in Mumbles but it seems likely that it was this one, a prominent local man, who was one of the twelve. The others were Josiah Owen Morris, William Morris, John Bevan, David Evan Michael, Richard Rees, Joseph Frith Loney, John Rees, James Owen, George Lee, John Tudor and James Harris.
These were twelve 'good and lawful men' of the 'Liberties of Gower and Kilvey who were sworn in as jurors for the inquest before Mr Edward Strick, the coroner. That evening they were 'charged to inquire for our Lady the Queen when, where, how and by what means Elie Louis Joliclere came to his death'.
The Evidence: Three people gave evidence - Frederick Edward Mortimer [assistant schoolmaster], Margaret Lloyd [domestic servant] and John Bevan [the doctor present at the death]. By piecing together their testimonies a sad story emerges.
Elie Louis Joliclere was a lieutenant in the French army. He had joined up at the age of 17 and served in a cavalry regiment. He spent three years in Cochin-china [at that time a French
colony; now part of Vietnam] where he had been wounded in his left knee. In June 1872 he went home on leave - his father was a banker living a few miles north of Paris. However, Elie did not get on with his family and he fell out with his friends and for these reasons he left France at the end of 1872. In February 1873, still officially on leave from the French Army, he was appointed as an assistant master teaching French to boys at Thistleboon Academy in Mumbles.
Thistleboon House Academy, Mumbles: When Elie Joliclere joined the teaching staff at Thistleboon Academy in 1873, the school was 'conducted' by Rev. John Robert Dawe Colston. Originally from Bristol, John Colston had established a school in Swansea's York Street in the 1840s. In 1859 he moved his school to the smarter and healthier location of Thistleboon, where he built a new schoolroom and dormitories. In the 1861 census Thistleboon House accommodated 48 people, including 29 boy boarders [aged between 9 and 16]. The majority came from West Wales and nearby towns, but some hailed from more distant places including London, Northumberland, France and the West Indies! The French master was born in Hungary. In 1871 there were 24 boarders and the French master, August Moriamé, was Belgian which makes Elie Joliclere's appointment less puzzling. The school was advertised for 'young gentlemen' who would be 'liberally boarded and parentally treated [John Colston and his wife Frances had a large family of their own] and expeditiously qualified for the learned professions and the counting houses of the merchant.' The day and boarding students were taught a wide curriculum and prepared for University Examinations. Many pupils went on to have successful careers both locally and further afield. The school was successful and Colston himself highly esteemed as a teacher. He was very involved in the local community which gained him not only much respect but also genuine liking.
Colston had been a staunch Methodist but around 1864 he left the Methodist church and was ordained into the Church of England. He subsequently served for 9 years as a non-stipendary curate at All Saints'. In 1869 the family suffered two tragedies. In July their third daughter Martha, aged 14, drowned whilst bathing in Langland Bay. Three months later in October, Isobel, one of Colston's twin daughters, died a few days short of her first birthday.
Friendship with Frederick Edward Mortimer: Although an excellent English speaker, Elie was at first understandably 'quiet in his manner' and spent most of his time with Frederick Mortimer who was also resident at the school - the two young men enjoying long discussions and a good smoke. Elie soon made other friends; he liked company, was often in high spirits and full of jokes and 'accidentally drank to excess'- something he was careful to conceal. By Easter he had acquired a horse and rode regularly, using his spurs which Mortimer thought was rather cruel.
Joliclere wrote to the French army informing them of his intention to resign. He told Mortimer he regretted his behaviour in Paris the previous year which: 'caused him to forfeit the good opinion of his friends'. He did not like being alone and frequently knocked at Mortimer's door asking him to come and smoke with him. At times he seemed to be in 'low spirits'. True, he was in debt, but as he was often in receipt of money, including his army pay, this did not seem to weigh heavily upon him. At no time did he say anything within Mortimer's hearing that might indicate suicidal tendencies, although he did recount a tale of having to be dissuaded by an officer from shooting himself on account of something he had done.
Wednesday 4 June 1873: Elie planned to return to Paris on Saturday 7 June. On the Wednesday afternoon he was seen riding his horse at Langland Bay - 'furiously ... through the sea into the small bay [Rotherslade] and up a most difficult path'. He then rode to Mumbles and came up the steep hill
as hard as the horse could go.' Later, he gave friends small ornaments as keepsakes. That evening he was very quiet which struck Mortimer as 'odd'. He left the house at half past nine and had not returned when Mortimer went to bed.
As one of the servants employed at the school Margaret Lloyd
saw Elie Joiclere every day and she testified: 'I never observed anything peculiar about him at all.' That evening she was in the kitchen when Joliclere appeared at half past 10. She thought he seemed 'low spirited'. A pupil who had been working for an exam called in to say goodnight and Joliclere asked him to fetch a bottle and some sugar from his room. Bringing the bottle the pupil told him that he thought he had passed well in French to which Joliclere replied he was 'glad to hear of it'. He then poured whiskey from the bottle, added hot water and sat at the table with his head in his hands. When Margaret asked him what the matter was, he replied: 'Oh, nothing much'. But he ate an egg and drank tea with her and three other servants telling them he was leaving at 9am on Saturday. At midnight they all retired to bed. As Margaret passed Joliclere's open bedroom door he said: 'Good night and good bye', which at the time she thought nothing of.
Thursday 5 June 1873: The next morning, at about 8 o'clock, Frederick Mortimer went as usual to his friend's room on his way down to breakfast. Three candles were burning and Joliclere, undressed and in bed, appeared to be fast asleep. Hoping to wake him, Mortimer kicked the door but Elie only made a noise that indicated heavy slumber. On the table were a large bottle and a glass tumbler, so perhaps he had been drinking and was sleeping heavily as a result? Joliclere generally smoked last thing at night but his pipe was also on the table. Mortimer extinguished the candles and went down to breakfast.
During breakfast it became apparent that something was wrong. Hurrying back to his friend's room Mortimer thought how tidy everything was. It was clear Joliclere was not just asleep, but in a stupor. Margaret Lloyd fetched some water to wash his face and hands, noticing the finger nails had changed colour. The doctor was sent for.
Dr John Bevan knew Elie Joliclere, having attended him four times previously. He had thought him an excitable young man, but on this occasion found his patient in a coma; his breathing and pulse barely perceptible. His eyes were partially closed; the pupils rather dilated, consistent with the effect of opium. Dr Bevan sniffed and tasted the dregs in the glass tumbler. He did his best to bring Elie around, but without success and the young teacher died just 10 minutes after the doctor's arrival.
Post-mortem: Dr Bevan conducted a post-mortem with Dr Lloyd of Swansea Hospital. They noted the scar on the left knee, heart and lungs were healthy, kidneys were enlarged and the brain 'congested'. There were no marks of violence. The stomach contained about 4 ounces of dark fluid with a peculiar smell, but after a 'rough analysis' Dr Bevan could detect neither opium nor laudanum [which, as he observed, 'are the same]. The glass tumbler that he had smelt and tasted earlier had however contained laudanum which Dr Bevan thought had been taken 6 or 8 hours before death, adding that 'laudanum is not speedy in its action.' The only cause of death was narcotic poisoning. 'The Lure of Laudanum': By the 1800s laudanum [a tincture of opium] was widely available and, at a time before asprin, anti-depressants and effective sleeping pills, it was widely used to treat all manner of ailments from pain to nervous disorders. It was addictive. By 1868 its dangers were recognised and it could only be sold by registered chemists and had to be clearly labelled as a poison. Frederick Mortimer told the jurors that the previous week he had gone into Swansea on an errand for his friend. He handed a note from Joliclere to Mr Griffiths, a druggist, and collected a wrapped bottle which he had to sign for. He was not certain whether the ledger entry said opium or laudanum, but Elie reassured him he had taken it before, mixed with cold water. The bottle could not now be found.
The inquest verdict: After hearing all the evidence the jurors returned a verdict that Elie Louis Joliclere, 25 years of age and a lieutenant in the French army had: 'committed suicide by taking poison whilst suffering from a diseased state of mind'. The local papers carried reports. 'SHOCKING SUICIDE AT SWANSEA' screamed the Western Mail on 7 June in a fit of alliteration, following this up two days later with 'LATE SUICIDE AT SWANSEA'. The Cardiff Times and the Cambrian were more dignified with: 'SUPPOSED SUICIDE OF FRENCH GENTLEMAN AT THE MUMBLES'. There was less sensational coverage in the Carmarthen Weekly Reporter and the Wrexham Guardian and in the South Wales Daily Post - below.
Afterwards: What effect the tragic events of June 1873 had on the staff and pupils of Thistleboon Academy is not known. But in December, after 'giving 27 years of his life to the cause of education' Rev. John Colston sold the school and moved to Liverpool to run a mission church there. In his final sermon at All Saints' which lasted 40 minutes, he spoke of the churchyard 'which held two dear hostages of undying affection' [his daughters Martha and Isobel]. I wonder if he thought of the young Frenchman who had died in his employ, also buried in All Saints' churchyard.
Burial at All Saints': The story raises questions that we will never know the answers to. But Elie Louis Joliclere was buried on Saturday 7th June, the day he had planned to return home to France perhaps hoping to make a new start in life. It seems likely that his family paid for the gravestone as the inscription is in French and includes his date of birth. Until 1961 suicide in Great Britain was a crime. This criminalisation reflected religious and moral objections to what had long been considered self-murder. By the 19th century there was greater tolerance and awareness, with suicide seen as a medical or emotional problem. Elie Joliclere was buried in consecrated ground, but the inscription 'Priez pour lui' invites compassion and prayers.
Elie Louis Joliclere's grave [photograph above] is outside the north wall, on the left after you come up the drangway from Mumbles Road.
Kate Jones, October 2019.
Acknowledgements: Inquest into the death of Elie Louis Joliclere, 6 June 1873 and Thistleboon Academy prospectus, 1870, both in West Glamorgan Archive; Thistleboon House School 1841-1894, Wendy Cope, Gower, 1995; drawing of Thistleboon House in the 1860s, unknown artist, Qystermouth Historical Association Archive;' The Lure of Laudanum', Claire Cock-Starkley, 2016, published on-line, accessed 19.10.19; tincture of opium bottle, the British Library.
---
2.
"Peel Off the Black Bits!" - by Grafton Maqqs
I was born in 1925. Forgive me for mentioning this riveting piece of information - but I do so for a reason. It is with the hope that with that knowledge, the reader will adjust so as to see things through my eyes, at the age I was then, and, accordingly, acquire a truer perception of the social behaviour in Mumbles at that time, when life was so very different to what it is now.
Historians repeatedly describe the '30s as being the most event filled decade of the 20th century and, as one of the 'in between generation', I came into it in the fifth year of my life. Though the routine events of daily life about me didn't seem to register at the time, in fact subconsciously many did. Very much so. And many memories from the '30s still surface in my mind with a startling clarity - not only of the world shaking events of that incredible, fiery decade but also of the routine pattern of the social life about me in Mumbles.
From that latter group, one memory that persists clearly is that Mumbles, up to the outbreak of WW2, was a remarkably stable place with very little change. True, in the mid 30s, Forte's Ice Cream Parlour appeared on the Square and our Council, in a rare moment of altruism, had the good sense to build a superb library in Dunns Lane but that was about it. Except, of course, for Mr Merills knocking down his old Tivoli Cinema and giving us an opulent new one - which, in spite of the gloomy prognostications of the Rev. Beynon, did not,
'...with its Herodian palatial veneer, lure in the young innocents of Mumbles and corrupt
them with the depravity of Hollywood.......
Perhaps this is because we were already corrupted - by the likes of Laurel and Hardy, Shirley Temple, Deanna Durbin and Rin Tin Tin.
Apart from all that, Mumbles did languish somewhat simply because there just wasn't enough money about. Unemployment was rife, evidence of which was seen in the weekly dole queue outside the Labour Exchange, in Cornwall Place. The lack of feeling shown by the authorities at this time was cruel in the extreme and how can I ever forget that hangdog look exhibited by these men - many of whom had fought in the trenches? Their humiliation, by making them queue on the pavement outside, for the world to see, was shameful and which coupled to their penury fostered a resignation to the way things were about them.
I choose to think that perhaps there was also another factor at play - apart from the economic situation - that most villagers were reasonably content with the way things were in Mumbles at that time. Certainly, in my age group, from one week to another, my day was filled with pleasing activity - how could it be otherwise? Always with a group of friends, enjoying the fruits of the different seasons, from conkers to hoops; from whip and top to *winter warmers, all this in a playground embracing an area from Langland to the Woods - mortised into the vibrant social life of the street. Few, if any, pushed for change or development and we knew exactly where we stood in a liberal society with black and white parameters. We were happy children.
What about the number of people who inhabited our small village? Over the months and years, there was no apparent increase or decrease in our population. The evidence for this I draw from what I remember of the near constant audience figures of the Old and New Cinemas; our classes in the Board and Church schools, always about 40 pupils: at Scouts and Cubs, always with near optimum membership and Junior Guild in the Victoria Hall always filled comfortably on those winter Tuesday evenings. I recall constancy in the numbers playing in the streets or swimming off the sea wall - everything, seemingly, unchanging.
From the beginning of my school career in the Board School in 1929, to leaving in 1937, the only change I saw on the teaching staff was when Mr. Jones took over Mr. Gibbs' class in 1935. And, what a rock the old Mumbles Post Office was in its day,
situated opposite the Methodist Church, a hub of the community run with the discipline of Wormwood Scrubs. Bespectacled Miss Jones, with her bunned hair, was the Post Mistress and she had always been there. According to Tom Davies the baker, 'the first stamps she sold were Penny Blacks'.
For those who still doubt, I suggest that they peruse the lifeboat photographs in Kate Jones' masterpiece, 'The Mumbles Lifeboat Station' - same craggy faces year on year on year! Little changed in Mumbles.
[very rare picture of the lads swimming off the seawall at the back of the bowling green.
Plum Jeffers standing and his younger brother, Johnny, seated]
*Winter Warmers. Used on bitterly cold winter nights when playing in the street. A cocoa tin was perforated in its base and lid, multiple times. The tin was stuffed with a cotton material which was set smouldering with a match. The lid was replaced. Held out at arm's length in a gloved hand, the owner would tear up and down the street. The current of air sweeping through
the tin would fan the smouldering cotton into a flame which would stream out of the back with a dense trail of smoke. It was quite a sight to see hordes of children racing up and down Gloucester Place through what looked like a dense London smog. Ned Way, coughing his way into the Vic pub one night, said,
'Thought I was back on the b Somme'.
So, new kids on the block were a rarity but, nevertheless, did turn up now and then and, as one would expect, were first spotted in school. Red-faced, self conscious they stood, enduring the agonies of coming into a classroom full of grinning morons, half way through a term. Brinley Richards turned up in 1937, Reggie Roberts in 1938, as did Pat Hoare. Whereas Brinley and Reg spoke like what we did, Pat was different; she spoke with a lovely English accent —acquired, we found out later, through having spent the early years of her life in Kent. This made her a bit of a novelty and - what with her pretty face - an object of desire for those young lads just entering the pimply stage of burgeoning hormone activity - especially those little beasts perverted by their exposure to Donald Duck and Spencer Tracy at the Tivoli.
It turned out that Pat was a member of a family that had just moved in to the coastguard station, her father having been appointed to the position of Writer. She was the youngest of three girls and had two elder sisters, Connie and Joan, both of whom had places in the higher classes. The coastguard station, then, was located in that large quadrangle cornered by Westbourne Place and Upper Church Park [still, to this day, clearly defined by its original limestone boundary walls - photograph: above left]. After WW2 new houses were built to accommodate the coastguard families at the end of Overland Road, near Western Lane, on that area once covered by the Phillips' orchard. The old coastguard houses were snapped up by the public, modernised and occupied - as they are to this day.
Over the years, these coastguard families had arrived from the outside world and, because postings were of long duration, had settled in and became very much part of the Mumbles community - none more so than the younger members. Altogether, during the 30s, there were 7 coastguard families in residence in the Westbourne Place station all of whom were, indeed, a rare source of new blood to the village. There was the Chugg family with children, Dolly, Jean, Joan, Gordon, Teddie and Ron. The Page family who had only the one son, Jack. Reflected glory gave the Jeffers boys more prestige than their fellows because their father, Albert was the chief coastguard - and looked it! He was a tall, imposing gentleman always immaculately clad in navy blue uniform, breeches and highly polished knee boots. The Jeffers, too, made up a large family in the shape of Albert (Jr.), Dick, Bertie, Bill (Plum) and Johnnie. Four of the offspring had inherited their father's ginger hair, high colour and waspish attitude, the odd one out being the affable, dark haired Bertie who took after his charming mother in many other respects.
The other families, as far as I remember, were childless and of them, I can only recall the Joslins and that was because Mrs. Joslin was German! I was a little bit disappointed when she was first pointed out to me because she looked much the same as all those other Mumbles women who shopped in Mary Tailor's, or Sam Davies' shop. I thought, at the very least, she should have had pigtails, a dirndl skirt and white blouse and that on Sundays would wear a helmet with a spike on it. She didn't. She wore a hair net and sported the usual heavy brown coat over a pinnie.
My home, then, was the Victoria Inn, Westbourne Place, which was literally a stone's throw from the coastguard station and, as a result, I came to know all the coastguard children well because they were totally integrated with our street social life. Also, Teddy Chugg and Pat Hoare were in Mr. Gibbs' class with me, in the Council School.
I found Teddy and his elder brother, Ron, [a senior, in 'Laddie' Williams top class] to be mines of information. Through talking with them and, occasionally, with John and Plum Jeffers, we the unenlightened street kids, learned their jargon and much about the life and routine of a coastguard on the Mumbles Station.
We already knew that the coastguard place of work wasn't where they lived. That was in 'The Lookout, a building situated on the headland, between Bracelet Bay and Limeslade. - a place known to all the locals as 'The Twt' [photograph: below right]. We learned that the coastguards worked there in six hour shifts for 24 hours a day, seven days week and every ship that entered and left Swansea Bay was monitored by them. Presumably, if any vessel appeared to be of a hostile, threatening nature, they were there to do something about it - like telephone the local constabulary and have PC Ted Southall plod over to have a strict word with them and finger a few collars.
The Twt also functioned as a Lloyds signal station and the coastguards transmitted, as necessary, any orders from Lloyds to these ships. In those days this was done by flag hoist or Morse lamp and an interesting fact emerged that for every ship's movement reported to Lloyds, the Coastguards received two and a half pence. I suppose that allowing for the worth of that sum in those days and the amount of shipping then current [it was nothing to see ten or more ships waiting in the Channel] it counted for something.
We learned too that that wonderful Mumbles sound, redolent of heavy foggy winter days - the foghorn moan - although it's mechanism was on the Lighthouse Island, it was under the remote electric control of the coastguards at the Twt. This hadn't always been the case because until 1936, to operate this beast had been the jealously guarded privilege of lighthouse keeper, Mr. Cottle.
Access to HM Coastguard quarters in Westbourne Place was restricted, only those people essential to the smooth running of the station being allowed entry. There was, for example, the likes of the village postman, Mr. Mitchell who delivered five rounds of mail a day; Edgar Clements who would leave his milk float and horse outside in Westbourne Place and walk the rounds of all the houses surrounding the inner quadrangle; similarly, George and Fred Davies had ready access to deliver the freshly baked bread every day, as did the dustmen who daily collected the garbage.
Those of a non-essential category couldn't drift in and out of the station at their own choosing and friends of the coastguard children were allowed in to play only by invitation. This was readily accepted, after all this was a respected crown property, a place of work run with decorum - not the House of Commons.
By chance one day I caught a glimpse into the interior of one of the coastguard homes. Whilst playing on the quadrangular square, it began to rain heavily and we took shelter in the open doorway of Teddie Chugg's house. I had a brief look into the small living room, saw the coal fire burning in the grate and the mellow greenish light that spilled down from the gas mantled light on the wall. So serene and cosy! And though the gauche, little dullard that I was - I sensed that I was catching a glimpse of captured Victorian life
So, the coastguard children, on the whole, were easy going, happy beings who had become totally involved with the rest of us. They enjoyed and shared in all the things that we did - from swimming together down the front, to cinema going, to playing up the woods or up the Rec'. They shared with us all the events of the year and like most of us, the time they enjoyed the most (next to Christmas) was November the Fifth, Guy Fawkes night.
And there was one special year when the coast guard clan came to our rescue and saved the day as regards the Bonfire Night celebrations. That year was 1938 - special for a good reason.
Every year, for weeks before the great night, what pocket money we had was spent on buying fireworks and stockpiling them. Fireworks could be bought freely from outlets all over the village and just about every little back street shop sold them, there being no restriction on who sold them or who bought them. A four year old could walk into Steve Davies' shop in Chapel Street and, as long as he had his ha'penny in his hand, he could buy his banger.
Mumbles shops only stocked the small stuff, fireworks rarely costing more than a few pence. For the big stuff one had to go to Swansea where the likes of Dan Morgan, in Lower Oxford Street, had it all. In the window display one could only gawp at the size and cost of these pyrotechnical monsters - rockets at five shillings, pinwheels at a pound, hopping jinnies at half a crown - each one costing more than a whole night's celebration in a Mumbles back garden. There were bangers, even, costing pounds and from the look of them they could have blown a hole through the jail wall. I would have loved one of those.
However, we had to be content with smaller stuff. A ha'penny
could buy a Little Demon and a penny its bigger brother, the Big Demon and for such a small outlay, the volume of sound generated by these little fireworks was unbelievable, especially when it was detonated in the confined space of a back street. When I look back, it is a
source of wonder to me now how, the very elderly, or infirm, survived this period of near bombardment and I realise now how very selfish and thoughtless we were at the time.
However, it wasn't all noise. For variety, a penny would stretch to a simple rocket or a Roman Candle and to please whingeing sisters, for a ha'penny each, there were the pretty Chrysanthemum Fountains, Golden Vesuvius and Sparklers. Pretty but no bang.
It was not an unknown practice as the big night approached, to yield to temptation and dip in to the precious stock and, with like minded friends, let off a few in the street. As a result, from near and far, odd explosions could be heard punctuating the back street nights - and how reckless we were!. The usual way for a Mumbles lad to set off his banger was not by placing it on the ground, lighting the touch paper and standing well back. Oh no! A Little Demon was held in the hand. and the touch paper ignited. It would glow and, not until it started to fizz would it be thrown, and then usually at somebody.
For financial reasons, on all Guy Fawkes Nights, fireworks were never too plentiful, but this was a deficiency overcome by arranging parties in our backyards and gardens, with everyone bringing along what they could. .And, no mailer what! The evening always finished on a high because of the massive bonfire - made up of combustible rubbish collected from the local shops. And what a great end it made to the night! The guy would be placed on top of the pile and the heap ignited. Slowly at first the flames licked at the base, began to spread sideways and then break through vertically. Within minutes, the pile of cardboard, paper, shavings, orange boxes would be a mass of flames and the guy would soon be engulfed to cheers all round.
Bonfire night 1938, however was different to those of previous years because of the rather difficult situation in which I had been placed by my father. This had come about because of the unfortunate way in which things had got a little out of hand the previous year, a mishap to which my father had reacted with considerable anger. Since the earliest days, Dad had restricted the size of the fire in the back yard of the Vic for safety reasons because of the nearness of the house and I had adhered, more or less, to these limits. He trusted me. Sadly, in 1937, the bonfire did get slightly out of hand and cause a few minor problems which was all rather unfortunate in view of the fact that barely a week before the event, it looked as if we were going to get barely enough material to fill a watchman's brazier.
Things had become so desperate in 1937 that, with only two days to go, we were forced to set out on a last urgent foraging expedition - Jack Timothy, Billy Knight, Gerald Balsdon, Bernhard Hullin and myself. It had grown dark by the time we were returning, alas, empty handed. We had called in the Star Supply, The Book Shop, Mr. George's, Sybil Morgan, Durose and even Mr. Scott, the shoe repairer - who genially suggested that we try Pressdee's,
'...they usually have a few empty boxes lying around...'
No luck anywhere, not even an empty Woodbine packet. Same everywhere,
'...thee too late, boy! Try next year - and make it earlier!'
Despondently, we made our ways back to Gloucester Place knowing that this year was
going to be a complete flop. Then, as we were making our way down Chapel Street from Newton Road, just before reaching Victoria Avenue, a man popped out of the lane that turned right behind the Newton Road shops.
'You boys looking for bonfire stuff?'
We replied in the affirmative.
'Come with me!'
He led us up the lane to an open garage which was located approximately behind Durose
the Outfitter's shop. It was dark but he had a torch and shone it done upon a pile of circular objects. To this day, I do not know what they really were and how they came into being. He said they were the bottoms of kit bags with rope edging and that they were covered in dried paint! I still cannot work that out!
'They'll burn like 'ell,' he said, 'Take them all if you like - borrow that hand cart - but bring it back - from the look of you you'll burn it'.
I could see instantly that this was a terrific bonus. We didn't wait to be asked twice. We took the lot, and raced back to the Vic because I knew that my father was out of the way, working behind the bar. We took the kitbag 'thingies' into the back yard and placed some of them on the pitiful
collection already there, up to the permitted height. The rest of them were hidden in the coal house, behind the anthracite [which I recall, smelled strongly of cat pee].
The great night came and before we started, my father gave me a reminder as to the limits of the fire. He came down and checked the height and departed satisfied, blissfully ignorant of the combustible mass that lie skulking in his coalhouse/cat urinal.
Well, that Guy Fawkes night of 1937 started off well enough. All the fireworks were let off in the back yard which was packed with its usual gang from Gloucester Place, John Street and Westbourne Place. Nothing out of the ordinary happened, just the usual bunch of girls got their hair singed, here and there a few legs were burned by the hopping jinnies, jackets scorched and ears set ringing. So far, so good! Then, the fire was lit and burned quietly through to reach the kit bags. Almost immediately, they began to smoulder and, as our kind donor had promised, began to '...burn like 'ell...'! They burned fiercely with jets of fire squirting out!
It was at this stage, that / took leave of my senses and made what can only be described as a most imprudent decision.
With the ready help of Walter Hayward, Mark Glover and Terry Lynch, all the remaining kitbag bottoms were pulled out from the cache and instead of being fed to the fire gradually- were all thrown on at once. There was a pause and then they really caught fire. Within seconds flames rocketed up to an incredible height and anybody watching, over in Port Talbot, must surely have thought that Mumbles had its own blast furnace. There were whoops and screams from the crowd of children in the yard who leapt back in alarm but with fire lit faces creased in grins of startled delight.
At that very moment, my mother was upstairs in the living room which had a large window looking down, over the yard, on to Gloucester Place. She was ironing with her back to the window and what she didn't know was that the experience of the next few minutes would convert her into a life long pyrophobe. Her story I overheard, a week later, when she was talking to the genteel Mrs. David, of Overland Road. They were drinking tea and my mother's cup was shaking in its saucer, she hadn't stop trembling since Guy Fawkes Night.
'I was ironing my dress, Mrs. David, with my back to the window and listening to the wireless, to Sandy MacPherson on the organ - you know, it's my favourite programme, 'Chapel in the Moonlight' half hour.
'Whilst ironing, as I was humming along to "Trees", I glanced up to check the time on the clock on the wall. I thought my eyes were playing tricks on me because there was a flickering light playing across the clock. It was eerie, I shook my head but saw it again and then, Mrs. David... something else - even more frightening...!'
My mother gulped a mouthful of tea and replaced the shaking cup with a clatter on its saucer,
'Good Heavens! What was it Mrs. Maggs - don't keep me in suspense!'
'I saw a fluttering shadow, moving across the clock! A ghastly head and shoulders! Then I realised it was my shadow! I spun around and there facing me was the most terrifying sight of my life! Outside the window there was a sheet of flames, leaping up, flames coming up from the yard! The house must be on fire! Something to do with the bonfire and if Graf is down there- it's got to be his doing!
'I raced down the stairs and opened the back door on to the yard and do you remember the film Dante's Inferno? With all those fires? Well that, compared to what was in the yard, was like a glow worm. The yard was an inferno! I ran in to tell, Glyn'.
My mother was a little prone to exaggeration but, indeed, the kitbag bottoms had done all that our generous donor had said they would. It was a super fire - best ever in the history of
Gloucester Place but something unappreciated by my mother and father because it looked as if our house was going to be part of it. Anyway, Dad had stormed out of the bar followed by, Syd Bale, Ned Way and Tudor Knight. The hosepipe was turned on and buckets of water were thrown on the flames. Within ten minutes it was a steaming, hissing harmless pile.
Later, I was despatched to my Grandma's in King Edward Road for a week or two until Dad cooled off. Unfortunately the paintwork on the front of the house had blistered and a window cracked - which didn't help me at all. My reputation had taken a severe blow in 1937. and I dare not let anything happen like this in 1938 [Dad mentioned a boarding school in Tasmania].
With that in mind, the great night came and what fireworks we
had were lit and enjoyed in the yard, as usual. However the carefully confined fire of that year was a miserable little affair which burned out in half an hour, only half way through the evening. We all felt as flat as pancakes, as we filed out into Gloucester Place.
Then when all seemed lost, the Mumbles Coastguards came to the rescue, in the shape of Teddy Chugg! Teddie had been with us in the early evening, witnessed the anticlimax and had slipped home. He came running around the corner,
'Graf! I've had a word with my Dad. He knew about last year [everybody in Mumbles knew about last year] and of this year's restriction. You can all come up to the coastguards for the bonfire there!'
This was indeed an answer to our prayers and from such an unexpected source! I sought parental permission to go, which was granted and with a wave of relief [I was safely off the premises on this incendiary night].
The coastguard bonfire was a huge affair and was positioned safely in the middle of the old drill square and they were just about to light it when we arrived. Soon it was well away! All the children from our fire were there - the Knights, the Arnolds, the Hullins, plus the Clements from Church Park and the Bibbs, the Fentons and the Hunts from Park Street - a large and happy gathering.
A half hour into the evening as I was standing with John and Boppy Clements, I saw Mrs Jeffers place large potatoes in the glowing embers at the edges of the fire. Then, about twenty minutes later, Mrs. Joslin, Mrs Hoare and her girls came out with tin mugs and steaming jugs of cocoa which we were all invited to share. Mr. Chugg started raking out the potatoes from the embers and these were wrapped in wads of newspaper and shared out. Next to me, John had one and he could see that I looked puzzled as I examined the incinerated black lump in my hand. John spoke,
'Don't look at it! Eat it! Not like that, you fathead!
Peel off the black bits! Shake some of this salt on it and eat it whilst it's scorching hot'. This I did and with the hot sweet cocoa it was fantastic! There was more than enough for seconds and the Guy Fawkes Night of 1938 finished on a high - rescued by the Mumbles Coastguards!
It was time to go home and we filed out wearily into Westbourne Place, conscious that there was school the next day. Mums were standing in silhouette on doorsteps, calling in their broods,
'Come on Margaret and Elaine, school tomorrow!' 'Time for bed! Cissy, don't let Hazel get cold!' 'Mark! Bring Walter home, now!'.
It was all over for another year, or so we thought. What none of us knew, of course, was that it was to be the last celebration of Bonfire Night for six years, due to World War 2 breaking out, in September 1939.
So, as I write this article, I cannot celebrate an 80th anniversary of Guy Fawkes Night! There isn't one but, even so, it must not detract from that celebration of 1938 which memory charges with emotion
I can still pick out in my mind's eye those teenage faces glowing in the light of the fire. Amongst them were Jack Timothy, Alan Rosser and Jackie Webborn; each one would experience, as RAF aircrew, far bigger fires below them as Hamburg burned; the elegant Norman Colley, who as a TA sapper would escape from Dunkirk but later suffer four dreadful years of incarceration in a Japanese prison camp; and Bertie Jeffers who, as a Welsh Guardsman, heroically fought in the rearguard action at Dunkirk to become a POW in Germany for 5 long years.
I remember, too, the 'ordinary' villagers present that night who, in less spectacular ways, would be tested in the coming conflict - not only as members of the armed forces but as defenceless civilians who kept the very wheels of our society turning through those gravest of times.
What a bowl of memories it all is! Of sun drenched days on Langland Bay; of frost nipped nights carol singing in the streets; of fun loaded August Fetes under cloudless skies in the Castle Field; of raucous winter matinees in a packed Tivoli cinema.
Hosts of memories, not the least of which in that bowl, are those of the Guy Fawkes Nights, in a Mumbles that was so reassuringly unchanging. Of times such as the bonfire night in the coastguards when, cocooned in friendship, I found myself,...
peeling off the black bits...'! Mumbles 2019
[Above photograph: Sgt. Johnny Jeffers home on wartime leave from the RAF. With him his father who was the Chief Coastguard on the Mumbles Station. Body language shows immense mutual pride and affection!]
October 2019 Contents:
1. Twnning with Havre de Grace, Maryland.
2. Overtaken by the tide - October1886
3.The Joys of Church Sitting
---
1. Twinning with Havre de Grace, Maryland
At the Music Festival Choral Eucharist on Sunday 8th September we welcomed three special visitors from Havre de Grace, Maryland, USA, Gay Lynne and Bill Price and Casi Boyer [pictured left to right with the Vicar].
They were part of an official delegation from Maryland who had come to Mumbles to mark the twinning between our two communities. They are also members of St John the Evangelist's Church, Havre de Grace.
During the service they presented All Saints' with an icon and a small watercolour of their Church. They were then given a Celtic cross lovespoon to mark what we hope will be a bond of love, prayer and mutual support between our two communities.
During the offertory they brought up reserved sacrament consecrated at St John's, which we shared at Holy Communion.
The people of St John's are very enthusiastic about setting up a link between our two parishes. Our communities have similar liturgies and outreach ministries. Their Church is the oldest in Havre de Grace and was founded in 1809 [photo - below right]. It was damaged by the British army in 1813 when they attacked the east coast of the newly independent America during the Napoleonic war. Havre de Grace was also chosen as one of the possible sites for the US State Capitol building, though Washington had just one more vote in Senate at the time. The town was recently named as one of the top twenty best places to visit in the US by the Smithsonian magazine. Members :of the Mumbles Twinning Association are visiting Havre de Grace in October 2020.
We are not sure how the twinning will work out between us. There might be the possibility of exchanging visits in the years to come. We will also share news via emails and on the parish websites we have. Meanwhile, we will begin by remembering each other in prayer at the altar.
We have been asked to pray for Fr James Snodgrass [Priest in Charge], Fr Bill Dunning [Assistant Priest], Deacon Gail Landers and all the congregation of St John's.
Fr James has written this prayer for us to use:
Almighty and eternal God, You have brought together the peoples of St. John's, Havre de Grace and All Saints, Oystermouth, in a bond of prayer, mission and mutual affection: so draw our hearts to you, so guide our minds, so fill our imaginations, so control our wills, that we may be wholly yours, utterly dedicated to you; and then use us, we pray, 0 Holy Spirit, as you will, and always to your glory and the welcome of Your people, through our Lord and Saviour Jesus Christ. Amen.
---
2, 'OVERTAKEN BY THE TIDE' OCTOBER 1886
by Kate Jones
Friday 15th October 1886, Mumbles Head: A violent gale
blew up the Bristol Channel. The wind roared between the two islands of Mumbles Head. Huge waves crashed on the rocks, sucking and dragging back into the foaming waters anything they could. The sea swept into the two sounds (rocky channels separating the islands), running in, falling back, then back in again. On the lighthouse island Keeper Abraham Ace watched a darkly-clad man, buffeted by the wind and rain, picking his way across the sounds. The tide was coming in.
It was about three in the afternoon when the man started his walk back from the mainland to the lighthouse. He had been to the village to collect provisions and post. His errands had taken a couple of hours and during that time the tide had turned. He stood cautiously at the edge of Middle Island, waiting for the sea to run out before he started to cross the outer sound. The rocks, slippery with sand and seaweed, were covered by sea swirling around his knees, tugging at his soaked trousers. Walking between the mainland and the lighthouse was always risky when the tide was rising. The fierce gale had been blowing all day and was getting worse. In Mumbles there had been talk of vessels caught in rough seas wreaking havoc in the Bristol Channel. At Southend the lifeboat crew and helpers had struggled to launch the lifeboat Wolverhampton to a ship aground across the bay. The man was now half way across the sound and ahead of him the ghostly shape of the Mumbles Lighthouse high on its rock loomed out of the squally mist. Nearly there -just a few more yards to go and he could clamber up the steep steps to his home and family. But, suddenly, he stumbled and fell. Perhaps he tripped over a boulder and lost his footing? Or maybe he was caught by the pull of the tide forcing its way through the sound? He picked himself up but the fall was to be fatal. The run of the tide returned, sea flooded across the sound from both sides of the island, no longer knee-high, but up to his waist. To the horror of those watching from the lighthouse, he was swept away into deeper water and disappeared from sight.
From the lighthouse island Abraham Ace desperately tried to lower a boat, but in the hurricane-force winds and rough seas he could not get it off. Fifty-year old William Walkey, for three years an assistant lighthouse keeper at Mumbles, had almost certainly drowned.
The violent gale of 15 October 1886 up-rooted trees, ripped roofs off buildings and caused extensive flooding around Swansea Bay. Rivers, streams and over-burdened drainage systems could not cope with the deluge of rain. Sea flooded part of the Mumbles Road leaving behind stones and seaweed. In Swansea itself the incoming tide washed up the town's streets, much to the consternation of residents.
In the Bristol Channel the equinoctial gale caused casualties to shipping and lives. The Malleny struck Tusker Rock with the loss of 20 and the Ben-y-Coe grounded on Nash Sands. The West Hartlepool steamship Agnes which had gone aground in fog the previous week on Whiteshell Point was smashed to pieces that were strewn across the beaches of Rotherslade and Langland.
In Swansea Bay the gale caused the loss of another ship and two more lives.
The loss of the Ocean BeautV in Swansea Bay: The barque Ocean Beauty was owned and managed by the Richardson brothers of Swansea. Recently refitted and considered by Lloyds to be good for another dozen years, she had sailed from Swansea on Sunday 10 October with a cargo of coal and coke, bound for Valparaiso in Chile. Her Master, Captain Davies, had been with the vessel for some 18 months and he had a crew of 14. Bad weather was already affecting shipping in the Bristol Channel
and, unable to make headway towards Lundy, Captain Davies was forced to turn back and seek shelter in the Mumbles Roads. He refused offers from the Swansea Harbour Trust
pilot to return to port and the ship and crew spent the next few days exposed to deteriorating weather conditions.
'In a perilous position': On the morning of Friday 15th Ocean Beauty's starboard anchor cable parted, and Captain Davies signalled for a tug, Challenger, to tow them to safety. But it was too late. Local newspapers reported that the Ocean Beauty was now in such 'a perilous position' she had 'became so unmanageable that all efforts were of no avail'. The tug's tow rope slipped and the barque grounded off Briton Ferry. Not for long - the rising tide took her off and drove her ashore at Aberavon. On that side of Swansea Bay the winds were gusting to hurricane-force and the deck of the Ocean Beauty was continually swept by huge waves. The crew scrambled up the rigging to which they clung for several hours, freezing cold and soaking wet, lashed by the winds. Below them their vessel began to break up.
'A tremendous struqqle': The weather was so bad that no one either side of Swansea Bay was sure where the Ocean Beauty was. At Southend the call went up for the lifeboat to be launched. Coxswain Jenkin Jenkins, 12 crew and 12 helpers had 'a tremendous struggle'to launch the lifeboat Wolverhampton into rough seas and gale-force winds, eventually getting her off at 1.30 pm. Local newspapers reported that: 'so terrific was the sea that nothing could be done' and after four hours of searching the exhausted lifeboat crew returned to Mumbles having failed to find the barque.
'The rouqhest sea in memory': As darkness fell, the storm, instead of blowing itself out, 'increased in fury'. There being no sign of Ocean Beauty's crew having got ashore, the barque's owners requested the lifeboat launch again. Some lifeboat men were reportedly reluctant to venture out a second time, but, after a short delay, Coxswain Jenkins did muster a full crew, no doubt helped by the promise of a tug to tow the Wolverhampton across the bay. An eye-witness described how the lifeboat and her towing-tug Digby Grand: 'ran before the wind like racehorses'. Sometimes submerged, sometimes lifted almost onto the tug's deck, the gallant lifeboat crew 'experienced the roughest seas in memory' before turning back - their dangerous mission again unsuccessful. Even if Ocean Beauty had been found help would have been impossible in the shallow seas off Aberavon.
'A providential rescue': Towards midnight the tide dropped, the storm eased and the crew of Ocean Beauty were able to come down from the rigging. One man found an empty oil can, corked it tightly, fastened it to a line and let it drift. Miraculously it reached the shore, was picked up by those waiting there and made fast. One by one the crew, holding tightly to the line, waded 100 yards through rough sea to safety. By the early hours of Saturday morning they were in Port Talbot, but not the pilot - he had been swept away at the height of the storm.
Aftermath: The Ocean Beauty was a total wreck and soon filled with sand. She had not been insured and her loss was a heavy one for Jeremiah and George Richardson. Captain Davies, the ship's master, had managed to get ashore, but he died two weeks later. On 12 November five men and one woman from Port Talbot were found guilty of 'pillaging' items washed ashore from the wrecked vessel. These included a sextant box, a chronometer, clothes boxes, two lamps, buckets and a rope mat. Each was fined 7s 9d plus costs of 12s 3d, or 14 days hard labour if they failed to pay.
'Overtaken by the tide': The body of Master Mariner Daniel Wilson, aged 44, Swansea Harbour Trust pilot on board Ocean Beauty, was formally identified by his brother Nathaniel. At
the inquest at Aberavon police station the jury returned a verdict of accidental drowning 'by being washed into the sea'
The body of William Walkey, aged 50, assistant lighthouse keeper at Mumbles was 'cast up by the sea' on 15th November and found on the beach at Caswell Bay by William Gammon of Newton. The deceased was formally identified by his younger brother, Henry, by means of his hair and his clothes, and in particular his waistcoat with Swansea Harbour Trust buttons. The inquest jury decided that the assistant lighthouse keeper had been 'overtaken by the tide and almost
immediately drowned and carried out to sea'. He was buried in Oystermouth Cemetery. [There is no headstone]
William Walkey was a Cornishman who settled in Swansea. In the town's 1861 census he gave his occupation as cooper. When his daughter was baptised at St Mary's Swansea in June 1870 he was entered in the parish register as a mariner. In 1871 and 1881 censuses he described himself as a dockman and dock labourer [this might have involved cooperage]. Employment with Swansea Harbour Trust as assistant lighthouse keeper with accommodation for himself and his family on the island was around 1883. The Western Mail reported he was a relation of the Ace family. But it is wise not to believe everything you read in the papers!
William Walkey was survived by his widow, Olivia, and five of their six grown-up children. Daniel Wilson left a widow, Jane, and four young children. The dangers faced by men working on, or by, the sea is highlighted in early Victorian census returns for coastal communities by the numbers of widows they left behind - many more than the average number of widows in inland areas.
Kate Jones, September 2019
Illustrations: photographs of Mumbles Lighthouse Island and Caswell Bay, c. 1885, by Harvey Barton, OHA Archive; drawing of Coxswain Jenkin Jenkins, 1890, from photograph by Henry Chapman; Western Mail, 16 October 1886, Welsh Newspapers Online.
Sources: Western Mall, South Wales Daily Post, Cardiff Times and Cambrian newspapers; Coroner's Report into the death of William Walkey, 16 November 1886, West Glamorgan Archive; Lifeboat Log Book, 1886, RNLI; Ancestry.co.uk; The Butcher, the Baker and the Candlestick Maker: The story of Britain through its census, since 1801 by Roger Hutchinson.
---
3. The Joys of Church-sittinq.
During the summer the Church was open for people to visit and some members of the congregation did shifts of Church-sitting, welcoming visitors and endeavouring to answer any queries. The visitors were many and varied, as were their reasons for visiting.
A number of visitors were visiting Mumbles and just happened to see the Church and decided to look around. Liz Perman and Diane Harries welcomed a lady in her 90s from Edinburgh who was with her son. He had recently been ordained and was so impressed with the Church and welcome they received that he emailed the Vicar to thank them. There were others who had been staying nearby, had heard the
bells and thought they should investigate; others were from Cumbria, from the Midlands and from Wiltshire but a gentleman from Aberdeen amused the sitters the most. He told of relatives who had been sailors who had sailed in this area in days gone by, one of whom had been wrecked off Port Eynon but when asked of his own sailing experience, his wife replied that he was seasick if he just looked at a rowing boat!
Other visitors came to see specific things in the Church. One group of locals came to see the Lifeboat quilt before Barbara Richards managed to buy it for the Church - just in case it went! A couple from New Zealand came in to see the 1883 Lifeboat disaster plaque as when they first met in Auckland they discovered they both had links to Mumbles and relatives involved in the Lifeboat and so had been determined to visit. A number of visitors came to see the Lifeboat windows and plaques and one couple came to see the Dylan Thomas window. Neil Norman greeted a couple from Sutton Coldfield looking for the name of a relative whose name is on the Rood Screen War Memorial. They were so pleased with the welcome they received that they gave Neil the money for a chair to be dedicated to 'Richard Beynon, Lost at the Somme' and being given a leaflet about the Music Festival they returned to All Saints for a concert where others also made them welcome.
Not all visitors came to see something specific but to see something more general. One couple visited as All Saints is where they were going to renew their wedding vows. As they looked around they seemed very happy but told of all the difficulties they had overcome so we all wish them well for the future. Of course there were other visitors who just came to find peace and solace. The Lady Chapel was always quiet for them.
The Church-sitters enjoyed it too. Some enjoyed the peace and quietness of the Church while others found the visitors interesting. Pam Thorpe and April Beynon had a fascinating puzzle set by a visitor who had a French friend staying. They asked about the grave outside the North wall which has an inscription in French. Although nothing seemed to be known about it, Pam investigated the Parish Register online and found a Toliclerc listed but no more details. Then Carl Smith, a local historian was asked and directed us to a report in the Western Mail of June 1873 of the inquest of Elie Louis Joliclere. It is a very sad story which Kate Jones, the All Saints historian has taken up and will tell you all about in an article in the Parish magazine soon.
These are just a few of the Church-sitters experiences - there may be many more to come.
April Beynon
---
September 2019 Contents
1. Cadoxton & the Mumbles Railway
2. Supporting Your Church - Is Now Easier
---
1. Cadoxton & the Mumbles Railway
by Martyn J. Griffiths
The grave of the man who created the world's first passenger railway has been found in Cadoxton churchyard near.
In 1807 the world's first passenger railway started operations between Swansea town and Oystermouth. It was the vision of one man, Benjamin French, who was a director of the company that had originally set up a tram road to carry quarried stone to the town. But who was Benjamin French? Very little has been written about him. He is mentioned only vaguely in documents associated with the railway and has remained until today something of a mystery man.
Now a grave has been discovered in the churchyard at St. Catwg's, Cadoxton, in the name of Benjamin Thomas French, gent (1771-1843) and he would appear to be the railway man himself.
In 1804 an Act of Parliament allowed the creation of a railway for transportation of quarried material from Oystermouth to the harbour at the mouth of the River Tawe. That railroad began operations two years later and one of the directors is named as Benjamin French of Morriston.
Within a year of operations commencing Benjamin French had a vision. He believed that the picturesque scenery of Mumbles Head would be an attraction to travellers.
French's proposal was to convert the iron carriage used to carry limestone into a wagon suitable for passengers. In order to go ahead with his plans he agreed to pay the company £20 a year in lieu of tolls, for the privilege. He supervised the engineering of the work and set up a suitable time-table. On 25th March 1807 the first passenger train ran. It was an immediate success; so much so that the company increased its rental terms to £25 per annum. Partners in the enterprise were Simon Llewelyn and Benjamin Rose; the sister of the latter marrying French's brother James. The photograph [lower right] shows the railway in circa 1865 [the carriage was larger than the original]
The track itself was five miles long and passengers paid one shilling each way for the pleasure of a ride in a twelve-seater, horse-drawn carriage. Steam power was already in use but an experiment with a steam engine found that the track buckled under the extra weight and the idea was abandoned. Horses were not replaced until 1877.
The Scottish author Elizabeth Isabella Spence wrote a letter dated 3rd August 1808 in which she extolls her delight at this new mode of travel:
"I never spent an afternoon with more delight than the former one in exploring the romantic scenery of Oystermouth. I was conveyed there in a carriage of a singular construction, built for the convenience of parties, who go hence to Oystermouth to spend the day. The car contains 12 persons and is constructed chiefly of iron, its four wheels run on an old iron railway by the aid of one horse, and is an easy and light vehicle."
However, just five years later Richard Ayrton travelling around the British Isles wrote:
"It travels "over an iron railroad at the rate of five miles an hour, and with the noise of twenty sledge-hammers in full play. The passage is only four miles but it is quite sufficient to make one reel from the car at the journey's end, in a state of dizziness and confusion of the senses that it is well if he recovers in a week."
We know that French hailed from Morriston but his family origins were further afield. His brother, James, who was a witness to Benjamin's marriage and a named life on Rhyddings estate deeds, farmed at Park Farm near Kilvrough between 1807 and 1817 and another brother, John's family, farmed at Limpit, near Southgate. However, the French family were not from the Gower.
The earliest information about Benjamin is that on 2nd September 1801 he purchased the lease of the Rhyddings Estate near Neath from Lord Vernon. This included Rheedings' Farm and grist mill and two public houses named in later deeds; the Travellers' Rest and the Coopers Arms. Unfortunately, this purchase again begs the question, why? What was his connection with Neath? Where did his wealth come from? At the time of this agreement he was living in Liansamlet.
On this deed of 1801 several people are named including a John French of (Great) Yarmouth and it is there that we at last find the family roots. Benjamin was baptised at St. Nicholas' church, the eldest son of Benjamin and Mary French. All the brothers, Benjamin, John, James and Samuel, moved to the Swansea area early in the 19th century. Samuel died in Llansamlet in 1801. Benjamin senior was a mariner at the time of his marriage so there is no clue there as to the origins of the family fortunes.
Sometime between 1832 and 1835 Benjamin French moved to The Parade in Neath and he died there on 8th November 1843, being buried in Cadoxton churchyard. Why did he move to Neath? His second eldest son, James, had qualified as a surgeon at St. Guy's in London. In June 1835 he applied for a position at the Swansea Infirmary and on failing to obtain that position he settled in Neath, but he probably arrived after his father.
James was active on the Neath council being twice mayor in 1851 and 1852 when fears of cholera encouraged voters to seek a solution from a man qualified to help them. He retired to Cheltenham in the 1860s and was buried at Bath Abbey in September 1890.
Two other sons were active in Neath. Paul Evans French had a shop in New Street and advertised as a 'druggist, chemist, bookseller and stationer.' He died at the age of 28 in 1847 and left the business to his youngest brother, Benjamin. The latter did not stay in Neath long and by the time of the 1851 census was listed as a surgeon at Cardiff goal. However he was not a prison surgeon but rather a prisoner! One wonders what he had done to deserve incarceration. Benjamin died at Bourn, Lincolnshire 1861 when his profession was given as surgeon.
Although this article throws a light on the man who created the world's first passenger railway, it also raises many more questions. Benjamin French obviously was a wealthy man with sufficient money to buy a small estate, run a farm, invest in railways and to educate his sons. His eldest son, Thomas, went to Oxford before being ordained [probably a Baptist Minister]. Regrettably historical records never supply all the answers!
[We are very grateful to Mr Martyn Griffiths for kindly allowing us to print his interesting article in the Oystermouth Parish magazine].
---
2, Supporting Your Church
- Is Now Easier
A New Way for US - Gift Direct by Direct Debit
At its July meeting in July Oystermouth PCC agreed to put an information feature on the Church in Wales Gift Direct scheme in this edition of the Parish Magazine.
It is written by Sonia Jones, our new PCC Secretary, and sets out the various ways we can support the Church and its ministry at Oystermouth and within the Diocese.
The Gift Direct scheme is operated by the Church in Wales on behalf of each Parish. It is easier for the parish because your gift along with the tax [if applicable] both arrive together each month directly into the church's bank account.
It means you are always in control. It has an optional annual index linked facility and it can mean no search for the money or hurried writing of cheques or envelopes before church.
The PCC would like to encourage more of our regular worshippers to move to the Gift Direct System. This will relieve administrative and time-consuming work of making tax claims and make it easier if we wanted to change banks.
The forms at the back of the church will help you do this and you can also ask anyone on the PCC who will be happy to chat about changing.
Are you a tax payer? If you are it will make a huge difference to your giving because the Government will increase the value of all you give. Currently the tax-back is 25p for every £1 given. The current arrangements set out below also remain in place and remain unaffected:
Standing Orders and Numbered Weekly Offering Envelopes
Contributions are made by monthly Standing Order [by bank transfer] or in weekly envelopes placed in the collection plate at services. For those who wish us to claim the tax back this will require a Gift Aid declaration, usually annually and an electronic claim directly to the Inland Revenue for the tax rebates due on Gift Aided donations.
Loose Cash and the Gift Aid Small Donation Scheme
Loose cash placed on the collection plate in church. This can attract gift aid for each donation under £30 up to an aggregated total value of £8,000 per annum. The rules are complicated but you can go to HMRC for more information on claiming on community.
Pew Gift Aid Envelopes and Donations.
These envelopes are primarily for visitors to the church however some parishioners choose to use them on a fairly regular basis. Donations are included in the 'Gift Aid' claim when appropriate.
Your Giving Supports:
⦁
Clergy and training across the Diocese.
⦁
Ministry: through every person visited; all Baptism and confirmation; every bereaved family comforted; each sermon preached; each Eucharist celebrated and each person shown the love of Christ through care, comfort and compassion, for example our work with homeless people.
⦁
Buildings and supplies: annual upkeep of buildings and the school hall.
Deciding what to Give:
⦁
There is no easy formula - we are commanded to love God and our neighbours as ourselves.
⦁
Love is generous, love is kind and love is selfless - we see that in all that God gives to us. How will we respond to him?
⦁
We give the first day of the week to God in our Sunday worship but it requires a whole new set of priorities to put God first in our finances. He will repay us.....
"Give and it will be given to you. A good measure, pressed down, shaken together, running over, will be put into your lap; for the measure you give will be measured you get back."
Luke 6:38 [NRSV]
---
July 2019 Contents
1. Summertime and the Boys on the Beach
2. Images of the Past - Thistleboon House
3. "Coming Out" - by Grafton Maggs
---
1. Summertime and the Boys on the Beach
by Kate Jones and Clive Jenkins
Remember those summer childhoods? No school, just long, hot days, baking in the sunshine followed by long, hot nights, tossing and turning under a sheet in the heat. If we were lucky there were trips to the beach, running in and out of the sea, digging sandcastles and peering into rock pools, clambering over rocks, the feel of slippery seaweed beneath bare feet, the crunch of sand in fish paste and soggy tomato sandwiches, annoying wasps, the delicious coldness of ice cream, getting dressed under a skimpy towel and the long walk home dragging buckets and spades, toes sticky with salt and too much sun on your arms and shoulders
Sometimes the memories were captured by the family camera and small prints ('snaps' we called them) were stuck in albums, passed down through generations. Did Granny really wear all those clothes on the beach? Doesn't Dad look silly with that knotted hanky on his head! Was that where uncle got stung by a jelly fish? Just look at that knitted bathing costume, heavy with water, threatening to fall down ... Oh, but we had such fun then!
The 1950s: 1955 was the year Anthony Eden became Prime Minister after Winston Churchill's resignation; the first edition of the Guinness Book of Records was published; Cardiff became the capital of Wales and Bill Haley and the Comets topped the charts with Rock Around the Clock. After a cold winter with snow and sleet in May the summer was very dry and warm with lots of sunshine and very little rain; by the autumn there was a severe drought. The summer of 1957 was fine as well but 1959 had one of the longest spells of hot, dry weather of the 20th century. Down at Rotherslade during those summers a group of local youngsters were certainly having fun in the sun - as Clive Jenkins remembers.
1950s Summers at Rothersiade and Langland - remembered by Clive Jenkins
The weather: 'We'd go down to the beach on our bikes with pannier bags packed with whatever we could cadge off our Mums. "See you next week Mum ..." We spent more time down there than we ever did at home. The summers we had in those days were so prolonged and so idyllic. We all bathed and baked in it week after week, 'til we had to stop. We got so brown. We realised we were getting burnt. / don't think there was such a thing as sun cream but someone suggested putting something on from their mother's larder. We thought it might be of some use. I've no idea if it was.'
'The White Elephant': 'There was a big concrete building known as the 'White Elephant' at the back of the beach at Rothersiade. Outside it there were deckchairs - hundreds of them. In the evenings the council workers would build these stacks of deckchairs eight feet high. So you'd have all these nice chairs with not too much sag so they were taut enough to give you a nice place to sleep. We'd pull our bikes up at the back and hunker down and go to sleep.'
'One night we were sitting in a great curve in the White Elephant about six or seven feet away from a fire we'd made, playing guitars and singing, when suddenly there was one hell of an explosion. Lumps of concrete were flying through the air! Concrete absorbs moisture and the 'White Elephant' sometimes got a real dousing at high tide. The hot fire had heated the moisture in the concrete wall and the pressure built up so much as it tried to expand that eventually it couldn't hold its shape any longer and it exploded! We threw ourselves backwards off our deckchairs to dodge the flying concrete ... how we didn't get hurt I don't know!
Making canoes: 'We made our own canoes. They were made of soft wood. I'd go down to a wood yard by the docks and strap 10 foot lengths on my bike and ride astride them. Once I got going the wood got a rhythm of its own, swinging the bike. If I caught sight of a policeman I'd be off my bike and walking it. I started making the canoes - got the drawings from a man called Percy Blandford who lived on the Somerset coast. You could make them in different sizes. We covered them with canvas which we painted.'
Water skiinq: 'Having made our own canoes we decided to have a go at building a boat. We were dead set on water and snow skiing - but no chance of either. For a start we didn't have a boat. Down at Oystermouth there was the Motorboat and Fishing Club with buildings where they repaired fishing boats. So we approached them and asked, if we were to join their club would they allow us to build a boat there? We built our first ski boat from timbers, but we then had to find an engine from somewhere. We found out about a place in Swansea that sold 'outboards' We'd never heard of an 'outboard' and had no idea if one would be powerful enough - but it was the start of our water-skiing!'
'Then we had a bit of luck - we got offered the loan of a much bigger engine by a man at the club, so we tacked it onto the back of our boat. We went zooming along rather faster than we expected and hit the bottom and took the engine offi It was hanging under water on its length of cable. We were absolutely mortified. We'd mucked up an expensive engine, belonging to someone who had lent it to us. We opened it all up, turned it upside down, drained it and let it dry out - and it re-started first time. So we were able to give it back - later we told him what had happened.'
Gymnastics on the beach: 'We had to clear the whole area of pebbles - and it's a stony beach - so we wouldn't land on them when the pyramid collapsed and we all came crashing down. We did it for our own fun but people enjoyed it, sitting with their backs against the rocks and watching. The locals on the beach all had their own patch where they always sat. They watched us perform - we were part of their background.'
Alan climbed up until he got where he wanted to
be. Terry was always at the top because he was a great gymnast. Peter had broader shoulders and was always on the bottom. Coming down we would slide and go down very carefully until you were low enough to drop. Tumbling down could be very dicey.'
'The summers we had in those days were so prolonged and so idyllic.'
As well as Clive Jenkins, 'the boys on the beach' included Alan Bevan,
Keith Davies, Fritz
Edwards, Roger Gammon, John Ham, John Hulin, Ken Hulin (who took most of the photographs), Ed Jackson, Derek Jones, Alan Lewis, Dinks Nash, Terry Nash, John 'Henry' Morgan, Ed Parfait, George Rogers, Peter Shapton and Geoff Williams. They were joined by others including Liz Gammon, Sue Jones and Pauline Sutton.
If you like to see more about The Boys on the Beach there are displays in Oystermouth Library [from July until November] and the Surf Side Café, Rotherslade.
---
2. Images of the Past - Thistleboon House
Older residents of Mumbles will remember an impressive building at the top of Thistleboon Road. It was a large stone turreted place known locally as 'Thistleboon House'.
Before it was demolished in the 1970s to make way for the new houses on Western Close [where the Vicarage now stands] it had been converted into flats. But for much of its life it was known as the 'St David's Orphanage for Destitute Children' run by Sisters of the 'Community of the Name of Jesus'. The above photograph dates from 1907.
The community of sisters of the Name of Jesus was first founded in 1865 by Fr George William Herbert to work in the deprived communities in Vauxhall, London. It has become the largest religious community for women in the worldwide Anglican Communion. Known today as the 'Community of the Holy Name' [CHN] the sisters continue to work with some of the poorest of families at home and abroad. The ministry of these wonderful nuns has recently been immortalised in the popular BBC series 'Call the Midwife', set in the 1950s East End of London.
Thistleboon House could care for up to forty children. Older worshippers at All Saints remember the children walking in line to Church on Sunday mornings and to Sunday School later in the day. They also attended the Church School at the Dunns and played a full part in parish life. Successive Vicars of Oystermouth were Chaplains to Thistleboon House and the home was run by a nun who was affectionately known as 'Lady'.
Years after leaving Thistleboon house Amy Winters [now living in Canada] wrote about her time there with great fondness. She published her story in a very interesting book entitled 'Lady and Me'. For her, the years she lived at the orphanage were among the happiest of her long life.
'The most important person there was someone we called 'Lady'. She was to become the only mother I ever knew and I will always love her. Her real name was Rose Margaret Scott and she taught us that 'You are very special and as good as anyone else, and every one of you is capable of doing anything you set your heart to.'
---
3. "Coming Out" - by Grafton Maggs
For a long time - perhaps the best part of a decade - I had been getting on the nerves of all those around me and, even though I have never been the most perceptive of human beings, this message had at last got through to me. Friends had been too polite and thoughtful to pass direct comment and it was really this misguided indulgence that had helped perpetuate the charade I had created about myself. But it wasn't all my fault - it never is.
But now, the strain of trying to carry off all the acts of everyday life as a normal person [whatever that is] was getting to me and I was beginning to withdraw from the company of those with whom I liked to mingle. Something had to give and when it did, it was all sudden and rather upsetting.
One Sunday evening, after a beautiful summer's day, I sat in my daughter's garden beneath the lengthening shadow of the cherry tree. It was that winsome time of day, when, though the air was cooling, a still and sultry warmth lie about us. Far away, the sound of distant traffic, carrying tired people home from the beaches, could just be heard as a background to the quietening evening. It was all rather lovely. Then my daughter spoke,
I missed what she said.
'Sorry ?... Eh? Wossat?'
Bobby closed her eyes, drew in air laboriously between her teeth and then, ten decibels louder, exclaimed,
'Had a good day, Dad?'
'Oh! Yeah! Yeah! OK! Fine! What about yourself?'
'Great! Went down to Rhossilli - boarded with a few friends'.
'No need to feel silly, Bobby; I'm often bored with my friends.'
'Oh! Dad! Dad! What are you talking about! Crikey! For goodness sake! I give up!'
Even so, she repeated her message, louder still, with laborious emphasis on each syllable
and turned away, shaking her head, muttering something under her breath. Piqued, I thought it time
to leave. I made my excuses and, with great dignity, stiffly made my departure. If people must
garble and slur their words - don't blame me not hearing them! The pleasant, relaxing summer evening's ambience had been dispersed instantly, by just a few sharp words, quicker than a bishop's handshake.
But, there was a ruder awakening to come, from another source. A week or so later in my son's home, after a sumptuous lunch, there was another little contretemps. A seemingly minor spat which, however, was to go on and have far reaching effects, in that it set in motion a series of events that were to be life changing, as far as I was concerned.
It all started off innocently enough with Glen holding forth, during the meal, on that ubiquitous, ethereal, mind-consuming phenomenon that has come to haunt our lives - 'Brexit'. Like my peers, this was a subject on which I had little knowledge other than that acquired from media reports. All I knew that was positive was that if Brexit were to take place, [transformed into flesh as it were], it would either totally bankrupt the country for ever, or, it would transport us back to the glorious days of the Empire, the Raj, with our coffers overflowing with gold. Glen expounded his views. I looked earnestly into his face, nodding occasionally to what I could hear,
'Wurra, wurra, wurra, Boris.. ..wurra, May... wurra, EU.....bankers, the lot of them.. .wurra .wurra..
Whenever Glen paused, I would pass remarks,
'Hm, maybe..... You think so? Of course' I suppose so —it's possible.............
Glen, like most highly intelligent, busy individuals, is not the most patient of people and soon, this conversation which could hardly be called one of interchange, drove him to pursue another topic.
He liked an intelligent feedback which he certainly wasn't receiving. He switched the conversation,
'Tell me, aren't you proud of Joseph's efforts at UCL?."
'Sorry! What? Lucy? Who's Lucy?' Glen groaned. Raised his eyes to the heavens and his voice with them,
'No Dad! Not Lucy! UCL! UCL! - University College of London! Joseph, your number one great grandson! He's done well at UCL! He's got a First!'
'You surprise me! A thirst? I never thought he was a boozer".
Glen fumed, waved his hands in despair; he shook his head,
'Oh, never mind Dad! I think we'd better leave this leave it.... Anyway he's in Yale now.' 'Good Heavens, whatever for? First offence? Was he drunk and disorderly?'
That was it! Glen exploded. And then the truth came pouring out!! A great moment of enlightenment!
'Dad, please! For all our sakes! For our sanity. - Look at me! Read my lips or something! We have put up with this for years! What few friends you have left, have put up with it for years! Father Keith has put up with it for years! Wai Chow has put up with it for years! Even the bloody postman has put up with it for years!
'We are sick and tired of your acting and pretending to understand what we are saying. Sick of your ambiguous, vague, mumbling replies! Face up to it! You cannot hear us! You are deaf!! Go to your doctor, or something! Please, do something about it! Get a hearing aid!!! Pleeesase!'
Naturally, I was knocked back by this outburst and went home bruised - this was 88mm cannon stuff and it took a few days for me to reassemble my thoughts. Gradually, the cerebral dust settled, clarity of thought returned and I came to realise that I had experienced a pivotal moment in my life. My son, Glen, had spoken the truth.
I had been aware for some time that the sounds of life about me were retreating a little more with each passing day and I had fought valiantly to mask this by pretending to hear clearly. Now, I asked myself, why? Why the act, the pretense?
The honest answer lie wrapped up in the tinsel of my vanity. I didn't want people to see
me for what I really was - an old man, getting older at an accelerating rate and burdened with something that could only get worse. Deafness [in my mind] was an indication of this approaching senility and at the heart of it all was the fear of having to display this handicap by wearing a device plugged into my ear, connected to a chunky block of plastic resting behind it. This would scream out [literally- sometimes] to all and sundry the fact that I was deaf - stricken with that only physical handicap upon which the majority of those unaffected look with amusement, derision, little sympathy and much impatience. So what was I to do about it?
I had to pocket my pride. For years I had deluded myself into thinking that I had been successful in hiding my handicap from others. That intense look of concentrated intelligence which I
adopted! My vigorous nods! The feigned empathy of the buddy-to -buddy chuckle! Then the
frantic celebral grappling with the few registered words to establish a coherent understanding! Now, stark and sudden was the realisation that those about me, with an ounce of acuity - even Father Keith - had twigged the situation and had been just jogging along with it —out of kindness and respect. Indeed it had all been a charade!
That night, I slept on it. Fitfully. But, by morning I was awake with my mind made up. No more masking my true self within a false being and its constant psychological strain.
I decided to 'come out' ....... and damn the consequences!
I had to let the world know who the true me now was! No longer would I pretend to be something other than what nature intended me to be!
The first thing was to take advice and I was surprised to find out how sympathetic most people were. I discovered, suddenly, that I was surrounded by people who were either deaf themselves or had someone close who was similarly afflicted. As a result, I was showered with advice and, in next to no time, I was able to rationalise this information and condense it down to the making of a decision. There was no doubt about it, I had to get a hearing aid!
First problem, NHS or Private? Quick decision - the NHS! The bulk of people spoke in favour of this route and, as I had contributed to it all my working life [and still am] that was my choice.
Sadly, though dealt with quickly, efficiently and kindly, the NHS was unable to help me. As a young soldier, my right ear had been irreparably damaged - a legacy of the days when no noise protection was supplied for small arms fire. As regards the left ear, which was the only other one I had, it turned out that there were bony spicules in the canal which prevented the fitting of an earpiece. Sorry! No can do! So! Hobson's Choice - go privately.
Quandary! This was a real, spitting hot cauldron of mixed
opinion. From their personal experiences many of those to whom I spoke, told me, bitterly, of having paid a small fortune for a private device only to be disappointed by its performance or, even, non-function. Some had never been satisfied and yet had failed to be refunded a penny from a fee, often in excess of £1,000.
Then, another piece of advice niggled away in my mind, from an All Saints fellow communicant:
'Don't, what ever you do, respond to any advert by filling in a form or by supplying your personal details over the phone! Once they've got you on their computers they'll hound you until Pressdee's take you away in a box. Most hearing aid salesmen are trained by the Royal Canadian Mounted Police - 'they always get their man'. I don't mean they'll come up your drive one day on a white horse, with a red jacket and a big hat, singing "The Indian Love Call" - they're too clever for that. They look like normal people except that they shave, wear collars and ties and have haircuts'.
In the end, it was a trusted and wise old cousin who saved the day. After a long exploration in a dense forest of cyber research, he had emerged with the name of a good private supplier and had acquired a new hearing aid. He was content with it - not jumping about the cage like a demented footballer - but certainly content. He advised,
'First of all recognise, that in the private sector you are dealing with a business, not a charity or a state service. The prime purpose of this business is to make a handsome profit. The audiologist dealing with you is there to get a sale. He is on commission. He's not on your side! It's a war! Some are worse than others. And before you get anywhere near having your aid - they demand you put your money on the table before you've even seen the device! Mind you, the guy I eventually finished up with was not so bad as the other four I'd seen. Oh yes! One other thing, watch out for the pressure salesman who says you need two aids before you've even tried one by itself - be
thankful you've only got two ears. Remember, it's a war!'
I should mention at this stage that I did not heed this advice fully. Coming out of Ian Boyd's shop one morning, I saw a small advert in his window:
"Save many pounds on Hearing Aids!"
"Second hand aids for sale. Reconditioned like new in our Silicon Valley standard laboratories, Glen Road, Norton. From only £15.00. Fitted while you wait." [A local telephone number was appended and an email address: muttandjeffgmx.com)
I phoned, made an appointment and my son ran me across in his car. I knocked and was received at the door by a very tall gentleman wearing a pair of filthy oil stained overalls. Obviously he had been working on some very highly sensitive electronic project. His reply to my greeting was brief,'
'Ave yer brought yer fifteen quid?'
I paid him. He searched in his pocket and unearthed a small piece of pink plastic, mixed up with two pencil stubs, a packet of Rizla and a squashed tube of Anusol.
Without ceremony, there in the passage, he stuck it into my ear [the piece of pink plastic],
'Off yer go, mate!'
I walked out to the car and hopped in. I spoke to Glen,
"Well, I've had it fitted, Glen!"
"Thank goodness. What did it cost you?"
"Half past three," I replied.
Then, I decided to heed my cousin's advice and made an appointment with that same gentleman who had brought him back into the world of the hearing.
Within days of my phoning, I had an appointment and I was pleasantly surprised by the punctuality, the courtesy and efficiency with which I was received at the consulting rooms. A young gentleman introduced himself as my audiologist. He was well turned out - good haircut, polished shoes, nice suit and smelled of Lynx [pity about the ball point pen in the breast pocket].
He proceeded to examine my ears [which was not completely unexpected] using a fluted light thingy and made a few notes. Then came the audiological assessment followed by his recommended course of action,
'Forget the right ear, looks like the Kingsway. We concentrate on the left. We shall have a problem with the bony spicules but will accommodate those somehow. First we select an aid'.
He produced three specimens
"That one is the cheapest. Not good enough for you Mr. Maggs! Someone of your calibre deserves that little bit more finesse!' [I nodded eagerly - here was a man of great discernment] 'We call it 'the Deacon' It costs £700.00. Forget it!'
[For a brief moment the room swam about me - but I blinked it away].
'That leaves a choice between this one and our top of the range model - that one there - we call it 'the Archbishop'. Comes in at £2,500.'
[This time, I felt my legs turn to jelly and various sphincters twitch].
However!', and now, his voice became avuncular, 'No need to waste your money by paying that! You don't need it!' [I immediately recognised him as being a man of integrity. Again I nodded my head vigorously].
'This is the one for you and with the special discount is - a mere........... £1, 600. This is the one
we call 'the Vicar'
I smiled my gratitude - already this delightful man had saved me nearly a thousand pounds!
I pointed to the cheapest one,
'First, tell me, what can the £1,600 one do that the £700 cannot do?'
'I'm so glad you asked that, sir. How delightful it makes my job when I am dealing with a
person of such perception. Well, amongst other subtle differences, the more expensive one has the ability to be selective! It can pick out a conversation though surrounded by noise. When worn in the street it can neutralise the traffic sounds about you. It's a miracle of electronics - miniaturised.'
This lovely man convinced me. He took an alginate impression of my ear. I signed an agreement [without reading it], and handed over a cheque. I departed and half way home realised that I had forgotten to ask him if they did an 'Ordinand's model.
A week later I turned up for the fitting. He produced a little wallet which he opened and took out the aid.
'Doesn't look much for all that money, does it?'
He needn't have said that, I had a pair of eyes in my head - it looked like a lacquered cockle. He filled it. It did not hurt. It lie snugly within the auricle of my ear. He then calibrated it using a similar technique to the original test. It felt strange and to me my own speech sounded muted and distant.
'You'll get used to it. See you in a week'.
There were several follow up visits and adjustments were made over the weeks. Eventually, I was sent out to face the world on my own with the new appendage filling fairly comfortably into my left ear and calibrated to my needs.
Well, was it successful? Yes and No!
In one to one conversation? - a vast improvement.
After dinner speaker? Fine, near the front row.
Vicar in Church pulpit? Again fine, near front. But....
In any other scenario which has a noisy environment - it is a deafening disaster! Any
background noise such as traffic, children squealing, kitchen clatter, drowns out everything else - almost to a painful level. There was no automatic selection or deselection, no filtering off of background noise. I came to realise that my hearing aid was basically just a microphone coupled to a small ear phone via an amplifier - all miniaturised into a small electronic piece of wizardry!
However, in spite of this, the plusses outweighed the minuses. Slowly, as I adjusted to the
gadget, so the quality of my life much improved. I became the selective mechanism! I only fit my
aid for those occasions when there's something going on that I wish to hear.
There's an even more personal factor to all this. Coupled with the partial restoration of my hearing has been the greater blessing of 'coming out'. I am very much more my old relaxed self - no longer living a life of pretence. I blatantly insert my 'ear trumpet', in full view of any one. I positively flaunt my handicap! The balloon of my self-conceit has been pricked and I have regained that wonderful God-given quality of being able to laugh at myself.
Once again, I enjoy the privilege of clear listening: in one-to-one conversation, to after-dinner speakers, to lectures and the like. I am content with that, you can't have everything!
But, most of all, I revel in the despotic power I possess in that I can switch the thing off when anyone like Ant and Dec appear on that TV screen.
---
---
June 2019 Contents
1. All Saints' Organ Appeal
2. Three Photographs and a Royal Visit to Mumbles
3. Around the Parish - Mumbles Lighthouse
---
1. All Saints' Organ Appeal
You might have noticed that the Church organ has been sounding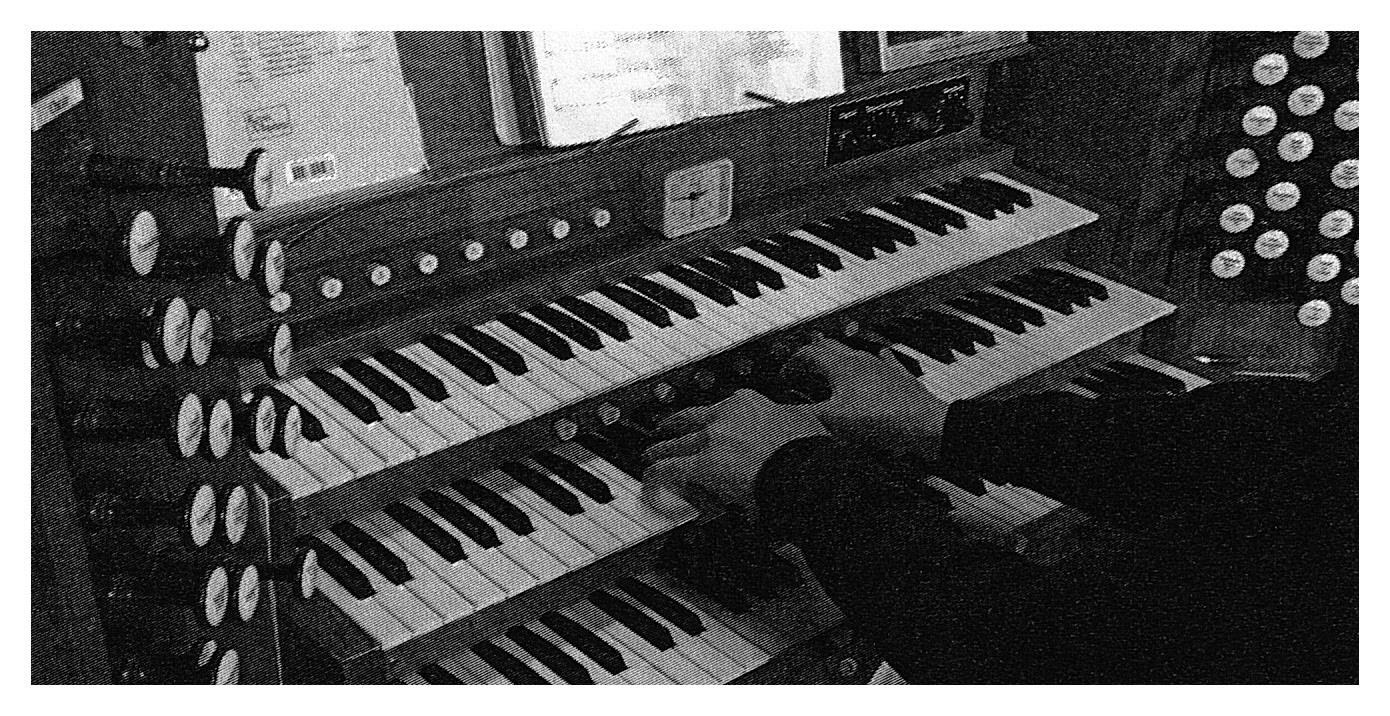 a little differently on Sunday mornings recently, with a few strange sounds coming from the historic instrument.
It's not that Luke, Hywel and Angela have lost their touch, far from it, it's because the organ is beginning to need some urgent repair.
The wooden sliders that let air into the pipes have warped, probably not helped by the low humidity levels in the building. The bellows are leaking in places and there has been some water damage prior to the re-roofing of the Church. It's estimated that it could cost in excess of £30,000 to put everything right and to make a few more additions to what is often regarded as one of the finest organs in Wales.
That's the bad news! The good news is that we have already got F-21,624 pledged for the work, thanks to a legacy of £10,000 from the late Dr Marjorie James and a gift of £9,224 from the Mumbles Old age Welfare Association from Mrs Miri Clement. We also have a further £2,400 from the recent sponsored Hymnathon and we hope that this year's Mumbles Music Festival will raise money for the appeal as well.
Parts of the organ are 146 years old. It was first installed into a purpose built chamber in 1873 as a gift of the Crawshay family, who were wealthy industrialists in Merthyr Tydfil and had a summer residence in Langland. The organ was built by Robert Posthill of York and some of his Victorian pipework is still in use today.
In 1916 it was greatly enlarged and moved to where it is now housed - the gallery north of the chancel. This work was overseen by Peter Conacher, a well known organ builder in Huddersfield.
The instrument has been rebuilt several times since. The last major restoration was in 1998 and was completed by Daniel's of Clevedon at a cost of £105,000. In 2009 a new digital unit was added to enlarge the pedal organ, giving it a cathedral like rumble!
The three manual organ at All Saints' is often in demand for concerts and recitals during the year and has been used to teach a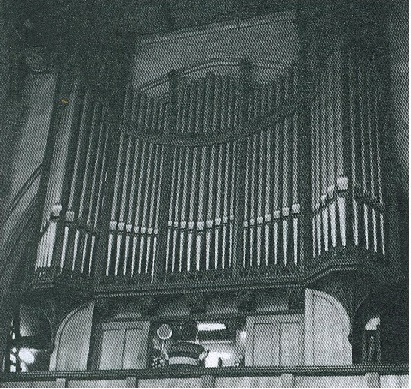 dozen young organ scholars the 'King of instruments' over the last twenty years. If all goes well we plan to restore it in the earlier part of next year and add some new digital stops to it.
We hope that much of the further funding we need will come in through grants and fundraising at this year's Mumbles Festival of Music a& the Arts. This and the project itself will be overseen by our directors of music and by a small committee of helpers.
We are around £8,000 short to complete this work. Though we don't intend asking Church members to dip into their pockets again, which they did so generously for the restoration appeal, any contributions, large or small will be gratefully received.
'Loud organs His glory forthtell in deep tone'
2. Three Photographs and a Royal Visit to Mumbles
by Kate Jones
Five years ago two photographs of The Mumbles Lifeboat crew were kindly donated to The Mumbles Lifeboat and Oystermouth Historical Association. Neither was dated nor captioned. But it was a third photograph, not of the crew, that helped solve their mystery and told the story of something that happened 100 years ago this month.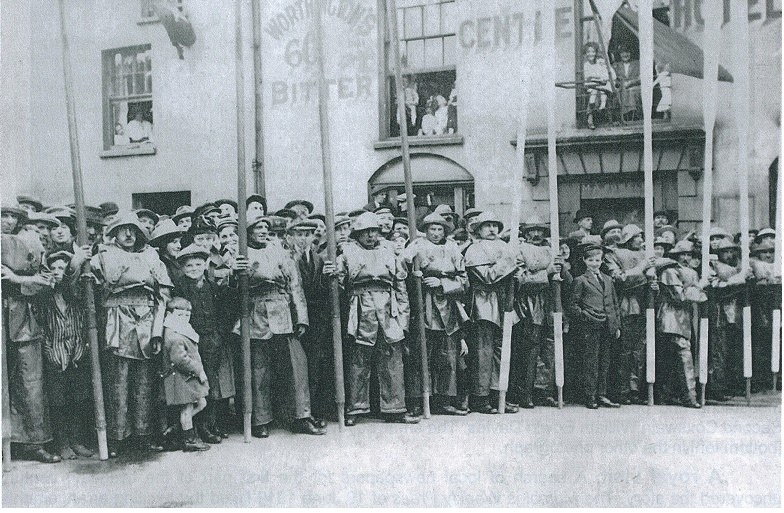 The first photograph [above] was donated to The Mumbles Lifeboat Station in 2014. Who were the men in sou-westers holding the oars? Where were they? Why was there such a crowd of people behind them? What date was it taken?
Since the photo was given for inclusion in the new Mumbles Lifeboat Station History book [commissioned by the RNLI] it was obvious that the men were lifeboat crew. Their bulging lifejackets gave a clue to the photo's date. Kapok-filled jackets were introduced around 1905, so it was taken after that. Clothing worn by the onlookers tended to confirm it was early twentieth century.
The upheld oars - an impressive sight - were used on pulling and sailing lifeboats. By the 1920s the RNLI were introducing motor lifeboats and oars were less likely to be used as a lifeboat symbol.
The name on the building - Centre Hotel - was another clue. There had never been a Centre Hotel in Mumbles but a visit to the West Glamorgan Archives in Swansea was very helpful. In Kelly's Directory for 1920 there was a Centre Hotel in Swansea's Somerset Place, near the docks. The hotel's landlady was listed as Miss Mary Ann Powell. Over the door in the photograph is the name M.A. POWELL.
The number of people lining Somerset Place and leaning out of the hotel windows indicated a grand event. Who would attract such a crowd and for whom were the lifeboat crew forming a guard of honour?
A few weeks later these questions were answered. By a strange coincidence another photograph was donated - this time to the Oystermouth Historical Association. It came from a different source but was obviously a companion piece to the first.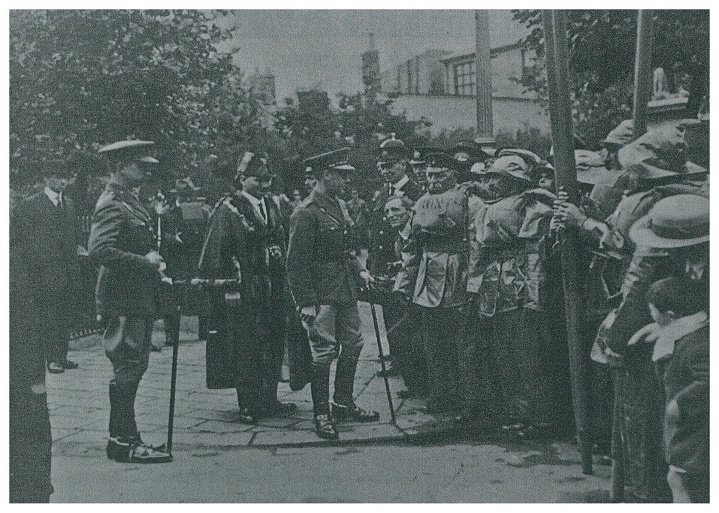 This second photograph [above] shows HRH, Edward Prince of Wales meeting members of The Mumbles Lifeboat crew. Coxswain William Davies, easily recognised by his moustache and peaked cap, is angled towards the camera. Next to him stands his eldest son, Second Coxswain William Edwin Davies. The small boy wearing a white scarf [bottom right] appears [bottom left] in the other photograph.
A royal visit: A search of local newspapers for the first part of the twentieth century uncovered the story. The Mumbles Weekly Press of 19 June 1919 listed the exciting arrangements for the visit of HRH Prince of Wales to Swansea on 27 June 1919.
The Prince was to arrive in Swansea by train at 11am and drive to the Guildhall in Somerset Place. [Of course, the Prince would not be driving himself although the newspaper's wording implied he would.] After a 'rapid tour of the docks' he would inspect Cwmfelin Sheet and Tinplate Works. If there was time, the Prince might, the paper added, 'pay a brief visit to Bracelet or Langland Bays.' Luncheon for forty was arranged for 1 .3Opm in the council chamber and there would be two toasts - for the King and for the Prince of Wales [a detail the newspaper obviously thought worthy of sharing with its readers]. Afterwards the Prince would proceed to High Street station and 'entrain for London on the 330pm train.'
It would be a brief visit, but the town council wanted it to be well organised and successful. The route from the railway station to the Guildhall would be lined by representatives of several organisations, with guards of honour formed of soldiers, sailors, ex-servicemen, Red Cross nurses, Sea and Boy Scouts and The Mumbles Lifeboat crew. So that is how Coxswain William Davies and his men were photographed outside the Centre Hotel in Somerset Place in June 1919.
By all accounts the royal visit was a great success. The Mumbles Press of 3 July filled several columns with descriptions of the occasion. There was 'a continuous salvo of cheers from thousands lining the route from High Street station to the Guildhall'. A Mrs Hughes, dressed in national costume, who had apparently once given flowers to the Prince's mother, presented him with a single rose saying, "Tell your mother and she'll remember me." Security was more lax then than it is today!
Flags adorned the Guildhall where bands were playing. The Mumbles Lifeboat crew wearing: 'their yellow oilskins and sou-westers with safety jackets of the same colour ... stood at salute with oars upheld under command of that fine old veteran, Mr William Davies - lifeboatman at Mumbles for 40 years and coxswain for 16 years. On alighting from the royal car, the Prince immediately
walked up to the lifeboatmen and shook hands with Coxswain Davies and asked if the crew had received many calls lately. Coxswain Davies replied, 'The last one was November, sir". [On 2 November 1918 The Mumbles Lifeboat crew had landed 13 men from the Belfast steamer Devonshire driven ashore in gale at the entrance to Swansea harbour. The ending of the First World War a few days later meant there was little press coverage of the rescue.]
The third photograph, [below] already in the Oystermouth Historical Association's archive, was a postcard of a splendid Rolls Royce being driven down Southward Lane in Newton. It is labelled: 'HRH THE PRINCE OF WALES IN MUMBLES 27/6/1919'. So the Prince had found time to visit Langland.
imagine the with flowers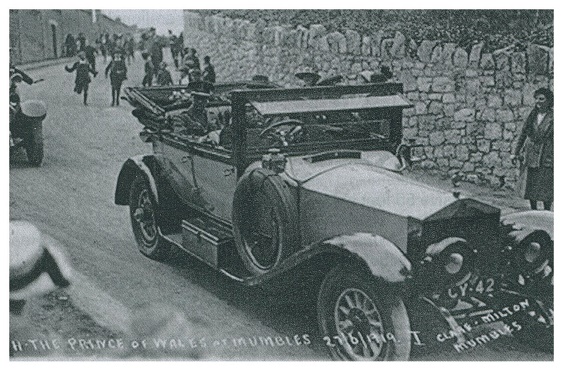 The Mumbles Press described the excitement of large crowds at The Dunns and lining Newton Road, cheering the royal car. At Langland the Prince paid a brief visit to the well‑
Roger Beck at his house,
Southward Lane. Here
Langland Bay and the Bristol Channel.' The visit meant he was three-quarters of an hour late for lunch. One can only anxiety this must have caused those waiting in the Guildhall which had been decorated and drapery by the town's Parks Department and staff from Ben Evans store.
Afterwards: In October 1919 The Mumbles Lifeboat Coxswain William Davies retired aged 72. His elder son William Edwin took over as coxswain; his seond son, Courtney became lifeboat bowman.
In May 1924 the first motor lifeboat arrived at The Mumbles. It was named Edward, Prince of Wales after his Royal Highness who was then President of the RNLI. The Prince himself succeeded to the throne on the death of his father King George V in 1935, but abdicated a year later in order to marry the woman of his choosing. The lifeboat named for him served The Mumbles gallantly for over 20 years until she was lost with all eight crew on the rocks of Sker Point, 72 years ago on 23 April 1947.
The Centre Hotel has not survived and the area around Somerset Place is now totally different a century on from that royal visit. But if you stand on the street corner, close your eyes and let your imagination wander, you can hear the bands playing, and the crowds cheering. After a while you can 'see' the gallant Mumbles Lifeboat crew clad in yellow oilskins and sou-westers, kapok life jackets belted high on their waists, holding up their oars. The past never leaves us, especially when we are so fortunate to have photographs to bring it back.
© Kate Jones, June 2019
Acknowledgements: The photograph of HRH in Southward Lane, Newton, is by Melville Arthur Clare. The photographs of HRH meeting members of The Mumbles Lifeboat are by an unknown photographer and from private collections. They were given to [or bought by] the crew of 1919, treasured and passed down the generations of lifeboating families. Their generous donations are much appreciated.
3. Around the Parish - Mumbles Lighthouse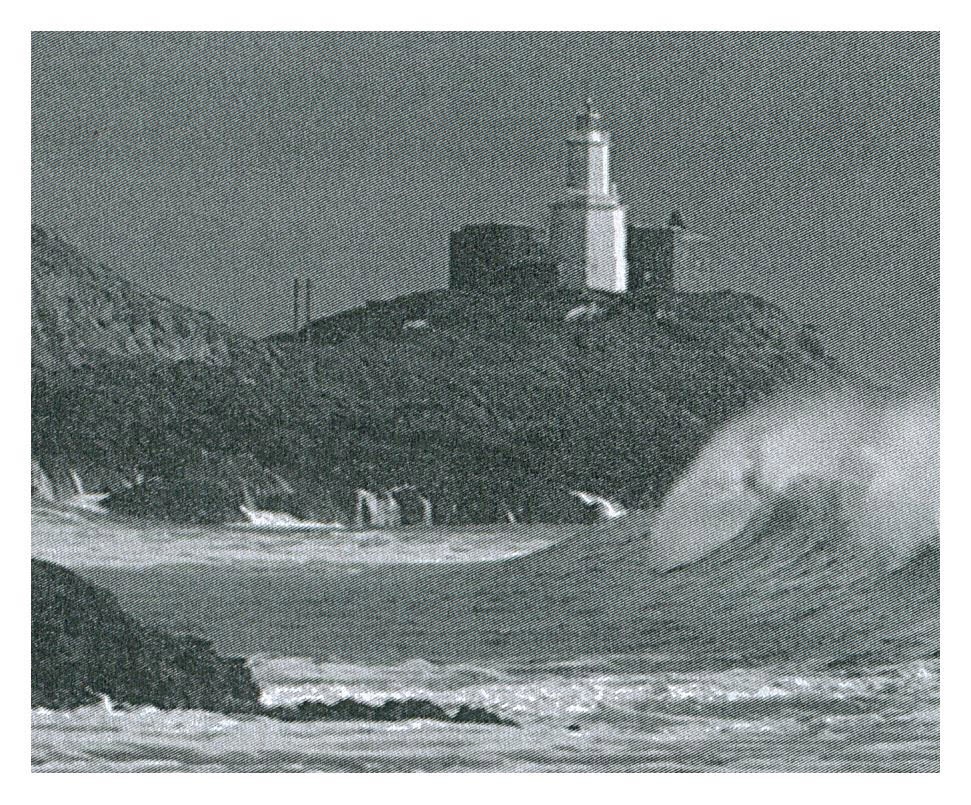 We continue our series of special features on the familiar landmarks in and around the Parish by looking this month at the Mumbles Lighthouse. It's a very familiar sight as we enter the village, forming part of the well known silhouette that is Mumbles head. During the hours of darkness its light flashes as a comforting beacon to villagers and to those at sea. Its foghorn is heard when the sea mists descend on our rugged and dangerous coastline.
The Lighthouse has been operational for well over two hundred years and has guided shipping into Swansea bay and away from the hazards of the Mixon Shoal and the 'Cherrystones' reef to the south of the headland.
The passing of the Harbour Act in 1791 prompted the Swansea Harbour Trustees to erect a Lighthouse at Mumbles Head, and work was begun in July 1792 on the outer island. Unfortunately, the half built structure collapsed in October of that year. The Trustees then appointed a new architect, Mr William Jernegan of Swansea, and his plans were accepted in 1793 and the Lighthouse was operational in 1794.
The new lighthouse was an impressive 56 feet in height and housed two lights, one on top of the tower and the other on a ledge 20 feet below. The lights were open coal braziers and were very difficult to maintain. The two lights distinguished Mumbles Lighthouse from those at St. Ann's Head [which had two lights on separate towers], and Flatholme [which had one light].
In 1798 the two coal braziers were replaced by a lantern set on top of the structure to house twelve oil powered lamps with reflectors. In 1860 the lighthouse was fitted with lenses, making the light visible for up to 15 miles on clear evenings.
The Victorian fort on the southern side of the lighthouse was built around the lighthouse in 1860. The battery was extended and used in the Second World War, after which the guns were removed and the site was then decommissioned in 1957.
Over the years the lighthouse lamps were upgraded, but it was not until 1905 that a new occultation system was fitted to enable the light to flash. This system was powered by a hand cranked mechanism and relied on a Lighthouse Keeper. It was in 1935 that the light was converted from paraffin to electricity and fully automated. Trinity House assumed responsibility for Mumbles Lighthouse from the British Transport Docks Board on 1st November 1975. In 1995 it was converted to solar power.
For most of its 225 year history Lighthouse Keepers were employed to keep the light burning 'from one hour after sunset to one hour before sunrise throughout the year.' The first was David Bydder who only stayed a few weeks. He was replaced by John Walker, on the princely annual salary of £40, but he was sacked after leaving the light unmanned during a three day storm. In the same year, 1794, Benjamin Llewellyn was appointed and lived and worked there with his family until 1841. He was succeeded by Abraham Ace, the first of three members of his family to hold the post - father, son and grandson. The island community grew, cottages were built and, at one point, there were sixteen residents living on the island. The most famous were the daughters of Abraham Ace, Jessie Ace and Margaret Wright who, in 1883, risked their lives to rescue members of the Lifeboat crew who had launched to help the stricken vessel Admiral Prince Adalbert. Their bravery was immortalised in a poem by Clement Scott, 'The Women of Mumbles Head'.
Jasper Williams became Keeper in 1902, followed by his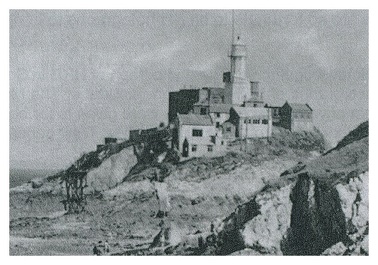 nephew, John Thomas, followed in 1914 by Charlie Cottle.
In 1905, the new mechanism meant that keepers were no longer required to live on the island. The accommodation fell into disrepair and was finally demolished in the 1960s.
Charlie Cottle was the last Keeper and held the post for 22 years.
May 2019 Contents
1.The Royal Maundy Service
2. Those who go down to the sea in ships
3 Last Launch on Lifeboat - Graham Wright
---
1. The Royal Maundy Service at St George's Chapel
Windsor Castle on Thursday 18th April 2019
This year I was privileged to receive the Royal Maundy gift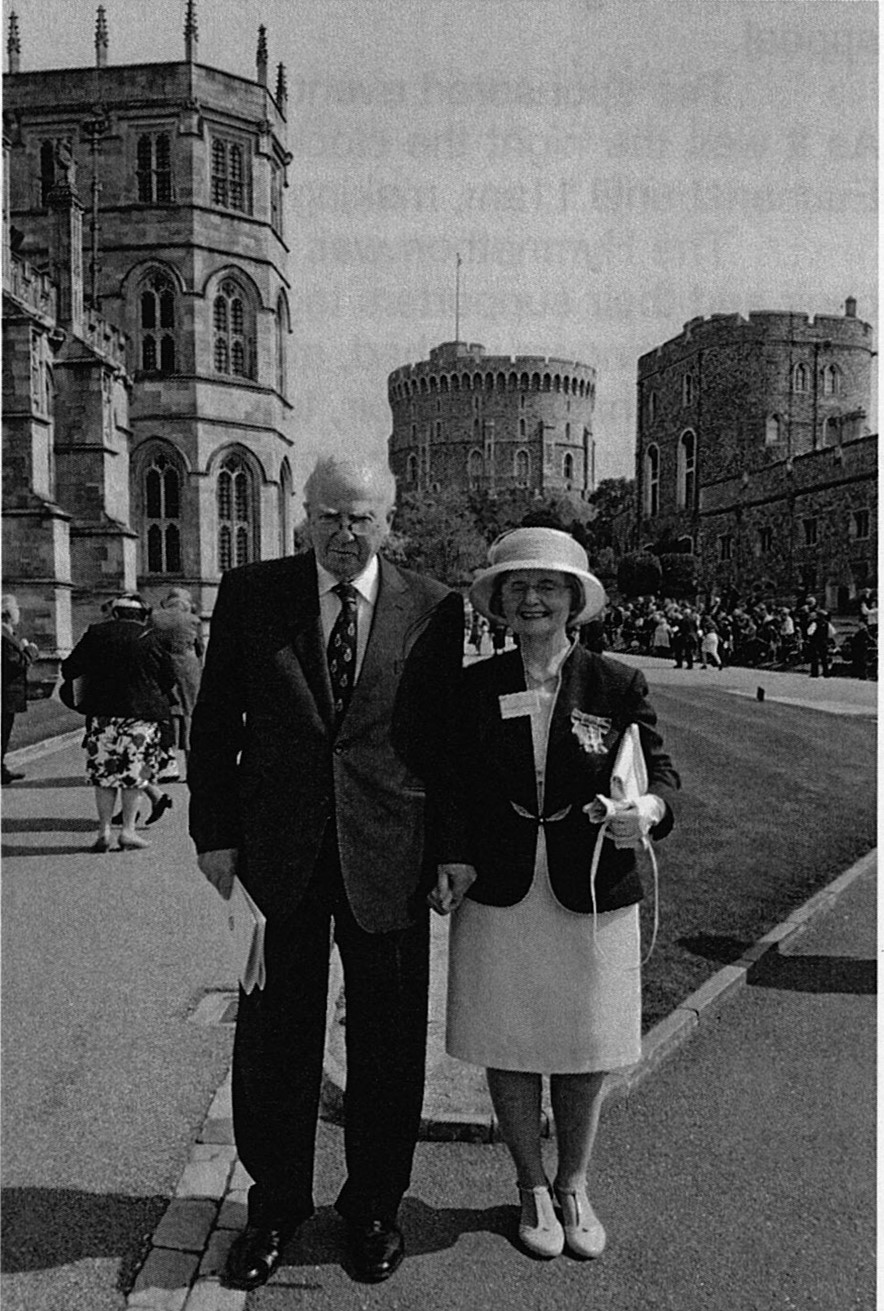 from Her Majesty the Queen at the Maundy Service in St George's Windsor and Henry accompanied me.
The Maundy Recipients are chosen from across the United Kingdom. The precise number of recipients is equal to The Queen's age and on this occasion there were 93 men and 93 women each nominated by the Bishops of their Dioceses. The Recipient are selected because of service to Church and community.
We were required to arrive at St George's between 9.30 and 10.15am for the service at 11.00 am. It was a beautiful sunny morning and we enjoyed the walk from our hotel to the Castle. We were seated at the north side of the chapel, which gave me a good view of the Queen's entrance at the North Door where she was presented with the traditional nosegay. We sang the hymn "Praise to the Holiest in the heights" while the Queen's procession moved passed us to The Nave. The procession was very colourful with the red and gold of the Yeomen of the Guard and the Military Knights of Windsor, the Chapel Royal Choir and the Royal Almonry in their finery. The Queen was dressed in yellow and was accompanied by Princess Eugenie. She was followed by the Children of the Royal Almonry who were selected from two local schools. The Lord High
Almoner (The Right Reverend Dr John Inge) and the
children were girded with white linen towels in remembrance of the act of washing of the feet and also carried the traditional nosegays.
The choir sang the Versicles and psalm 138 and the congregation sang three hymns. There were two lessons and no address. The first lesson was John 13:1-15 where Jesus washes the Disciples feet and commands them to do likewise. It is this command that gives rise to Maundy, which comes from the Latin mandatum meaning commandment. The first part of the distribution of the Maundy Gifts took place on the South side of the chapel after the first lesson.
The second lesson was Matthew 25:31- 46 and then the second part of the distribution took place on the North side. The full procession followed The Queen during the distributions and the Maundy purses were carried on six gold dishes by the Yeomen of the Guard.
The Lord High Almoner handed the Maundy purses to the Queen who personally gave two purses to each recipient, one white containing the silver Maundy coins, silver pennies, twopences, threepences and fourpences, as many pence as the Sovereign has years of age. The second purse
is red and contains a nominal allowance for clothing and provision; this year a £5 coin commemorating the 200th anniversary of the birth of Queen Victoria and a 50 pence piece commemorating Sherlock Holmes. The distribution was followed by prayers and the hymn 'My song
is love unknown" followed by the Blessing and the National Anthem. The Queen and the full procession left the Chapel and the bells of the Curfew Tower were rung.
The music before and during the service was magnificent. The service was sung by the choirs of St George's Chapel and Her Majesty's Chapel Royal and the organ was played by Mr Luke Bond, assistant director of music at St George's and Mr Martyn Noble, sub-organist Her Majesty's Chapel Royal.
We were then escorted out of the Chapel by Wandsmen and Lay Stewards where we were invited to attend a Reception in the State Apartments of the Castle either by foot or in vehicles provided. It was such a beautiful day that Henry and I opted to walk. The Reception was given by the Queen and hosted by the Constable and Governor of Windsor Castle.
The whole experience was most uplifting and memorable. We chatted to many recipients from Devon, Nottingham, Cheshire, Yorkshire and St Asaph and to the Military Knights who were obviously helping the Constable to host the event. We discovered that they are retired army officers who have a house for duty in the Castle grounds while they are active as Military Knights of Windsor.
A magnificent and spiritually up lifting day; we were most grateful to be there.
Background to the Royal Maundy
The distribution of alms and the washing of feet on the Thursday of Holy Week are of great antiquity. The Royal Maundy can be traced back in England to the thirteenth century and there are continuous records of the Distribution having been made on Maundy Thursday from the reign of King Edward I.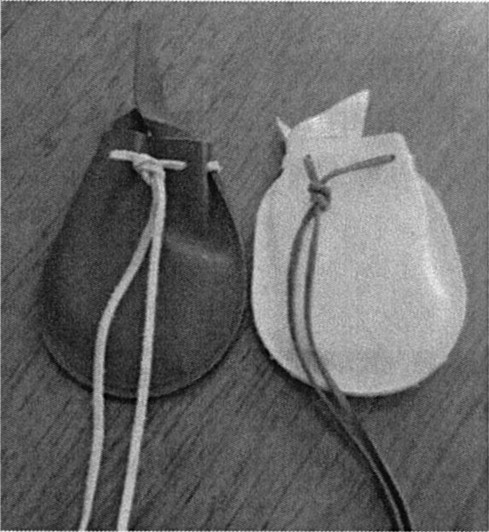 From the fifteenth century the number of recipients has been related to the years of the Sovereign's life. At one time recipients were required to be the same sex as the Sovereign, but since the eighteenth century they have numbered as many men and women as the Sovereign's age. The act of washing the feet was discontinued in 1730.
In earlier times the ceremony was observed wherever the Sovereign was in residence. For many years the Maundy Gifts were distributed in the old Chapel Royal (now the Banqueting Hall) in Whitehall, but from 1890 to 1952 the Service was held in Westminster Abbey. During the Queens reign since 1952, Her Majesty has visited many cathedrals and abbeys throughout the United Kingdom, notably St David's Cathedral in 1982. Recently the Service has been held in Windsor 2016, Leicester 2017 and Windsor 2018.
Pat Steane - Easter 2019
---
2. THOSE WHO GO DOWN TO THE SEA IN SHIPS
Amongst the holdings of the City and County of Swansea's West Glamorgan Archives is a large document catalogued DID PRO/BT 30. Dated 21 June 1911 and rolled up in protective paper are the plans and drawings for the 'Proposed Mumbles Lifeboat Slipway and Approach Gangway' drawn by 'W.T. Douglass, Consulting Engineers, 15 Victoria Street, Westminster, London, SW.' The beautifully drawn plans are fascinating to look at. More importantly they are a crucial part of the' history of The Mumbles Lifeboat.
The boathouses - of 1866 & 1884.
On 20 March 1863 the Swansea Branch (it was renamed The Mumbles in 1904) of the RNLI was formed. At first a lifeboat was kept in Swansea's South Dock whilst its boathouse was being built at Mumbles. Land below the cliffs at Southend was leased from the Duke of Beaufort and a tender of £1 74.1Os.Od for the job was accepted from Benjamin Kendall of Kidwelly.
Construction was not without its problems. Kendall found he had to remove part of the cliff in order to build and charged the RNLI an additional £95. Work was completed by March 1865, but occupation was delayed by an unforeseen extension to the Mumbles Railway in front of the boathouse doors and construction of a slipway over the beach. The railway works were abandoned (although Mr Kendall charged for the delays they had caused him) and in September 1866 the brand new lifeboat Wolverhampton could use both boathouse and slipway.
In January 1883 the Wolverhampton was badly damaged whilst rescuing the crew of a German barque Admiral Prinz Ada/bert wrecked on the rocks of the Mumbles Lighthouse Island. When a replacement lifeboat (also named Wolverhampton) arrived she was too long for the boathouse. So Mr Kendall's building was demolished and a larger boathouse erected on the site in 1883-4. [See photo]
The difficulties - launching at low tide.
Although the slipway across the beach was lengthened in 1888, lifeboat launching at very low tide could be very difficult. The beach was muddy and littered with rocks and boulders, some of them a residue from the village limestone quarrying industry. Late one Saturday afternoon in January 1890 a barque Ash/owe lost her anchors and made frantic distress signals as she was blown across Swansea Bay in gale-force winds. The lifeboat was launched immediately, Coxswain Jenkins anxious to reach the stricken vessel before dark. But it was low tide and the lifeboat's carriage became completely wedged in rocks and could not be moved. It was only with a lot of additional help from watchers on the shore and an incoming tide that the Wolverhampton was freed. The lifeboat crew were able to reach the Ash/owe just before she ran aground east of Swansea Pier and save the lives of 11 men. Others were not as fortunate. On 3 October 1895 a delay in launching caused in part by the lifeboat's carriage wheels getting stuck on the beach meant that by the time the Wolverhampton rounded Mumbles Head the schooner Zoë of Waterford had gone down with all hands. The subsequent resignation of Coxswain John Williams was accepted.
Low tide launches could be costly in other ways as the RNLI found in July 1896 when they had to pay £3 compensation to William Burt and Thomas Hewitt for damage to their oyster perches at Southend.
After the Ash/owe incident, the Mumbles Observer called for the
construction of a more sensible slipway: 'so that the lifeboat might glide easily into the waters at any state of the tide.' Something certainly needed to be done and the situation worsened in 1903 when once again the boathouse was found to be too small for the lifeboat.
The needs - for a First Class Station.
In February 1903 the lifeboat James Stevens 12 capsized at the entrance to Port Talbot harbour, with the loss of six of her crew. The replacement lifeboat was too large for the boathouse and had to be kept afloat where she was reached by the crew via a boarding boat. An ex-lifeboat, Richard, was converted for this purpose and kept on the carriage in the boathouse. This increased launch times; the need for more efficient arrangements became pressing.
The boarding boat Richard, in 1907 (photo:M.A.Clare)
The local Lifeboat committee urged the RNLI to make Mumbles a 'First Class Station'. The Mumbles was, they felt: 'essentially one which should be First Class having regard to the services which the boat may be called upon to perform over a very extended coast, and the steady and continuous increase in the number of vessels trading to and from this and neighbouring ports.' Such maritime traffic would certainly increase with the opening of the proposed Kings Dock in Swansea. It was imperative that The Mumbles be given facilities that enabled the lifeboat to launch quickly at all states of the tide.
Too big for the boathouse:
A brand new lifeboat, Charlie Medland, arrived in the summer of 1905. She too had to be kept afloat and was frequently run into at her moorings near the pier by smaller craft. Coxswain William Davies reported to the lifeboat committee that launching the boarding boat to reach Charlie Med/and could take at least one hour. He and the crew: 'condemned the present arrangements'.
Years of frustrating discussion followed. Putting the lifeboat back in Swansea was emphatically dismissed by The Mumbles lifeboat committee! They and the coxswain also discounted a suggestion for a new concrete slipway further along the beach as being of no value. A proposal for a slipway to be attached to the south side of Mumbles Pier was eventually vetoed on safety grounds by both the RNLI and the Mumbles Railway and Pier Company. In 1909 everyone was infuriated when Oystermouth Council laid a sewage pipe across Southend beach - in the path of the boarding boat!
At last, in 1911, a satisfactory solution emerged. A new slipway would be built and attached by a 150 foot long gangway to the north side of Mumbles Pier. There would be enough depth to launch in all tides, and the gangway would be 6 feet above the highest spring tides so ensuring safe pedestrian access.
'The magnificent structure':
The massive sub-structure, boat platform, slipway and supports were an early
example of using reinforced concrete in maritime structures. Work on the project commenced in 1912 with the pre-cast concrete supports made at a temporary casting yard built out over the sea wall so the finished product could be easily moved by sea to its destination. Despite delays caused, inevitably, by bad weather and heavy seas (a pile barge sank and a pontoon cast adrift) work was well under way by the spring of 1913. There were difficulties in finding good and solid foundations for the 4 1/2 ton, 53‑foot high gangway piles, but now several of these were in place and the slipway was under construction. Further delays arose with the outbreak of war in August 1914; labour and materials were in short supply. But the end was in sight.
The new lifeboat slipway and pedestrian gangway, 1916
(Photo RNLI)
'A sight never to be forgotten'.
On the morning of 7 January 1916, Charlie Med/and was taken from her moorings and hauled up the new slipway by the winch. That afternoon an excited crowd watched the lifeboat crew cross the gangway from the pier to board the lifeboat. Ropes were loosened and the 13-ton Charlie Med/and glided down the 1-in-5 gradient in 6 seconds - plunging into the sea with a massive wave and a cloud of spray. The lifeboat righted herself and those on shore could see Coxswain Davies and his crew waving, signalling that the trial launch was a perfect success! The reporter for the Herald of
Wales described the launch: 'It was a sight never to be forgotten,' adding that 'the slip is a magnificent structure.'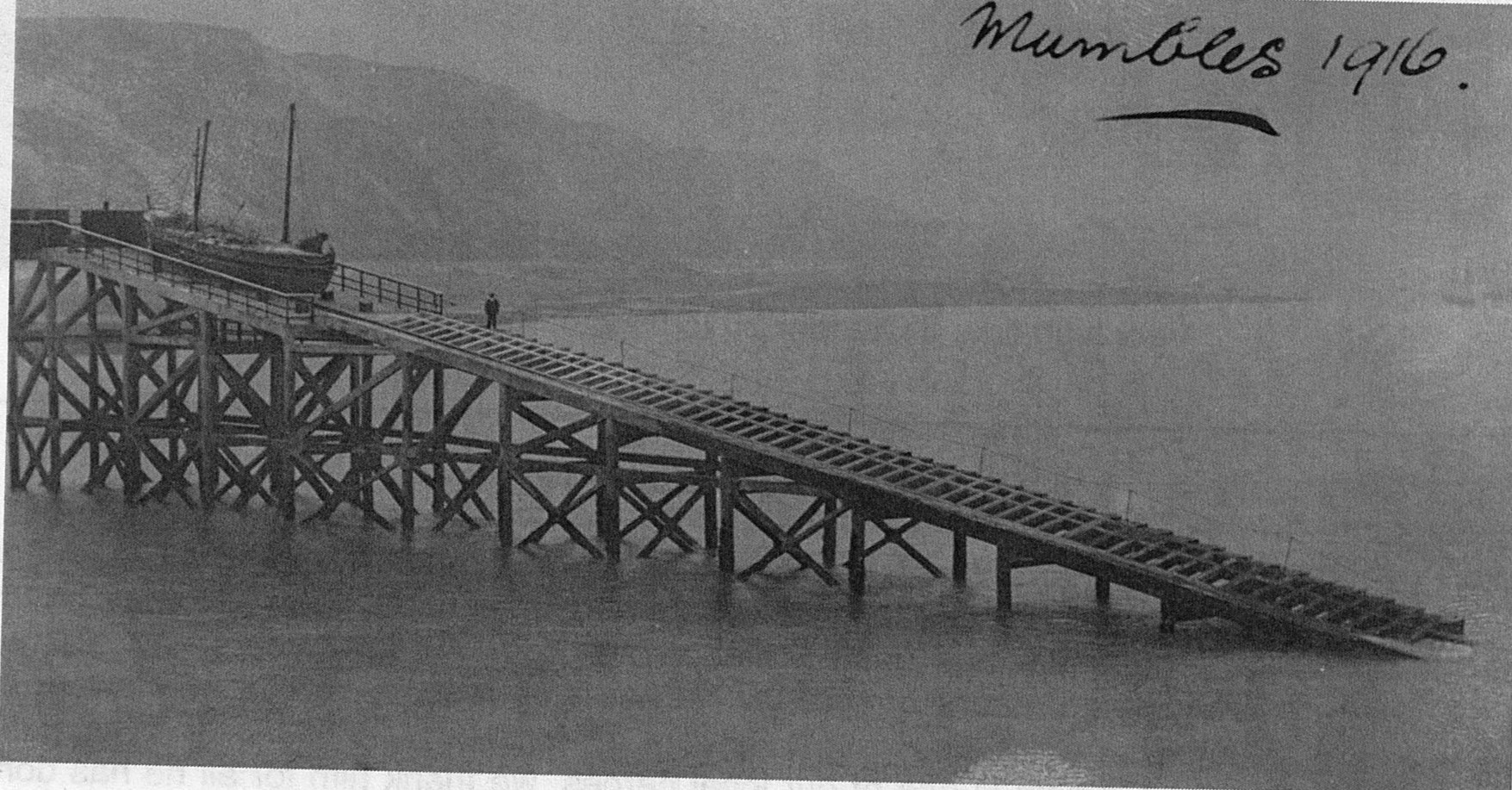 The Charlie Medland on the new slipway, 1916 (PhotoRNLI)
Until the boathouse was added in 1922 a rail was erected around the platform and the lifeboat kept beneath a tarpaulin. The new slipway saved at least half an hour in launch time. On 4 October 1916 the Charlie Medland made her first service launch down the magnificent structure answering a distress signal from a schooner dragging her anchors near Scarweather Sands in the Bristol Channel.
The engineer:
William Tregarthen Douglass was born in Solva, Pembrokeshire in 1857. Educated at Dulwich College and Kings College, London, William was articled to his father, James Douglass, who was for many years Engineer-in-Chief to Trinity House. In his 20s he worked on the rebuilding of Eddystone Lighthouse and strengthening the Bishop Rock lighthouse, Scilly Isles (where he was resident engineer). His obituaries describe a life of 'devoted attention' to lighthouses (he was responsible for the construction of thirty-eight), marine illumination and sea-defence works. He was consulting engineer to the governments of Western Australia, New South Wales and Victoria and also to the RNLI - hence his plans for The Mumbles Lifeboat slipway and gangway.
The legacy.
Tragically, William Tregarthen Douglass never saw our completed slipway. On 10 August 1913, as the 53-foot piles were being positioned off Southend, the boat he was sailing in with his son capsized off Start Point near Dartmouth and he was drowned. He was only 56, but his legacy to The Mumbles Lifeboat was to remain in use for nearly 100 years.
© Kate Jones, 2019
Sources: The Mumbles Lifeboat Committee Minutes (West Glamorgan Archives); Grace's Guide, British Industrial History (accessed 3 April 2019); The Herald of Wales, 1916; The Mumbles Observer, 1890; RNLI Log Books for The Mumbles Lifeboat. Photographs courtesy of RNLI, family of M.A. Clare and the author.
---
3. Last Launch on Lifeboat
Graham Wright, the Mumbles Lifeboat Standard Bearer, will go out on the all weather lifeboat for the last time as a member of the crew on Friday 17th May.
Graham has been a lifeboatman for over forty years and has a very distinguished record of service. He has also recently retired as steward of the Mumbles Yacht Club.
Graham is one of our local heroes, we thank him for all he has done for the lifeboat and wish him a happy and healthy retirement.
---
---
April 2019 Contents
1. The Big Apple
2. The Mumbles Dialect
3. Music at the Eucharist - Agnus Dei
---
1. Around Mumbles - The Big Apple
We continue our special feature on the famous landmarks of Mumbles by looking at the popular 'Big Apple' shop at the entrance to Bracelet Bay.
It was originally built out of a single piece of reinforced concrete in 1929 to promote a fizzy apple pop called Cydrax. The drink was loved by children of the day and was produced by Whiteways Cider Co. Ltd of Whimple, Devon. The company built other apple kiosks in Porthcawl, Barry and across the West Country, but the Mumbles Big Apple is thought to be the only one to have survived.
The role of the kiosk has changed over the years and it now sells drinks, ice cream, lollies, buckets and spades during the summer months. Many young children visiting Mumbles enjoy a visit to this quirky little shop.
The production of Cydrax came to an end in the UK in 1988 following a decline in its popularity. Originally aimed as a non-alcoholic version of cider it used to sell at one and a half shillings a flagon. It remains a very popular drink in the Caribbean and is now made on the island of Trinidad.
The last Big Apple was almost lost in August 2009 when a boy racer failed to take the sharp corner at the end of the cutting, ploughing his car into the iconic shop and almost demolishing it. At first it was thought that it would not be restored, until an online petition with over 27,000 signatures prompted the present owners of Mumbles Pier to call in the structural engineers to restore it.
The shop was reopened the following May and was given a new lick of paint. It stands, as it has done for ninety years, at the entrance to Bracelet Bay selling a welcome ice-cream, snack or drink to locals and holidaymakers as they pass by.
---
2. The Mumbles Dialect
Historically, the people of Mumbles and South Gower have felt somewhat different from their neighbours in the rest of South Wales. This was particularly true when it came to their everyday speech. Not only did they speak English, rather than Welsh, but a unique version of it known as the Mumbles or Gower dialect.
This difference in communities can be traced back over nine hundred years and to the settlement of the Normans in the more fertile areas of Gower just a few decades after the Battle of Hastings. The Normans organised themselves into the Marcher Lordship of Gower, with twelve feudal manors. In 1203 King John granted the Lordship to William de Breos. The south became known as Gower Anglicana, and the northern half of the peninsula stretching up into the mountains to the north of Swansea, was referred to as Gower Wallicana.
This historic division is reflected in some of the local place names. Ystumliwynarth and Liandeio Ferwa/It became Oystermouth and Bishopston. South Gower has Oxwich, Reynoldston, Pitton and Scurlage, while north of Cefn Bryn the villages sound very much more Welsh; Liangennith, Llanrhidian and Penclawdd.
Though the southern half of the peninsula was occasionally attacked by the Welsh it has remained a largely English speaking enclave for hundreds of years. Like South Pembrokeshire it is sometimes referred to as a 'Little England beyond Wales'. Through the centuries the anglicised people of south Gower were cut off from those who spoke their own language and a distinct dialect began to develop, with some minor nuances between the communities of east and west.
Some words from the dialect are retained in Gower place names. One such word is Slade, which is preceded by Broad, Lime and Rother. We often refer to the Drangway steps leading from All Saints to the Mumbles Road. Drangway is a word from the dialect meaning an alleyway.
Parts of Mumbles had their own names. The folk at Southend were referred to as being outalong, those at Oystermouth were inalong. Castleton was upalong, while those out at Langland lived down backside.
The words thee and thou were widely used by local people. Old lifeboat men heard to say, 'Drown thee may, but go thee must,' when the call went out to launch. Men would be asked 'Whess from, Boy'?', or girls greeted with 'How art, little maid?' Local pies and meat dishes were known by the appetising names Flathins, Gerthbra, Washbra and Bonny Clobby.
Since the nineteenth century Mumbles has seen a huge influx of people from other parts of Wales and further afield. The coming of the Industrial revolution and compulsory English only education of Welsh children [with its infamous 'Welsh knot'] resulted in the steady anglicisation of South Wales. The Mumbles dialect was itself a victim of this process. Today, it has all but disappeared.
Here are some

old Mumbles dialect words:
bett
- turf used for hedging.
blonkers
- sparks.
butt
- a small cart
casn't - cannot. clever -fine. come/ - corner. cust - could.
dreppance - threepence. gwan - going. herring-gutted - lean inklemaker - a busy person. keek - to peep. kittlebegs - gaiters lake - a small stream or brook. nipparty - perky. pilmy - dusty
rying - fishing. tacker - a youngster. uddent - wouldn't
vitte - clever or smart. vorrit - forehead. yau - ewe
zon gals - ears of corn. zz'now - do you know
---
3. Music at the Eucharist - Agnus Dei
We begin a series of short articles on the sung parts of the Holy Eucharist service. They are all ancient in origin. This month we look at the Agnus Dei.
According to the Liber Pontifical/s [Book of the Popes] Pope Sergius I [687- 701] introduced the Agnus Dei into the celebration of the Mass towards the end of the seventh century. Though it's likely that it was sung as a prayer for centuries before.
The Agnus Del was a litany sung by priests and people to accompany the breaking of the bread [what is known as the Fraction] after the prayer of consecration and before the administration of Holy Communion. In the early Church the bread of the Eucharist was often a
single unleavened loaf [unlike the individual wafers we use now]. It could often take some time to break the bread into enough pieces for a large congregation.
The Agnus Del originally had one simple petition: Agnus Del qul toll/s peccata mundl miserere nob/s - Lamb of God who takes away the sin of the world, have mercy on us. It was sung over and over again until the celebrant gave the sign that the fraction was completed. The prayer could be repeated dozens of times.
The Agnus Dei is an obvious reference to John the Baptist's testimony at the River Jordan that Jesus is 'The Lamb of God who takes away the sin of the world' [John 1.29]. The 'Lamb' is an important theological concept in John's telling of the Good News. His Gospel celebrates the saving death of Jesus as the once and for all perfect sacrifice. His further work, the Book of Revelation, has the Lamb at the centre of his vision of heaven. His words 'Worthy is the Lamb who was slain', immortalised in Handel's Messiah, are thought to be part of one of the earliest hymns sung by Christians.
During the 9th century [during the reign of the Emperor Charlemagne] two new practices in
the Church changed the shape of the Agnus Del. First, the custom of using small pieces of unleavened bread began to be introduced [the forerunner of today's Communion wafer]. Second it became the practice for the celebrant and priests only to actually receive Holy Communion. For the faithful going to Mass usually meant being onlookers rather than partakers in the Sacrament. This would not change until the Reformation.
So, by the 9th century the Agnus Del was shortened to the threefold repetition of the prayer to the Lamb of God we now know. It's thought that it was during this time that the last petition was changed from have mercy upon us to grant us peace.
Through the centuries the Agnus Del has been sung to Gregorian Chant and has featured in some of the impressive Mass settings of the great composers.
The second half of the 20th century was a time of great liturgical revision and the Agnus Del did not escape the changes. Most Churches now have the option of using the new form: Jesus, Lamb of God: have mercy on us. Jesus, bearer of our sins: have mercy on us. Jesus, redeemer of the world: grant us your peace. However, the traditional form remains the most loved and widely used, whether it is said or sung in Church.
Lamb of God, you take away the sins of the world, have mercy on us. Lamb of God, you take away the sins of the world, have mercy on us. Lamb of God, you take away the sins of the world, grant us peace.
---
March 2019 Contents
1. The Swansea Swimming Baths - An Oasis.
2.The Crumpled Comtents of an old envelope.
3. I can never forget - My visit to the Welsh Settlement in Patagonia
---
1.The Swansea Swimminq Baths - An Oasis
By Grafton Maggs
Unlike my brother, Cohn, I was never any good at kicking a ball, or wielding a cricket bat. Somewhere there was a serious breakdown in the co-ordination between brain and those specific muscles used to control a spherical object and propel it in a chosen direction. Compounding this, there existed within me an aversion to any sport involving sweaty, physical contact; especially where there was the slightest chance of being hurt.
These failings did reduce my options somewhat in the world of sport.
But, fortunately, there was one physical activity that I did enjoy. Like all other Mumbles children, I was able to swim shortly after learning how to walk and enjoyed this exercise enormously. With friends in summer time, I spent almost every leisure moment I had in the sea which was, after all, on my doorstep and on a sunny, sparkling morning when the tide was up, to me there was no better place on earth to swim than in the sea off the bowling green steps in Oystermouth.
In the '30s and '40s, the seas of Swansea Bay were certainly not at their cleanest. Heaven knows what was washed down into its waters from the Swansea and Neath Valleys but it was common knowledge as to what was flooded into it directly from our local toilets via the comparatively crude sewage system that was in operation at the time. Even so, knowing this did not act as a deterrent and local swimmers appeared to be none the worse for the experience of swimming in the cocktail of sewage and industrial waste that enriched the waters of Swansea Bay. This, perhaps, was due to their being possessed of an innate immunity coupled with the neutralising powers of nature's brine.
Summer after summer, the seas off Oystermouth afforded infinite pleasure to generations of village children who matured into adulthood all the better for this shared social experience of their early lives. These were, indeed, times brimming with happiness when it was a common sight to see, day after summer's day, many hundreds of children along the foreshore, from Southend to West Cross, cavorting in the sparkling sea or sitting together on the sunny sea wall, chatting. And how we all chatted!
We never stopped putting the world to rights! Conversation embraced a host of subjects, from Don Bradman to the yacht Endeavour, from Hitler to Laurel and Hardy, from submarine Thetis to Haile Selassie - and we all agreed that Eddie Long was the greatest rugby player in the whole world and Roy John the finest goalkeeper. With towels over dripping shoulders we sat there as the sun warmed through to sea- chilled bones; happy in friendships that, surely, would endure for ever.
And I was very much one of those blessed children.
Obviously, such swimming was a seasonal pastime confined to a period from late May to early September but when I was about nine years old, which was some time in the '30s, another door opened when Mumbles boy, Norman Colley, introduced me to winter swimming in the Swansea Swimming Baths.
Norman was five years older than I - he was in 'Laddie' Williams class (top form) whilst I languished in Mr 'Braddy' Bradshaw's class (Standard 4). This age gap was of unbridgeable social dimension normally, but, because Norman's father and my father were close friends, Norman succumbed to parental pressure to spend a little time with me. I think my father was worried about the direction in which I was heading - socially, academically and mentally. He had never got over the time I filled our toilet with chippings from the road and once experimented by having a motion standing up on the toilet seat at my grandparents house. My grandfather was a bit upset about it, too, because he was the one who had inadvertently discovered the post-act that evening - there was no light in the toilet.
Anyway, it's an ill wind and it was my good fortune to benefit enormously in my early years from Norman Colley's tutelage, the first act of which being the visit to the Baths.
The core of this establishment consisted of two 25 yard pools, housed separately in a handsome stone Victorian building at the Slip, opposite the Bay View Hotel, St. Helens. Somewhere on the premises, too, was a Turkish Bath (whatever that was) but where, I never found out - nor wished to. This was not for reasons of xenophobia (I could eat Turkish Delight without a qualm) but because it sounded sinister and I disliked the smell of Turkish cigarettes which, surely, would be smoked in an establishment of this name by plump, decadent men strewn all over the place, wearing just fezzes - an image I found rather disturbing. But that is all by the way.
For Mumbles' patrons, the Baths had the attraction of being sited immediately across the road from the Mumbles Train stop. So convenient! Mind you, thinking back, the old train had a stop convenient for anywhere in Swansea.
(Incidentally, in those days for anything to be guaranteed permanency, it was necessary for it to provide a valuable and convenient service for the public. Today, however, that thoughtful policy has gone into reverse - now, once it becomes known to the authorities that a facility is convenient and of great service to the public - its day are numbered. Once convenient post offices, banks, hospitals, Mumbles Train - gone! Be wary, your doctor's surgery, your pharmacy, your dentist, your public toilet - if conveniently located - are earmarked for closure, or, re-siting on Cefn Bryn).
That first visit with Norman planted a seed which germinated and I was soon to become an avid winter swimmer in the Swansea Baths. Once in grammar school, Saturday morning visits with school friends became part of a regular winter routine which was never to lose its appeal. Brutally, in February 1941, Hitler's Luftwaffe brought it to an end by devastating bomb damage to the first class bath. The unheated second class bath struggled on but was only patronised by those possessed of a fanaticism capable of neutralising the paralysing effect of freezing water. Their descendants can still be seen walking around the village in shorts and sandals whenever the temperature drops below zero. They live on nuts.
Rarely was I alone on a Saturday morning swim, usually being accompanied by a couple of Mumbles friends. After arrival at the Slip there'd be the dash across the road, to be met within twenty yards of the entrance by the smell of the Baths. Chlorine! For the rest of my life that smell would trigger off a Pavlovian reflex - the slightest whiff of chlorine would instantly convey me back to Swansea Baths.
We patronised the heated first class bath (3d) and through the turnstiles we'd clank into the tiled foyer where now could be heard the splashing noises and hollow echoing shouts of children in the pool. At the entrance door to the pool itself, our 3d ticket would be thrust impatiently into the hands of the seated attendant, a burly gentleman whom we came to know as Mr. Coates. At his side was a basket in which lie a pile of folded towels and navy blue swimming slips, available for hire for a few pence. Mr. Coates always seemed to be there and appeared to carry our every operation associated with the smooth running of the first class bath. He doubled as a swimming instructor having the reputation of being a top class coach and I was to benefit enormously from his services in the years to come, finding him to be a merciless tyrant in his pursuit for perfection.
Coming into the bath itself from the sharp cold of the outside world, one was immediately aware of the warmth emanating from the green water and here, in contrast to the gloomy porch, the bath area basked in the bright light of day by virtue of the glazed roof which was supported by wooden rafters and sturdy horizontal beams. A terracotta tiled area surrounded the pool and gave access to the changing cubicles surrounding. Each of these small cabins could accommodate two youngsters or one adult; entrance being gained via a wooden half door topped with a canvas curtain. Inside, crossing the width of the cubicle, was a wooden seat used whilst disrobing; clothing and towels being placed on wall hooks. On the floor was a wooden duckboard the feel of which was rather unpleasant to bare feet, being slightly slimy. This verruca utopia, coupled with a musk of dank sweatiness, made the cabin a place in which one did not wish to linger. Not that this was a problem; such was the haste to get into the pool that clothes were torn off, hung haphazardly or piled on the seat and the cubicle vacated in less than a couple of minutes.
Before taking the plunge, it was customary to walk to the shallow end where, over the steps leading down to the pool was a shower operated by a valve on the wall. The object of the exercise was to cleanse the body before entering the water but, unfortunately, the spray was ice cold. This made the whole operation a charade because rarely could it be tolerated for more than a few seconds after which a jump was taken into the comparative warmth of the three foot shallow end. Incidentally, I cannot remember one occasion when / ever saw the bottom of the pool! Vision of the
wall tiles was limited to the top three rows, the rest disappearing down into the rich green, opaque depths.
I was soon to find out why the pool was like this. One of the swimmers in my class was a boy named Tommy Carrol, he knew everything; he was a sort of latter day Alan Titchmarsh without the cringe factor. He enlightened me.
Unlike a modern swimming pool, there was no constant filtration system in operation. The water in the pool was sea water pumped up from the Swansea Bay, forced through a primitive filter system to remove unwanted matter - dead bodies, the odd faecal escapee or anything else which might upset the more fastidious swimmer. It was then stored initially in a tank behind the baths buildings where it was salted with a chlorine rich powder and eventually used to replace the tired water in the swimming baths. This fresher water was soon stirred up by swimming activity and was topped up with more chlorine powder by Mr. Coates, who seemed to be blessed with an inbuilt evaluation system, because I never saw any scientific assessment made of the chemical content, or pH, of the water. Even so, over the years from what I saw and experienced, it seemed to work; I never heard of anyone dropping dead on the way home. Mind you, there were things that I did not wish to know; things that were brought to conscious level by others. One morning in the pool with Arthur Harris, we were holding the rail at the side having a breather and looking up, I saw a dripping Clifford Lloyd (Langland boy) running down towards the exit.
"He's in a hurry", I remarked.
"Yes," said Arthur, "snobby bloke, he's the only one I know who gets out of the pool to have a pee".
(This really made me face up to a few facts about swimming pools that are never aired and later, I came to understand why the French call their pools what they do - there's an eponym in there somewhere).
A Saturday morning session in the baths was usually of two hours duration, starting at about 10 o'clock and was one of non stop activity. There was near full freedom of access allowed in the pool, the deep end (6ft 3 ins) being open to all those who could swim. However, care was taken not to encroach on that expanse of water below the spring and high boards as there was always the odd lunatic who would spontaneously do a Tarzan act off one of the boards without checking the water below. Mr. Coates did his best; he was no fool and kept a wary eye open for any nonsense on the board, or stupidity in the water below. A culprit would receive a blistering reprimand and/or banishment from the pool but, in spite of his vigilance, accidents did happen and one day, I did see how things can go dreadfully wrong. The youngest of the three Griffiths brothers surfaced just below the high board to be met with the head of a diver, full in his face. As he was lifted from the pool, bawling his head off, I glimpsed the sheared off remains of his four upper incisors, covered in blood from macerated lips. It could have been much worse and from where I stood, I saw the diver swim off and carry on as if nothing much had happened. It is highly likely that the crowns embedded in his scalp were not discovered until bath night, a month or so later ("My goodness, Gerald!... These flits are well dug in. . .. ")
During the course of the morning, the pool would be swum up and down countless times, the spring board used frequently and, with trepidation, the high board (mind you it wasn't exactly in the clouds, it was only about 8ft high). As noon approached, subtle signs of satiety began to invade the mind and the puny body of the swimmer. Early pangs of hunger began to gnaw in the abdomen, sending signals that it was time to go home. Dressing was accomplished in minutes; hasty farewells made to friends from Manselton, Townhill, the Hafod and Danygraig. Coats were buttoned up, scarves tied and courage summonsed to leave the humid, warm foyer and face the Antarctic blasts from Swansea Bay. Indeed, stepping out on to the Mumbles Road in January was like receiving a hit in the face from a frozen hammer - it was no time for hanging around! Feet raced across the Mumbles Road for a short shivering wait for the train home - red-rimmed eyes scanned the hoardings - "Stanley Holloway" in the Swansea Empire, "Marx Brothers" in the Carlton, "Eddie Cantor in the Plaza", "Bovril puts Beef into You!". But, by now, thoughts of dinner were replacing all else - after all, it was Saturday! -and it was always hake and chips (3d) on Saturday, served by Johnny Davies himself - who else?
Stepping up on to the train, further anticipatory joy began to develop - to come was the 200pm Saturday matinee at the local Cinema (when a huge decision of Brexit proportion had to be made
'Tarzan'at the Regent or 'FredAstaire'at the Tivoli?).
Saturday, for the fortunate, abounded with pleasure. There being yet another bonus waiting at the end of the day (for those who had wireless sets in their homes). There was the Saturday evening in, with a friend or two, by the coal fire. Young bodies were now a little weary and it was good to curl up on a chair, to listen to the BBC:
7.30 to 8.00, "In Town Tonight!"....
8.00 to 9.00, "Music Ha/I!" - Vic Oliver, Rob Wilton, Elsie and Doris Waters —Anne Ziegler and Webster Booth.. .Stanelli.
9.00 to 10.00, "Saturday Night Theatre!" - drama, unrestricted by any screen size but of infinite dimension in one's head!
What wonderful evenings these were! But I digress.
The Swansea Baths was not solely a fun place. Serious coaching sessions were regularly carried out by a number of top swimming instructors who trained all grades, from absolute beginners to top competitive swimmers. Evidence of their success was seen in the performance of the highly rated Swansea Water Polo Team and the achievements of local racing swimmers, at all levels of the sport throughout the country.
And what about those exciting annual events - the swimming galas? On these occasions the Baths really came into their own, opening the doors to the general public who packed the galleries as spectators.
My initiation to these galas was as a junior competitor in the Dynevor School gala of 1937. Each of the Swansea secondary schools (Swansea Grammar, Dynevor and Glanmor) held its own annual event which was basically a school inter-house competition. Individual and relay team championships were competed for, with house points being won by successful swimmers. Certainly in Dynevor, we swam our hearts out for the glory of our Houses - Dillwyn, Roberts, Grove or Liewelyn; hoping to see our winning House name on the shield for that year. Need I say, how loudly proud parents yelled their heads off from the galleries for the glory of their progeny!
There were, of course, other more prestigious galas for championships at senior levels held by the Amateur Swimming Association. As part of these events, there would be inter grammar school relay team races, competing for such trophies as the magnificent, and much coveted, John Llewellyn Cup. A school team was made up of four swimmers, each of whom would sprint a leg of 100 yards (4 lengths of the Swansea Baths) and, adding spice to these events, was the presence of the private academies - Clevedon College, and the Emmanuel Grammar School - adding to the competitiveness of the event. I recall, with great pride that during my junior years in Dynevor (1937­38-39) the School had a seemingly invincible squadron team and a host of top class individual swimmers. How they cut through the water on those gala nights with the grace and speed of dolphins! Names come back - slight, blonde Alan Taylor, an international swimmer (cruelly killed as a fighter pilot in WW2), 'Folly' Ward, Cyril Goldstone, Les Gwyther, Norman Blyth, Harry Kanter, Alan Thomas, Bill Price (the latter, as gifted in the water as he was with paint brush, palette and canvas). Not only did they bask in the glory of that night's presentation at the gala but also the adulation of the whole school the following day at the morning assembly.
It was customary, after the racing events in most galas for the second half of the evening to be filled with a water polo match between Swansea and another club. Occasionally that club would be the Swansea Borough Police team who always put up a fine performance. Incidentally (I digress here - again) these were the days when the Borough Force was able to field a top class soccer side. This team was capable of holding its own against a side of ex- Swans in the traditional annual clash at the Vetch on Boxing Day, - a game rarely without multiple colourful incidents. And, whilst on the subject, I recall that the Borough Force had a fine silver band which enriched many a local function with its presence and performance. How well I remember the strains of "Poet and Peasant" drifting across the Castle Field during the summer fetes as the immaculately turned out band played in front of the Castle entrance. Those were the days indeed when the police had a highly visible presence in the community, not just on duty, but on informal occasions such as these and it certainly didn't do the reputation of the Force any harm.
The Swansea Water Polo team, in those days, was one of the finest in the country. The back bone of the side was Olympian, Billy Quick - the finest goal keeper in Britain who had competed in the 1928 Amsterdam Olympics, at the same time as Johnny (Tarzan) Weissmuller.Welsh Internationals, Victor Lyle, Trevor Lewis, Phil Sansum were part of this talent loaded side and how
they powered through the water! Juggling that red shiny ball between them like trained sea lions and what a punch they imparted to the ball when powering it in to goal! They were a great credit to Swansea and a source of inspiration to all younger swimmers. Genial giant, Trevor Lewis led from the front, in more ways than one. After an action filled war as a Commando, ex-Dynevor boy Trevor returned to Mumbles and to competitive swimming. He was justly rewarded with the captaincy of the Great Britain side in the 1948 London Olympics. Trevor will be remembered, too, for his crazy comic act with Phil Sansum during the galas. After a hammed-up chase, Trevor would escape from Phil by running up through the galleries, climbing across the horizontal roof beam and diving down into six foot of water! He'd stay down in the murky depths long enough to cause some consternation then surface with a big grin on his face.
There were other occasions which made their indelible marks on young memories. If early enough in the morning, one might have the privilege of seeing Graham Huxtable, the national back stroke champion going through his daily training programme. With plugged ears, goggles and white rubber cap, he'd power up and down the bath, high in the water, with arms and angled hands cutting in so cleanly and effortlessly. At this time (in the thirties) he was preparing for the Empire Games in Australia.
Graham was the senior member of his family generation, all of whom swam exceptionally well; younger brothers Mike and Derek both being formidable crawl swimmers in their own right, with many trophies on their shelves. This was a time when Swansea seemed to breed swimmers in family groups - there were the Thatchers (Ken and Neville)), the Sansums, the Reynishes, the Griffiths's, the Carpenters - all of whom swam like fish and competed intensely. Try as I did, with all my might, compared to these swimmers, I was like a clapped-out Ford behind Malcolm Campbell's Bluebird.
Up until 1939, my swimming experience had been limited to the sea and the Swansea Baths - in other words, only in sea water. I was due for a shock! In August '39, I had the rare joy of a short holiday with my family in Weston- super-Mare and during the course of which I visited the magnificent Lido on the sea front. This vast swimming pool was brand new, having been opened that summer and here for the first time I saw 10 meter diving boards of Olympic Games standard. So incredibly high, almost cloud-capped!! The cleanliness, the spaciousness, the beauty of this lido was overwhelming. The water was crystal clear, of a Tahitian blue in colour and cried out to be swum in! I dived in. This was the first time I ever swam in fresh, clean water filtered to the nth degree and with it came the stark realization, and shock, that I could hardly get my legs up behind me! I was sinking! It dawned on me (being a Dynevor boy) that Archimedes Principle applied to swimming pools as well as to any other mass of water. Fresh water didn't have the upthrust of sea water and hence my struggle! Over the years I had access to other fresh water pools and learned how to cope but, even so, how I missed skimming through the sea water as I did in the old Swansea Bath days.
From my earliest days in Dynevor School I was encouraged to swim, German master, Eric Yates, in particular being a source of inspiration. He trained the junior and senior school squadrons, for which I eventually swam (alas, not with anything like the success of those teams that had immediately preceded me). It was a natural step from this to enlist in the Life Saving classes which were run by Mr. Burgess, the gym master. Tuesday evenings were spent in the gym, learning the theory of life saving and every Friday evening after school, practical training sessions were held in the Swansea second class bath (taken over completely for this purpose). Mr. Burgess taught all the current methods of life saving as advocated by the Royal Life Saving Society (RLSS) and up and down the baths we would swim, rescuing 'drowning' swimmers and bringing them back to dry land in a variety of ways. Once on terra firma, artificial respiration was applied as taught in the theory classes (the Shaeffer method, now out of date, I believe).
Through the year we trained and then, at the end of the summer term, were examined by the affable Inspector Chislett, a senior member of the RLSS. In his other life, the noble Inspector was an officer in the Swansea Borough police force. Candidates, if successful, were awarded the Intermediate Certificate for the first stage and the Bronze Medallion for the more advanced second stage. These were eventually awarded to proud recipients in the school hall at morning assembly by Headmaster, Liewelyn John.
The Bronze Medallion afforded privileges to the bearer - that of being allowed to wear a handsome badge on one's costume and to assist, in a low key way, the life guards of Langland Bay. How I loved the spurious façade of all this but, in fact, there were benefits of substance not the least being the privilege of getting to know veteran life guard, Arthur Goss. This good man spent endless time in Langland, not only safeguarding swimmers, but also constantly improving the life saving skills of his team. This he did by practising rescue drills in the sea - on the hoof as it were. I do not recollect Arthur Goss being recognised in any way for this dedicated work; by today's standards he was worthy of an earldom - not that Arthur would have accepted it - he was fussy about who he mixed with.
It wasn't long after World War 2, in the 1950s, when the axe fell on the old Baths buildings and it was to the Council's credit that they didn't hang about.
A modern 50 metre replacement was soon constructed on the ground behind and this pool did sterling work throughout the half century of its life. From its very beginning the older, pre war swimmers, Trevor Lewis, Graham Huxtable, Billy Quick and Cyril Goldstone were there, back in action encouraging the younger generation.
There were more joys to come for Swansea's water lovers when, in 1977, the city was gifted with its wonderful leisure centre at the heart of which lie an immense 'fun' swimming complex. But the cream on the cake, for the serious competitive swimmers, did not arrive until 2003 when the Wales National Pool was opened in Sketty Lane. Now, Swansea had it all - glorious swimming conditions backed by modern technology and housed in the loveliest of surroundings. Indeed the old swimming baths at the Slip now seemed light years away!
Yet nostalgia, that most perfidious of emotions, conjures up within me a package of memories in which the downside of the old Baths is forgotten, buried under remembrances of all that was good. To me, there was something very special about the old Baths, there was a warmth, an intimacy and a character; all of which was swept away in its demolition - never to appear again in its sterile successors.
But, perhaps, I have it all wrong? Was it the character of
the Swansea people, as it was then in those lean times, which was the source of that 'special something'. Character now no longer with us. Maybe.
---
2.THE CRUMPLED CONTENTS OF AN OLD ENVELOPE
In May 2015 a small brown envelope was given to volunteers in
the lifeboat house shop. Inside was a sepia photograph of a lady in Edwardian dress with three small children. On the back of the photograph someone had long-ago written: "Mrs Ann Michael and Family. Will. Eva. Reggie. Harry came later." Wrapped around the photograph were a much folded funeral service card and a creased page from the All Saint's church magazine - both dated 1903. The three items tell a tragic tale.
On the afternoon of Sunday 1 February 1903 The Mumbles Lifeboat coxswain Tom Rogers strolled from his cottage in Hill Street to the lifeboat house at Southend. An eye-witness described how relaxed he was: 'pipe in mouth, hands in pocket, just as casually as if he were going to a football match'. He was joined at the boathouse by the rest of his crew, several helpers, a signalman, a messenger and the winchman. Shortly before four o'clock the lifeboat James Stevens No.12 was launched. The Cambrian newspaper later reported: 'her crew left in high spirits, anticipating no danger.'
The lifeboat crew: Coxswain Tom Rogers, 2ND Coxswain Daniel Claypitt and Bowman Samuel Gammon along with three of his brothers - David John, James and Richard - and their brother-in-law Hedley Davies were accompanied by Charlie Davies, David John Howell, William Jenkins, George Michael, Robert Smith, Tom Michael and David John Morgan. The latter two were survivors of the lifeboat disaster of just twenty years before, when four lifeboat crewmen were drowned off Mumbles Head. The coxswain had lost a cousin, William Rogers, in that disaster too.
There were fourteen Mumbles men in the lifeboat that Sunday afternoon but only eight returned home alive.
The previous day a Waterford schooner, SS Christina, had gone aground on the sands of Aberavon, Port Talbot. She was high and dry, her crew safe, and it was hoped to re-float her on the high tide with The Mumbles lifeboat standing by. On reaching the other side of Swansea Bay, Coxswain Rogers found that the tide was not yet high enough for the Christina to be re-floated. The sea was rough and a snow storm looked likely.so he decided to seek shelter for a while in Port Talbot harbour.
It was then that tragedy struck. As she sailed across the bar James Stevens was caught by heavy seas and capsized several times throwing her crew into the rough and icy water. As the lifeboat righted herself for the third time and drifted towards the breakwater she scooped up four crewmen who managed to scramble ashore. But the rest of the men were fighting for their lives. Bowman Sam Gammon, a strong swimmer, dived back into the turbulent sea and rescued three, including his brother-in-law Hedley Davies, who told the subsequent Board of Trade Inquiry how he begged Sam to let him go: 'tis better for one to drown than two'. But Sam replied: 'Come on boy, we'll get ashore or drown together.'
The disaster: From the breakwater desperate rescue attempts were made by the rest of the crew to pull their comrades from the waves. They were joined by the Harbour Master Captain Jones and some French sailors who used ropes and lifebuoys, but six lifeboat crew members died. They drowned or were killed by being dashed against or trapped in the stone blocks of the breakwater.
Meanwhile, back in Mumbles families were on their way to evening church services. In the All Saints' church magazine of March 1903 he vicar wrote how villagers: 'assembled as usual to
take part in the Sabbath-day evensong, little dreaming of the terrible tragedy that was being enacted on the other side of the bay. Here was the hush of prayer, the strains of sweet music ascending to the throne of God. There was the roaring of the sea, the crash of waves, the cry of strong men struggling with death.'
The dreadful news: When the dreadful news of the disaster
reached the village relatives of the crew attending church and chapel were quietly asked to return home. Two of the eight survivors came home that night, the other six stayed in Port Talbot returning the next afternoon to a sombre silent village having left six of their comrades behind'. The south Wales Daily Post reported: 'they were met by a large crowd of relatives and friends ... [all] of the men went straight to their respective homes, and one or two who had been knocked about in their life struggle went to bed.'
The Funeral: The six deceased (Tom Rogers, Daniel Claypitt, George Michael, James Gammon, David John Morgan and Robert Smith) were all from Southend. Their funeral procession on Thursday 5 February stretched from the George Hotel to the Ship and Castle. Hundreds of mourners attended the service at All Saints' church then the six men were laid to rest in Oystermouth Cemetery.
It was only twenty years since the 1883 disaster and now there were five more widows and 35 fatherless children. An appeal fund was set up, and concerts, football matches and house-to-house collections raised money for the bereaved families. The Board of Trade inquiry heard conflicting evidence from survivors and decided that the accident was due to poor use of the lifeboat's drogue. The lifeboat 'did not run true in the sea' and capsized.
Afterwards: The village struggled to come to terms with its loss. On 8 February, a week after the disaster, the morning sermon at All Saints' was preached by the Lord Bishop of St. David's. At evensong, the congregation included the widows and children, relatives and friends, also the first and second crews of the lifeboat - the church was packed. A 'record amount' of money was collected at the services and given to the disaster fund.
The wrecked James Stevens 12 was replaced by a reserve lifeboat. Samuel Gammon was appointed coxswain and more men volunteered for the crew. When the new crew went out on 25 February to assist a Norwegian barque Allegro drifting up the Bristol Channel in gale-force winds, their safe return was greeted with considerable relief by a large crowd gathered on the Southend foreshore.
The contents of the envelope: One of the lifeboat crew who lost his life in the second Mumbles Lifeboat disaster was George Michael. The photograph in the envelope is probably of his daughter-in-law, Annie and three of his grandchildren. He only knew the oldest, Willie who was born in 1902. The other two were Eva (born in 1906) and Reggie (born in 1908). Harry who 'came later' was born in 1915. Someone in the family carefully kept the photo with the black-edged funeral card for the six lifeboat crew. A description of the lifeboat disaster in the All Saints' church magazine of March 1903 was folded around them - a family keepsake. On the funeral card is printed:
'We loved them. Ah! No tongue can tell.
How much we loved them, and how well.
God loved them too, and thought it best,
To take them to His heavenly rest.'
Near the north door of our church is a brass memorial to the six Mumbles lifeboat crew who drowned off Port Talbot in February 1903 - their names never forgotten.
Photoqraphs: James Stevens 12 launching on 1 February 1903, Odo Vivian; The SS Christina aground, Port Talbot, RNLI/The Mumbles; 1903 funeral service card that belonged to the Michael family, RNLI/The Mumbles; The six crewmen who lost their lives from a private collection.
---
3.I can Never Forqet -
My visit to the Welsh Settlement in Patacionia
by Colin Payne (Canada)
As a young man, I remember reading Richard Llewellyn's "Up
Into the Singing Mountain" (1960), a novel involving Welsh settlers in Patagonia, Argentina. Remembering how I emigrated to Canada in 1968, here I am relating how, with my wife Eileen, we recently took a cruise from Santiago, Chile, around Cape Horn to Buenos Aires, calling in at Puerto Madryn, the original landing place for 150 colonists from Wales back in 1856. The Welsh group were apparently the first settlers lured to Patagonia by the Argentine Government's promise to provide land along the Chubut River.
The full-day tour started from Puerto Madryn with a two hour bus ride through a very dry scrubby region, described as rugged Patagonian steppe. Not exactly attractive countryside and I was glad when we arrived at the village of Gaiman, considered the centre of the Welsh
region.
Being close to the Chubut River, lush greenery
was much in evidence and we were given a walking tour of a local fruit farm run by a Welsh descendant. It was refreshing to be encouraged to pick and sample some of the ripe cherries, peaches and raspberries growing there. We visited several small museums but the highlight was a traditional Welsh tea at Ty Gwyn, the oldest Welsh tea-house in the area, again run by descendants of original settlers.
As well as traditional scones and cake, we were treated to a performance of Welsh songs by the local choir. For those from Wales, and there were several of us in the group, it was a treat to be invited to sing along with the choir. A rendition of Calon Lan rounded off the singalong and we enjoyed socializing with the choir members before heading back to the bus.
The last stop was at the village chapel, built in typical Welsh style, where one of the older Gaiman ladies, dare I say matriach, talked of the community, its background and history in a riveting fashion. Mention was made of the local indigenous natives, the Tehuelche, who helped the early settlers with food and survival techniques. She talked in English but also answered questions in flawless Welsh and Spanish. I am only sorry that I didn't take her photo or write down her name. Like other English speaking residents of Gaiman, she spoke with such a warm Welsh accent I could have sworn I was back in Wales. I learnt from her that every year, three Welsh teachers from the U.K. are brought over to teach at the Gaiman schools.
Although I don't speak Welsh, it gave me such a good feeling to know that this little community would go to such lengths to perpetuate the Welsh language and traditions - truly something I can never forget.
Cohn Payne [Canada]
---
February 2019 Contents
1. All Saints Choir & Servers.
2, The Prince's Fountain.
3. Images of old Mumbles -
The Natural Arch.
---
All Saints Choir & Servers
This photograph of the choir, servers and clergy was taken at the beginning of the year by Barbara Richards.
We hope to launch a recruitment drive for choristers and servers this month, when we will be contacting local schools and colleges to offer organ and choral scholarships to young people in the area.
A number of our past organ and choral scholars have gone on to study music and singing at universities and conservatoires. So, for young people who enjoy singing, or who would like to learn the 'King of instruments', this is a wonderful opportunity. Our singers will be encouraged to work through the Royal School of Church Music's 'Voice for Life' course. It is a highly respected qualification, divided into bronze, silver and gold levels. Two choristers have gained their gold medal in the past.
If you know of any young people who would be interested please encourage them to come along to Church on a Sunday morning or to choir practice on Wednesday evenings [at 6.30pm].
We are also a little thin when it comes to altar servers these days. If you are interested in joining our team please have a word with Mark Smith [Head Server] or one of the clergy.
---
Around the Parish - The Prince's Fountain
We start an occasional new feature this month which will look
some of the landmarks in and around Mumbles. There are buildings, objects and memorials we pass almost every day and rarely notice them. We hope that you will find the articles we are planning for this summer interesting.
This month we look at the Prince's Fountain which stands at the junction of Myrtle Terrace and Mumbles Road.
It was erected in 1863 to provide fresh drinking water for the villagers of Oystermouth and Southend. It was built to mark the wedding of Queen Victoria's eldest son, the Prince of Wales.
The inscription reads; 'The Prince's Fountain, erected by voluntary subscription to commemorate the marriage of His Royal Highness Albert Edward, Prince of Wales, with the Princess Alexandra on 10th March AD 1863.'
The marriage took place at St. George's Chapel, Windsor. It was when Queen Victoria was in deep mourning for her husband, Prince Albert, who had died two years earlier. The Queen took no part in the ceremony and even declined to attend the wedding breakfast.
Thirty eight years later the Prince of Wales became King Edward VII. He reigned from 1901 to 1910. He is immortalised in other parts of Swansea. The Prince of Wales and King's Dock were named after him, so too was King Edward Road.
According to local tradition the memorial was maintained by the Parish of Oystermouth. This was until the disestablishment of the Church in Wales in 1920.
The Prince's Fountain looks a little sad these days and is in a rather poor state of repair. Water no longer flows from it and weeds grow out of the mortar. Yet the 156 year old memorial reminds us of the Mumbles of yesteryear.
---
Images of old Mumbles
- The Natural Arch
This old photograph, taken in the early nineteen hundreds,
shows the natural arch at Mumbles.
It stood on the eastern side of the middle island and was something of a tourist attraction in the late Victorian and Edwardian eras.
The Mumbles Railway brought day trippers and holidaymakers in their thousands to the pier, promenade and beaches. For the more adventurous no visit was complete without a walk out towards the arch at low tide. The photograph shows the arch, with the famous 18th century lighthouse in the background.
Natural arches, like the one at Mumbles, are geological features formed by the forces of erosion. They are usually made from narrow fins of sandstone rock. At Mumbles, the softer limestone rock beneath a harder layer began to erode, forming alcoves on either side. Over tens of thousands of years an arch was formed, with a capstone on top.
Natural arches cannot last forever, for the same forces that created them will eventually destroy them. The arch on the middle island collapsed during a violent storm in December 1910. All that remains of it is a pile of large stones beneath the cliff face and this old photograph taken just years before its collapse.
---
December2018 January 2019 Magazine
Contents:
1.Christmas Carol
2.Christmas Meditation
3. 'Nativity Play' A new Christmas Story by Grafton Maggs
4. The Parish Hall
5. the Bells of Santiago - The Musical
---
1.CHRISTMAS CAROL
God bless your house this Holy Night.
And all within it;
God bless the candle that you light,
To midnight's minute;
The board at which you break your bread,
The cup you drink of;
And as you raise it, the unsaid
Name that you think of;
The warming fire, the bed of rest,
The ringing laughter;
These things and all things else be blest
From floor to rafter;
This Holy Night, from dark to light,
Even more than other;
And if you have no house tonight,
God bless you, my brother.
By Eleanor Farjeo
sent in by Jean Ricci
---
2.Christmas Meditation
At Christmas we all find ourselves with a God who does not condemn, but a God we can hold in our arms; a God who is accessible to all and who brings those on the edge of society into the centre of his circle; a God crying in the world's dark, whose tears we must dry; a God who seems so small, so vulnerable, and yet is large enough to hold the universe in his embrace.
When there are so many fearful images of God going the rounds of our world and when the dark side of religion is so often turned towards us, there is an urgent need for us to find this God who lies in the manger. Let us then go to Bethlehem and see this thing that has taken place, which the Lord has made known to us.
Canon Trevor Dennis
[from 'The Christmas Stories']
---
3.The Nativity Play
A New Christmas Story
by Grafton Maqqs
Hesitantly, Miss Georgia Griffiths opened the door in response to the crisp, "Come!" that filtered through from the other side
"Oh! Hello, Georgia! Do sit down, dear - just a few quick words, before we lose you over the Easter!"
Georgia sat down, waited apprehensively whilst head teacher, Mrs.Trumble-Ferris, shuffled papers together on her desk. Glancing around, she took in quickly the pleasant room with its large window overlooking the play area, the diplomas on the wall and the vase of daffodils on the sill. A warm, light, comfortable ambience, indeed, but the filing cabinets and the piled desk banished any thoughts that this was other than a place of work.
Mrs.Trumble-Ferris looked up over her glasses and smiled. Though approaching retirement age she was still a handsome woman, always dressing with a quiet flair. She was a good head teacher, and she knew it, having managed throughout her time at the top to command respect and affection from both staff and pupils.
"Well, Georgia! You've survived! Come to the end of your first term without much going wrong! In fact, you have done really well, and I am so very pleased with you.
"Now then, so much for the candy floss. To business! This might seem rather early for you to take on, but, what with staff shortage and things, I have no alternative other than to burden you a little more.
"I want you to take on the production of this year's Nativity Play in the Christmas concert. As always, it will take up the second half of the evening's entertainment; the first part being the contribution by children demonstrating to doting parents their individual talents - singing, reciting and the like. You know the sort of thing; you did it yourself enough times. But the highlight every year is the play. Do you think you could handle it? Look good on your CV!"
Georgia, relieved to know that the summons to the presence wasn't for instant dismissal, exhaled with relief,
"Oh! I'd love to, Mrs. Trumble-Ferris! I'd be thrilled!"
"I knew you'd say that! Right then! You've got plenty of time to sort it all out. Write a simple script and don't stray into the world of modern theatre - be traditional! Mustn't upset Father Keith. Then, next term, liaise with Mrs. Gammon in the Arts Room - she'll work with you on scenery and props. Mrs. Collier will take on costumes and Mr. Webborn is never happier unless he's fiddling with wires and lights and speakers - he'll sort out the microphone thingies.
"Remember! One golden rule! Every child in your class must be on the stage at some time or another - in some shape or form. They love it! Parents love it! And I shall not be bludgeoned to death if anyone is left out.
"When you're back, show me what you've planned and, apart from that, it's all your baby. At times your patience will be sorely tried and if you're anything like our late dear Miss Roberts; by the time the night arrives you'll be a gibbering wreck - even so - you'll love it!"
"Wow! Do you think I'm up to it, Mrs. Trumble-Ferris?"
"I wouldn't ask you if I thought otherwise, Georgia. By the way, tread carefully, don't be pushy - remember you're the new girl on the block. Right then, off you go, dear! Enjoy your holiday; do an Alan Bennett and I'll see you early next term, OK?"
Prudence Trumble-Ferris MBE, pushed back her chair, rose to her towering five foot ten and proceeded to dispatch Georgia from her presence with the unctuous dexterity of a bishop after a service.
Once in the corridor, Georgia flopped on to the bench by the fire extinguisher and exhaled forcefully,
"Whew! In at the deep end - roll on the hols. Let's get cracking!"
Summer term had been under way for a week when Georgia placed her holiday work on Mrs. Trumble- Ferris' desk.
"My goodness, Georgia! These drawings are really beautiful. Your work? Well...
Georgia described the short scenes, each of which would be introduced by an appropriate carol; first verse sung solo and the remainder by the supporting cast - with the audience joining in. Casting would be carried out after half term.
Mrs.Trumble-Ferris smiled at the enthusiasm,
"Looks good, Georgia. Keep me informed - especially at the first signs of a nervous breakdown!"
Mid term, Georgia began to work on the casting and, by now, knowing the make up of her charges, she had a good idea as to who could handle the various roles.
There wasn't much difficulty in picking the Three Kings: Reggie Walters, Derek Jones and Gwyn Evans - these three boisterous Norton lads were always kicking a ball and fancied themselves as kings of the turf.
No difficulty choosing the Innkeeper, his role fell to Duggie Stainton, his father ran the Beaufort, he was a natural. And again it wasn't too hard to choose the Three Shepherds - Jeff Woolacott and his two Newton pals, Les and Bert Harris - all dyed-in-the wool, rural lads.
As for Joseph, someone of stature was needed; the tallest boy in the class was the obvious choice - Dai Cope, big in body and big in mind.
As in the beautiful Reredos over the high altar in All Saints Church, the rest of the class would make up the host of peoples coming to worship the infant Jesus, in the last scene (". . . drawing all men unto me...'). They, too, would supply the choral background throughout the play.
So far, pretty straight forward. But! Now the dilemma! Who was to be the solo singer and who was to play Mary, the Infant's Mother? Two key roles, of which, the solo singer's was, undoubtedly, the plum part.
Neck and neck, two lovely girls lead the field:
Hazel Hopkins and Pat Fenwick.
Dark haired Hazel, who was a Saturday regular at Stagecoach School, had a good singing voice, a sweet personality and confidence.
Fair Pat had the far better voice but sorely lacked self assurance; a trait which manifested itself in most of the things that she did, and which, sadly, held her back in so many activities. To choose her was a gamble, but lurking in Georgia's mind was the thought of what success could do for this little girl's ego (and the play). In the end, Georgia went to the Head for advice.
The Head didn't mince words,
"It has to be Hazel, Georgia! She's stage wise and confident. I'm aware of Pat's problems, and I'm sympathetic, but what if she dries up? Think of the harm done to her - in front of an audience! It would undo all the good progress that you have made with her over the past year.
"Definitely, Hazel for the solos and Pat as Mary! Pat will surely get her chance another
day"
Georgia withdrew, not 100% happy, but, a decision had been made.
During the last week of the summer term, Georgia got things moving. She liaised with her fellow organisers and then informed the class of the choices made for the parts in the play. She noticed the disappointed look on Pat's face and felt a few reassuring words wouldn't go amiss. She called her aside before the playbreak.
"Don't be disappointed, Pat! You are going to be Mary, a very important part and maybe next year you'll be ready for the leading part. You've got a super voice. Just be patient!"
Pat shrugged her shoulders,
"That's alright, Miss. Hazel's brilliant at acting and things. She's much better than me! I'd only make a mess of it".
She smiled but Georgia could see how much she had been affected by the decision and she felt for the little girl but there was little she could do about it.
The school broke up for the summer holidays and Georgia, after her first two terms of full time teaching, felt surprisingly tired. Though young and healthy, the demands of her profession had drained her and she surrendered to the attractions of sun and surf in glorious Gower. Even so, she found time to polish up the script of her play for which she
could see now as becoming a big boost if it were a success. A flying start to her career!
On return to school in September, early preparations were soon
underway for the Christmas concert. The organising of costumes, scenery, lighting, and all that is needed for the making of the school play was set in motion and within a few weeks, rehearsals started.
Georgia's Nativity Play began to take shape.
Over the weeks, the children responded magnificently and, as the end of term approached, they were playing their parts with confidence and increasing excitement. All[ this in spite of the inevitable scuffles between the Newton Shepherds and the Norton Kings; one incident leading to a visit to Morriston Hospital for the traumatic removal (with the help of WD40) of the crown from Reggie Walters head (rammed down by Les Harris). For all that, much was achieved and Hazel, as expected, played the leading role effortlessly, blossoming in the part and relishing every moment.
The concert was to be held on the last Friday of the term and a full dress rehearsal was held on the preceding Thursday afternoon. It went smoothly (the Norton Kings being kept well away from the corralled Newton Shepherds). Hazel, however, seemed to be a little below par and complained of a "bit of a headache" and Georgia did notice that she was rather flushed, putting it down to the last minute excitement. Otherwise, stage logistics, lighting, costumes, musical backing were well up to par and Georgia began to relax. Things were looking really good for "her Friday night" (as she was beginning to look at it) and she smiled to herself - no signs of a nervous breakdown, yet!
However as Mumbles sage, Tony Cottle, has frequently said:
"There's many a slip 'twixt cup and lip!"
After school, Georgia arrived home and had barely sat down to sip a life saving cup of tea, when the 'phone rang. Her mother answered.
Georgia could overhear,
"Oh! Hello Mrs. Hopkins. How are you? WHAT! WHAT! ON My goodness! Here, have a word with Georgia!"
Georgia came to the phone,
"Hallo! Mrs Hopkins. What? Oh, NO! Only this evening!.., rash.. .the doctor....! Well, she did say earlier that she was feeling a bit poorly. I'm so very sorry for her! Please pass on our love
and wishes to get better quickly.....
"No! No! Not to worry! We'll sort it all out... somehow!"
She put the phone down, slumped back into the armchair,
"Oh! Mum ....Hazel's got chicken pox!!
"Crikey! Now what am I going to do? What a time to get it! It's ruined everything! It'll be a
flop without Hazel!"
Georgia's mother tried to console her,
"Surely there's someone who can fill the bill, Georgia? What about that other little lass you
spoke so highly of. I can't remember her name...?"
"Oh, Pat Fenwick! She has the talent alright but just falls apart. She's a lovely girl but so shy
and lacking in confidence. Oh, I just don't know, Mum' I'm so tired. This is a disaster for me.
Early night, bath, bed. Pray for help. Sleep on it. .... "I just knew things were going too well.........
She did just that, and, before jumping into bed, knelt and prayed as she had never prayed before,
"Please, dear God make this, my first school play, a success. Don't let it be a disaster! What away for me to start my career- with a terrible failure! Please help me!"
She jumped into bed and, fitfully, slept.
Next morning she broke the tragic news to the class and there were gasps all round. Pleas came from one and all, not to cancel the play (especially from the Norton boys, they had a few scores to settle). Georgia reassured them that, in true tradition, the show would go on.... somehow...
When play time came, she asked Pat to stay back,
"Pat! You probably know what I'm going to ask you. Do you think you can save the day and step into Hazel's part? I'll be backstage in the wings near you and will help you all I can. What do you think?"
Pat gasped and put her hand over her mouth,
"Oh, gosh, Miss! I know all the songs and things, Miss. But am I good enough? I'm rubbish in front of of people!"
"No Pat! Let me remind you - you have a marvellous voice! The choir can start to sing with you, if you feel you want to be carried through the part. Please! Give it a go!"
"OK Miss! But I really wish I didn't have to".
Georgia patted her on the arm,
"Bless you! This afternoon we'll run through the part. I'm sure you'll cope!"
That evening, playing to a full house, the first half of the concert went well. Children, so anxious to please equally anxious parents, gave their all. Violins were sawed. Pianos thumped. Poems monotoned and songs sung. Justly the bowing, young entertainers were rewarded with a standing ovation as the curtain came down. And, who knows what early sparks were being fanned to produce, one day, a blazing Bryn Terfel, a Callas or a Kennedy?
The lights came up and proud parents, garrulous grandmas and adoring aunts shuffled off through grating chairs to the foyer, for cartons of Joe's, or tepid tea in crumply cups and KitKats. Raised voices and laughter rent the air as tension lessened its way to relief.
Meanwhile, on stage behind the curtains, there was frantic activity preparing the lovely set for the main event of the night - The Nativity Play. Excited children were marshalled into position and last minute, hasty visits made to the toilets - some, alas, a little too late.
Pat, looking so lovely with her hair brushed up under a turban, wore a multi-coloured robe and a sash, but Georgia's heart sank as she saw the whiteness of the child's face and the trembling hands.
The bell rang in the foyer and the audience threaded its way back to coat and scarf adorned chairs. Expectantly, they settled down as the lights dimmed and the curtain rose on the softly lit inn and manger scene. Pat was standing to one side of the stage and as the music came through the speakers, so she began to sing the first carol.
"Away in a manger. No, crib .........
At first she could barely be heard.. Then as her voice grew louder she quavered, to sing off
key and out of time with the music. Georgia, in the wings, quickly reacted to this and waved to the choir behind the backdrop who joined in the singing hastily, to drown Pat's plaintive attempt. The audience, slow at first, joined in for the last two verses. And then attention was diverted completely from Pat as the lights dimmed on her and brightened on to Joseph and Mary approaching to seek room at the inn. Pat withdrew to the wings where Georgia was waiting,
"I'm sorry Miss! I'm so sorry."
She started to cry and Georgia knelt to hold the distressed child. She was overwhelmed with guilt. She quietly prayed,
"0 dear Lord! This is my fault! Please comfort and help this lovely little girl, for her sake, Lord - not mine - I am so very sorry!"
And something very strange happened.
Faintly heard was the sound of distant thunder. Lights flickered and, alarmingly, the stage and auditorium was plunged into darkness. A total blackness accompanied by more muted, distant thunder.
Fuses blown, or something, thought Georgia. Perhaps the answer to my prayer! Electrical failure meaning the cancellation of the whole thing! Anxious murmurs were beginning to be heard coming from the auditorium and, on the stage, some of the children started to panic and whimper.
Georgia protectively put her arms around the child and spoke comforting words. Again the faint
distant roll of thunder could be heard.
But it was short lived.
Flickering at first, the lights came full on again and Georgia looked up to see, off stage in the wings, a thumbs up from Mr.Webborn and a hoarse whisper, "Don't know what on earth happened there, Georgia! Must have been a power cut. Anyway, everything's fine now. One of those things - a mystery!"
Georgia turned back to Pat,
"Well, Pat. I think, you've had enough, pet. You can call it a day if you wish. Up to you! What would you like to do? 'We Three Kings...' is next. But the choir can do it on its own, if you wish.. .no one will be cross!"
Pat still looked shaken but had stopped crying and, to Georgia's surprise, spoke up quite decisively,
"I'll try, Miss. I don't feel quite so bad now"
She went back on stage and the music started. Pat started to
sing with the choir and, half way through the first line, turned to look across to the manger. Then turning back, she faced the audience to raise her head and sing confidently. That lovely voice, hidden until now, came out clearly over the choir,
.............. Bringing gifts we come from afar..."
Georgia gasped at the incredible change and waved down the contribution from the choir. The audience sat up, astonished at the quality of singing from such a young child, her voice carrying
with bell like clarity to the four corners of the hall. Then, as planned for the last few verses, the
choir joined in, soon to be joined by the audience who now began to sing with the joy of celebration in their hearts.
And so it continued, through the rest of the play.
Pat sang. The choir sang. The audience sang:
"Whilst Shepherds watched their Flocks... "Silent Night.. .HoIy Night...
"Hark the Herald Angels sing....... " "Come All Ye Faithful...."
Pat sang her heart out as did everyone there that night, (even Mr. Webborn amongst his switches and plugs) filling the auditorium with the most joyous of Christmas music. The show came to its end, and the audience stood to applaud a stage full of bowing children. Pat was pushed to the front by her fellow performers to centre stage and shyly dipped her head in response to a special clap. Then there was one more final bow from the whole group of tired but triumphant children before the final curtain drop.
Pat ran off stage to put her arms around Georgia's waist; she looked up and the look of gratitude in her face, said it all but Georgia could see something else there too - a look of new found confidence - sorely lacking before.
"Oh thank you, Miss! I couldn't have done it without you being there".
Georgia smiled and held Pat's hands,
"It wasn't me, Pat. You had the talent all along and you had some special help tonight to produce it - when you needed it most!"
And that is how the concert ended. The auditorium emptied and proud parents came backstage to pick up weary, but happy children and take them home for Christmas.
The Head came backstage to speak to Georgia and found her, sitting on her own in the corner of the dressing room. Her tired head was bowed in her hands and there were tears in her eyes.
"I'm giving you a lift home young lady. You must be exhausted!"
Once in the car and underway the Head spoke,
"A remarkable evening, Georgia. Disaster loomed and then something extraordinary happened amongst us tonight. Something that not only saved the play but, far more importantly, something that changed the course of a little girl's life for the better. Perhaps for others of us, too. Quite a wonderful Christmas present for us all - we were blessed tonight - don't you think so, Georgia?"
"Indeed I do, Mrs. Trumble-Ferris".
---
4.THE PARISH HALL
2018 should not be allowed to pass without recording that the new Parish Hall at Castle Avenue was opened on 14 December 1928, ninety years ago.
It was a fantastic achievement after ten years of austerity following the end of the First World War and was driven by the then Vicar and Archdeacon of Gower the Venerable Harold Williams. Despite the outbreak of war in 1914 Harold Williams was determined to push ahead with the Church Building extension. The Foundation Stone was laid in June 1915 and the Church completed before the end of the year as far as the clearly defined join mark which is still visible at the top of the Drangway. The west end was temporarily walled up to allow the unfinished Church to be consecrated on 7 September 1916.
The Church was not completed until 1937, as the Parish Hall was given priority because of the depressed state of the economy, and the need to give the secular village a focal point, but it was built and paid for, at some personal cost, by the parishioners. The Ninth Duke of Beaufort had granted the Parish a Lease on favourable terms in April 1924, and amongst the Parish worthies of the time had received financial support from Lord Glantawe of the Grange. It was for that reason his daughter Lady Bleddisloe performed the opening ceremony.
The Hall was used by the Parish for Easter Vestries, Parish Breakfasts and Suppers, Christmas Fayres, for plays by the 'All Saints Players' and all of the parish social events as there were no other facilities near the Church. Over the years it was also used by many outside organisations, including as two overspill classrooms for the Church School during the post Second World War 'bulge' in the nineteen fifties, and for the School and Sunday School Concerts and Christmas Productions.
By 1978 the maintenance of the Hall had become a drain on the Parish and when the Trustees of the Ostreme Community Association approached the Parish with proposals to alter and extend the building for use as a Community Centre, the then Vicar, Canon JEC ('Eddie') Hughes was delighted to lend his support. Although the project was led by Ostreme with its access to Grants, the venture was very much a joint one because of the concessionary terms given by the Church for the 35 year Lease granted to Ostreme.
The building now known as the Ostreme Centre has thus given fifty years of life to the Village as a Parish Hall, and forty as a very well used Community Centre, something to be celebrated.
Although the arrangements with Ostreme have been in limbo
since the Lease expired the future use of the building as a Community Centre has now been secured as the Parish has accepted an offer from the Mumbles Community Council to take a Lease themselves, subject to and with the benefit of its occupation by Ostreme. As the Community Council has the power to provide community centres, and Ostreme exists for that purpose the Parochial Church Council at its November Meeting was pleased to endorse these new arrangements.
All that we as a Parish can do now is to wish the new arrangement every success and look forward to celebrating a Centenary in ten years' time.
Stuart Batcup
---
5.The Bells of Santiaqo - The Musical
The Bells of Santiago musical, was researched, devised and lyrics written by Malcolm Phillips, between 1971 and 1973. The music was arranged by Terry Minty.
Malcolm had been researching the history of Oystermouth and discussed the idea of a Pageant of Mumbles History with Mr Maurice Edwards, a Manager at BP Baglan Bay where Malcolm worked,. Maurice thought it was a good idea, and if Malcolm could get a team together, he, Maurice would support him.
It was during his history research that Malcolm discussed the idea with a local lady, She said then you must include The Bells. "What Bells" he asked. She explained that there were article in the Cambrian News. So Malcolm set about researching the news articles. He came across the stories of the Bells of Santiago and the Oystermouth connection, in The Cambrian News and The Times. A peal of Bells were shipped on Copper Barques sailing from Swansea to Valparaiso in Chile, and then overland to Santiago where they were hung in the Church de la Campagna, which would hold about 3,000 people.. During a Festival of Light, on December 8th 1863, the church caught fire and 2,500 people, mostly women and children died in the fire. It remains the World's worst fire tragedy.
Malcolm is enthusiastic, persuasive, and charismatic, He persuaded friends and neighbours to join with him creating an enthusiastic strong team.
Malcolm's narrative, his Lyrics and Terry Minty's music arrangements developed the story of the Bells into an extravaganza musical. His plan was to record the musical in sound and then to play it back as a show, in the grounds of Oystermouth Castle with the cast of hundreds miming as there was not possible to perform it live The recordings took place in All Saints Church and peoples homes. The artists included the Narrator Tim Perkins, the combined choirs of the Mumbles WI, The Brian Morris Singers and the Aeolian Singers.
Between 1971 and 1973 the team raised enough funds to put on a nine day Pageant of The History of Oystermouth, The Pageant included an amazing 47 events. The main show was The Bells of Santiago, Hundreds of people were in the cast of all ages.
The stage presentation in front of Oystermouth Castle, was devised by Graham 011iffe. As there were no 'stage wings' to bring the cast on and off the stage, Graham arranged five stage areas in front of the Castle, and to stage the show at night. The cast moved onto and off the stages in the dark, some, like the Nuns moved around the back of the Castle in the dark to appear on the Swansea side of the Castle.
To stage the musical The bells of Santiago involved a great many people behind the scenes. For example, Cables were laid in the grounds for lighting the five stages and for the loudspeakers. Hundreds of Costumes were made by a team of ladies and stored in various houses, Props were made, such as papier-mâché bells and the cart to carry them. People operated the sound system and controlled the lights. Also the gates had to be manned.
The climax of the Bells of Santiago musical was the portrayal of the fire. Using smoke and red flares in the Castle Chapel, complete with the sound of burning crackling timbers, it was an amazing, breathtaking experience.
The Bells of Santiago musical ran for over 10 years attracting audiences of up to 3000 for a performance. People even arranged their summer holidays to attend the show, or to take part in its presentation. it was wonderful to be even a small part of the show. A great Mumbles together event.
Nell Norman
---
November 2018 Magazine
Content:
1. Remembrance 1914-1918 by Kate Jones
2. "Goodbye!" by Grafton Maggs
3. Thankyou from Barbara Richards
1. REMEMBRANCE 1914-1918
This year Remembrance Sunday falls on the eleventh day of the month. At 11a.m. it will be exactly 100 years since the Armistice of 1918. 11 o'clock on the eleventh day of the eleventh month was the end of the Great War, 1914— 1918. Peace was declared; victorious nations celebrated. My own grandmother, married to a soldier and expecting their first child, skipped for joy along her suburban high street.
The Great War involved countries all over the world and millions of men fought and died. 'It will be Hell to be in it; and Hell to be out of if, wrote the poet Rupert Brooke when war was declared in August 1914. By the end of that year hundreds of thousands of British men had volunteered. In Mumbles, 250 had enlisted by Christmas. The following year, on 24 June 1915, the Mumbles Press published the names of over 400 'Mumbles men who have obeyed the call to arms.' In their patriotic enthusiasm some lads found ways to get around the age limits of 18 to 41. Thomas Davies [once of William Street] was only seventeen when he was killed in action in January 1915. He had been in France less than a month.
The Mumbles Roll of Honour runs from Ace to Young. The oldest was 61years old; the youngest was 17, others barely 18. They were sons, fathers, husbands, fiancés, uncles, cousins and brothers; their families the recipients of the dreaded telegrams. They fought in the trenches of the Western Front - at Ypres, on the Somme, in the stinking mud of Passchendaele, at Loos and Cambrai. They fought in Egypt, Gallipoli, Mesopotamia, Palestine, Salonika and South Africa. They fought in the air and at sea, dying when their flimsy flying machines were shot down; killed when their vessels were mined or torpedoed.
A long way from home: The first Mumbles casualty was Joseph Hughes of Woodville Road, killed in action in the North Sea on 15 October 1914. Two men, Francis Richards of Newton and John Williams of Mumbles were lost [off the Fame Islands and the Dardenelles respectively] on 10 November 1918, just a few hours before hostilities ended. Three Mumbles men [Samuel Gammon, George Walters and John Thomas] fell on the same day, 10 July 1916, at the Battle of the Somme. Six men died at Passchendaele in November 1917. Brothers Alfred and Ernest Jenkins of Southend were killed within four months of each other in 1917. Thomas Michael, of Southend, survivor of two Mumbles lifeboat disasters, serving as a coast-watcher in north-east England, had six sons, four serving in the forces; two of whom [Ernest and Arthur] died on active service.
Some died of wounds or disease in casualty clearing stations, field hospitals or back home in Britain. Towards the end of the war several men succumbed to influenza ['Spanish Flu'] and others to injuries after the war was over. A few are buried in Oystermouth cemetery but most are laid to rest a long way from the home they called Mumbles.
'At the going down of the su
n . . .'is the well-known line from
Laurence Binyon's poem, 'For the Fallen', published in the Times newspaper in September 1914. It was written in honour of the British Expeditionary Force casualties at the Bathes of Mons and The Marne in the opening weeks of the war. By 1916 shrines to those serving were being erected in villages, towns and cities across Britain. These simple wooden triptychs, with a central crucifix and a shelf below for flowers, recorded the names of all who had gone from the locality to 'fight for King and Country'. As the fighting continued, mass bereavement and the fact that many of the men who died had no grave meant the shrines came to commemorate the fallen - a focus for grief and loss and also pride.
The Mumbles war shrine
: During the war a black-painted, wooden shrine was erected in Parade Gardens [now Southend Gardens] in
Mumbles. At its official unveiling on 14 September 1918, four hundred villagers gathered to watch the church choir process from All Saints' Church to the gardens. There was a firing party and the Last Post was sounded. Across the road, at the bottom of Hall Bank, photographs of men serving in the forces were displayed in the window of Nana Todd's greengrocery and sweet shop - their faces a poignant reminder of the village's sacrifice.
After the Armistice came the need for Remembrance. At 11a.m. on the first anniversary, 11 November 1919, the nation observed a minute's silence. A year later the tradition of wearing poppies began - inspired by John McCrae's 1915 poem 'In Flanders Fields'. On 1 August 1920 a magnificent rood screen carved from Welsh oak was unveiled in All Saints' Church. It was a memorial to ninety-eight men of the parish, inscribed alphabetically on the bottom panels with no distinction made between rank or denomination. Two months later, a brass plaque was erected in Mumbles Methodist church with the names of thirteen church members who had given their lives.
The villagers of Blackpill made their own memorial to twelve local men. At the unveiling in May 1922 Rev. Canon Williams, vicar of Oystermouth, described it as 'simple but grand'. A beautifully coloured Roll of Service, 1914-1918, was hung in Mumbles Baptist church. In Norton, a newly completed terrace of houses was re-named 'Mons Terrace' in memory of several of its wartime tenants who had fought at the Battle of Mons. Along with rolls of honour in schools and workplaces, these were permanent memorials to a war idealistically meant to be the 'war to end all wars'.
The last Mumbles memorial to the Great War was erected on the site of the wooden shrine in Southend Gardens. It was unveiled on 30 July 1939 by Mrs Ann Hixson of Newton, whose youngest son David had been killed in 1918. The monument was rededicated on 11 November 2006 - with the names of those killed in both wars inscribed on additional side plinths. In 2017 fifteen names were added to the All Saints' rood screen. The brass plaque in the Methodist church has been renewed and the monument at Clyne restored in 2018. The men of Mumbles are not forgotten.
One hundred years on: Although thousands of British men never returned, thousands more did. They came home to a country that had changed in their absence, sometimes to families who could not possibly comprehend their experiences. Often they suffered from life-changing injuries and psychological scars. Their names may not be on any war memorial, but we remember them with pride as well.
Kate Jones, November 2018
Acknowledgements: A History of Mumbles website, edited by John and Carol Powell; The Mumbles Press, 1914 & 1915; World War I records on Ancestry.co.uk. Photographs: Soldiers leaving Mumbles, 1914, M.A. Clare; The Mumbles Shrine in Parade Gardens, 14 September 1918, M.A. Clare; The Great War rood screen memorial in All Saints' Church, Tony Roberts; Mrs Ann Hixson unveiling the Great War memorial, July 1939, OHA archive; the restored memorial at Clyne Chapel in 2018, John Powell; Bill Barrington and the war memorial in 2006, John Powell.
---
2. Goodbye!" - by Grafton Maqqs
I've never been able to handle goodbyes with ease, more often than not finding that my emotions swell up, take control and render me into a choked up mute. I am sure that I'm not alone in this because sadly, for all of us, that's what life is all about; somewhere along the line there is always going to be a goodbye.
And, few goodbyes were more poignant than those which took place during the war years, of which little is ever mentioned. Just about every family in wartime Britain was affected by one or more of its members being called away to serve his country and perhaps it was because of this - the resulting goodbye being so commonplace - that it was given scant regard. This is understandable because, after all, there was the actual combat of war taking place, with daily events on the battlefield overshadowing all else.
Yet, commonplace though it was, the wartime 'call-up' was a family drama of some substance, each one unique and having the most profound effect upon those involved. It was a drama that started off with that brown envelope, bearing the OHMS letters, dropping through the letter box on to the doormat. It wasn't unexpected because a few weeks before, the recipient would have undergone the medical examination necessary for medical grading. For those living in Mumbles it had meant a trip to the YMCA Swansea for an assessment performed by a team of civilian doctors [amongst them being Mumbles medics Drs. Kyle and Fred Jones]. Exemption to call up for military service was granted in various categories but for the great majority there was no dispensation and many older, married personnel with families were called to the colours.
The brown envelope also contained a third class travel warrant with details as to the specific train to be caught; all connections and timings being listed. This meant that the conscript was expected to arrive at his destination punctually - on the dot - and, printed in heavy font, was the punitive action that would be taken if the conscript failed to comply. This was not a hollow threat and though falling short of 'being shot at dawn', there were severe penalties to be paid by the unwilling conscript, if he disobeyed. Failure to respond was followed by a visit to the home address within 48 hours, by the RCMP [Royal Corps of Military Police] - the 'Redcaps'— who, with a perverted delight, would come to hammer on the door armed with all necessary documentation to authorise arrest. These people revelled in their temporary wartime authority and any sympathy that once might have existed in their beefy frames, had long since been buffed and blancoed out.
And there was absolutely nothing that anyone could do about it!
The reaction to a call up for service must surely have been similar in every home in the country, even though expected - one of shock and dismay. The family was losing a son, daughter or father - snatched away, with every chance of being directly involved in the waging of war. Suddenly, an enormous void was about to be created, coupled with which would be the constant nagging worry for his, or her, welfare. It was a heartrending situation with the hardest hit being the family saying good bye to a father. Overnight the mother was left to run the family on her own; bad enough in peace time but infinitely worse in time of war.
In the case of the younger conscript, it was all so different; there was, of course, the heartache of parents which would persist indefinitely; but for the lad himself, after the initial grief of parting, there was a feeling of pride and an expectancy of adventure; the gung-ho spirit of the time surging through his veins.
There was, of course, apprehension which was understandable, after all the average eighteen year old in those days was sorely lacking in worldly experience. Here in Mumbles, for example,
most of the youth, had spent their entire lives in a domain encompassed by Port Eynon, Porthcawl and Penclawdd - leading a simple, happy, parochial life. Now, suddenly, they were being thrust into a strange new world of far reaching horizons. A terrifying prospect! But, for all that apprehension, there was pride and an eagerness to serve.
In my own case, that brown envelope arrived in 1944. Barely a week's notice was granted and, as expected, my mother folded up, trembling with grief. My father said little, but I knew that he too was pretty upset - after all
he was a WWI veteran. I smile
now, as I look back to the night prior to my departure when my father gave me some well intended advice. At times he could be remarkably shy and this was one of them. Hesitantly he asked me if I knew all about babies and things! Then, red faced, he stammered through the things that birds and bees got up to and apologised for that time when he had misled me about those two dogs on Langland beach of whom he had said were playing leapfrog. Eventually he reached the
crux of the matter - certain dangers, if I should stray!
All this had come a bit late but was none the less well meant and I can see now in this act, how very much he cared for me. Mind you, there was a bonus because I did from that moment on acquire a new respect for birds and bees whom I had thought until then, spent all their time just chirping and buzzing [respectively]. Regarding dogs, I kept an open mind.
Early on the following morning, it was time for me to leave. My mother behaved as expected, hugged me like a bear and wept. Dad held it all together with his stoicism. He gave me a firm handshake, a special look and a loving birds and bees wink.
It was time to go; I prised my mother off,
"Goodbye, Mam!"
I slipped away. Stroked our lovely old black cat sitting sedately on the window sill and set off to catch the Mumbles Train en route to High Street Station; my destination being a place I had never heard of before - Ranby Camp, Retford, Notts! The journey was a scheduled ten hour trip with three changes. This I did manage to complete on war packed trains and, looking back now, I wonder how on earth I accomplished it because prior to all this, I had never been out of Swansea on my own before! If I attempted it now, I should finish up in Vladivostock.
As the train pulled away from High Street, through the lunar landscape of Llansamlet, I felt a wave of sadness overwhelm me- first time ever away from Mum, Dad and brother, Cohn!
I
whispered a last farewell to Swansea I was on my way to becoming an infantry soldier.I did arrive at Retford Station on time and I wasn't alone; there were about a hundred other lanky, pallid, multifarious youths milling about on the forecourt. Trucks were waiting and we were ordered aboard by a beribboned corporal possessed of a permanent scowl, a voice like a chainsaw, a complexion like a road map and an extensive vocabulary of immeasurable profanity.
After a ten minute journey the small convoy pulled off the road into Ranby Camp. Sentries stood on guard, one each side of the gate and, as the truck passed through, I was conscious of it being a symbolic moment - crossing a line - I was leaving civilian life and becoming a soldier in the British Army. From now on, for as long as the War Office chose, I was completely under their control for 24 hours of the day.
So began the first six weeks of army life; a period of sudden traumatic change with a transition of unimaginable dimension from the life I had once lead. There was never to be anything else like it in my entire existence - that first six weeks in the British Army. And it started almost immediately after arrival.
The intake was divided into platoons of forty which were then allocated to barrack huts. Here we met the three platoon NCOs whose task it was to transform us, during the ensuing six weeks, from raw civilians into basically trained soldiers. They were cast in the same mould as had been the NCO at Retford Station, unapproachable, surly and seemingly endowed with unlimited authority. Within minutes we were made to understand clearly that we were nothing and that they were now totally in charge of our lives.
A roll call was taken and the two-tiered beds allocated. Then the first shock! The platoon was taken to a hut where two pieces of hessian sacking were handed out to each man with instructions to stuff them with straw, a mound of which lie on the floor. These were now our mattresses and pillows and along with two rough grey blankets made up the bedding. No sheets!
Back to the hut and beds were made up.
Then came a rude lesson, the stark realisation of what army life was like! To be a common or garden soldier meant the total loss of all privacy and dignity. That night, I undressed with 40 others about me doing the same thing and clambered up to get between the rough blankets to rest my head on the rustling straw stuffed pillow. I had to share this room with forty other men about me.
It was bad enough sharing a bedroom with brother, Cohn - but now with forty others!! There was subdued conversation until, following a distant bugle call, the lights suddenly went out; switched off at some central point in the camp. Gradually, a silence settled upon the barrack room which was never to become total; whisperings stopped but all though the night there were coughs, moans, snores, mutterings - and worse. Though tired out, it took ages to fall asleep between those coarse blankets, resting on such lumpy itchy bedding and with the slightest move of the man below man below me producing creaks in the wooden framework of the bunk. Such a long, long way from the smooth white sheets and the feather bed of home!
The following day started at 0600hrs with reveille being blown by a camp bugler and relayed to all huts through speakers. Lights came on followed by the door being thrown open with a crash and the entry of a L/Corporal who bellowed out, "Any of you b*#!$!*s for sick parade?"
The day proper started a few minutes later with the door again being flung open with a resounding clash. The platoon corporal entered to shout his head off at everyone to get moving and get to the ablutions. Here, crammed together, we washed and shaved in turns at rows of metal basins, in tepid water. Eventually we were marched, after a fashion, to the mess hall for breakfast - porridge, dried egg, toast and margarine - it could have been worse but not a lot.
During the course of the day, uniforms and items of equipment were issued at the QM stores, followed by a visit to the armourer for the issue of rifles and bayonets. This was a moment of truth - we were not in the Boy Scouts!
And so it all began, the six weeks in which the new recruits were broken in. Uniforms were fitted correctly, webbing equipment was assembled and then came the introduction to rifle drill and marching on the barrack square. When off duty, recruits blancoed equipment and polished brasses and boots.
There were several visits to the rifle ranges where the first noise of war was heard, bringing with it the realisation as to what this was really all about - what they were training us to do.
Surprisingly quickly, the new recruits began to lose their rawness and adapt to army life. To me, a big plus was to find myself with two or three close friends and thirty odd others who were good comrades. Already, my spirits were rising and thoughts of home becoming less frequent.
I was beginning to accept living in a world devoid of all privacy. I got used to dressing and undressing, showering, eating and drinking, even using doorless latrines, with people about me. Similarly, I got used to being shouted at, snarled at and constantly disciplined. I found the three substantial meals a day becoming more palatable as the course progressed and the comfort of my bed at the end of a hard day seemingly surpassing that of the bed I had left in Mumbles.
The effect of the shared abuse, discipline and hardship was soon evident. Forty independent individuals began to coalesce into a cohesive unit. They were becoming a platoon and the six weeks flew. By the end of it, the platoon could march and drill crisply on the barrack square, reacting instantly to a word of command. They looked like smart soldiers should look - uniforms were well fitting and ironed with razor like creases. Dull grey black army boots had been transformed through repeated polishing, and 'boning', into footware with a finish like black patent leather. Similarly the dull brasses on all equipment now shone like burnished gold and a new vocabulary of official army language, with its characteristic colourful slang, had crept into everyday speech. The principles of basic fieldcraft and been learned and the kick of a Lee Enfield rifle into the shoulder was familiar and not feared.
The regular meals, the strenuous physical programme, the daily showers, the fresh air, the rigid hours for sleep and leisure time had together brought about a dramatic change in appearance. The young soldier had filled out, he was clear eyed, there was colour in his cheeks and the new deportment was a manifestation of his inner pride. And a great big plus was, that no matter what part of the UK these boys had come from, strong friendships had been forged across all geographic boundaries.
The six week course terminated with a passing-out parade, within 24 hours of which the platoon was split up, its individual members being posted to different regiments all over the country, for the next stages of training.
There was the last night for a drink in the NAAFI with friends and the final maudlin sing song back in the barrack room where the NCOs showed a different side of their characters by joining in and, for a change, paying glowing tributes to their young squad who had undergone a complete metamorphosis in their hands
---
.
3. Thank You
I would like to express my heartfelt thanks to everyone who has bought my cards and calendars. Another huge thank you to Alan Giles for all the hours he has spent printing and assembling the calendars.
My original goal was to give the church £100 at Christmas as a thank you for welcoming me into this community. I was christened in All Saints', Skewen, and attended for many years until it was sadly demolished. I'm delighted to be back in All Saints again.
I spent six weeks with my Mother in Singleton hospital before she died. We enjoyed the view from the ninth floor over the bay and Mumbles head. We reminisced about the holidays spent in the Mumbles - the Mumbles train, Fortes and a caravan in Plunch Lane with gas lights and the tap in the far end of the field [that's a young me in the photograph].
My Mother made me promise to start a new life for myself. I can only say God brought me here. The photos on the cards are all taken from my home in West Cross.
I'm particularly delighted to be raising money to clean the Rood screen as the WW1 memorial. My grandfather was in the first battalion formed of the Welsh Guards. He was badly injured at Ypres and he begged the surgeon not to amputate both his arms and legs as they had
planned to do.
He was awarded the Military Medal but always said it was not for him but for those who didn't come home. They paid the ultimate sacrifice.
He came home to Swansea and met and married my grandmother who was in service here in the Mumbles.
I was lucky enough to live with my grandfather. He was my hero. I remember my Mother pinning a poppy to his coat before he and my grandmother set off to the Brangwyn Hall for the Remembrance Day service. Sadly he died of a heart attack on the bus before it reached Swansea. He was just sixty three.
November 11th has an extra poignancy for me. I'm sure he would be proud of me raising all this money but it would not have happened without your support.
Thank you.
Barbara Richards
---
October 2018 Magazine
1. We did it! The All Saints Restoration Project
2. Undertaker Paul Murray Retires
3. Farewell to shopkeeper - Ian Boyd!
4. 'I Shall Never Forget the Time When'
5. Morfydd Owen Centenary
---
1.
We Did It!
The All Saints' Restoration Project
By the end of this month the ambitious campaign and project to restore our ancient and modern Parish Church should be completed.
The last two outstanding tasks will be to paint the south aisle and clean the magnificent rood screen. This should be completed in time for the Service of Thanksgiving for the Restoration at our Patronal Festival Eucharist at 10.30am on Sunday 28th October.
This special article celebrates our remarkable achievement, from its shaky start to successful conclusion!
The Early Years
In 2004 the Church building was surveyed by local architect, Dewi Evans, as part of a programme of five yearly inspections of Churches across the diocese.
The report highlighted what many of us had feared, that the building was in urgent need of major repair. The nave, chancel and tower roofs were leaking badly. Many of the slates had slipped and the nails holding them in place had virtually perished. There was significant structural movement in the north wall around the Lifeboat window. The porch was in a very dilapidated state, with chunks of the Bath coping stones falling onto the ground below. The electrical and lighting systems were at the point of being condemned. There was water ingress around the Lady Chapel arch and in the valley between the nave and south aisle and the central heating system was on its last legs!.
Things were so bad that we came perilously close to having to shut the building on health and safety grounds. Urgent remedial work during 2005 bought us some extra time. We patched up the roof as best we could. Loose coping stones were removed from the porch and we did some upgrading to the electrical system. Though this made the building safe for a while it was very clear that the Church needed a major restoration.
Making Plans
In response to this very real challenge the Parochial Church Council [FCC] appointed Dewi Evans as the architect for a possible major restoration project.
Dewi Evans is a much respected and award winning local heritage architect. He was asked, in particular, to design a light and welcoming new porch [including much needed toilet and kitchen facilities] and to draw up a schedule of work for the complete restoration of the building.
The architect presented his plans for the new porch to the Parochial Church Council in 2006. As well as detailed drawings his company provided a computer generated image [below] of what the porch would look like. It included a pyramidal roof, clerestory windows and incorporated the original and medieval features of the original Church entrance.
The PCC unanimously accepted the design and the proposed schedule of restoration work, and the decision was made to apply for a faculty from the Diocesan Advisory Committee [DAC] for approval of the project.
Because we proposed to rebuild the porch the DAC asked us to make a separate planning application to Swansea City Council.
It was during this planning process that we encountered a major setback. A few heritage groups objected to our proposal to demolish the dilapidated Victorian stair
turret. The application was rejected by the city and, with the backing of our architect, we went to appeal. This process took three years to be resolved and was eventually unsuccessful and costly to us.
It was only in 2012 that a new design, retaining the old stairwell, was accepted by the PCC and faculty permission was eventually obtained. The estimated cost of the restoration work was £750,000
The Campaign
It was very obvious to us, from the beginning, that raising in
excess of three quarters of a million pounds to restore All Saints' would be a huge undertaking for the Church community.
However, the FCC had set aside £150,000 from reserves for the project. Another boost came through a successful 'Landfill' grant application, which brought in just over £75,000. We also were able to cash in an old 'Chancel Repair Fund', which brought the total at our disposal to £235,000. This gave us a third of what we actually needed and would help to kick-start the appeal.
The FCC also realised that raising such a sum of money would need professional help. That help came in the appointment of two campaign managers, Dean Michael Bunker and Nigel Morgan [photos top right].
Michael had raised in excess of 11 million pounds for the restoration of Peterborough Cathedral, during his time as Dean there. Nigel's background was in finance. After initial meetings with the Vicar they came to make a campaign plan presentation to the FCC in the early summer of 2012.
They suggested that the money would be raised during a 'Campaign phase' and by a number of different teams working together. We would appeal to Church members for help. We would also ask people in the wider community for support. Nigel would oversee applications to grant making bodies and trusts. Their presentation was enthusiastically received by the FCC and it was decided that an official 'Appeal Launch' would be held towards the end of 2012. The campaign would be divided into three phases; planning, asking and delivery. Lord Oystermouth agreed to be Patron of the Appeal; a Campaign Executive was formed, chaired by Tyrone O'Sullivan [both are pictured below]. The fundraising teams were led by Alan Evans [Church members], Les Harris [Church leaders], John Isaac [community], Nigel Morgan would oversee trusts and grant applications, Roger Beynon would be project manager and Murray Donald was appointed treasurer. Some of the leaders recruited their own team of helpers.
Dean Michael's campaign plan divided the asking phase into five areas, each given a target to achieve. He also suggested raising money from individual donations through a three year pledge. Each team was tasked with raising the following amounts.
Restoration Campaign Flan
| | |
| --- | --- |
| Community: | £70,000 |
| Leaders: | £40,000 |
| Members: | £60,000 |
| Major Gifts: | £150,000 |
| Trusts: | £430,000 |
| Total: | £750,000 |
With the planning phase completed it was decided to officially launch our major appeal. A large number of parishioners, friends and invited guests attended a launch reception and presentation on Thursday 29th November 2012 at All Saints'. The ambitious plan to restore our ancient and modern Church had at last begun!
In the early part of 2013 money began to flow into Nigel Morgan's Appeal Office in the Upper Churchrooms. Over two thirds of our regular worshippers signed up for the pledge scheme, eventually raising not just £60,000 but over £170,000. The clergy and FCC also contributed over £5,000 more than their £40,000 target.
All the individual donations were treated with the utmost confidence. Only Nigel Morgan [Campaign Manager] knew what each person had given or pledged. The anonymous gifts ranged from £10 from a university student to a cheque for £10,000 brought into the Appeal Office by a generous Church member.
The community team went out to local businesses and their hard work brought in just over half of the £70,000 they were asked to find. The biggest disappointment was that the rich and famous of Mumbles didn't contribute a penny!
Much was expected of our Campaign Managers, who were busily applying for grants to make up the shortfall. This was painstaking work, involving the completion of complicated application forms and thousands of emails and phone calls. While Nigel Morgan did this in the office Dean Michael met with several trustees of major grant making bodies to sell our appeal to them.
Their hard work eventually paid off. We were successful in obtaining major grants from the Heritage Lottery Fund [125,000], Cadw [47,250] and the Garfield Weston Foundation [25,000].
Mumbles Community Council gave grant Of £8,000 for the new upholstered Chairs and a further £3,000 for the Church clock. Other grants came in from the Church in Wales, Gower Society, All churches Trust, Welsh Church Act Trust, Kenneth Hufton Charity, Rank Foundation, Freemasons, Gower Society, Diocese of Swansea & Brecon, Peter Stormonth Darling Trust and the James Pantyfedwen Foundation.
There were weekly meeting between the Vicar and Nigel, monthly meetings of the Campaign Executive and regular meetings of the various teams. There was a lot of coming and going within the office and Church.
Though we had initially hoped to raise a million pounds, which would have given us a pot of over £200,000 for future maintenance, we realised that raising such a vast amount of money during a global economic downturn would be almost impossible. Many of the grant making bodies would only help to fund the work that we really needed to do. But we did raise over £800,000 which enabled us to do what we set out to do.
Church members and grant making bodies had made a very generous response to our appeal for help - which we are so grateful for.
The Delivery Phase - The Restoration Work
The first phase of the actual restoration project was to stabilise the north wall around the Mumbles Lifeboat memorial window. The outer and inner skins of the wall had been moving apart and structural engineers began the painstaking task of drilling into the wall and securing it with dozens of pins. Scaffolding went up [which helped to give an impetus to our fundraising campaign] and the building was out of bounds, except for the daily services [when the contractors went off for their morning coffee break]. The phase was completed within four weeks at a cost of just over £50,000. A new system of wall pinning meant that the stabilisers were not visible at all. The restoration of the Church had begun.
The second phase was by far the major part of the project and involved the re-roofing of the nave and tower, repairs to some of the masonry and the renewal of all the rainwater goods. [the above photograph shows contractor Jason Irvine and Project Manager, Roger Beynon, inspecting the work]. The re-roofing was initially planned to begin in October 2014 but was delayed until April 2015. This was because we had not received a response from our grant application to Cadw. They had indicated that they would only fund a project that had not yet started. So the contractors moved in after Easter, in April 2015. The Church was clad with scaffolding and closed, except for Sunday services and for baptisms, weddings and funerals. Our faithful midweek worshippers decamped to the 'Upper Room', which had been turned into a temporary Chapel.
The work was eventually completed by October 2015 costing in excess of E300,000. The Church was
watertight for the first time in many years!
Work on Phase Three began immediately after we had finished the roof in October 2015. The contractors began the painstaking task of demolishing the old Victorian porch and storing a number of its original features - the door surround, medieval stone heads and the nineteenth century stained glass window. The work also required an archaeological watching brief.
All this was done at one of the busiest times of the Church's year. The temporary main entrance into the building was the north door [by the pulpit] and worshippersand visitors had to negotiate their way around the cordoned off building site. We had to cope with the Remembrance Sunday Service and the hugely popular Advent, Christmas and Schools services, ushering up to five hundred worshippers at a time through the much narrower side door.
Atrocious weather at the beginning of 2016 delayed the work, so did the unearthing of human remains [including some intact skeletons], thought to date from the fifteenth century to the early Victorian era. Though we had budgeted for an archaeological watch the find proved very costly to the project.
The porch was eventually completed by September 2016, just in time for the Music Festival, and at a cost of over a quarter of a million pounds. It now houses toilet and kitchen facilities and is a much more light and welcoming entrance to the Church.
The next phase of the restoration saw the installation of a new state of the art lighting system. The work began in late September 2016 and took eight weeks to complete. It was carried out by Church and Cathedral lighting specialists, Smith's of Gloucester at a cost of £80,000. The system gave us twenty different scene settings for services and concerts and can be controlled by an 'i-pad'.
It was at this time that we had two further setbacks. The central heating boiler died on us and we had to find a further £18,000 to replace it. The village clock in the tower also decided to stop permanently and would cost over £10,000 to repair. Thanks to a very generous response to a special gift day and a grant towards the clock from Mumbles Community Council we were able to install a much more energy efficient boiler and the old clock was sent off to Smith's of Derby to be restored. It is now back telling the time, as it has done for over a hundred and forty years.
With just enough money left we have been able to replace the leaking coping stones above the Lady Chapel arch and renew some of the clerestory windows on the north side of the nave. Contractors are painting the south aisle this month and the magnificent rood screen should be professional cleaned and restored in time for Remembrance Sunday.
So, with the appeal wound up and with a job well done, we can
reflect on what has been quite a journey for us. We have completed a once in a generation major restoration of our iconic Church building. It is now watertight, flexible for an even greater variety of community use and remains a wonderful place to gather for Christian worship.
From everyone involved in the appeal; the PCC, Appeal executive, campaign managers, architect, project manager and so many others, we say a huge thank you to all who have shared our vision to restore All Saints' and helped to make it all possible. Diolch o galon - heartfelt thanks!
---
2.
Undertaker Paul Murray Retires
Paul Murray hung up his morning suit and top hat at the end of last month as he retired after over thirty years of service to the community as undertaker at the village's only Funeral Directors, Pressdee's of Mumbles. Paul is known to countless local families and has been a good friend to us at All Saints' through the years. He has been a familiar figure, walking through the village in front of the funeral cortege and ministering to people in their time of grief. He has brought professionalism, compassion, dignity and care to thousands of bereaved families for well over three decades.
Paul has been one of the busiest and most respected undertakers in the Swansea area. His many years of experience have helped grieving relatives to arrange dignified and appropriate funerals for their loved ones. He has the reputation for going more than the extra mile, above and beyond his job description and has been truly selfless in his care of the bereaved. Many people in the Mumbles area are so very grateful for his help at their time of need.
As a committed churchgoer himself, Paul has been especially helpful to us at All Saints'. He recently oversaw the re-burial of the medieval remains unearthed during the excavation and construction of the new porch. He did this at no cost to the Church, even getting his sons, James and Edward, to dig the grave free of charge! As a long serving member of the Governing Body of the Church in Wales he has campaigned for the Church to have a more open and pragmatic response to funerals and the bereaved.
He hopes, in his retirement, to devote more time to his role at Ty Olwen Hospice, work which he shares with his wife, Helen. He plans to be more involved at St Mary's, Swansea, where he and the family are regular worshippers. He is also looking forward to visits to Mumbles and to joining us occasionally for the Wednesday morning Holy Eucharist at All Saints.
I, in particular, will miss Paul. It has been a privilege to work with him through the years and to come to know him as a good and trusted friend. I too, like so many others, have cause to be grateful for his support at times of personal bereavement.
I also look forward to working with his son, James, who will take over the helm at Pressdee's. He is already well established in the role as 'a chip off the old block!'.
Every blessing to you Paul, may you have a long, fruitful and happy retirement.
Vicar
---
3. Farewell to shopkeeper - Ian Boyd!
Ian Boyd has decided to call it a day! After a long, long time in the retail newspaper I tobacconist I confectionery I grocery business, Ian has felt that it is time to hand over the reins and take a well earned retirement, whilst young enough to enjoy his senior years.
Ian's business was the classical village corner shop but defied all contemporary trends in that not only did it survive the opposition of the cut price giants, it thrived! The success of his business was, without any doubt, largely due to the type of man that Ian is. In all the years that I patronised his shop, on a daily basis, I never saw him in an ugly mood. Most customers, like myself, would always loiter for a chat, the latest gossip, a joke and invariably a laugh. Ever ready to do a favour - cash a cheque, help a charity, display free any village notices in his window [and leave them there for a decade or two], he was kindness itself.
How often the shop would be left unmanned, as he "nipped over to Hanover flats because old Mrs. Jones was out of sugar". How often have I looked down from my bedroom window at 7am on a freezing, wet winter's morning to see Ian darting out of his car to deliver a few newspapers in Trinity Close - the newspaper lad having failed to materialise that morning.
Then there was the time, long ago, when my late wife was very ill and I couldn't leave the house. Miraculously all that I needed in groceries, and the like, would be waiting on the doorstep every morning. Ian Boyd's doing.
He was the dedicated professional, his casual attitude betrayed by his consummate professionalism. Years of experience in the retail trade had made him what he was - a fine businessman but one who had a heart of gold with concern for the welfare of those who dealt with him [a rare, rare combination in this day and age!].
In a 'corner shop' which buzzed with activity, he never seemed to run out of the necessities and he never seemed to have a backlog of goods. He always remembered to keep that 'wholemeal loaf' or that 'Telegraph' for his regular customers.
I could go, on and on, as could those many hundreds of customers who have dealt with Ian over the decades. It was a joy to go into his shop every day for the sheer pleasure of having his company for a few minutes.
Thank you so very much Ian Boyd, for all that you have done for us over the years. I know that I speak not only for those of us in Norton but also for the many hundreds of others who came from afar to your 'Corner' shop. You enriched all our lives You will be sorely missed..
So, 'Goodbye! Ian Boyd - Shopkeeper'
But, 'Welcome! Ian Boyd - Private Resident in Norton!'
From all of us, in our hundreds, may you have a long and happy retirement in our midst, here in Norton!
Grafton Maggs
---
3. 'I Shall Never Forget the Time When'.
The Clinic at Victoria Hall
by Mary Hague [formerly of Mumbles]
I still can't look at the Victoria Hall in Dunns without a frisson of fear, for that was where the schools dental clinic was located when I was a child in the 1940's, and where I had my teeth out. I remember the smelt of the red rubber mask as it was put on your
face... .then afterwards when you went home with a scarf round
your face to preyent 'blast' [whatever that was]. These memories have stayed with me for all these years, but at least I still have my teeth!
'Darling Mumbles'.
When my son, aged 2, came to Blackpill with us, to see my mother, his favourite treat was to go on the bus to Mumbles. He wore his best top, a striped T-shirt from Kemp's, and therefore called his Mumbles jumper when we went. Sadly, no Mumbles Train of course, but the bus was acceptable, and we got off at the square in Oystermouth. As we did so, he would bend down and pat the ground [I drew the line at the Papal Kiss] saying,
'Darling Mumbles!'... before we'd trot off to Lewis News [another favourite destination].
50 years later, he still loves Mumbles and visits every year - without the ritual! Favourite
destinations are now: The Park Inn, the Mumbles Ale House and the Pilot............
The preferences may change, but the love of Mumbles remains constant for us all.
Mary Hague [Hornchurch, Essex, 20181
---
5. MORFYDD OWEN CENTENARY
The sun was shining on Friday 7 September 2018, but there
was a hint of autumn in the wind that rustled the fallen leaves on Plunch Lane, Thistleboon. Passing cars slowed down and their occupants stared at the group of people who had gathered on the roadside to witness a very moving ceremony. At 11am a Gower Society plaque was unveiled on the stone wall outside Craig-y-mOr, commemorating the young musician Morfydd Owen who died in the house 100 years before, on 7 September 1918. Morfydd was only twenty-six years old; a gifted soprano and pianist and a composer of some 250 scores. Her obituary in Y Gorlan [journal of the Welsh Presbyterian chapel] commented: 'Oh, Death! We knew that thou wert blind, but in striking Morfydd thou hast taught us that thou art also deaf'.
Morfydd Owen was born in Treforest, Glamorgan on 1 October 1891 the youngest of four children. Her parents, William and Sarah Owen, were amateur musicians and their daughter's musical abilities were obvious from an early age. She began playing the piano at the age of four and by six was composing her own music. Throughout her childhood and adolescence she performed in chapels and at eisteddfodau and at eighteen won a scholarship to study at University College, Cardiff. Many of her compositions were performed whilst she was there and when she graduated in 1912 she moved to London to study further at the Royal College of Music. That summer she was admitted to the Gorsedd of Bards at the Wrexham Eisteddfod.
In her first year at the Royal College Morfydd won every available prize as well as first prize for singing at the Swansea Eisteddfod. The premiere of her music at London's Queen's Hall in 1913 was followed by other public performances. A great musical future was anticipated.
In London Morfydd's social life centred around two separate and very different groups. At the Welsh Presbyterian chapel in Charing Cross Road - a gathering point for many Welsh people living in London - she formed a close friendship with Lady Ruth Lewis, wife of the Liberal MP for Flintshire. Her career was helped by many concert invitations and commissions. Morfydd's other influential social circle was the London literary intelligentsia which included Ezra Pound, D.H. Lawrence and many Russian emigres. Through friendships with the latter and her work with Lady Lewis for the Welsh Folk-Song Society of London Morfydd developed a great interest in Russian folk song. Sadly, her chance to study the folk music of Russia, Norway and Finland in St Petersburg [for which she received a grant from the University of Wales in 1915] was denied her by the First World War.
Morfydd continued to compose and perform, with concerts in Bath and Oxford, and made her professional debut at London's Aeolian Hall in January 1917. Then, a month later, Morfydd unexpectedly married. Her husband was the Freudian psychoanalyst Ernest Jones (born in Gowerton) - an atheist with a flamboyant lifestyle and thirteen years her senior. The wedding at Marylebone Register Office after only a six week courtship was so sudden that none of her family and friends attended.
Marriage curtailed Morfydd's music; in 1917 she published just two songs. Ernest did not wish his wife to perform in public; expecting her to support his busy professional career at the expense of her own. So that year she only performed at the Eisteddfod and one concert. In addition there were religious tensions arising from her Christian faith and Ernest's atheism. In September, six months after their civil marriage, the couple married again - at the Charing Cross chapel in the presence of her parents.
By 1918 Morfydd's twin brothers were serving in France and on 6 April her mother, Sarah, died suddenly. In August Ernest took Morfydd on holiday to Gower (a place she had not visited) where his father was living at Craig-y-môr, in Plunch Lane, Thistleboon. The couple visited Caswell and Langland and lunched at the Kardomah in Swansea. On 30 August the family (Ernest's sister and her husband lived in Mumbles) gathered at Craig-y-mOr and listened to Morfydd singing. The next day Morfydd was taken ill with pain and a high fever. She had acute appendicitis and needed an immediate operation. Instead of taking her to Swansea Infirmary, Ernest arranged for her to be operated on at the house by a local surgeon with himself acting as anaesthetist. Morfydd went into a coma and a few days later, on 7 September, she died - of delayed chloroform poisoning.
In his autobiography, Ernest Jones said that neither he nor the
local doctor had known of a recent discovery that chloroform poisoning was a likelihood with a young patient, with a suppurating wound, and deprived of sugar (due to wartime rationing). Had the anaesthetic been ether the tragedy might not have happened. There was no post­mortem. Morfydd was buried four days later in Oystermouth Cemetery - before a death certificate was issued. You can find her grave [a red sandstone column] by following the main cemetery path right to the top and turning left.
Morfydd Owen's death at such a young age was a tragic loss to her family and friends. It also deprived the world of one the most supremely talented and gifted musicians Wales had yet produced. The centenary of her death has been marked by several events including performances of her work at the Gower Festival and the BBC Proms, a lecture by Dr Rhian Davies at Swansea University and the unveiling of two plaques- one at her Treforest birthplace and the other at Craig-y-mOr in Plunch Lane, Thistleboon.
Kate Jones, September 2018
/ thank Gary Gregor of the Gower Society for helping me with this article. Photograph of Blue Plaque, Kate Jones; engraving of the Welsh Presbyterian Church in London, dated 1888; Morfydd Owen in 1915, private collection.