Posted 13.7.19
The Lifeboat Quilt
The Lifeboat Quilt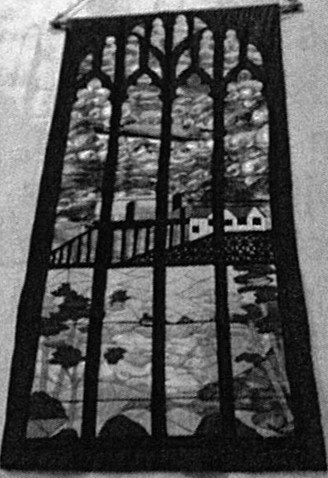 The magnificent Lifeboat Quilt gifted to Mumbles RNLI by local artist, Dian Smith, has been much admired since it went on display on the north wall at All Saints' in May.
It was designed and made in tribute to the famous Lifeboat memorial stained glass window to those who lost their lives in the 1947 Mumbles Lifeboat disaster. The window commemorates how all hands were lost on the lifeboat and SS Samtampa when the merchant ship ran aground on rocks off Sker Point, near Porthcawl, on the 23rd April in hurricane force conditions. The disaster claimed all eight of the lifeboat crew and the thirty nine merchant seamen on the SS Samtampa.
Dian's interpretation of the window celebrates the work of today's Mumbles lifeboat. The lower panels depict the sweep of Swansea Bay and the iconic Mumbles head in the distance; the central part has the old and new boathouses standing side by side on the pier; the top panels, below the traceries, show today's Tamar lifeboat, the Roy Barker IV, out on a shout.
The quilt will be the centrepiece of an auction to raise money for the Mumbles Lifeboat on the evening of Saturday 7th September at Mumbles Cricket Club.
If you would like to make a donation towards our bid please bring your gift to Church in an
envelope marked 'Lifeboat Quilt'. All the money raised will go towards Mumbles RNLI
---
Open House
at 13, Heathwood Road, West Cross [home of 'Barbara Cards']
10.30am - 3pm Thursday 18th July
Coffee, tea & cake will be served all day
Barbara's cards & gifts will be on sale & raffle prizes
Tickets are £2 [available in Church]
Come along & help us raise money to bid for the Lifeboat Quilt