February 2021 Parish Magazine
The Vicar Writes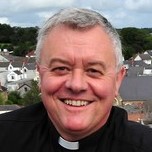 Dear friends,
In the Church's year February always begins with the Feast of Candlemas. It's the last day of the Christmas season and celebrates the presentation of the infant Christ in the temple forty days after his birth. The event is recorded by St Luke as a moment of joy, revelation and prophecy.
Joseph and Mary presented Jesus in obedience to the Law of Moses, which required all first born sons to be redeemed by a sacrifice. They came with the offering of the poor, 'doves or pigeons'.
There were two people in the temple that day, Simeon and Anna, who had been waiting for the promised Messiah. They were both well on in years and Simeon had been promised by God that he would not die until he had seen the Christ.
At the time the temple and its precincts were full of Messianic expectancy, especially as some of the closing words of the Jewish scriptures foretold that 'The Lord whom you seek will suddenly come to his temple.' [Malachi 3.1]
There were those who hoped that the Messiah would come as a warrior king, like David of old, who would rid the nation of the hated Roman occupiers. Others were looking for a supernatural liberator who would appear with armies of angels to restore the Jewish nation. But there were those, known as the 'Anawim' [the quiet of the land], who waited faithfully for the revelation of the Messiah and what that would mean for them and for the world.
So Simeon and Anna were quietly faithful and the miracle we celebrate at Candlemas is that they recognised the long hoped for Messiah in a vulnerable baby carried in his mother's arms. It's why Simeon sang his song, 'Lord, you can let your servant go in peace; for with my own eyes I've seen your salvation.' He also had this chilling prophecy for the Virgin Mary, 'This child is for the falling and rising of many... and a sword will pierce your own soul too.'
Eighty four year old Anna also recognised the Saviour and we can imagine her skipping around the temple like a teenager again, overjoyed by the encounter too.
Luke's Gospel tells us that the first to see the Christchild were lowly shepherds who looked after the temple flocks. The second revelation was to old people, Simeon and Anna.
As I write, the Covid vaccine rollout is gathering momentum and prioritising the most vulnerable members of our society, those over eighty years of age and residents of nursing homes. Yet in the political debate leading up to the rollout the most vulnerable weren't always at the front of the ethical queue.
There were those who argued that the young should have received the vaccine first in order to protect the old, or because the elderly were thought to have lived out their 'biological lives.' Some suggested that the jabs should have been given first to those who drive our economy; bankers and high financiers, shop and factory workers. A former Supreme Court justice, Lord Sumption, went further recently by suggesting that some lives are of more 'value' than others, and was universally condemned for saying so.
In the end, the first British person to be vaccinated was a ninety year old, Maggie Keenan, who received her jab on the 8th December. Since then, the various governments that make up the United Kingdom are to be commended for prioritising the older generations, around eight million of them receiving their jabs by the end of January.
Candlemas honours two old people who were blessed with their own unique revelation of the Christ. It also reminds us of the Christian vision that all life is precious, whether we are a babe in our mother's arms or someone who has reached a ripe old age. Being an octogenarian or nonagerian doesn't mean that you don't have more life to live or that you can't contribute to wider society. Its why, as I turn a mere 'sixty four' years old on Candlemas day, I am more than happy to wait my turn as the rollout comes down the generations.
With every blessing – keep safe,

---
LENT begins on ASH WEDNESDAY
17th February
ASH WEDNESDAY
A Service of the Word for Ash Wednesday will be sent out
online and will also be available on our Parish Website
LENT 'ZOOM' MEETINGS – Wednesdays at 6.30pm
You are invited to join us for an informal study group every week through Lent, beginning on Ash Wednesday. As well as getting together with others for fellowship and a chat we will look at some of the Psalms and what they have to say about the life of faith today. The meeting is being hosted by Sonia Jones [Licensed Worship Leader], who will lead the studies along with the Vicar
Please email the Vicar on – revkeithevans@talktalk.net – if you would like to be sent the link to join the meeting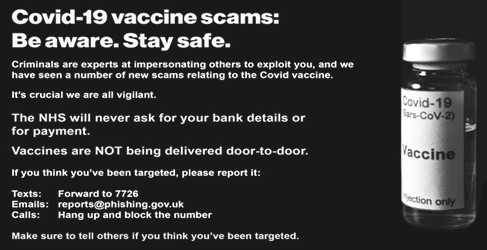 In Memoriam
John Turner
We were all deeply saddened that John lost his courageous battle with Covid on Saturday 16th January.
He and his wife Sandra have been regular worshippers at Norton Mission and have been much loved members of the Church community there. They joined in many of the regular parish social events and dinners held through the year.
John was also well known in the local community and had a long connection with Mumbles Rangers. He was, at heart, a devoted family man and a loyal and loving husband and father. Shortly before he died he was overjoyed to hear the news that he had become a grandfather to baby Oliver, the latest edition to the family.
A Service of Thanksgiving for his life was held at All Saints' on Friday 29th January. Though numbers were restricted it was lovely to see members of Norton Mission who came to pay their respects to John as they stood in the Churchyard. We offer our deepest sympathy to Sandra and the family at this devastating time for them.
PARISH NEWS
Diamond Wedding Anniversary

We congratulate Les and Brenda Harris who will celebrate their Diamond Wedding Anniversary on the 4th March.
They are both much loved members of our Church family. Les served as Churchwarden at Norton for many years and Brenda helps to run the MAG Ladies' Group and many of our parish social events.
We send them our love and hope that they will have a happy day of celebration with their family. Every blessing to you both.
Lockdown Wedding

We send our warmest congratulations to Robert Payne and Iveta Vanaga who were married at All Saints' on Saturday 23rd January.
Robert is Julia Payne's son [Julia is our Parish Treasurer] and the wedding complied with the current Covid 19 restrictions.
There were just seven family members in attendance and face masks and social distancing were very much the order of their special day.
This said, it was a lovely and intimate ceremony and we wish the happy couple every blessing in their life together.
Congratulations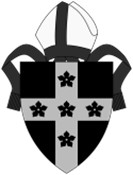 We congratulate our former Director of Music, Luke Spencer, on his recent appointment as Associate Assistant Head of the Church School in St Davids, Ysgol Penrhyn Dewi. We send him our good wishes as he begins this new role.
Many Thanks

Though our Men's Working Party [Warriors] isn't meeting at the moment we are most grateful to Bernard Hex, Alan Thomas, James Williams and Stuart Batcup for continuing to do various jobs around the Church and hall.
They've fixed a leaking roof, wound the clock weekly, tidied up the Churchyard and are currently de-cluttering some of the Churchroom cupboards of decade's worth of junk.
We are most grateful for all that they continue to do, especially during the present restrictions.
We hope to re-launch the Warriors with a recruitment drive when it is safe to do so.
Helping out at St Mary's

After organising a team of local volunteers to cook some nourishing hot soup for the St Mary's Brunch Club April Beynon had to stand them down because of food hygiene regulations.
A team of volunteers meet every Wednesday at St Mary's in the city centre to prepare a hearty take away meal for up to eighty vulnerable adults and children. They work in partnership with other Churches and homeless agencies.
We are most grateful to Dorian, one of our choristers and the landlord of the Village Inn, for kindly offering to save the day by preparing a highly calorific soup each week for the lunches. Diolch o galon Dorian.
Magazine

The magazine will be sent out online for the foreseeable future.
We thank James Williams and Tony Cottle for printing copies and distributing them to those who are not online.
The online edition is sent out to around two hundred people and on the parish website. Last month's magazine was viewed over 450 times on the site.
Well Wishes

Pam James was admitted to hospital recently and is now home and awaiting a course of treatment.
Betty Jenkins is also home after being in Tŷ Olwen for a few weeks.
We send our love and well wishes to them and to Maureen Donald, Bud Williams, Sheila Rees, Liz Batcup, Maria Gomez, Phillip Williams, Hazel Batty, John Cooke, Margaret David and Pam Thorpe.
Sympathy

We offer our deepest sympathy to Louise Cox on the sad loss of her husband, Alun.
Alun was son in law to Sylvia and Philip Williams [Sylvia is Stuart Batcup's sister] and he and Louise were married at All Saints' in 2001.
We assure them all of our prayers and love.
Magazine Notes
Notes for the March edition of the Magazine need to be in by Sunday 21st February please.
---
Thank You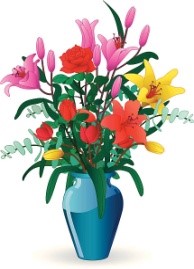 May we thank you all at All Saints Church and Norton who sent sympathy cards and letters with such comforting messages.
Our grateful thanks to our dear friend 'Canon Keith' for his words of comfort at the crematorium and at the 'Thanksgiving Service' at All Saints. Thank you to Mary for helping us when we got into a panic - her nursing expertise always put things right.
Thank you also to our dearest friends Brenda and Les Harris, although unable to visit due to the Covid Virus, they never failed to telephone David every couple of days - he looked forward to these calls so much, to keep in touch with church and village life.
Thank you Canon Robert for your reading of one of David's favourite passages of scripture, he had read it so many times himself at funerals and weddings.
Many thanks to Jordan for his singing of David's favourite hymns, and to Hywel for his expertise at the organ and piano where he played some favourite Welsh hymns which David and I grew up with in the Welsh Baptist Chapel.
Last but not least, may I thank all the people who lined Mumbles Road, including five members of the clergy to say goodbye to David and also at the bottom of Norton Road where his beloved members from Norton church stood.
Our grateful thanks to you all,
Merlys, Steffan & Stephen
---
Church in Wales Gift Direct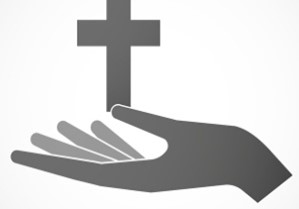 The Church in Wales 'Gift Direct' scheme is a way of giving regularly to the Church in the parish. It's similar to setting a standing order with a bank and ensures that the Church receives income, especially at this time of lockdown.
It can be done through the Church in Wales' website. Click on 'For clergy and members' on the menu and scroll down, and then click 'Gift Direct'. Once on the page you click 'To start giving to your parish' and you will be asked to 'Message us' with your name and email [for security purposes] and the Church in Wales will contact you with the relevant online forms. In your correspondence you will need to make sure that your gift is for the 'Parish of Oystermouth'. You can arrange this online or fill in the forms that you can print out and post.
Through Gift Direct we can give to All Saints' monthly and, if you pay tax, the Church in Wales will claim the Gift Aid for us – so that a £50 monthly gift will be worth £62.50.
It might sound complicated but it's really quite straightforward. More importantly it's very secure. You can also cancel your Gift Direct at any time.
Please consider either putting your envelopes aside each week or setting up a Gift Aid to help our parish through this challenging time.
---
A Message from Pam Thorpe
Thank you for your Christmas greetings sent to me here in North Wales. It was good to hear your news from church and Mumbles. I receive Keith's email with the church service every week and I would love to be back in church with you all. I miss the singing and the music.
I am very comfortable and well looked after and I have a lovely view of the Menai Bridge from my window in the lounge. My eldest son lives nearby and he and his family visit when they can. I have my ipad and mobile phone with me so I can stay in touch with family and friends. Wishing all a happy and healthy 2021.
Pam Thorpe
---
'If nothing else, we did put a few sparks out!'
The 80th Anniversary of the Swansea Blitz - by Grafton Maggs
When 1939 drew to a close, I was a callow fourteen year old schoolboy who, like everyone else about me, had been swept along by events on the world stage. The dying year had left an indelible mark upon me, the last peace time summer in Mumbles remaining for ever in my heart as one of outstanding shared happiness. It had been a glorious school summer holiday with each unplanned day bathed in golden Gower sunshine and made up of one impulsive decision after another. All enjoyed so very much, in spite of 1939 being the most event packed year of the century, the apogee of which being the sudden state of war that had come to exist between Britain and Nazi Germany, on Sunday, September 3rd.
Sitting down to Christmas dinner with my family that year, I recall thinking that although many families were suffering the heartache of having loved ones snatched away for armed service, we were still all together. How fortunate we were! At this early stage of the war, for most of us, little was changed here on the Home Front and little seemed to be happening to our BEF in France.- a period of World War 2 history which our uninvolved friends in the USA chose to call - "The Phoney War".
But, what a change 1940 was to bring! During the course of that year, we were all subjected to a crash course in the harrowing experience of war. It had been a year of disaster topped undoubtedly by the rout of our brave, but ill prepared BEF in France and culminating in the May evacuation from Dunkirk. Hitting harder had been the heartbreaking news that the first of our Mumbles men had been lost in action, amongst them L/S Alex Hunt in Narvik Fjord and Welsh Guardsman Bertie Jeffers captured at Dunkirk. The sole bright spot had been the incredible victory of 'The Few' in the Battle of Britain which had denied Goering's Luftwaffe the air superiority so essential for the invasion of Britain. We had bought some time but, even so, German aircraft were now able to fly from airfields in northern France and the grim truth was that everywhere on these Islands was now comfortably within their bombing range. And that included Mumbles!
And, what were the reactions of the villagers at this time to this dramatic change? Hitler's seemingly invincible Wehrmacht was but a Channel's width away from our shores and what was left of the British Army was in tatters! Never mind what is written in the history books, what was going on in the minds of 'ordinary' Mumbles people - the ones who, like 'ordinary' people elsewhere on these shores, played their small but vital part in society, keeping the wheels of the whole shebang turning?
Well, though loudly proclaimed opinions were voiced everywhere, there wasn't a hint of panic or fear!! On the contrary, although the seriousness of the situation was appreciated, there was no doubt in the Mumbles mind that we, the British, were going to win the war! No matter to whom I spoke; were it to my fellow pupils on the Mumbles Train, old Mary Taylor in the Corner Shop, Sgt Martin the local policeman, Willy Warlow, Billy Gammon or any customer propping up the Vic public bar [each and every one being profound experts in the science of warfare] - all were unanimous - though we stood alone, this was a war which, under Churchill's leadership, we were going to win! The million volunteers that had thronged to enlist in the Home Guard, earlier in the year, had already endorsed this feeling in no uncertain terms. So, certainly here in Mumbles, there was serious concern, but, a solid confidence in the outcome. Someone, somewhere, christened this abstruse phenomenon as being 'The Dunkirk Spirit' - and whatever that was, it certainly existed here in Mumbles!
There were testing times and in June 1940 a German piloted aircraft, bearing French roundels, flew over the Swansea docklands and machine gunned the docks. Soon, the undulating wail of air raid sirens around the Swansea Bay became a familiar and accepted part of our lives and towards the end of the school summer term, classmate, Colin Williams who lived in Danygraig Road, casually informed me one morning that during the previous night a bomb had been dropped on the house opposite his! Unbelievable at first, but true, the Germans had indeed found Swansea and, by the autumn of 1940, the citizens of our lovely, ugly old town had experienced frequent bombing raids with one very long raid lasting the greater part of the night.
And, frightening though all this was, it was merely the hors d'oeuvres.
Life went on, people went to work, we went to school and though the world was being turned upside down, 'ordinary' people were able to adjust themselves to these extremes amazingly quickly and kept the wheels of society turning. This acceptance was reflected in everyday conversation and, travelling on the Mumbles Train, routine talk was now being of such things as 'last night's bombing of the Hafod… or Townhill… or St. Thomas…' with an attitude as casual as that devoted to talk, less than a year ago, of tennis in Langland or football at the Vetch! But, no matter what was talked of, morale remained Everest high.
Life for me, too, went on, but, events were beginning to have an unsettling effect and I became aware that I was not alone in feeling that way. Most other mid teenagers with whom I associated had also become of restless spirit. Indoctrinated by the relentless propaganda of the media; fired up by contemporary events and elder brothers and sisters, on leave in their fine uniforms - we became frustrated! Burning with the fire of patriotism, we felt shut out of the war effort and unable to participate in any way. Too young! Useless! Couldn't even enrol in the ARP as Messengers - no vacancies! Yet, how desperately we wished to play a part in helping our country to win this war, only to find ourselves totally on the sidelines. This was, indeed, frustrating and humiliating.
I realise now, all these years on, that this reaction was of more complex origin than it first appeared to be. Now, in my snow-craggy dotage, I can see how this smouldering resentment was of multi rooted source, obviously aggravated by a painful lack of self worth acquired in those earlier formative years.
From my earliest days of consciousness, whilst feeling my way into a social pattern, I was aware that there was always a hierarchy. Pretty well all adults still adhered to a Victorian/Edwardian code of conduct as regards their attitude towards children - especially those kids of humbler class origin who, on their social scale, existed - way down there, on the 'zero' mark. Children always blindly did what they were told, instantly without argument and were rarely deemed worthy of any opinion or viewpoint.
Even amongst one's own, there was always someone around to oppress - to give the 'slap on the head', a culture imposed throughout the whole of the education system during my schooldays; not only by the curled lip morons of the school yards with their verbal jibes and physical pokes but also by their too frequently duplicated counterparts, teaching in the class room. Fortunately, in the 'thirties in Oystermouth Council School this was beginning to change, there were a few enlightened teachers who shone like beacons. Who can ever forget Ray Bradshaw, Evan Davies and Headmaster Arthur Ivor Davies? How valiantly they fought to inspire their charges and build up self esteem but such saviours then were so thin on the ground.
I was a product of this system and, like the great majority of my contemporaries, craved in my heart to be shown a soupcon of esteem for the being I was, resenting deeply this lowly status thrust upon me - and, it was a resentment that died hard! There was some comfort in the fact that I was not alone in my feeling this way though, sadly, they were not feelings shared by all my peers, not by a long chalk. Many good friends, fine fellows all of them, seemingly had already accepted at this early age their status quo without demur. Life was going to be as similar for them as it had been for their forebears and they were just going to knuckle down, roll up their sleeves and get on with what life was patterned for them. What option did they have?
'That's the way life is, for the likes of us. Nothing can change the system!'
But now, something was doing just that! The country was at war! New values were being created and incredible changes were afoot!
I saw the new respect commanded by the humblest of ordinary Mumbles people now serving in HM Forces - from the blandest, blancoed Private to the gilded, gloved Lieutenant! And however it was, I wanted to be a part of this pantomime being enacted before me. But how?
There wasn't to be an obvious solution but, very special friend, trainee accountant Peter Hooper of Gower Place, [with whom I had many thoughts in common] pursued an idea. And, as a result of his research and enterprise, towards the end of 1940, a small group of Mumbles lads rolled up at the old Regent Cinema in Newton Road, to enlist in the Mumbles Home Guard! We were all aged about 15, but put our ages up to 17. No questions were asked and we were accepted. [photo above left: some of the younger members of 'C' Coy (Mumbles) 12th Bn. Home Guard]
Most definitely, as far as I was concerned, it turned out to be one of the most rewarding experiences of my life and prepared me for later service in the regular forces as nothing else could possibly have done. Rubbing shoulders with these fifty-odd year old WW1 veterans was the military equivalent of a course at Oxbridge! And, at last, I was doing something! Not a lot, but something with a bit of a uniform to show for it, which may not have impressed others but which reassured me.
Then, on the night of Wednesday 9th February 1941, an opportunity presented itself for me to play a real active role in serving my country - albeit in the smallest of ways.
On that historic night, the air raid sirens wailed out their warnings fairly early in the evening. Nothing unusual about that. But, within an hour or so, it was obvious that this was going to be an air raid with a difference. That night, the Luftwaffe was in the sky above us in far greater strength than ever before and the build up of that aircraft sound, the deep throbbing thunder, is never to be forgotten and was not a noise for the faint hearted. Amongst a group of Mumbles people, I stood on the forecourt of Oystermouth Station and watched the early stages of a build up into what was going to be a memorable night in the history of Swansea town and sharing the experience with me was true and trusted friend, Ken Bale of Dunns Lane, a fellow Home Guard.
From the beginning, this raid was different to all those that had preceded it. The first German aircraft flew over and the usual anti aircraft defences sprang into action. Searchlights round the bay swept the sky as the AA guns started firing. But no bombs were being dropped! Then, suddenly above us, parachute flares cracked open and rapidly half a dozen were distributed across the sky, to slowly drift in from the Bay over the town and docklands; their intensive blue/white flares lit up the area like day! What a beacon for the following bombers!
And they soon came! The big boys flew in and started to drop their deadly load – thousands upon thousands of incendiaries, interspersed with high explosive bombs. From where we stood, the East Side of Swansea, in the docklands area, appeared to be receiving the heaviest concentration but, no area was untouched. One side of Townhill to the other was swept with thousands of incendiaries, burning with an intense white magnesium light and scattered like a host of children's sparklers. All around Brynmill, the Guildhall and the town centre beyond - each area received a share. Most of these incendiaries were extinguished fairly quickly but, here and there, the blue/white light of the magnesium had grown into the fiery red of a building structure well ablaze. And how can one describe the background of sound to all this? There was the deep, undulating throb of the aircraft above us as wave after wave of bombers flew in. Around the bay, there was the crack and roar of the AA guns as they fired salvo after salvo into the sky. Then came the unmistakeable boom of HE bombs exploding in the town, the sound rolling across the bay - the saucer shape of which acted as a sounding bowl with its echoing effect. All this, blending together, sound and vision, is too big for me to put into words.
We were joined by Freddie Evans of Gower Place, a fellow Home Guard and, to our surprise, saw he was in uniform [such as it was then: denims, boots, arm band, cloth side cap and greatcoat]. He was bursting with news,
'All available HGs to report to HQ! Volunteers to help in Swansea, or sommut!'
That was enough! Ken and I tore home to change. Once reclad, I nipped out the back way to avoid explaining anything to my mother and father who could be remarkably obtuse about certain things (like having my head blown off). Remember! I was fifteen years of age, in my school certificate year and, as Grandma Mosford said,
'Learning sums was far more important than any nonsense from Hitler's nasty Teutonic hordes - what with their Pansies and things…'.
Within minutes, the three of us met up again in the old cinema hall. Standing in a small group to one side of the parade area was the unmistakeable gaunt figure of (village postman) Sergeant Major Mitchell amongst a small cluster of officers. There was an air of tension about the place as people briskly came and went. Newton Road's Captain Hayes was there, as was Moorside Road's Major Davies and Langland Bay's Captain Ben Walker-Jones. In a corner, seated at a table with his telephone, was ever languid Adjutant, Captain Howard to whom we were directed by Mitchell, with a flick of his pace stick. Here, other personnel, too, were being briefed and directed on.
Captain Howard eventually addressed us,
'Want to do something useful - for a change? The ARP boys in Swansea are up a stick. Overwhelmed and want help. Are you prepared to give a hand?'
We heartily blurted out our assent. [I suppressed the urge to shout out, 'We'll die for you, Sir!']
'Good for you, boys! Now on your way up, call into the Vivian Hall. Sgt Phillips is on duty tonight, he will issue you with steel helmets. Then go to Hospital Square. In the forecourt is Senior Air Raid Warden, Charlie Evans. He's got his team there and will be delighted to have your help. Listen to him! Do what he says and no more!! Do NOT go any further into the town! It is chaotic and only the Sappers, AFS boys and FAPs are there. You'd just get in the way. Stay in the Hospital region. Got That?!!"
"Yessir!" we chorused and set off.
Young, fit and enthusiastic, we stepped out and in no time we were in Blackpill. Cleared by sentry, Duggie Stainton, we passed through the blackout curtains of the Vivian Hall into the guard room. Beds were laid out for the night and the big iron stove glowed with burning anthracite, keeping the sharp cold of the February night at bay.
Then, a big surprise for me! This Sgt Phillips in charge was my English teacher in Dynevor school! He was a Bishopston man and his full name was Dan Phillips, a senior master and one of the few real scholars on the staff. His face lit up when he saw me, (the first time I had ever seen any emotion displayed on his usual inert face.
'Good Heavens, Maggs! Fancy you in the Home Guard, well done boy! And off to Swansea to help! Admirable!'. I revelled in his praise and that night I saw Dan Phillips in a different light. No longer as the scholarly, dried up master in an academic gown; but as a veteran soldier. I saw that he was wearing the three WW1 ribbons on his chest, having served throughout in the trenches. From that moment onwards, we both had reassessed views, one on the other and for the rest of my school career there was a subtle change in our relationship. Whenever our paths crossed, Dan Phillips [aka 'Mooney'] would look at me and give a slight but warm smile. It made me feel good.
We strode on and soon were at the Slip. By now, the picture over Swansea had changed, big fires were established in the docklands and the skies above were thick with smoke. The huge blaze was reflected in these heavy clouds and the whole sky over Swansea East now had a deep threatening red glow.. Heaven knows how many dramas were being enacted that night in the hell that was below.
We cut up past the palatial toilet block by the Guildhall. By now, eyes were well adjusted to the blackout gloom and all seemed well here as we walked past the expansive stepway up to the Brangwyn Hall entrance.
From here on as we approached the scene of action, we became aware of the increase in background noise, of distant shouts, vehicles revving up and the occasional rumble of something collapsing. Noted, en passant, Cascarinis [Joe's] ice cream parlour on our right was intact and Leon Atkins Church on our left in one piece. We crossed the Hospital Square where, on our left, that fine hostelry, the Westbourne pub, appeared undamaged. We entered the forecourt of the Swansea 'Eye and General' Hospital and found a small group of steel helmeted men standing to our right, behind the police box. We reported and, sure enough, one was Charlie Evans who barely had time to greet us when a shrill whistling noise above us made him shout out,
'Down! Quickly!'
We dropped behind the stone wall [which still surrounds the forecourt to this day], there was an enormous explosion and looking up I saw the flare of the detonation in the sky above – somewhere behind Joes, between Beach Street and Bond .Street. Within seconds this was followed by the spattering up Brynymor Road of dozens of incendiary bombs. These all stared burning furiously with a peculiar hissing sound.
'Right lads!', shouted the Warden, 'Grab a bag and get cracking!'.
Enthusiastically, we, the Mumbles trio sprang into action, Taking our lead from those about us, we picked up a bag each from the huge soggy pile laid out behind the police box. I ran out and placed one on a burning bomb on the road outside the Westbourne,
'No!,' someone shouted, 'Go for the ones burning in properties first!'
I saw the logic of this because already one bomb was beginning to get a blaze going in the grain shop opposite the pub. The large shop window had been smashed in and the bomb was hissing away amongst a pile of boxes. and cardboard adverts. I placed the bag on the intense white burning area but the flames began to creep out around the sides. Fortunately I was wearing thick, hand knitted khaki gloves and beat at the flames until they were extinguished.
Meanwhile, a gentleman had appeared at the doorway obviously the shop owner, in a state of distress. [Well, it isn't every day that someone drops a bomb on you]. He came out and held his hand out to shake ours. He was so profuse in his thanks, it was touching. I played my new found saviour role with profound magnanimity.
And that set the pattern for the rest of the night. Within minutes we were sent down to Kensington Crescent where a house just behind Eynon's Bakery was situated. This was more difficult. An incendiary had crashed through the roof and was burning in the loft space, - potentially an extremely dangerous place endangering the whole property and those adjoining. One of the wardens found a step ladder and Ken was able to get up and lift himself through the hatch. I struggled up with a bag and handed it to him with the help of the warden. Ken coped and extinguished the bomb. Another notch on our Home Guard belts.
There were on a few more incidents and those were of bombs burning on the road surfaces in King Edward Road, Catherine Street and Westbury Street. With our new found expertise, these were easy to handle and were extinguished quickly. Meanwhile, other parts of Swansea were still having a devil of a pounding as the German bombers still came over in waves. The centre of the town was receiving attention but it was the Docklands area that was obviously the main target and the sky above glowed even angrier where great fires were now well established.. We stayed for several hours more and Charlie the Warden came over. He knew we had come from Mumbles, thanked us warmly and told us that we could stand down and go home. He was not a young man and sounded very weary, however, he made it perfectly clear that he was not leaving his post until the all clear was sounded. By now, it was well after midnight and we all agreed to call it a day and start the trek home.
As we passed Joe Cascarini's, I felt the first light flakes of snow fall on my face, I wasn't cold, but a warm feather bed was now beginning to call me.
Then we had a surprise! We retraced our steps down St. Helen's Road towards the Guildhall and, as we approached the Brangwyn Hall steps, we saw that the road had small masked oil lanterns distributed across it, to stop vehicles proceeding further. Pacing up and down was a helmeted police constable who approached us. He put us in the picture.
During our spell of duty in the Hospital Square, an HE bomb had exploded on the road directly opposite the entrance to the Brangwyn Hall. This had ruptured a water main and the vast crater, which was as wide as the road itself, had filled up and was overflowing with muddy water. Such a near miss for the Brangwyn Hall and such a perilous hazard in the blackout for all road vehicles!
Many years later, in the South Wales Evening Post, a picture was published of this huge bomb crater and the question was asked, –
'When did this happen?'
[I was able to give not only the date but bracketed the incident with the times we had entered and left the area. Timed it to within a few hours!]
The walk home that night seemed interminable, legs were heavy, adrenaline was drained and, yet, our staunch threesome made light of it! Tired though we were, we had lived an experience and not only had flown the flag for C Company of the Mumbles Home Guard .but had made life a little easier for a few vulnerable Swansea people.
At last we reached the peace and quiet of Mumbles [so near and, yet so far from Hades!] and by the library in Dunns Lane we bade each other good night. Ken, always with the right words for any occasion,
'We didn't do a lot, boys, but, if nothing else we did put a few sparks out!'
Ken turned in to his home opposite the library, Freddie Evans carried on the few yards up to Gower Place and I turned into Gloucester Place. The street was dead black, silent and deserted and I was so very glad to be back in it!
I reached the door of the 'Vic' and to my surprise found the door unlocked!- Amazing, at this hour of the morning!. I pushed the blackout curtains aside and walked in behind the bar. To my surprise at 2.30 in the morning, there was still a group of locals sitting around a table with drinks. [Later I found out it was Bulmer's Cider! The rationed stock 0f all ales had been long sold out and, in desperation, it had to be cider!]. I remember the surprise on their faces as I materialised; in particular on Nelly Hoskins and Freda Williams, our staunch family friends from Park Street.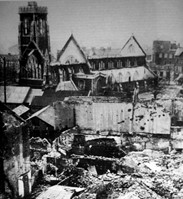 My mother was sitting amongst them, she leapt out of her seat like a greyhound out of a trap and flung herself at the bar counter which, fortunately, separated us. She was seething! In all my life, I had never seen her in such a maniacal state and, believe me, I had stirred up a few in the past. She could hardly speak and spat out in trembling low tones,
"Where the hell have you been?'
With my father on firewatching duties on Hancocks roof in Little Wind Street, she had been on her own, trying to find me with phone calls, at the same time as trying to run a packed wartime bar.
I mumbled quietly, as I took my helmet off and placed it on the bar counter,
'Putting out incendiary bombs in Swansea, Mam!"
This triggered her into sudden action, she couldn't reach me (I wasn't too tired to anticipate this and stood well back), so vented her spleen upon the nearest thing within reach - hit my helmet flying off the counter on to the floor where it crashed and spun like a kid's top.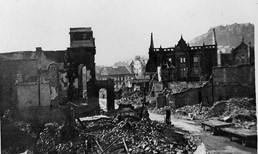 I was too tired to react and without saying a word, slowly turned away. I dragged my legs up the stairs to my bedroom [keeping a stealthy watch on my rear, a sort of Parthian thingie].
Colin my younger brother sat up in bed, the bedside lamp was still alight, [dear Colin, always so loyal to me].
'Where've you been, Graf? Dad has been on the phone all night.
He's going to play hell with you when he gets home!'
I slumped on to the side of his bed, I really felt all in.
Colin was grinning.
'What's so funny, Col?'
'Have you seen your face? You're a mess, Graf!!'
I crossed to look at myself in the mirror above the mantelpiece. To my surprise, my face was sooty with a clear cut-off line across my forehead, where my helmet had rested. I was indeed a mess! Pale white, drawn face shaded in with soot, I thought I looked like a charcoal sketch of a Dickens waif.
Then the door opened and my mother came in. I got up, to back into a corner but she was unarmed and contrite. She was weeping,
'I'm so sorry, Graf, I lost my temper. Honestly, I've been worried sick about you - and your father, At least I knew where he was - in the Hancocks building but I had no idea where you were, or what you were up to. I just knew that it would be somewhere ridiculously stupid, especially with Kenny Bale.'
I was too tired to do more than smile and touch her arm reassuringly. I knew that I had been thoughtless to an extreme. I apologised and we hugged – Then a cursory wash and I turned in.
Dictated by habit, I woke up the next morning at the usual time but still feeling weary. However, I was seated having breakfast before 7.30 and caught the usual Mumbles Train at five minutes past eight, seated upstairs with the two Hullin boys and Graham Allen [Police Sergeant's son, a Newton boy]. As expected, the previous night's heavy air raid dominated all conversation and everybody had their tale to tell.
In spite of the intensity of the previous night's bombing, the train had an unimpeded journey to Rutland Street and arrived, to the second, on time. We all alighted to walk up as usual to our respective schools from the Depot, traversing a cross section of a very badly wounded and bleeding town – here were areas, far more devastated than those in which I had been on duty the previous night. Here were stretches of Swansea totally obliterated into masses of smoking rubble with groups of auxiliary workers concentrated in groups engaged with steel helmeted sappers, clearing and searching through mounds of smouldering debris.
That walk from the Rutland Street through York Place and past the Clyne Valley Hotel, St Mary's Church Square, bypassing our famous Market, was an eye opener. We crunched our way across Oxford Street, up Page Street to where Morgan and Higgs was still burning. We reached Pell Street to find that Dynevor School still stood, undamaged and defiant, though its feet rested in the ashes of a badly mauled town.
Indeed, the town was in chaos and yet, all around us, people were going to work, to keep the wheels turning of our society, battered though it was. There was no need to tell anyone that if these ground to a halt – it was a victory for Hitler. And, in its way, we in school had to carry on learning, to play our part in preserving our way of life.
By the end of the school day, at the usual time of ten past four, the loss of sleep from the previous night's escapade was calling upon my reserves. At five o'clock, as I walked up Gloucester Place, my legs were now heavy and my satchel with its usual load of homework, weighed a ton. I was really glad to be home even though I had to face my father about my previous night's conduct. He was waiting for me but it wasn't the sort of confrontation I expected. He, too, was tired after little sleep and, in any case, was not the sort of man who could switch on anger the day after a misdemeanour. He was too big for that. However, he wasn't pleased! In his usual manner, he handled it quietly and firmly, laying down some ground rules which I knew I had to obey - because he made me shake hands on it and he had a sort of World War 1 [Biggles] army thing about handshakes. ['Only a 'bounder' broke his word of honour on a handshake']. One of the new conditions was that I didn't leave the precincts of Mumbles that night, or any other night, if there was a similar air raid on Swansea.
We shook hands on it.
I had my late tea and stole a lie-down on my bed for a short spell. Colin's Dandy was at the bedside and, sneakily, I started to read it but fell asleep, half way through Desperate Dan's latest venture. After an hour, I came down to tackle my homework which, with the CWB school certificate to sit in five months time, was of formidable amount.
Then, like the night before, the Luftwaffe visited us again and the pattern was similar. I went down to the Station Square to observe. In they came and, once again, the night sky over the bay seemed to be packed with the throbbing engined aircraft. The anti aircraft guns barked in to action. The searchlights swept the skies and those cursed parachute flares were dropped to light the way in for Goering's ruthless attack on civilian and war targets alike.
This time I was a spectator, on the Mumbles Square, as I was the following night which was the heaviest bombing night of all and the night when the gravest mistake of all was committed– when the Luftwaffe flew in unopposed by the RAF and no AA fire – a dreadful blunder which was kept secret for years. Both those nights I shall never forget for the dramatic picture it all created.
I was witness to the burning town across the water, the ruddy red glow of the flames reaching high into the sky with dancing reflections across the sea water of Swansea Bay. People as far away as Bristol and Exeter saw that glow of Swansea burning in the sky in February 1941,
The courageous Ken Bale, with more tolerant parents than I, however, went to Swansea to provide his services for those two horrendous nights; nights of near total annihilation for the ancient, characterful town that Swansea once was; nights from which it never was to recover. So typical of Ken Bale, and, so typical of the way that people once used to be - when countless ordinary citizens gave freely and bravely of their services to help others.
I didn't do an awful lot that night, my efforts didn't exactly swing over the balance of power from Hitler to Churchill, but, I did learn quite a bit about 'ordinary' Swansea people - shopkeepers, milkmen, solicitors, teachers, bus conductors and their like. I saw how they were able to adjust themselves, so quickly to horrendous events totally alien to their normal ways of life. I saw the quiet bravery shown by those run-of-the-mill people huddling in their shelters, or downstairs in 'secure' hiding places, or out there on duty in the streets; all with a calm dignity in spite of the world about them being blown apart.
And, we three young Mumbles lads did play a small part in it, on that first night of the Swansea Blitz Triad, Wednesday February 19th 1941.
We didn't do much but
'… if nothing else, we did put a few sparks out…!'.
[Dedicated with humble respect and gratitude to the ordinary people of Swansea, the David Palmers, the Colin Williams', the Charlie Evans' who lived through those times].
Archbishop John to Retire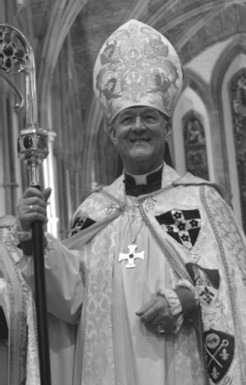 Archbishop John has announced that he plans to retire as Bishop of Swansea and Brecon and Primate of the Church in Wales on Sunday 2nd May. He has served our diocese faithfully since being appointed Dean of Brecon in 2000 and as Bishop in 2008. In 2017 he became thirteenth Archbishop of Wales, the first Bishop of Swansea and Brecon to hold that office.
Over the years he has visited All Saints regularly, especially at our Patronal Festival, and supported our efforts to restore our ancient and modern Church as a Patron of our Restoration Appeal. We wish him and his wife well as they prepare for his retirement.
---
A Trek through old Mumbles Village a
and Thistleboon
Part 9: Thistleboon House: a Community Asset?
A Timeline from 1841 to 1894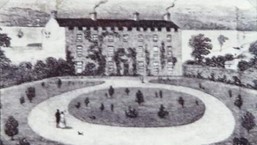 Well here we are, still outside Thistleboon House in the middle of the Nineteenth Century with the house making a distinct shift in its contribution towards not only our community in Oystermouth, but as we shall see towards a much wider world for almost one hundred years as a School and as an Orphanage closely linked to our All Saints Parish Church.
We have already seen that from a population for the Parish of 715 in 1801, it had risen to 1938 by 1851, and was destined to increase dramatically by 1901 to 4461, and by 1951 to 11678, more than doubling every fifty years. Naturally this increasing population led to the usual demands for Housing, Highways, Water and Sanitary provision Relief of the Poor and Burial of the Dead responsibility for all of which fell to the Vicar and Churchwardens by virtue of the Poor Law Amendment Act of 1834. This was to continue until 1885 when the present system of Local Government came into being.
For this reason, the Vestry Minute Book and the Registers of Baptisms, Marriages and Deaths are a rich source of evidence. The Parish was part of the Gower Union responsible for the Workhouse at Penmaen [now the Three Cliffs Nursing Home] where the destitute were sent when the system of 'outdoor relief' failed. Outdoor relief was the 'benefits' paid to the Poor and detailed in the Minute Book for all to see.
As to education and its intertwining with religion, The Report of the Commissioners of Inquiry into the State of Education in Wales 1847, the notorious 'Blue Books', brought the state of education in the Parish into sharp focus. Malcolm Ridge has published Part 1 of his account of 'Mid-nineteenth century schools for the poor in the parishes of peninsular Gower' based on the Blue Books [see Gower 71.2020] and Part 2 will follow next year when he will cover Oystermouth.
The Commissioner who visited Oystermouth was only there for a day, and the following extracts give an idea of what was found, and what was thought:
"Oystermouth is an important and growing parish. Iron mines have been discovered in it and are being worked. It is likely to be comprised in the improvements to Swansea's harbour; from these causes the population may be expected to increase rapidly. Wages were good and the people very well off; if otherwise it was owing to intemperance and carelessness"
There was an infant school promoted by our Henry Bath of 'Rosehill', a Quaker, but who by 1860 was a churchwarden. It had 55 pupils, of which 18 were over ten.
There were two village schools, one for boys and one for girls, both founded in the early part of the century, connected with the Church and promoted by the Perpetual Curate, Rev Samuel Davies of 'The Grange' at West Cross.
The Commissioner didn't think much of the boys' school, describing it as 'a slovenly unsystematic school of the old sort'. Although there were 59 pupils it didn't help that there was a 'thin attendance' on the day of the visit. "There had been a wreck in the neighbourhood the day before and all the bigger boys were gone to look at it"!
By contrast the girls' school came off a bit better. The schoolroom, in the kitchen of the mistress's cottage 'was very neat' and the 38 girls were 'orderly and tidy', and as well as learning how to sew they learned the Catechism, which they "knew by rote, but were utterly unable to give any rational explanation of any part or sentence of it"!
The Parish also had the longest-established Private Adventure Day-school in the peninsula which had been established in 1806 by a retired Ships Purser James Bennett, now aged 77, and his wife. There were 55 pupils, 5 aged over 10, but they were all on holiday when the Commissioner called on 22nd December, so very little was discovered about the school.
There were no complaints about the use of the Welsh language, which the Commisioners couldn't understand [as it was not in use], but it was noted that some of the teachers had problems understanding their pupils as they spoke the local/Gower dialect, something I also struggled with in the nineteen fifties!
In addition, there were three Sunday Schools:
A Church Sunday School, the earliest one in Gower established in 1805. It used the day school premises and had three teachers for 74 pupils all below the age 15
A Methodist Sunday School at the old Wesleyan Chapel. The Chapel had been built in 1814, and the Sunday School started in 1825 used that chapel. It had ten teachers teaching 50 pupils all under 15 [photo right]
Paraclete Chapel at Newton, established by Lady Barham in 1819 had become a Congregational Chapel, but the Sunday School that met there was independent of the chapel. It also had ten teachers and a Superintendent teaching 66 pupils, 31 of whom over 15
The Report doesn't say where the day schools were held or specify the nature of their foundations. Carol Powell's delightful book 'Days Before Yesterday: Childhood in Victorian Oystermouth' fills in many of the gaps:
Henry Bath's infant School was a 'British' [ie non denominational] school established under the auspices of the British and Foreign Schools Society, which had been opened in Dunns Lane in 1813 on the site of the present Library
The other boys' and girls' schools had been established as a Church School in 1805 named Oystermouth Village School .
The 1841 School Sites Act made it easier for Voluntary Schools such as these to be built. However, it was not until 1856 that we saw the first 'National' [Anglican] school established under the auspices of the National Society for promoting Religious Education, being built in a corner of All Saints Churchyard. It is now, of course, the Lower Church Room, which retains its 1856 Foundation Stone Plaque [see images above left and right]
This 'Church School' soon outgrew this modest schoolroom so that in only 11 years, by 1867 it was superseded by a much larger and impressive new schoolroom built at Southend to accommodate 105 girls and 59 boys [see image left]. The building still stands much altered having been the home of the Swansea Little Theatre and the Mumbles Motorboat and Fishing Club before its conversion to 'Rooms at Patricks'.
History repeated itself when in 1907 the Church School moved again to its new home in Dunns Lane on the site of Abse Peachey's paddock which had been used for his Livery and 'Taxi' service; Oyster Cabs are still using the same office! It remained a Church School until 1946 when the new regime created by the Education Act 1944 came into effect. The building was used as a School until 1984, as Church Rooms until 1987 and after sale by the Church, was demolished in 1988 to be replaced by the 'housing for the elderly' that is now Dunns Close. [photo above left; The Church School at Southend, circa 1870]
I was a pupil there between 1949 and 1956 when it was known as Mumbles Junior Mixed School [photo right]. I recall a visit by Alderman Harry Libby when he was Mayor of Swansea. He regaled us with the tale of when, as a pupil in 1907 the whole School walked from the old school to the new. Strangely he doesn't mention this in his fascinating undated book 'The Mixture: Mumbles and Harry Libby', but he does record that the School Motto was "I ought - I can - I will"
For completeness I must add that on 14 January 1878 following Forster's Education Act of 1870 the Oystermouth Board School came into existence moving from Castleton Chapel Schoolroom to its new site further up Newton Road in August of that year.
Strangely, although there is mention of the Private Venture Day school there is no mention in the Blue Books of the School that was being run by the Rev Thomas Bowen at Thistleboon since 1841. It's a pity as the Commissioner might have given us an objective insight into what was going on up there. However, I can understand the Commissioner having no appetite for the Trek up the hill a few days before Christmas, and it was probably not in his remit as it was a Boarding School.
Fortunately we do have a very good picture of the School at Thistleboon from the wonderful account written by Wendy Cope from her original research which appeared as an Article headed "Thistleboon House School "in Gower 46 and in the exhibits which she prepared with Edna Davies and John and Carol Powell for the OHA Exhibitions in the nineteen nineties. What follows is entirely attributable to Wendy…so here goes
1841 to 1894: the School at Thistleboon House
In August 1840 the Duke of Beaufort's Steward Thomas Thomas placed a 'To Let' advert in the Cambrian in precisely the same terms as the 1832 advert we have already seen, but this time the suggestion that the house was suitable for a school took long term fruit.
The Rev Thomas Bowen is shown in the Schedule to the 1844 Tithe Map as the occupier of Parcel 1063, the Garden already mentioned, and of Parcel 1112, the Farmyard described as 'Arable Land, part of Thistleboon House'. There is no mention of him occupying the House as that was not the purpose of the Tithe Map to record. It is, of course, not entirely accurate as the holding had been split to create Thistleboon Farm in 1841. Perhaps the explanation for this inaccuracy is the fact that the Tithe Act Survey was carried out in 1841, and not published until two or three years later.
Rev Bowen would have taken a Lease from the Beaufort Estate for 21 years. This was replaced by a Lease to J R D Colston for 21 years from 25 March 1859 at a yearly rent of £35.The copy 1860 ground plan reproduced [below] from the original at the National Library is illuminating in that it shows:
The extent of the part of the House let to Mr Colston
The extent of the new Dormitory and Schoolroom
The cesspool and the Pigsty on the site of our present Vicarage!
The layout of the walled garden
Some of Thistleboon Farm as then let to John Beynon
This Lease gave Mr Colston permission to build a new block at the rear of the property consisting of classrooms on the ground floor, and school dormitories on the first floor. These were completed and brought into use for the Autumn Term in 1859. The Block can just be seen in Ashley Lovering's photo [below right] taken from the Farmyard before demolition in 1976.
On termination of the 1859 Lease by effluxion of time a new Lease was granted at the end of 1877 to Dr T H Maule for 21 years from 25 December 1877 again at a yearly rent of £35. This Lease recorded that the House was then in the possession of Rev R C Christian.
This ties in nicely with Wendy's attached list of the eight headmasters of the School between 1841 and 1894. I do not intend to repeat the detailed accounts of each of their incumbencies, save to comment on some things that I find significant.
Of the eight headmasters, five were Reverend gentlemen. Indeed, during his incumbency John R D Colston converted from Methodism and was ordained as a priest in 1865. He was ordained Priest in 1865 and became an Assistant Curate to the priest in charge at All Saints, Rev Samuel Davies following the great expansion of the Church building in 1860. Whilst the old Church could accommodate 416 worshippers, the extended Church accommodated 669. Fortunately, Samuel Davies was a wealthy man in his own right building a grand house to accommodate him and his family at the Grange West Cross. Indeed, I recall seeing a Census Return for the Grange at that time which showed 16 residents, eight family and eight servants!
[photos below: left: Rev Samuel Davies, centre & right: The Grange]

Religion clearly played a significant part in the boarding school life of the inmates. They were no doubt required to attend Church on Sundays, and usually had the Priest in charge to address them at their annual Speech Days. This was no 'Dotheboys Hall' of David Copperfield infamy. Indeed, it seems to have rivalled Eton in its range of subjects and Dress [image from 1890 below right – of Sidney & Billy Blencow]
In his Adverts in the Cambrian Edward Butler [1849-1859] would state:
"Besides Classics and the usual routine of a thorough English Education, particular attention will be devoted to Geometry, Algebra, Mensuration, Navigation, and Book-keeping; and a series of Lectures will be delivered to the Pupils on Natural Philosophy and the Physical Sciences, thereby affording those who do not intend to enter College the benefit of a College Education. Young Gentlemen who are designed for the Ministry can be instructed in Hebrew, and Music will be taught to those who wish to learn, by one of the Resident Masters, a Piano having been provided for the use of the School"
Butler was 48 when he bought the School, then called Thistleboon House School, and 58 when he retired. He seems to have run a successful school with 15 boarders in 1852 plus Day boys. It was he who employed William Butler as a part time Drawing Master. This Butler is responsible for many fine drawings and paintings of Swansea and Mumbles, including the Sketch shown here [below left] as the view from the School Yard in 1850 [for more about him see Bernard Morris' Article "William Butler, Artist: 1824-1870" in Minerva: Swansea History Journal Vol 3 (1995) The Painting also shown [below right] is taken from a few yards further down Thistleboon Road featuring No 11 with Nos 13, 15 and 17 behind with thatched roofs. There is no attribution to the painting, but the chimney lines are very similar to those in the Sketch, the style is similar to other paintings attributed to Butler…and, of course he was there! On the balance of probability, I suspect that the Painting is a Butler, and that it can be dated to about 1850.
Mr Butler seems to have been popular with his pupils and their parents for, when he retired he was presented with a silver snuff box which was in Wendy's collection. The attached photograph [below right] show its Inscription and its size. Its tiny, but no doubt served its purpose well.
By the time that Butler retired in 1859, the School had become known as 'Thistleboon Academy' as that was the way it was described in the announcement in the Cambrian of a sale by auction on the premises of "The modern and well preserved HOUSEHOLD FURNITURE and EFFECTS" which included numerous beds and bedding, chests of drawers, desks and chairs and the Piano! These chattels must have been sold over and over again for whenever a Headmaster and his wife left there was always an auction.
As noted on Wendy's list of Headmasters, Rev John R D Colston seems to have been the most successful. She has noted that he was probably a descendant of Edward Colston the Bristol philanthropist who has been in the news recently with his statue being cast into the Bristol Float because of his links with the Slave trade. John ran a successful school in York Street Swansea for 13 years before moving to Thistleboon House, and published a Prospectus mentioning this, which can be found in the West Glamorgan Archives.
Kate Jones has carried out some original research on John Colston and notes that by the time of the 1861 Census there were no less than 47 souls living in the extended building: John and Frances Colston, their 7 children, Frances' 2 parents, 2 assistant schoolmasters, 4 servants, a governess and 29 boarding pupils. Quite a little cottage industry. The rather stylised painting of the house as Thistleboon Academy [on page 15] might also have been painted by William Butler, a clue being the little people in the foreground being similar to those shown in the other Painting I have highlighted.
The image was found as a header to the School Report Forms used by John Colston at that time and was taken from the 1860 Midsummer Half-Yearly Report on H L Buckley, of Llanelly's Buckley's Brewery fame. Indeed, the Prospectus shows that between 1857 and 1870 the pupils came from all over South and West Wales: from Haverfordwest in the west, to Ebbw Vale in the east, and as far north as Aberdare. Some of them went on to great achievements [See Chart: left].
It seems that John Colston threw himself into Village life. He led a Bible Class and was an organiser of the celebrations held to mark the marriage of Edward Prince of Wales and Princess Alexandra in 1863, and the raising of the funds to build 'The Prince's Fountain' at the bottom of Western Lane. As an Assistant curate he no doubt ensured that all his pupils regularly attended Church Services and Sunday School.
Unfortunately, he suffered at least two tragedies:
On 6th July 1869 his third daughter Martha Slain Colson aged 14, was drowned at Langland whilst swimming with her elder sister who was saved. A full account of the incident and of the Inquest was reported in the Cambrian on 9th July. John was devastated and on 10th July wrote and published a 34 verse rhyming Eulogy to his beloved 'Matty'. It is very moving.
On 5h June 1873 a young Frenchman Elie Louis Joliclere who was employed at the school as a French Teacher, took his own life there with an overdose of Laudanum. He was only 25. The incident was sensationally reported in a number of newspapers as was details of the Inquest held by the Coroner Mr Edward Strick at Thistleboon House the next day. A full account of all this written by Kate Jones headed 'Priez pour Lui' appears in the Parish Magazine published in November 2019, and on the 'A History of Mumbles' website. Although the verdict recorded that he had 'committed suicide by taking poison whilst suffering from a diseased state of mind' he was nevertheless buried in consecrated ground at All Saints. His gravestone, inscribed in French is outside the north wall of the Church on the left as you come up the drangway from Mumbles Road.
During this Inquest it was recorded as evidence that on 4th June Elie was seen riding his horse at Langland Bay 'furiously through the sea into the small bay [Rotherslade] and up a most difficult path. He then rode to Mumbles and came up the steep hill as hard as the horse could go'. Poor horse! Perhaps it was this image and that of Matty that caused John Colston to give up the Academy after teaching in the area for 27 years, taking himself off to Gloucester to run a Mission with a broken heart.
As will be seen from our list above, the last Headmaster at Thistleboon House was Rev.F C Scott who was only there for a short time from about 1892 to 1894. By that time the name had reverted to Thistleboon House School as that was what it was called in an Article that appeared in the Cambrian on 3rd August 1894. I set it out as follows
PRESENTATION OF PRIZES AT THISTLEBOON HOUSE SCHOOL
ADDRESS BY THE VICAR OF OYSTERMOUTH
The prize day of the well-known Thistleboon House School for boys at the Mumbles, took place on Tuesday afternoon last, when the Vicar of Oystermouth, who is an old boy of the school, which is now under the mastership of the Rev. G Scott, M.A. presented the prizes to the successful scholars. In the course of a pleasant address to the boys, the Rev Mr Jones said he liked the old school because it was founded on staunch religious principles. In the Board schools' religious education was shelved altogether, and in the National Schools it did not receive the attention it deserved because it took up time which could be devoted to subjects which procured government grants. But in Thistleboon he was glad to see that religious instruction was an important part of the curriculum. No boy could become a useful member of society unless his education was based upon a sound religious foundation. Another reason why the gentleman liked the school was because Latin and Greek were placed among the foremost secular subjects. He did not agree with those people who, in their attempts to discourage the teaching of those subjects, declared they were dead languages, for he himself had always thought them very much alive. It was very easy to discern , in the society of educated people, who were acquainted with the Latin and Greek languages. He recommended the boys to persevere in the study of those languages
All very Victorian and very 'public school' by a former pupil, with an interesting gloss on the other major schools in the Village at that time.
Like his predecessor Samuel Davies, the Rev David Secretan Jones [image right] was Perpetual Curate between 1867 and 1898 and came from a wealthy background. He also lived in some style at the Manor House on Highpool Lane at Newton [photo below], and used some of his wealth to purchase from the Improprietor of the Parish the Advowson; ie the right to appoint a Vicar. He was not a Vicar himself, but he used this right to appoint his successor Rev Harold Stepney Williams 1898-1938
as the first true Vicar of Oystermouth. He then gifted the Advowson to the Diocese of St David's which became the Patron of the Parish into the twentieth century. With this Patronage came a duty to provide the incumbent Vicar with a Parsonage House. Perhaps its' not a pity that the present Vicarage is on the site of a pig stye!
Rev F E Scott was assisted in running the school by Mr W A Stent as assistant master, Mr J F Fricker as music master and Sergeant O A Bird as the drilling instructor, indicative of the spirit then prevailing that tired boys caused less trouble! If my memory serves me correctly this man was nicknamed 'Oiseau Bird' and was the model for the statue commemorating the Boer War which still stands on the Promenade opposite St Helens Rugby Ground in Brynmill.
The School fees at that time ranged between 9 and 12 guineas per annum for day boys to 15 guineas per term for boarders under 14 and 17 guineas for boarders over 14. In modern currency that is between £4134 and £4686 per annum for boarders, which meant that only the wealthy could send their sons there. Put another way one boarder's fees for a year would cover the whole year's rent of £35 payable to the Beaufort Estate
In the summer of 1894 Rev Scott moved his pupils to more modern premises in a villa at Langland, renamed the school St Catherine's College, and Thistleboon House was left empty. In hand to the Beaufort Estate once again.
Stuart Batcup [January 2021]
Stuart's trek continues in the next edition where he will look at how Thistleboon House became an Orphanage from 1889-1939
---
Coming out of Lockdown
As the second wave of Covid 19 subsides and the vaccine rollout offers a much longed for return to normal members of the PCC have been looking at ways of preparing to open up All Saints' and Norton Mission to worshippers and the community once it is safe to do so.
It might be that we won't return to the 'old normal' as it's likely that we will have to live with this virus for some time yet. When services resume they will probably have to be restricted at first, rather than being daily. Community events and concerts might also have a phased return.
A key factor in our preparations will be the people we will have in place. We have a number of new Church officers and members of the PCC. We have a new Verger who will oversee services and community events. We are looking to develop our music ministry and choir in partnership with Hywel Evans, who is a hugely gifted musician. We are also looking forward to our Church organisations opening up again and starting up our outreach to young families through Messy Church and our work with the homeless through the night shelter.
So we look to come out of lockdown with some optimism, hoping that our regular worshippers will return and that many others, who have followed our online services, will also join us for our public services when Church opens again.
It is our prayer that we will come out of this experience of lockdown more united in our fellowship, renewed in faith and committed to being active and witnessing Church community.
Vicar
---