December 2020 Parish Magazine
The Vicar Writes
Dear friends,
As we continue to live through the coronavirus pandemic and various parts of the UK go in and out of lockdown the tabloid press has been full of reports that the Prime Minister remains intent on ''saving Christmas' for the nation.
After nine months of restrictions, when family and friends have been unable to spend quality time together, many would welcome any relaxation of the rules so that we can enjoy as near a 'normal' Christmas as possible. There will also be a UK wide five day 'window of opportunity' for us to spend time with loved ones and friends.
Though we all yearn for a return to normality talk of 'saving Christmas' reveals a deep lack of understanding of what the festival is actually about. What Christians will celebrate later this month is the profound truth that 'Christmas saves us' and not the other way around.
Things will be very different this year in Church. We won't be able to welcome the four or five hundred people who usually crowd into All Saints' for the Christmas Eve Vigil Mass. There won't be a large robed choir or dozens of children gathered around the Crib. Instead we will be limited to a much smaller number of socially distanced worshippers at each service and there will be a much more modest liturgy. To help as many people as possible make their Christmas Communion we will hold six celebrations of the Holy Eucharist over the twelve days of the festive season.
But perhaps a scaled down Christmas, stripped of its usual trimmings, will help us to understand more of its true meaning and how the message of the angels remains glad tidings for all, even in these anxious days of pandemic!
All the four Gospels celebrate how the coming of the Christ saves humanity from the destructive consequence of sin and offer an alternative vision of peace.
Mark's Gospel, probably the first to be written, totally ignores the story of Jesus' birth. He begins his telling of the Good News with the arrival in the desert of the somewhat eccentric forerunner, John the Baptist. For Mark, the incarnation is more to do with the ministry of Jesus as the 'Son of Man' than the actual details of his birth.
St Matthew, who we think wrote sometime later, gives us a little more information. He tells of Mary's miraculous pregnancy, the dilemma faced by her fiancé Joseph, the guiding star, the scheming King Herod and the visit of the Wise Men with their gifts of mystic meaning.
In Luke's Gospel we read of John the Baptist's miraculous birth, the annunciation to Mary by the Archangel Gabriel and the enforced journey to Bethlehem where there was 'no room at the inn' for the Saviour of the world. Luke writes of the manger, the shepherds and the song of the angels.
Then St. John, who probably knew the story of Christ's birth better than most, because he had taken the Virgin Mary into his home, condenses the event into one of the greatest confessions of faith ever written, 'The Word became flesh and dwelt among us and we beheld his glory.' He unravels all the traditional features we associate with the story of Jesus' birth and reveals the awesome truth at its heart - that God is with us!
As we keep a very different Christmas this year it's important to remember that the truth it proclaims remains unchanged. Whether we will continue to isolate in our homes, with family or on our own; whatever people we share the season with; we can still celebrate the good news of the Saviour's birth.
A Christmas stripped of many of the usual trimmings and traditions this year will perhaps allow us to enter more profoundly into the mystery of the 'Word made flesh,' our God with us faith! For no one can save Christmas, it saves us!
With my good wishes to you and your loved ones.
Happy Christmas – Nadolig Llawen.

---
Christmas 2020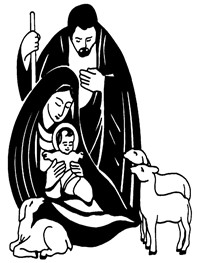 This Christmas will be very different for us. We will not have the usual and well loved Advent and Carol Services in the run up to Christmas Day. We certainly won't be able to crowd in to All Saints' on Christmas Eve for the traditional Vigil Mass.
Instead we will mark the festive season with services that will be limited to no more than seventy people.
Though priority will be given to our own parishioners and those who have signed up on the weekly list on Sundays and Wednesdays it is inevitable that not everyone who wants to come on Christmas Eve or Day will be able to do so. We suggest that those who want to make their Christmas Communion look to do so at one of the six special services over the twelve days.
Everyone will need to book their place on Christmas Eve and Christmas Day by phoning the Vicarage ['369971] or emailing the Vicar on: revkeithevans@talktalk.net
The other four services will include our weekly Sunday and Wednesday list of regular worshippers. All you need to do, if you are unable to attend, is to let us know.
CHRISTMAS EVE
6.30pm: Vigil Mass
& Blessing of the Crib
["The Word became flesh & dwelt among us"]
CHRISTMAS DAY
10am: Holy Eucharist
["The shepherds go to the manger"]
Sunday 27th December
10am: Holy Eucharist
["Mary kept all these things in her heart"]
Wednesday 30th December
10.30am: Holy Eucharist
["The shepherds return praising God"]
Sunday 3rd January
10am: Holy Eucharist
["God so loved the world"]
Wednesday 6th January – The Epiphany
10.20am: Holy Eucharist
["Wise men came from the east"]
O come, let us adore him, Christ the Lord.
---
Advent calendar and Christmas card stall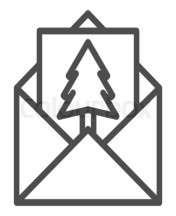 Many thanks to those who supported Embrace the Middle East and Christian Aid by ordering Advent calendars and Christmas cards, or by buying them from the stall in the back of the church during November.
We sold Advent calendars from Embrace to the value of £87.92p.
We sold Christmas cards from Traidcraft/Christian Aid to the value of £290.15p, and we raised an extra £80 in donations and a further £200 for Christmas greetings in the magazine which will be sent to Christian Aid. Many thanks for your support - Happy Christmas!
April
---
Men's Fellowship 50 Club Draw

The draw was made on Wednesday 2nd December and the following three ticket numbers were the lucky winners for 2020
24 [Grafton Maggs] 5 [Mike Taylor] 35 [Maria Gomez]
---
PARISH NEWS
Homeless at Christmas

It's very poignant that we will be unable to organise the usual Fr David's 'Chocolates for the Homeless' appeal this year, just a month after we said our farewells to our much loved assistant priest. Current restrictions do not allow for such a distribution.
Instead, through our Harvest appeal we have been able to send off £1,000 to Housing Justice Cymru, a charity that will oversee those who are taken off the streets of Swansea this winter and housed in local hotels and B&Bs.
Housing Justice Cymru's one to one support of rough sleepers is crucial to help them find permanent accommodation of their own.
Thank you again for your generous support.
Parish Christmas Cards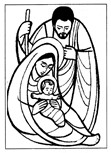 Please take some Christmas cards for yourselves, family and friends.
They contain all the information you need about the scaled down Christmas services at All Saints' later this month and how to book your place at one of the six celebrations of the Holy Eucharist over the twelve days of the festive season.
Face Masks

We have more face masks in the porch. They have been made by Sonia Jones and come in different sizes. They are available for a donation for local homeless initiatives.
So far we have raised well over £200 and we plan to pay for the cost of the St Mary's breakfast club for at least one month this winter.
Choir & Music

We are now permitted to have a small choir to lead the choral parts of our services on Sunday mornings.
We thank Hywel and our two 'bubbles' of choristers who have rehearsed and volunteered for this much appreciated ministry.
Though this is a very welcome step forward congregational singing is still not allowed at the moment.
Magazine Notes
Notes for the February edition of the Parish Magazine need to be in by Sunday18th January at the latest please. They can be emailed to;
revkeithevans@talktalk.net
.
Christmas Tree & Flowers

We thank Cash Hardware, Newton Road, for once again providing a Christmas tree for All Saints'. It's always a lovely part of our Christmas decorations and we are very grateful for the gift.
We thank the Flower Guild for decorating All Saints' for festive season [all socially distanced].
We also thank Patricia Fuller for making this year's Advent wreath for us.
Online Services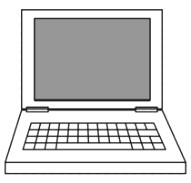 The Mumbles Ministry Area online services continue to go out to around five hundred people each week.
There is a written 'Service of the Word' for people to use in their homes and Canon Chris sends out a pre-recorded service on Sundays and Thursdays.
They have become very popular and have been much appreciated by those isolating or shielding in their homes.
Well Wishes

We send our good wishes for a speedy recovery to those who have been ill recently, in hospital or at home.
Liz Batcup, Betty Jenkins and Maureen Donald remain in hospital at the moment, and we send our love to them. We very much hope that they will soon be well enough to return home.
John Cooke and Hazel Batty are now home from hospital and we send our well wishes for their continued recovery.
Maria Gomez continues her course of treatment. We send our love to her and to Bud Williams, Sheila Rees, Pam Thorpe and Margaret David.
---
Last Month
average attendances Sunday: 62 Wednesday: 42
average collections £998 Direct Giving: £375
total: £1,373 weekly target £1,550
---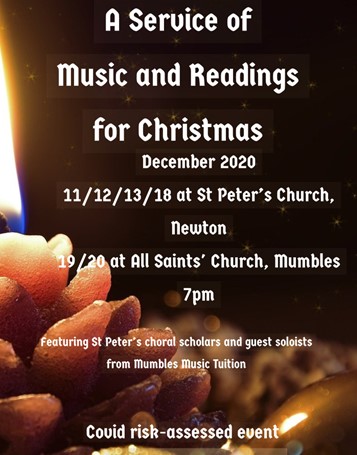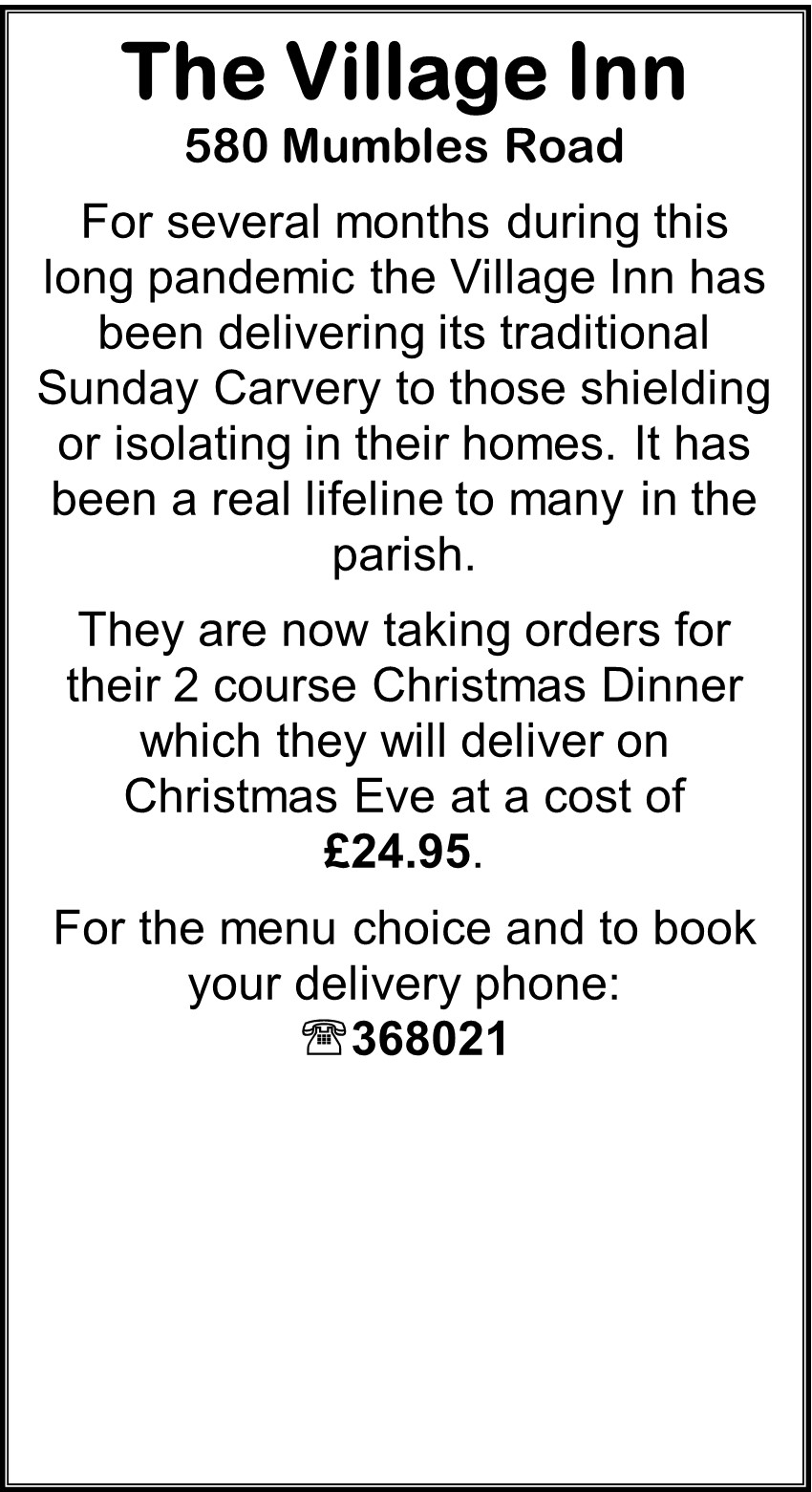 P.C.C. Pickings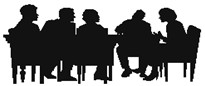 The PCC met on Thursday 19th November in Church.
Ostreme: Stuart Batcup reported that the lease had been finally completed and that the back dated rent of £15,000 had been paid by Mumbles Community Council. He was thanked by the meeting for overseeing the long negotiations. It was hoped that the new arrangement would be beneficial for the Ostreme Association, the parish and wider community.
Churchyard: it was reported that a local arborist had cut back a number of large trees and shrubs on the north and west sides of the Church and trimmed the shrubs in the Garden of Remembrance. These had been causing problems and threatened the integrity of the Churchyard wall. Stuart Batcup was again thanked for overseeing the project.
West Wall: the Church architect, Dewi Evans, had met with parish representatives to examine the problem of water ingress above the St Christopher window. The architect had suggested repointing the external west wall and it was agreed to commit to this work in 2021.
Finance: The Vicar reported that parish representatives had met with diocesan officers [by Zoom] to discuss a reduction of the parish share in 2020. Quarter one [January - March] had been paid in full. Quarter two [April to June] qualified for a 77% reduction, which had also been paid. Sonia Jones [PCC Secretary] reported that discussions were ongoing about the level of assistance for the second half of the year. It was likely that the balance outstanding would be around £24,000, which the parish would be able to pay.
It was noted that the level of direct giving had increased from £195 at the start of 2020, to £375 at the end of October. The PCC expressed its appreciation for the wonderful financial support given by our regular worshippers during the pandemic and lockdown.
Curate's House: Stuart Batcup informed the meeting the freeholder had agreed a price of £10,000 [plus fees] for the purchase of the freehold. It was unanimously agreed to proceed with the purchase.
Next Meeting: 10.30am on Thursday 14th January 2021 in Church.
---
A Fond Farewell to a Faithful Friend & Priest
Our long serving Assistant Curate, Fr David, was laid to rest on Friday 13th November.
As the current restrictions limited the number able to attend his funeral service hundreds of parishioners and friends lined the pavements on Mumbles Road to pay their respects to a much loved priest and teacher.
The parish clergy were joined by others who had served with David over his thirty years of ministry.
His cortege was led out of the village by the Crucifer and Churchwardens, followed by eight clergy.
The people who came to pay their respects were all socially distanced and included parishioners, the lifeboat crew, teaching colleagues, friends, neighbours and those David had worked with on the annual Diocesan Youth Camp. The crowd, which stretched from the Drangway steps to the White Rose, applauded his as he passed by. Members of his flock at the Mission also stood at the junction of Norton Road to pay their respects as well. It was all very moving and a fitting tribute to a priest who had devoted his life to the service of others and the Church.
---
In Memoriam
Vera Parvin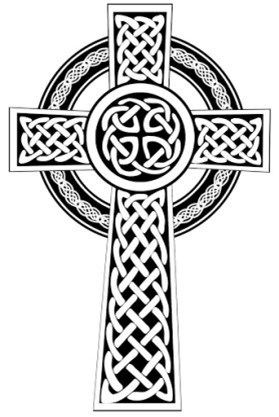 A Service of Thanksgiving for Vera's life was held at Llanelli Crematorium on Monday 23rd November. Due to the Covid restrictions attendance was limited to close family and friends.
Vera was one of the quietly faithful members of the Church community at Norton Mission and regularly attended the Sunday morning service there. She also joined us for some of the social events held in the hall each year. She had a great love for children and worked as a nursery nurse for a number of years.
We offer Hector and the family our deepest sympathy at this time.
Anne Norman
A Requiem Mass will be held on Wednesday 16th December at All Saints' in thanksgiving for Anne's life.
Anne was a delightful lady who made many good and lasting friendships within the Church and wider community of Mumbles. She trained and worked as a teacher for many years and was an influence for the good on so many children in her care.
She and Neil have known each other for over seven decades and were married for 66 years. She was a devoted and loving wife, mother and grandmother.
Anne was a committed and faithful Christian and her spiritual life was very much rooted in the sacrament of Holy Communion, which she received devoutly throughout her life.
For the last few years she had battled ill health and she and Neil found it easier to worship at Norton Mission. At the end, she was lovingly cared for by Neil at their home.
We extend our heartfelt sympathy to Neil and the family and assure them of our continued prayers.
Well done, good and faithful servant, enter now the joy of the Lord.
---
Christmas Greetings
---
A Happy & Blessed Christmas to all our friends at Norton and All Saints' Church.

Les & Brenda Harris

Roger & April Beynon

Wish all their friends at All Saints' every blessing and good wishes for Christmas & the New Year

A very Happy Christmas and every good wish for the New Year to all our friends at All Saints' & Norton

Sian Budd & Geri Petherbridge

A Happy, Peaceful & Blessed Christmas to you all – Nadolig Llawen

Vicar, Mary & family

Peace this Christmastide and for 2021

Jill Rees & Claire, Paul & George Bidder

Wishing you all a very Happy Christmas and a Peaceful and Healthy New Year

Pip & Elaine George

Wishing all members of our lovely Church family a joyous Christmas and a normal New Year

Stuart and Liz Batcup

Very best wishes for a blessed Christmas and a safe and peaceful New Year

Barbara Cards

I wish a very happy and blessed Christmas to all my Church friends and especially to Hywel and all the choir

Angela Morgan

Anne and Neil Norman

wish all our friends in All Saints and Norton church a Happy and Healthy Christmas and New Year

Wishing everyone the spirit of Christmas. May its simple joys fill your hearts with hope and love.

Eleanor Morris

Liz & Brian Brent wish everyone a safe, happy and peaceful Christmas and look forward to seeing you in the New Year.

Merry Christmas everyone

Love from

Bud & Isobel Williams

Roll on 2021

Wishing you a peaceful Christmas and a happy and blessed New Year

Rosemary Thomas

Wishing our Church family a very merry Christmas and a happy and healthy New Year

David & Christine Carpenter

Best wishes for a

Blessed Christmas

& Happy New Year

Canon Robert & Christine

Neil Norman thanks our friends from Norton & All Saints for their kind thoughts, & wishes them a happy Christmas & healthy New Year

Happy Christmas

Nadolig Llawen

Gesegnetes Christfest

Wolfram & Anne
Wishing you all a

Peaceful Christmas and

A healthy 2021

Diane Harris

Wishing you all a Merry Christmas & a Happy New Year from

Dorian, Sue, Joanne & all the staff at the Village Inn

Wishing the clergy and all my friends at All Saints' & Norton a very happy and blessed Christmas

Elizabeth Edwards

David and Jan Silvey

Wish all their friends at All Saints' & Norton a peaceful Christmas and a bright New Year

Julie & John Francis

wish the All Saints' Team and all their friends a happy and safe Christmas and New Year

A Blessed Christmas and a healthy New Year to all

David & Liz Perman

Season's Greetings

& best wishes for a happy and healthy New Year

Sue Wilkinson

Best wishes to clergy & parishioners at All Saints' Church.

Looking forward to a good New Year

Margaret Christie

Wishing everyone at All Saints & Norton Church a very joyous & blessed Christmas & a New Year full of hope & happiness

Alethea Tavinor

Season's Greetings and best wishes for 2021 to all at All Saints and Norton

Russell & Margaret Morris

Wishing all our friends at Norton and All Saints a Happy Christmas and a

Healthy & Peaceful New Year

Anne & Alan Jones

Many thanks to those who have supported the Christmas Greetings Appeal this year.

We've raised over £200 so far for the work of Christian Aid in the UK and overseas. Diolch!
Walsingham 2021

We have rearranged the Mumbles Ministry Area Pilgrimage to Walsingham, which was due to take place during May of this year and postponed because of the Covid pandemic. It will now take place between Monday 20th to Friday 24th September 2021. We thank Rosemary Thomas for making the booking for us.
Earlier in the year around fifty of us signed up for the original pilgrimage and paid our deposits. In the New Year we will have the opportunity to sign up for September, if we wish to do so. Those who decide not to come will have their original deposit returned. We plan to send out more information next month once we have confirmed travel and accommodation costs.
---
Thank You
Many thanks for the kind expressions of sympathy received from the church community after the death of my mother Vera Davies. It has been a great support for the whole family.
Andrea Davies
---
"I'M DREAMING OF A WHITE CHRISTMAS…"
Photographs from the Oystermouth Historical Association Archive

I remember as a child waking on a winter's morning to a strange light in the bedroom and an uncanny silence. Like the boy in Raymond Briggs' The Snowman, I padded across the cold lino to open the curtains on a wonderful, white world – an overnight transformation of the drab to the beautiful. The only blemishes were our cats' paw prints, deep holes in the snow, by the back door. My brother and I were up, dressed and outside before our mother could stop us - rolling snow to make a snowman. I can still recall the feel and smell of cold, wet, woollen mittens sodden with snow!
Oystermouth Historical Association Archive ~ snow photographs
1880s: Two photographs from the Gold-Dickson family album
[above 'Oystermouth Valley in the snow', 1880s]
This photograph, titled 'Oystermouth Valley in the snow', was taken from Glyn-y-Coed house looking down Newton Road and across open fields that are now Underhill Park. On the high ground to the right are Langland Villas.
The 'castellated Gothic' Glyn-y-Coed house [now 110 Newton Road] was built in the in the grounds of an existing house, Callencroft, in the mid-1860s for Charles Gold. He was a wealthy London grocer who had re-located with his wife and growing family to Swansea to head up his father-in-law's tea and coffee business – Messrs Phillips and Sons in Castle Square. In the gardens of Gyn-y-Coed was a pretty hut, a dark room, perhaps where these photographs were developed and printed.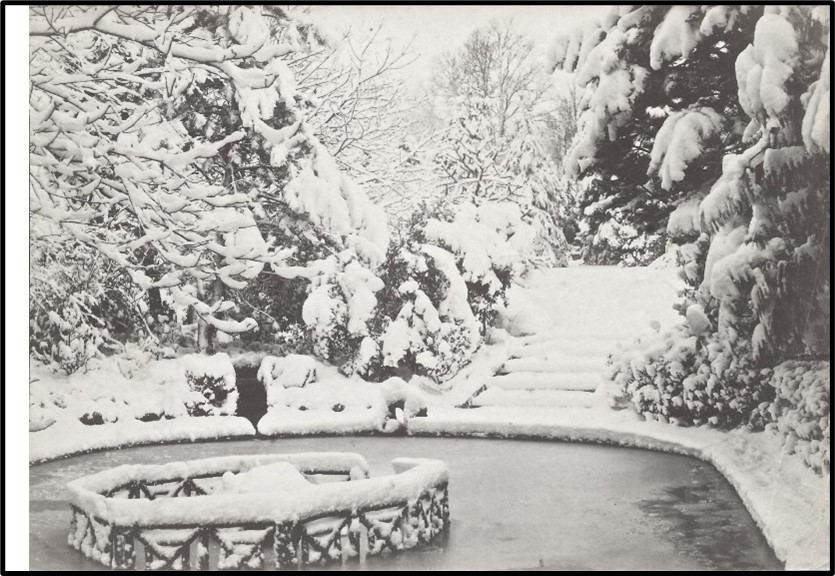 [above: Ornamental fish pond on the lower lawn at Glyn-y-Coed, 1880s]
THE GREAT BLIZZARD OF 1881
Between 17 and 21 January six inches of snow fell on South Wales. Swansea experienced 'a strong gale of piercing cold wind accompanied by snow that drifted in every direction' blocking roads and railways. [South Wales Daily Post]
As a consolation a local newspaper published a recipe for Snow Pancakes!
"Half a pound of flour,
1 pint of milk,
pinch of salt.
Mix to a smooth batter
stir in 3 large tablespoons of snow (quickly) and fry. Serve with sugar, lemon or preserves to taste."
Interesting to try but probably best to use 'freshly fallen' snow!
THE GREAT BLIZZARD OF DECEMBER 1908
[South Wales Daily Post 29 December 1908]
It was the severest weather since 1895. Heavy falls of snow were blown by keen winds into 6 foot drifts. The Mumbles Press reported: 'local unemployed welcomed the chance' to earn money by clearing snow off the tracks of the Mumbles Railway.
[left: Two photographs of Newton in the snow of December 1908, M.A. Clare]
Clare was a prolific photographer. For over 60 years he photographed places, events and people – anything that caught his interest [and he seems to have been interested in everything]. His legacy is a fascinating chronology of social and economic history during decades that saw huge changes.
A WARTIME WINTER: 1940
Monday 29 January 1940:
COLD, VERY COLD. So wrote Laurie Latchford in his Swansea Wartime Diary of 1940-41.
"After a period of intense cold since Christmas rain fell yesterday and froze as it fell. The trees have a silver-grey glistening coating. The bushes, fences and grass have a snow-fairy pantomime look. … The fringes of Swansea Bay have for many days looked arctic. Water seeping from the land freezes when the tide goes out and when the tide comes up again the ice is broken up and pushed into miniature cliffs a foot to two foot high and several yards wide."
Monday 19 February 1940: "We have had real freak weather. The rain turned to sleet and the sleet to a blizzard. In two hours four inches of snow had fallen and stopped the buses. By night it was fine and moonlight. In the morning it was snowing again. In the afternoon it was clear and the snow crisp. Sylvia and I built a big snowman on the back lawn, with shells for ears."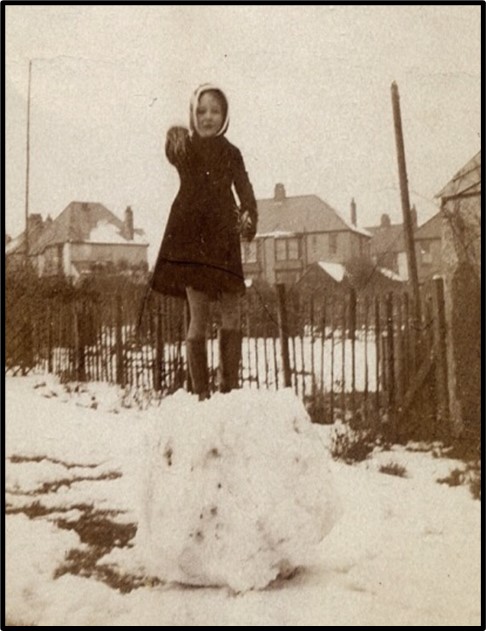 [right: Photograph by Essie Latchford of Sylvia on her snowman in the garden of 48 Caswell Road, Newton]
In the same month
Harry Libby wrote to the men from Mumbles away from home in the forces:
"We've been frozen to the marrow since we wrote last. The plumbers are having the time of their lives – and the kiddies in Woodville Road had ditto for best part of a week when they transformed it into as good a toboggan Run as you would find in the Land of Condensed Milk! Newton had Home Rule, so did Norton, and we only knew of the existence of Limeslade because Mr. Boyle had to come in daily for the papers! Burst pipes everywhere and the whole atmosphere a salutary reminder that the local Comforts Fund was formed not a whit too soon."
Winters during World War II were cold, but nothing like
THE WINTER OF `47
[left: Southend Gardens in 1947]
The winter of 1947 was one of the harshest and hardest to bear, hitting the country recovering from six years of war. In the third week of January a great freeze swept in from Siberia and stayed until the middle of March. During February there was barely a glimmer of sunshine. Huge snowdrifts blocked roads and closed railway lines, cutting off communities for
weeks on end. Wartime food rationing was still in place and there were shortages of just about everything from housing to labour to basic household essentials. To this was soon added a desperate shortage of fuel and power. Britain ran on coal but the piles of coal at the pits froze solid and could not be moved. Winding gears seized up and, as coal stocks dwindled, so power stations dependent on coal began to shut down. Heavy industry was forced to stop, factories were closed and coal and electricity for domestic use was rationed. Terrible storms in early March brought more snow and animals died in fields from cold and lack of fodder. Vegetables could not be dug from the frozen ground. There was real fear that, despite rationing, food supplies would run out. When the thaw came, melting snow ran off the frozen ground and parts of Britain experienced severe flooding.
But for some the snow was very exciting. An enterprising group of Mumbles lads fitted metal runners to the bottom of a builder's ladder and took it to the top of Kings Road. From there the several 'on board' managed to toboggan down the hill, up and over Stanley Street right up to the school gates in Newton Road!
[above : Digging out a railway embankment in Swansea, 1947, Evening Post]
THE WINTER OF 1962-63 ~ THE COLDEST SINCE 1740
[left: Mumbles sea front in
January 1963]
It started snowing just before Christmas, 1962, and the snow stayed until mid-March 1963. The winter of 1962-3 was the coldest for more than 200 years with blizzards, drifts, blocks of ice and temperatures below minus 20ºC. Even though there was some sunshine it was colder than the winter of 1947.
I missed it all, as I was [temporarily] living in New Zealand. Although we didn't celebrate Christmas 1962 on the beach – Wellington wasn't called 'Windy Wellington' for nothing - I do have photos of us sitting in the garden with our Christmas presents enjoying a warm summer's day. Our Antipodean Christmas was certainly not 'a white one' and I felt rather cheated when I saw photos of massive snow drifts near our house back in England.
JANUARY 1982: 36 HOURS OF SNOW
[below: All Saints' church: January 1982 - photographer unknown]
It started on 7 January 1982 and did not stop for 36 hours. Bitterly cold, gale-force, easterly winds brought powdery snow and piled it into huge drifts. Trains stopped, the M4 came to a standstill and Mumbles was transformed into a winter wonderland. RAF rescue helicopters worked non-stop air-lifting people to safety and helping famers trying to prevent their animals from freezing to death. The Australian rugby team had a shock when they found themselves snowed into their hotel in Porthcawl!

[left: Langland Bay, 1982
and a Western Mail supplement on the Blizzard of 1982]
Since 1982 there have not been such noteworthy falls of snow in Mumbles. Snow is fun when you are young; not so when you are older and have to get to work or the shops, when slipping might mean a broken ankle – or worse. A White Christmas would be lovely – so long as it was just that. I have a very special memory of coming home from midnight mass early one Christmas morning as the first flakes of snow drifted silently down.
Happy Christmas, everyone.
Kate Jones, December 2020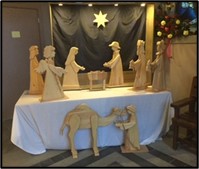 [photos above left: December 2017 by Kate Jones – above right: All Saints' Crib by Barbara Richards]
---
THE LEPROSY MISSION

We are approaching the time of year for collating donations to TLM in support of its work, particularly in the case of this parish, at Purulia Hospital, West Bengal. Through the recent months of restrictions due to Coronavirus my guess is that many of us have been paying for daily essentials by card instead of cash, which will have lessened the flow of small coins into TLM home collection boxes. The need for us to continue our help remains and perhaps the situation has intensified as India struggles with Coronavirus along with the rest of the world.
May I suggest to TLM home box holders that in the present circumstances a cheque equivalent to the amount usually raised from your box would be the answer this year. I would, of course, gladly receive any cash in the usual way or by an arranged meeting. My home telephone number is 01792 368065. A cheque should be made payable to All Saints Church and could be left in the TLM box in church or sent to me at 43 Victoria Avenue, Mumbles, Swansea SA3 4NQ. This hopefully one-off method of collection would enable us to continue with our commitment to TLM's work at Purulia Hospital.
Please also continue to save used stamps. £43,683 was raised last year from the sale of donated used stamps and collectables. TLM relies on us to help in any way we can. It assures us in a condensed issue of Summer 2020 New Day magazine that - "saving a second class stamp may seem like a drop in the ocean but the difference made collectively is immeasurable."
Many thanks for your continued help and generosity.
Thelma Lloyd
[TLM Parish Coordinator]
The next edition of the Parish Magazine will be available in February. It will include a special article written by Grafton Maggs to commemorate the 80th anniversary of the Swansea Blitz. Once again, it will be sent out online and printed copies will be available at the back of Church.
A Trek through old Mumbles Village and Thistleboon
Part 8: Thistleboon House and its estate
A Timeline from 1820 to 1840
Since completing Part 7 of this Trek, Kate Jones, the Secretary of the Oystermouth Historical Association has kindly loaned me The Association's Archive material compiled by Wendy Cope over thirty or more years which is a rich source of information for this and the next Sections of my Trek. I am extremely grateful to all three for their support and encouragement.
What it has thrown up is more information about the Shewen Family which owned the house from 1777 to 1819. The reader will recall that I found it difficult to conjecture on what the family dispute might have been that gave rise to the sale of the house in 1819. Well I think I now know better!
It seems that the family may not have been as wealthy as the impression already given, for in 1786 Daniel and Jane borrowed the sum of £502 on the security of Thistleboon House [about £29,000 in today's currency] - see copy Deed from National Library [left]: and on 26 March 1808 Jane was trying to let the House - see copy Advertisement from the Cambrian of that date.
After Jane Shewen's death in 1813 the family became involved in at least two costly lawsuits in Chancery:
The first [Hawkins v Shewen] instigated against her second son William Thomas Shewen, by his brother in law John Hawkins. This gave rise to a Notice published in the Cambrian on 16th January 1819 [below right] of a Decree dated 3rd July 1818 in the High Court of Chancery calling upon the creditors of Jane Shewen to prove their debts. This suggests that she died insolvent
The second [Shewen v Shewen] was instigated by the same William Thomas Shewen against his elder brother Daniel Shewen the younger. It was this Action which gave rise to the Order referred to in Part 7 and the Order fixing the date of the Auction of the house and nearly 90 acres of arable and pasture on 9th September 1819 – see copy Advertisement from the Cambrian dated 21 August 1819 [page 14 - top right].
It is said that this second suit was not settled until 1875! This story has all the hallmarks of Jarndyce v Jarndyce the fictional lawsuit that underpinned Charles Dickens' Bleak House. When that case settled there was no money left as it had all gone on legal costs! It's well worth re-reading Chapter 1 which paints an emotive picture of how the Chancery Court operated at that time. Fortunately it has improved over the intervening years!
Well we are now into the era of George IV who, before acceding to the throne in January 1820 had ruled as Prince Regent since February 1811 when his father George III had descended into madness. So, in effect he reigned for twenty years until his death in 1830. The Regency and George IV's reign has been perceived as one of flamboyance, opulence and extravagance epitomised by his extraordinary Pavilion at Brighton which has to be seen to be believed. He was around to see off Napoleon Bonaparte and to see in nearly a century no longer consumed with wars against the French. The French were too busy fighting the Germans during this time.
William IV reigned between 1830 and 1837 when he was succeeded by his niece Victoria who reigned until 1901. This was the era of the expansion of the British Empire with war like skirmishes taking place in such disparate colonies as Canada, India and South Africa, as well as the controversial Crimea War when the UK joined the Ottoman Empire, France and Sardinia to successfully take on Russia. With the support of her beloved husband Albert, Queen Victoria steered the nation to its most prosperous period ever under the leadership of such significant Prime Ministers as Lord Palmerston, Benjamin Disraeli and William Gladstone. The Industrial Revolution with the development of steam power and its reliance on coal was a major driver of this successful period which led to great fortunes being made by the few, and hard lives and poverty for the many.
Swansea thrived during this period. Between about 1780 and 1830 it havered between becoming a fashionable seaside resort, cashing in on the wealthier classes taking 'staycations' and thus avoiding travelling to and through France during the period of its bloody revolution, or developing as a place of commerce and industry. David Boorman's lovely book 'The Brighton of Wales' describes how this conflict was demonstrated and by 1830 resolved in favour of the latter. The Assembly Rooms and fine Georgian houses at Cambrian Place and Gloucester Place survive as evidence of this period. The adjoining Burrows and leisure gardens succumbed to creation of the South Dock opened in 1859 as an adjunct to the Float or Reach that had been opened in 1851 which was renamed the North Dock.
The Port had expanded to service the burgeoning copper smelting industries in the lower Swansea Valley, which was a truly 'satanic place' with its many furnaces and tall chimneys spewing out smoke and poisonous fumes from close to the Town Centre. In the latter half of the nineteenth century Swansea was truly the world's 'Copperopolis', attracting incomers from all over.
Indeed. without all this and the work provided, I wouldn't be here now:
My Great Great Grandfather William Badcock (or Badcopps) was born in Beaford, Devon in 1835/7 and moved to find work in Swansea in about 1857. He met and married a Sketty girl Sarah Stevens and they set up home at what is now Cae Banc Sketty. He worked locally as a Collier at first, and then as a Coal Trimmer at the South Dock, where he died by drowning on 25th November 1872. He left a widow and eight children.
His second son William Badcup was born in Sketty on 31st December 1860 and he went on to marry Jane Davies in about 1884 with whom he set up home at Robert Street Manselton. He worked as Nickel and Silver Refiner in the Hafod and died in 1917, with the family surname fixed as 'Batcup', Between them they had five boys and five girls. All of the boys went to fight in France during the First World War…and miraculously they all came back
In Mumbles there was a similar tension between the place becoming a resort or a place of industry and commerce. Carol Powell's fascinating little books 'Regency Mumbles', 'Inklemakers: Life in nineteenth century Oystermouth' and 'Days before yesterday: Childhood in Victorian Oystermouth' all set the scene better than I can.
At about 1800 the economy of Oystermouth was still dominated by agriculture, fishing and limestone quarrying. Exploitation of the coal reserves in Clyne Valley at the very edge of the South Wales Coalfield, of the limestone all around Oystermouth, and of a vein of marble in the limestone workings at Southend between 1808 and 1825 with the beach and the Tramway to haul it away all led to increased prosperity. In 1840 a vein of iron was found in the same workings, and when mining of it began in 1845 there were ominous signs that Mumbles might go the same way as Swansea. The iron workings formed a long narrow cutting from a point just beyond the Bristol Channel Yacht Club to Limeslade Bay. The walled up exit at Limeslade can still be seen behind Fortes Store Hut.
Fortunately, the vein was soon worked out, but the population of the Village was rising from 715 in 1801 to 1,938 in 1851 with all the pressures created for Highways, Housing, Relief of the Poor, Water and Sanitary provision, Education and Religion. As we move on we will see how these last two impacted on the hamlet surrounding Thistleboon House, but before that we have an interesting twenty years to consider.
1820 to 1830: Major General George Warde
The following entries appear in the Diary of Lewis Weston Dillwyn of Sketty Hall, former owner of the Cambrian Pottery in Swansea, magistrate, landowner, a founder member of the Royal Institution of South Wales and a significant figure in Swansea life:
"6th September 1819
Proceeded in the tramcar to the Mumbles…
I examined the Thistleboon estate which is for sale next Thursday
19th September 1819
Sale by auction of the Thistleboon estate and it sold for £2,410"
The plan marked 'Thistleboon House and Lands 1843' [left] is an extract from the 1844 Tithe Map and shows by green shading [more or less] what General George Warde [below right] paid £2,410 for. That's about £148,000 in modern money, which was a substantial investment by someone who did not intend to live there. He was living in his much grander 'new house in the Gothic style' called Woodlands Castle at Clyne. Since moving there in 1799 he rebuilt the Castle in two main phases: the first in 1800 and the second during 1817-1820 making it look as shown in the attached image. He was probably stretched financially at the time of the purchase.
But who was this good General? I am indebted to Professor Ralph A Griffiths' comprehensive booklet 'Clyne Castle Swansea: a History of the building and its Owners' 1977 for telling us all about him. He was born at Squerryes Court, Kent on 24th January 1760, the third son of a country gentleman. He married well in January 1781 to Charlotte Madan who had aristocratic blood in her veins, As Ralph says '…the marriage was something of a financial coup for Warde; the couple received £5,000 from the Cornwallis Estate and it was this that partly enabled George Warde to satisfy his ambition to go a-mining in south Wales.
He had an indifferent military career between 1774 and 1788 when his Grenadier Guards regiment was reduced to a cadre. He had been promoted lieutenant in 1776 and captain in 1781 but found himself with the luxury of full pay and very few duties to perform. The Grenadier Guards continued to list him as one of their officers until the regiment was disbanded in 1808, long after he had effectually retired. The attached portrait shows him in his Military uniform. He was promoted major in 1790, colonel in 1798 and major general on 1 January 1805! To quote Ralph again; 'It was a common story of gradual promotion in return for modest activity at little risk'.
It was his wife's wealth that attracted him to the mining undertakings of the Townshend family in the coal veins near the Burry Estuary on the eastern bank of the River Loughor which he bought in 1799 at about the same time as he purchased the Woodlands Estate [right: Woodlands Castle at Clyne]. As well as having the decent house built on it by Richard Phillips in 1791 the mineral and timber resources of its 27 acres stretching around Brockholes, Le Mayalls and Penlan Wood were an attraction. Remember that coal mining was taking place in the Valley, and near the Car Park behind the present Clyne Castle there are still the ruins of a Chimney/Tower used to draw the fumes from the Arsenic works below.
It has been said that 'George Warde had plenty of industrial enterprise, but no known experience', and it was that lack of experience that led to his downfall as he over-extended himself. His purchase of the Thistleboon Estate was followed by High Pool Meadow and more woodland near Newton, but his greatest acquisition came in May 1825 when he bought from the Earl of Jersey the Grange, Brinnau and Bran's Pit more than 53 acres in all giving him continuity of ownership from the Castle to West Cross. In all he created an estate that was 330 acres in extent.
But at what cost? The Jersey purchase forced him within four months into a sizeable mortgage of £6,625, which was still unpaid when he died five years later, as well as a further mortgage of £2,000 taken out just before his death as a result of the losses he had sustained with his Llanelli mining enterprises. As with the Shewens at Thistleboon, the estate had to be sold after his death. As Ralph Griffiths puts it:
"George Warde had been an enterprising and farsighted man, one of a breed in south Wales at the turn of the nineteenth century. The rapid industrialisation of the region offered opportunity, wealth and property to such younger sons as he. But Warde had over-extended himself with the variety and size of his industrial and building ventures."
So, what was actually going on at Thistleboon during this time?
Apparently, George Warde soon found a tenant to run the farming that had been conducted on the 90 acres from the house but was less successful in renting out the house itself. The attached Advertisement which appeared in the Cambrian on 18 December 1820 is illuminating [right]. As well as telling the reader about the amazing location of Thistleboon House, it also shows that:,
George Warde was willing to throw into the letting as much or as little land as would appeal to a tenant
The House was, not surprisingly, out of repair: it had been there for 170 years.
It was thought 'peculiarly eligible as a school for children requiring sea air and bathing, or for a bathing hotel'
Rotherslade had 'a most beautifully transparent sea, in a sequestered cove, with a fine sandy bottom'
I wonder how an Estate Agent would be describing it if it were on the market today!
The house was in fact only used for summer lodgings until the idea of it becoming a school came to fruition when a Miss Aldrich opened a preparatory school there in 1836.
1830 to 1841: The Seventh Duke of Beaufort
Following George Warde's spectacular fall from grace Woodlands Castle and all his estates had to be sold to meet his debts. I suspect that so far as the Thistleboon estate was concerned, as it was copyhold it reverted to the Lordship of Gower and Kilvey in the person of Henry Somerset, 7th Duke of Beaufort [1792 to 1835]. [See portrait left] Living in Badminton he was personally remote from Oystermouth, but as a great deal of his wealth was being generated by his commercial interests in and around Swansea, the estate was managed by his Stewards.
Lewis Thomas, a solicitor with his practice in Fisher Street Swansea became Steward and Recorder of Swansea in 1822 on the recommendation of Lewis Weston Dillwyn. Unfortunately. mental illness cut short his very promising career in 1829, when he was succeeded as Steward by his younger brother Thomas Thomas who was also a solicitor and had worked in his brother's practice. Thomas had been made an alderman in 1828, and portreeve [mayor] in 1829, but, unfortunately he died in 1844.
As solicitors, these good folk also acted for their clients as Estate Agents in the purchase and sale of houses and land, and in the grant of Leases. They would have been behind the random lettings of Thistleboon House and the farmlands during this time.
The Oystermouth Vestry Book records that on 25th March 1835 the rateable occupier of Thistleboon House was a 'Mrs Morris and that the rates payable were Six Guineas per annum based on a Rateable Value of £63. This made it the third most valuable property in the Parish after John Nicholls a Co's 'The Farm' [now Craig-y-Mor and about whom we shall learn more later] with a Rateable Value of £86.15s.0p. and Woodlands Castle with a Rateable Value of £83.14s 8p.
Thomas Thomas would have negotiated the letting of the house to 'Miss Aldrich' for a school which opened on 25 March 1836. The Advertisement in the Cambrian which announced this venture on 12 March 1836 stated that the school was to be 'a preparatory school at Thistleboon House near the Mumbles for a limited number of young gentlemen'. We don't know very much about this school as by 1840 Miss Aldrich had gone!
This was a turning point in our history, as a decision was taken by the Beaufort Estate to subdivide the house to accommodate a separate farmhouse so that in 1841:
The living accommodation for the farm that was to become known as 'Thistleboon Farm' was created on the ground and first floors to the left of the main door, with its separate existing entrance under the porch on the side of the building. The existing Stables and Coach yard were all included in the letting to the first tenant farmer Evan Williams. I will need to devote a separate chapter to the history of the Farm.
The rest of the house was leased in the summer to the Rev Thomas Bowen for his 'Thistleboon Academy', It was to remain a private school in various guises for over fifty years until 1894.
From this point on in the narrative, I will deal with the various characters and uses of the house that continued until its demolition in 1976.
The freehold ownership throughout remained with the Beaufort Estate which through the rest of the nineteenth century, and the first half of the twentieth century had a significant presence in the Village. The Eighth and Ninth Dukes and their respective Duchesses did figure in local life, particularly in the life of All Saints Church. While the respective Dukes were patrons of the Bristol Channel Yacht Club from which they sailed, their wives bestowed their presence at the many fund raising bazaars and fetes that took place at the beginning of the twentieth century held to raise fund to pay for the erection of St Peter's Church at Newton and the new Church School in Dunns Lane before World War I. The site for the new Vicarage at Higher Lane was also a gift of the Beaufort Estate at that time.
The Estate Office was in the ground floor of 'The Elms' the house that figured in our 1734 murder. In the nineteen fifties Glyn and Val Gabe lived in the first floor flat. He was one of the Estate's local surveyors. My memories of the Elms are of being taken to the Office there by my mother to pay the rent to the very tall Miss Laing who lived in Thistleboon Gardens, and spoiled me with sweets!
Time to rest again.
Stuart Batcup [November 2020]
---
Wassailing - a Mumbles & Gower Christmas Tradition
An important part of Christmas past in Mumbles and South Gower was the tradition of Wassailing on 'Twelfth Night' - the last day of Christmas. Villagers would go around the streets and houses singing and usually carrying the Mari Lwyd [a decorated bleached horse's skull mounted on a pole and carried by a man hidden under sackcloth].
Wassailing is traditionally thought to be an old English custom and was popular in the cider producing regions of the West Country. Originating from the Saxon era the tradition involved carollers going from house to house with the wassail cup to bring good health to everyone in the community as Christmas drew to a close. The word 'wassail' is from the Anglo Saxon, 'waes hael', which means 'be healthy'.
South Gower has been a 'little England beyond Wales' since the time of the Norman conquest, so it is not surprising that this old West Country Christmas tradition was also practiced here over the centuries. It was often mixed with the more Welsh tradition of carrying the Mari Lwyd [Grey Mare] from house to house.
The Gower wassailing bowls were usually made from elderberry boughs and held a punch made of a potent mixture of wine, sherry, cider and beer. It was usually topped with a layer of bread or apples coated in beaten eggs. In the hard times of yesteryear the toppings were just as popular as the alcohol drink in the wassailing bowl.
The Mumbles and Gower wassailers often painted their faces black or wore masks. Some of the men would even dress as women - a 'Bessy'.
Usually, the handler controlled the Mari Lwyd's mischievous nature and often snapped its bony jaw at innocent bystanders. The team would try to enter local homes through song [pwnco], often extemporised and full of humorous insults and challenges. Once welcomed in the team was given food and drink and the Mari Lwyd continued to be mischievous, trying to steal things and chase people she took a liking to.
Though the tradition has all but died out on the peninsula occasionally we are reminded of it when we hear the old Carol;
Wassail! wassail! all over the town,
our toast it is white and our ale it is brown;
our bowl it is made of the white maple tree;
with the wassailing bowl,
we'll drink unto thee.
[above photo: The Mumbles Mari Lwyd at an unknown local hostelry – date unknown – from Glamorgan Archive Service]
Parish of Oystermouth – Who's Who
Vicar: Revd. Canon Keith Evans DL,
The Vicarage, 9, Western Close, Mumbles, Swansea. SA3 4HF '369971
email: revkeithevans@talktalk.net
Honorary Assistant Priest: Revd. Canon Robert Jones
Vicar's Warden: Stuart Batcup People's Warden: Anne Neumann
PCC Secretary: Sonia Jones PCC Treasurer: Julia Payne
Warden Emeritus: Peter Rice Warden Emeritus: Les Harris
Organist: Hywel Evans Sub Organist: Angela Morgan
Licensed Worship Leader: Sonia Jones Gift Aid Secretary: Jeanetta Boyd
PCC: Roger Beynon, David Carpenter, Katrina Guntrip, Barbara Richards,
Carl Richards & Bruce Roberts.
Verger: James Williams Church Office: '361684
Church Services during Covid 19 Restrictions
Sunday
10am: Holy Eucharist
Wednesday
10.30am: Holy Eucharist
[In order to comply with Welsh Government track and trace regulations those who wish to join us on Sundays and Wednesdays must book their place by contacting the Vicar