Print to PDF File | Return to Non-Print Version
---
School and Group Visits to All Saints Oystermouth
Please arrange a time and date with the Vicar .There is no charge for group visits.
---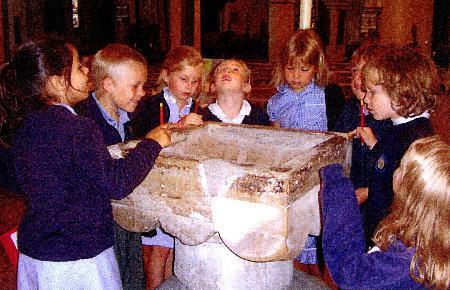 Historic All Saints Church in the heart of Mumbles welcomes school and group parties. There is so much to see and appreciate from ancient Roman pavement remains in the south aisle to the Norman Tower (check out the Flag flying days) and medieval Lady Chapel, the Font, described here, which dates from 1251AD (seen above); the modern stained glass windows - one in memory of the 1947 Mumbles Lifeboat disaster and the magnificent Rood Screen carved from Welsh oak in memory of the Mumbles men who lost their lives in the Great War and the spectacular Reredos behind
the High Altar to the east of the Church. The organ dates from 1873, it was a gift of Henry Crawshay, Ironmaster of Merthyr. The Bells of Santiago have now been returned, as a gift, to Chile, but we still have a memorial bell on display in the south aisle to commemorate the devastating fire in Santiago's Jesuit Church and the story of how its soot blackened bells found their way to All Saints Church in the nineteenth century.









For more details have a look at our Tour of All Saints pages.
---