Page 2 - Tour of All Saints
The Nave
The nave is the main body of the Church. Separating the nave from the chancel is the magnificent Rood Screen. 'Rood' is an old English word for cross. It is carved from Welsh oak and i reputed to be the finest of its kind in Wales. It is a memorial to 113 men of the Parish who lost their lives in the First World War. Their names are carved into the front and back panels at the base of the screen.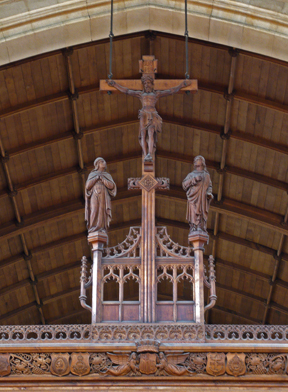 Surmounting the screen are the 'rood' figures. Crucifix which surmounts the Rood Screen. Either side of Jesus is the Blessed Virgin Mary and St John, the Beloved Disciple, with one hand on his heart.
---
The Font

The font is of uncertain age, but is probably from the Medieval period. The date 1251 AD is mentioned in Alfred Hall's History of Oystermouth ( 1899). The Font has a square bowl mounted on a solid stone base. The ornately carved wooden canopy was added in 1916, a gift from the children of the parish.
---
The lovely stained-glass window in the porch shows Jesus blessing children: "Let the children come to me, do not hinder them; for to such belongs the kingdom of God" Mark 10. 13-16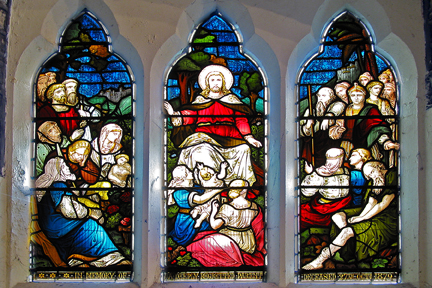 The organ
The first organ was installed in 1873 and was built by Robert Postill of York. Many of the original pipes in that organ are in the present instrument. Around 1916 Peter Conacher and Co. greatly enlarged the organ. Various renovations and rebuilds have taken place, the latest in 1998 by Daniel of Clevedon. It is a very fine concert organ. In 2009 a new digital unit was installed by phoenix Organs that added three new sounds to the pedal organ. More details here.
---
Thomas Bowdler 1754-18
25
Dr. Bowdler trained in medicine but devoted himself to prison reform. He made his name in publishing censored editions of Shakespeare. In 1818 he published a ten volume set of books in called 'The Family Shakespeare'. He eliminated 'those words which cannot with propriety be read aloud to the family.' He applied the same criteria to his re-writing of Gibbon's 'History of the Decline and Fall of the Roman Empire.' Thomas Bowdler is buried in All Saints Churchyard, on the north side, a horizontal block tomb with pink granite monoliths on either side. Bowdler's well-intentioned ideas were widely ridiculed and gave rise to the word, Bowdlerism.